The Polo girls basketball team won its regional opener on Saturday at home, defeating Hiawatha 59-17 to advance to the 1A Indian Creek Regional semifinals on Tuesday in Shabbona.
The Marcos led 38-11 by halftime and cruised from there. Nicole Boelens had 12 points, three rebounds, four steals and two assists for Polo, while Kadence Sheaffer, Courtney Grobe and Lindee Poper pitched in nine points each. Sheaffer added seven steals, five assists and three rebounds, and Poper finished with three rebounds and two blocks. Natalie Nelson added eight points, four rebounds and two steals for the Marcos, who will take on regional host Indian Creek at 7:30 p.m. Tuesday.
Hiawatha was led by Calli Schell with six points.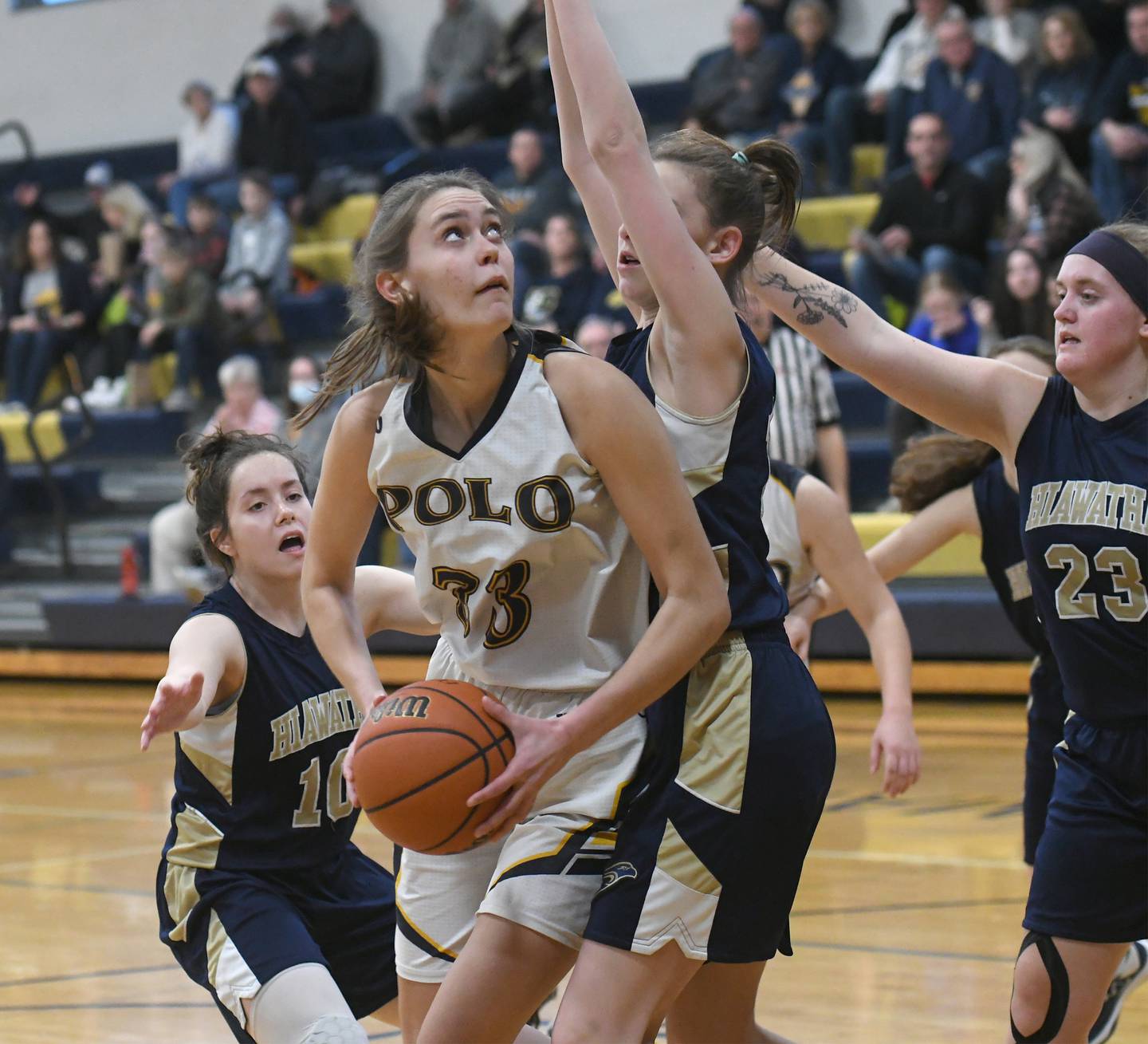 Amboy 44, Rockford Christian Life 16: The Clippers led 20-8 by halftime and never looked back, outscoring the Eagles 13-3 in the third quarter and 11-5 in the fourth for a regional quarterfinal win at home.
Elly Jones finished with 16 points, six rebounds and three steals for Amboy, and Olivia Dinges had 12 points, eight rebounds and five assists. Courtney Ortgiesen added eight points for the Clippers, who will play Dakota at 7:30 p.m. Tuesday in a 1A Durand Regional semifinal.
Lexi Erickson led Christian Life with eight points.
Oregon 42, Riverdale 35: The Hawks trailed by six points at halftime, but rallied with a 27-14 run in the second half to top the Rams in a regional quarterfinal in Port Byron.
Hadley Lutz led the way for Oregon with 18 points, while Mariah Drake scored eight points and Liz Mois added seven points. Mya Engelkes chipped in six points for the Hawks, who will play top-seeded Winnebago at 6 p.m. Tuesday in a 2A Oregon Regional semifinal at the Blackhawk Center.
Alexis Duke paced Riverdale with 12 points.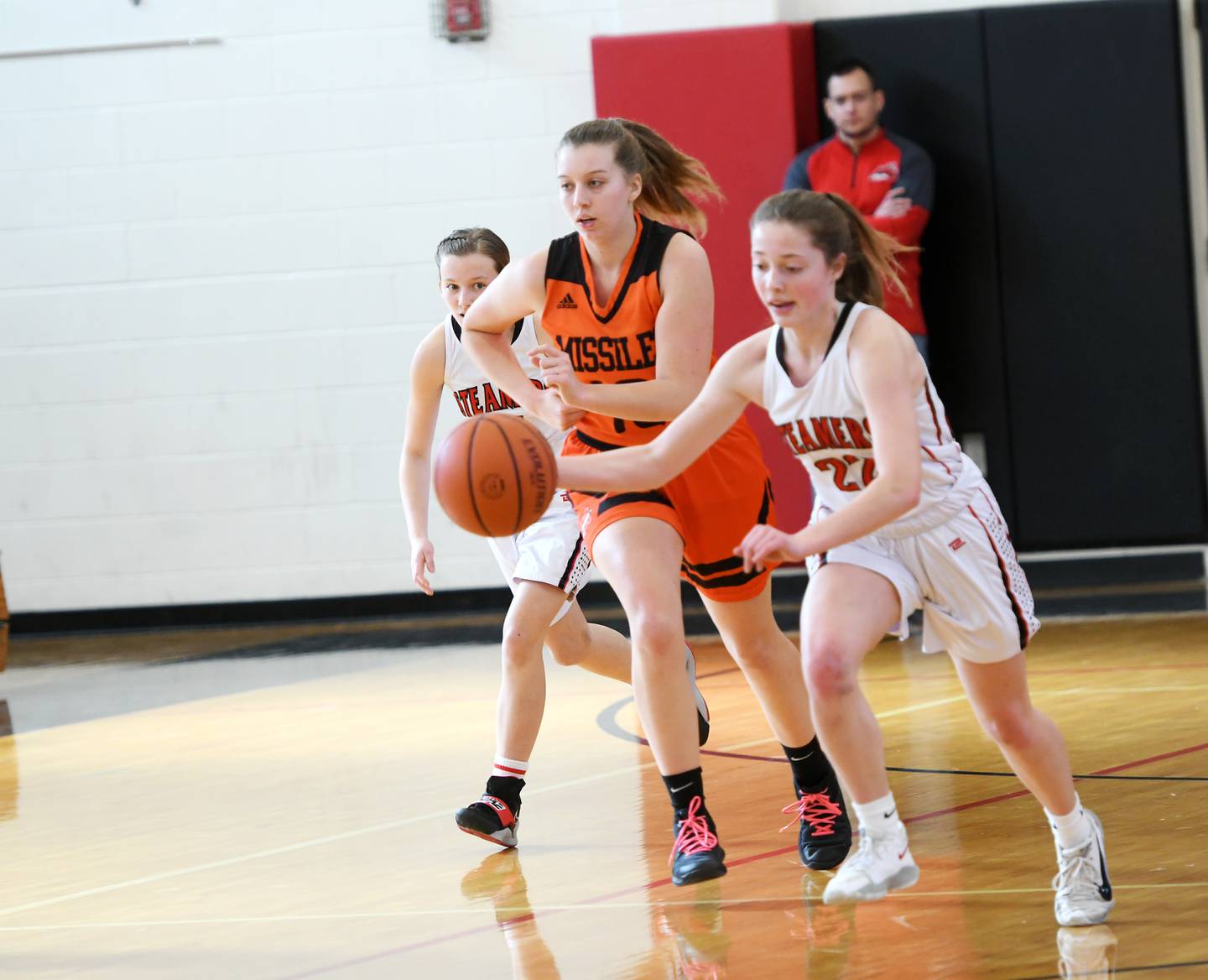 Fulton 44, Milledgeville 36: Kylie Smither poured in 19 points to lead the Steamers past the Missiles on Stan Borgman Court.
Miraya Pessman added seven points for Fulton, which led 13-11 after the first quarter, then trailed 23-22 at halftime before taking a 32-30 lead into the final period. The Steamers will face Galena in a 1A Eastland Regional semifinal at 6 p.m. Tuesday in Lanark.
Milledgeville was led by Adriana Miller with 13 points and eight rebounds, Lily Smith with 10 points and 10 rebounds, and Olivia Schurman with seven points and seven rebounds. Rylee Matthews added six points and four rebounds, while Brooklyn Balsiger chipped in six rebounds for the Missiles.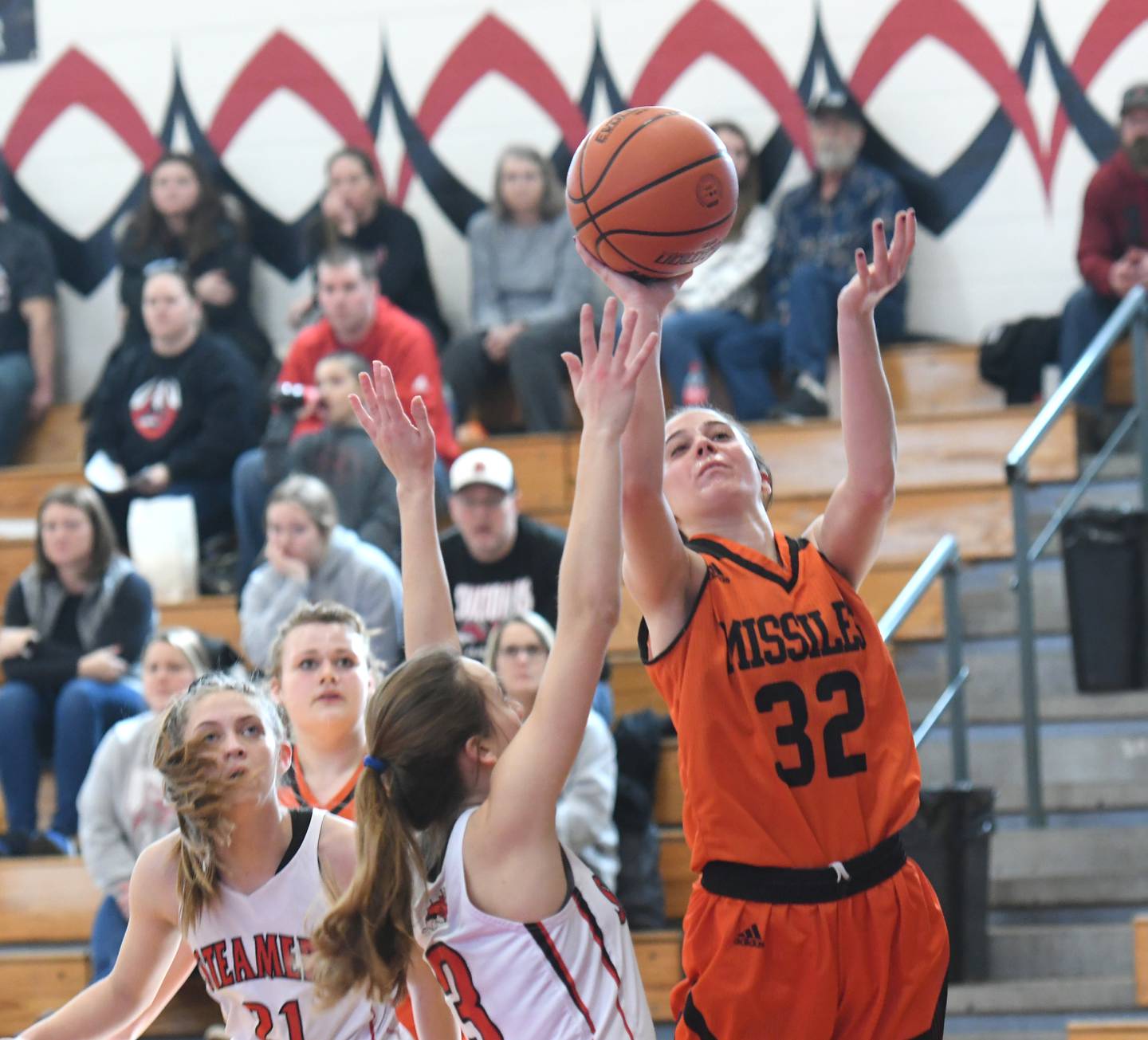 Bureau Valley 29, Hall 26: Lexie Marquez drained a 3-pointer with less than 10 seconds left to lift the Storm past the Red Devils in a 2A Princeton Regional quarterfinal in Spring Valley.
McKenna Christiansen scored 17 points to lead the Red Devils, while Toni Newton added eight points.
The Storm advance to play No. 1 Sherrard at 6 p.m. Monday.
Alden-Hebron 30, AFC 27: The Raiders trailed 19-5 after the opening quarter, but battled back within 20-15 by halftime and 26-24 through three periods in a regional quarterfinal loss on the road.
Brianna Gonnerman's eight points paced AFC, and Alexis Schwarz and Tatum Stroh both scored six.
Jessica Webber had 17 points for Alden-Hebron.
Alleman 45, Erie-Prophetstown 13: The Panthers' season came to an end with a 2A regional quarterfinal loss in Rock Island.
Dakota 26, Forreston 17: Dakota outpaced the Cardinals 11-4 in the second half to secure the regional quarterfinal win at home.
Rylee Broshous led Forreston with five points and six steals, while Alaina Miller and Kailey Sanders added three points each.
Mary Zettle and Hannah Bowers paced Dakota with 10 and nine points, respectively.
Rockford Christian 57, West Carroll 49: The Thunder trailed by 12 late in the second quarter, but battled back to tie the score twice in the fourth quarter – at 39 and 42 – before falling in a 2A regional quarterfinal in Rockford.
Tori Moshure hit five 3-pointers and finished with 19 points, five rebounds, four assists and three steals for West Carroll, and Kylie Hill had 18 points, seven rebounds, four assists and four steals. Cora Collins added six points, five rebounds and four blocks, and Kendal Asay chipped in eight rebounds and five blocks for the Thunder.
Kaitlin Park led the Royal Lions with 15 points, Tess Combs scored 14, and Courtney Park and Rylie Colombi both added 12.
Boys basketball
Marmion 59, Sterling 44: The Golden Warriors were outscored 21-10 in the fourth quarter in a loss at the Indian Creek Shootout in Shabbona.
Lucas Austin hit three 3-pointers and scored 17 points to pace Sterling, which trailed just 27-24 at halftime and 38-34 through three quarters. JP Schilling added 10 points, and Andre Klaver scored seven.
Collin Wainscott hit four 3s and finished with 21 points, and Trevon Roots added 18 for Marmion.
Forreston 60, Oregon 25: The Cardinals built a 27-18 halftime lead and rolled to a decisive win over the Hawks at the Blackhawk Center.
Forreston was led by Joseph Snyder with 12 points, and Owen Greenfield and Quinten Frederick with 11 points each. Brock Smith pitched in eight points for the Cardinals.
Carter Marlatt and Noah Johnson paced the Hawks with seven and six points, respectively.
United Township 54, Fulton 42: Baylen Damhoff scored 21 points, but the Steamers lost to the Class 4A Panthers in East Moline.
New Berlin 36, Eastland 35: The Cougars held a 14-13 lead at halftime, but a Kevin Howell free throw late in the fourth quarter and a Gavin Abbott block in the final seconds sealed the win for the Pretzels at the Riverton Shootout.
Kellen Henze paced Eastland with 21 points, while Andy Anderson added eight points.
Abbott scored 11 points to lead New Berlin.