The Newman boys basketball team used a fourth-quarter surge to notch a 56-50 win over Mendota in a Three Rivers East road game Tuesday night.
Trailing 28-27 at halftime, the Comets (16-8, 6-2) went into the fourth quarter tied at 43 before outscoring the Trojans 13-7 over the final eight minutes.
Lucas Simpson scored 22 points to pace Newman, and Marcus Williams added 12. Nolan Britt scored six of his eight points in the fourth quarter, and Gabe Padilla and Ethan Van Landuit both scored six points, with Padilla hitting a pair of 3-pointers.
Isaac Guzman and Rafa Romero both had 12 points for Mendota, while Krew Bond scored nine, and Emilio Perez added eight.
Princeton 74, Bureau Valley 63: The Storm led 46-40 with less than two minutes left in the third quarter, but the Tigers closed the period with a 10-0 run, then outscored BV 24-17 in the fourth to win a TRAC East rivalry game at Prouty Gym.
Carter Salisbury scored 23 of his game-high 38 points in the first half for the Storm (11-14, 2-7).
Teegan Davis had 16 of his team-high 29 points in the fourth quarter to pace Princeton (14-8, 6-2).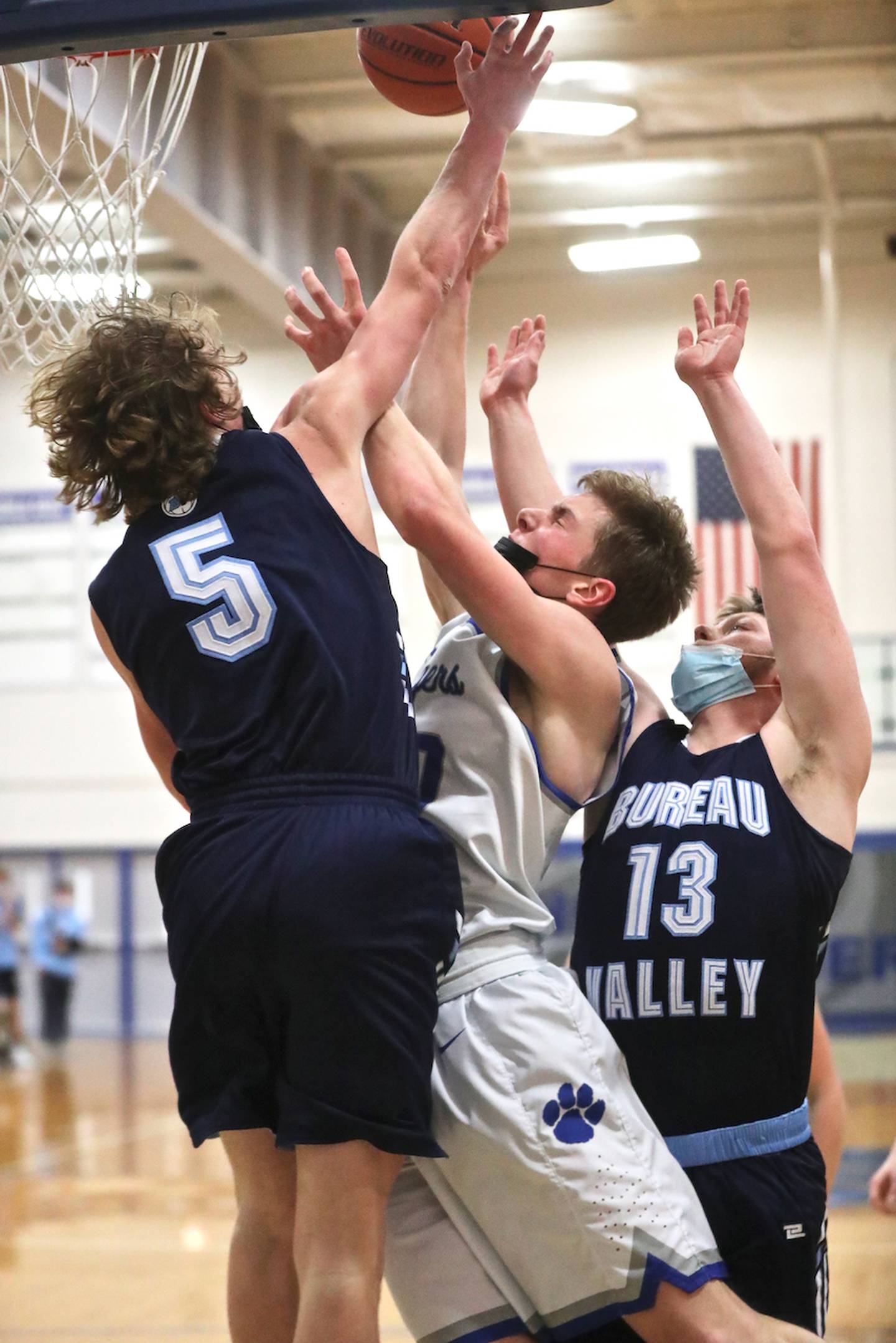 Erie-Prophetstown 71, Morrison 54: The Panthers led 21-9 after the first quarter, and the Mustangs never recovered in a Three Rivers West game in Prophetstown.
Connor Sibley had 18 points, Caleb Naftzger scored 16, and Kolby Franks finished with 15 for Erie-Prophetstown.
Alex Anderson, Andre McQueen and Mason Dykstra scored 11 points apiece for Morrison, and Danny Mouw added 10.
Milledgeville 68, AFC 48: The Missiles led 25-4 after the first quarter and never looked back, defeating the visiting Raiders in an NUIC South game.
Kieren Harris hit three 3-pointers and finished with 23 points for Milledgeville, which saw 10 players score. Gage Wilk added eight points, Connor Nye scored seven, and Colton Hendrick chipped in six.
Lane Koning's 19 points paced AFC, with Carson Rueff adding 10, and Griffin Bushman hitting three 3s for nine points.
Eastland 34, Polo 32: The Cougars used a 15-8 scoring edge in the third quarter to erase a 15-13 halftime deficit, and the Marcos' fourth-quarter comeback attempt fell short in an NUIC South game in Polo.
Trevor Janssen had eight points, and Jaxson Sturtevant and Gavin Sigel scored six points each for Eastland.
Brock Soltow scored a game-high 11 points for Polo, and Tyler Merdian added seven.
Fulton 60, Amboy 16: The Steamers jumped out to a 23-8 lead through one quarter, then stretched it to 43-13 by halftime in an NUIC South road win.
Ethan Price had 13 points, and Baylen Damhoff and Ian Wiebenga both scored 10 for Fulton (22-2, 6-0), which is ranked No. 3 in Class 1A. Ten different Steamers scored.
Brennan Blaine finished with four points, and Tucker Lindenmeyer hit a 3-pointer for the Clippers.
GIRLS BASKETBALL
Byron 56, Oregon 31: The Hawks fell behind 31-17 by halftime, then were outscored 15-3 in the third quarter as the rival Tigers won a Big Northern Conference game at the Blackhawk Center.
Mariah Drake led Oregon (6-20, 0-8 BNC) with 11 points. Mya Engelkes scored six, and Hadley Lutz and Liz Mois both finished with five points. Ava Hackman scored four for the Hawks.
Ava Kultgen's 14 points paced Byron (21-4, 7-1), with Macy Stoddard scoring 10, and Izzie McKinely adding eight. Anika Roush and Ella Grundstrom chipped in seven points apiece.
Eastland 60, AFC 38: The Cougars led 25-17 after the opening quarter and 42-24 by halftime in an NUIC South win over the Raiders in Ashton.
Quinc Haverland had 15 points and eight rebounds for Eastland (12-11, 7-1), and Delana Erbsen finished with 11 points, six rebounds and two assists. Paige Joiner added nine points and two steals, and Sarah Kempel had eight points, seven rebounds and two assists. Annika Myre finished with five points and seven assists, Chloe Sweitzer added five points, four assists and two steals, and Addison Burkholder chipped in four points and four assists for the Cougars.
Taylor Jahn hit five 3-pointers and had 21 points for AFC, while Tatum Stroh scored six points, Alexis Schwarz added five, and Lakkiah McClain scored four.
GIRLS BOWLING
Oregon 2,804, Rockford Lutheran 2,439: The Hawks won their eighth straight Northern Illinois Bowling Conference championship, defeating the Crusaders at Town & Country Lanes in Mount Morris.
Ava Wight opened her 633 series with games of 215 and 223 to lead Oregon (11-4), and Mackenzie Alford added a 523 series. Trinity Hultquist (463), Paige Beauchem (463), Kendra Ehrler (451) and Kylie Krug (275) rounded out the Hawks' lineup.
Melanie Horn led Lutheran with a 623 series, finishing with games of 215 and 227. Paige Garr-Koch closed her 601 series with a 237 game.