The Dixon wrestling team finished the Big Northern Conference season undefeated to claim the league title, finishing off the perfect run through BNC duals with a 66-15 win over rival Rock Falls.
The Dukes (12-0) won six of the eight contested bouts, and also received five of the six forfeits.
The match started at 160 pounds, where Dixon's Owen Brooks pinned Ryan McCord in 1:56. Steven Kitzman and Brody Potter followed with forfeits at 170 and 182, then Mitchell White pinned Kelly Hicks in 3:48 at 195 pounds for a 24-0 lead.
Rock Falls' Josh Woodard pinned Ethan Mick in 3:35 at 220, and Jacob Hosler received a forfeit at 285 to make it 24-12.
But Dixon's Ayden Rowley, Jacob Renkes and Gavin Kramer received forfeits at 106, 113 and 120, then Chris Sitter pinned Aaron Meenen in 1:04 at 126, and Jayden Weidman pinned Korbin Oligney in 1:07 at 132 pounds for a 54-12 advantage for the Dukes.
Rock Falls' Payhton Smith defeated Cade Hey 7-3 at 138 pounds, then Dixon closed out the meet with pins from Austin Hey over Alan Furman (1:27 at 145 pounds) and Lucas Sheridan over Ellisa Russell (1:19 at 152).
"It was great wrapping up a conference title here at home. It was a true team effort from each kid," Dixon coach Micah Hey said. "It's great to see the enthusiasm with the kids when their teammates are out there wrestling. They've done a good job all year of really getting each other pumped up for the matches, and are yelling loud from the side. I love it when they get each other going."
Dixon wraps up the regular season at home against LaSalle-Peru next Thursday, then hosts a Class 1A regional on Feb. 5.
Boys basketball
Rock Falls 69, North Boone 47: The Rockets used a 25-11 third-quarter surge to take control in a Big Northern Conference game in Poplar Grove.
Ayden Goff hit three 3-pointers and finished with 22 points, and Booker Cross scored 21 points to lead Rock Falls (8-11, 1-3 BNC), which led 14-13 after the opening quarter and 34-30 at halftime before pulling away for their first league victory. Gavin Sands added 10 points as nine different Rockets scored.
Will Doetch had 22 points to pace North Boone.
Byron 60, Oregon 20: The Hawks trailed 21-0 after the opening quarter in a Big Northern loss at the Blackhawk Center.
Anthony Bell had six points to pace Oregon (2-8, 0-4 BNC), as eight different Hawks scored.
Nick Kesler scored 16 points, and Ryan Tucker finished with 14 to lead Byron (6-8, 2-2).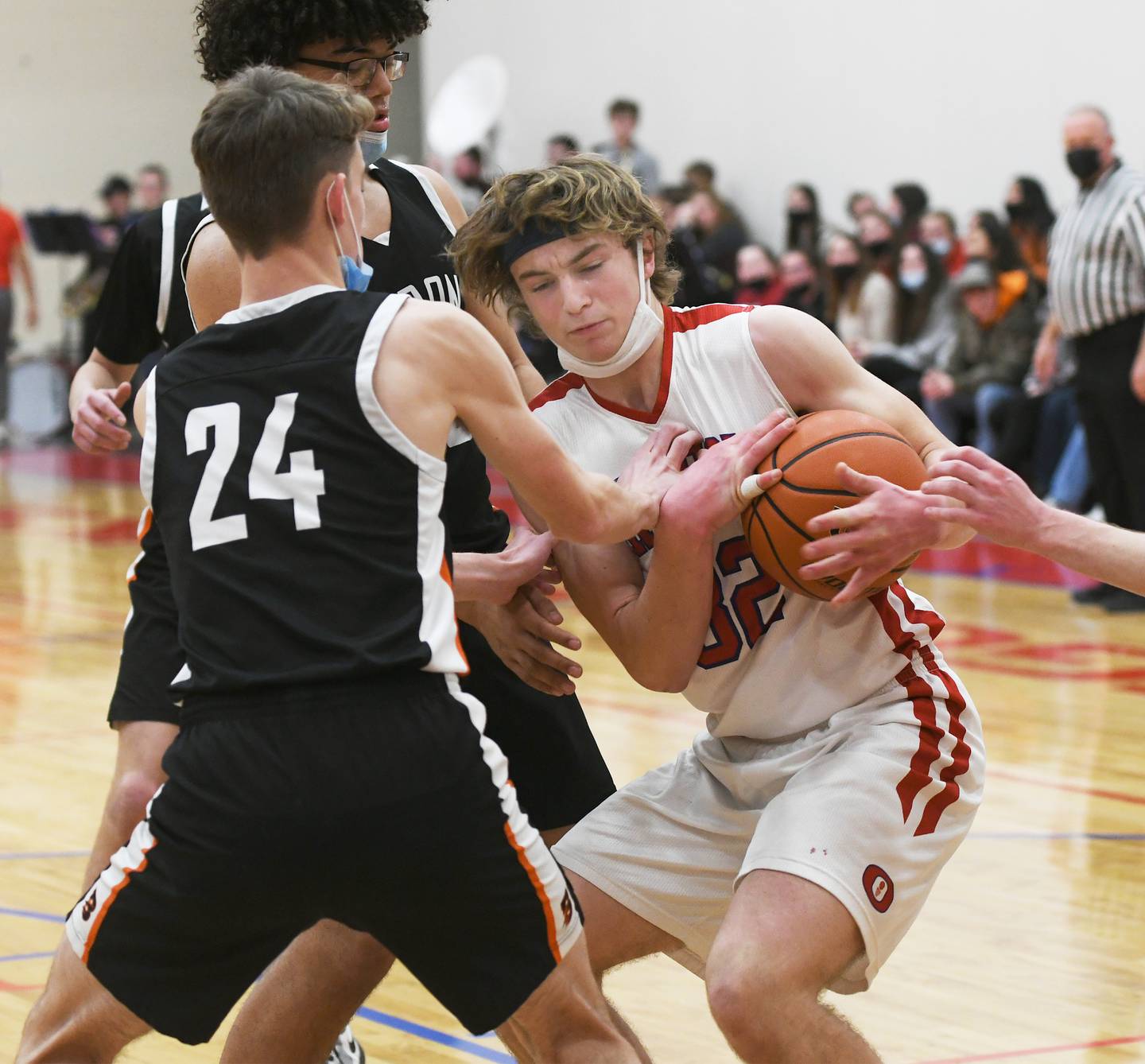 Orion 52, Morrison 50: The Mustangs saw a 36-23 lead through three quarters disappear as the Chargers outscored them 29-14 in the fourth period to rally for a Three Rivers West win in Morrison.
Alex Anderson scored 16 points, and Andre McQueen finished with 15 for Morrison, which led 10-5 after the first quarter and 20-12 at halftime. Trey Strating chipped in nine points.
Xavyor Winter scored 17 of his game-high 20 points in the fourth quarter to spark Orion's comeback. Chance Stropes had 12 points, and Gus Nedved added 11.
Bureau Valley 65, Hall 59: The Storm saw a 13-point third-quarter lead turn into a three-point fourth quarter deficit, but rallied down the stretch to beat the Red Devils in a Three Rivers East game at the Storm Cellar in Manlius.
Adam Johnson had a double-double of 19 points and 14 rebounds to lead BV (11-11), and Carter Salisbury scored 18 points, going 4-for-4 from the free-throw line late to seal the victory. Nevin Bolin added 11 points, and Brock Foster and Layton Britt chipped in nine points each.
Mac Resetich finished with 20 points, and Drake Garland added 10 for Hall, which trailed 34-31 at halftime and 54-45 after three quarters before making a comeback.
Rockridge 53, Erie-Prophetstown 26: The Panthers dropped a Three Rivers West game in Prophetstown.
Faith Christian 62, Tri-State 45: The Falcons had three players score in double figures in an NICC win.
Collin Kibble had 25 points, seven rebounds, six assists, two steals and two blocks for Faith Christian, while Levi Schuler finished with 16 points, eight rebounds, nine assists, six steals and two blocks. Evan Fassler added 12 points, seven rebounds, three steals, two assists and a block for the Falcons.
Girls basketball
Amboy 38, Forreston 15: The Clippers jumped out to a 14-3 lead in the opening quarter, stretched it to 22-7 by halftime, then outscored the Cardinals 7-1 in the third quarter of an NUIC South win in Amboy.
Elly Jones had 11 points, four assists and three steals for Amboy (14-6, 5-0), and Olivia Dinges finished with 10 points, eight rebounds and two steals. Maeve Larson added six points, four rebounds and two steals, and Courtney Ortgiesen chipped in five points and four rebounds. Olivia Miller scored four points for the Clippers.
Nevaeh Houston, Brooke Boettner and Jenna Greenfield scored three points apiece for Forreston. Boettner added four rebounds, while Keeli Larson pulled down five boards.
Polo 50, Fulton 29: The Marcos trailed early, but came back to notch an NUIC South win at home.
Fulton led 7-4 after the first quarter, but Polo rallied to take a 22-12 lead by halftime. The Steamers got back within 31-26 through three periods, but the Marcos pulled away with a 19-3 fourth-quarter run.
Lindee Poper led Polo with 17 points, eight rebounds and four blocks, and Kadence Sheaffer had nine points, seven assists, four rebounds and three steals. Courtney Grobe and Nicole Boelens scored eight points each; Boelens also had seven rebounds, seven steals and three assists.
Lara Bielema, Miraya Pessman and Kylie Smither scored eight points each for Fulton.
Orangeville 46, Milledgeville 12: The Missiles trailed 15-0 after the first quarter and 24-3 by halftime in an NUIC crossover loss at home.
Olivia Schurman led Milledgeville with seven points.
Ella Doyle had 12 points and six rebounds for Orangeville, and Whitney Sullivan added 10 points and 11 rebounds.
Galena 50, West Carroll 28: The Thunder couldn't overcome a prolonged first-half scoring drought in an NUIC West road loss.
West Carroll trailed 10-8 with two minutes left in the first quarter, then didn't score again until the final minute of the second period. Galena led 15-8 after the opening eight minutes, and 31-10 by halftime.
Kylie Hill's eight points led the Thunder, and Emma Randecker scored six. Tori Mioshure finished with five points and three assists, Kendal Asay added four points, five rebounds and three blocks, and Cora Collins chipped in five rebounds and seven blocks.