The Dixon girls basketball team jumped out to a big lead and cruised to a 55-23 win over Marengo on Monday night at Lancaster Gym.
The Duchesses (8-0) led 18-2 by the end the opening quarter, then pulled away from a 29-14 halftime lead with a 20-5 scoring edge in the third period.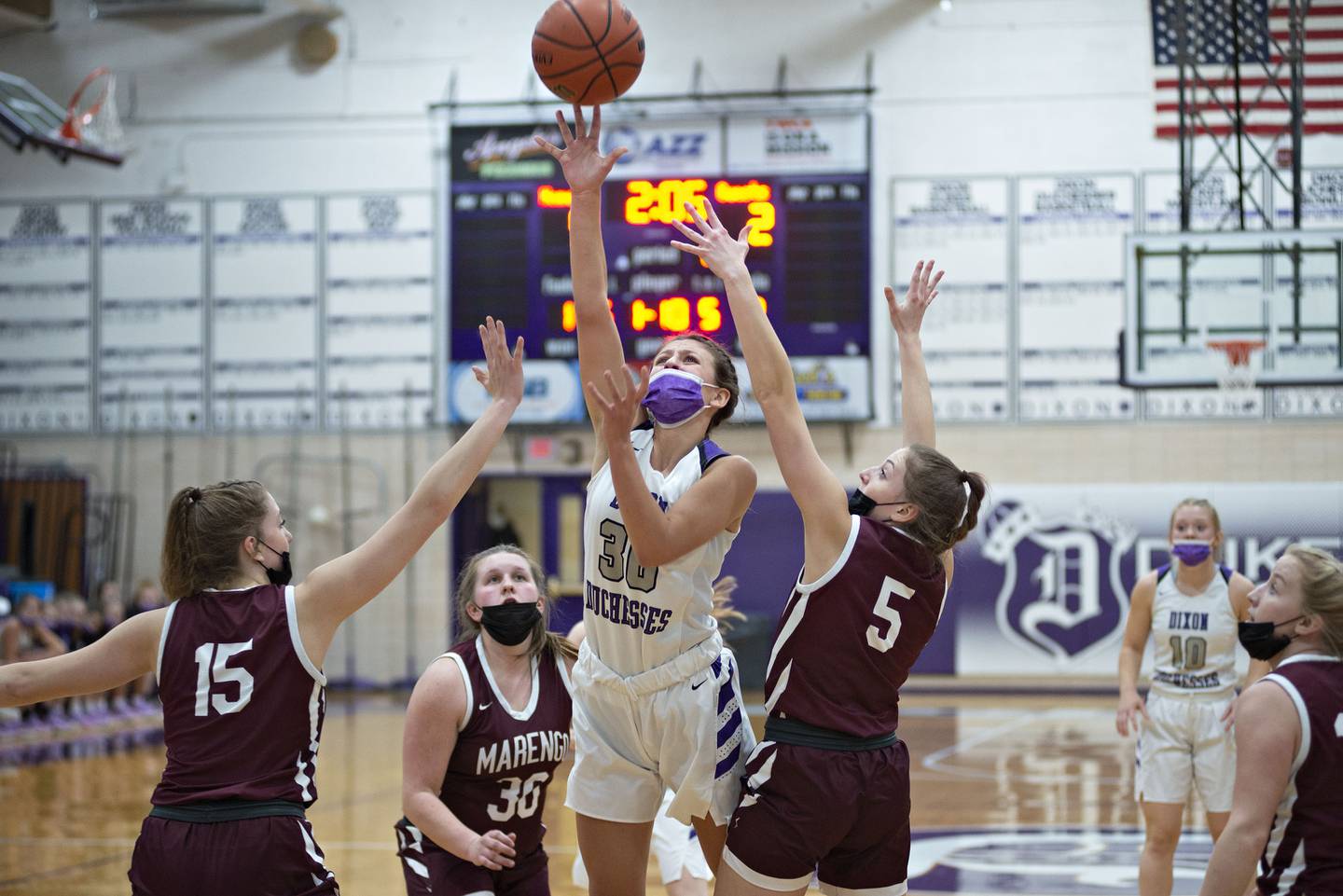 Ella Govig had nine points and eight rebounds to lead Dixon, as 10 different Duchesses scored. Sam Tourtillott and Harvest Day scored eight points each, with Tourtillott adding six assists and three steals, and Day finishing with six rebounds and four assists. Jessie Pitman had six points, six rebounds and two blocks, and the Knipple twins, Abby (7 points) and Kait (3 points), combined for five rebounds and held Marengo's best scorer, Bella Frohling, scoreless.
Courtney Jasinski led Marengo with eight points.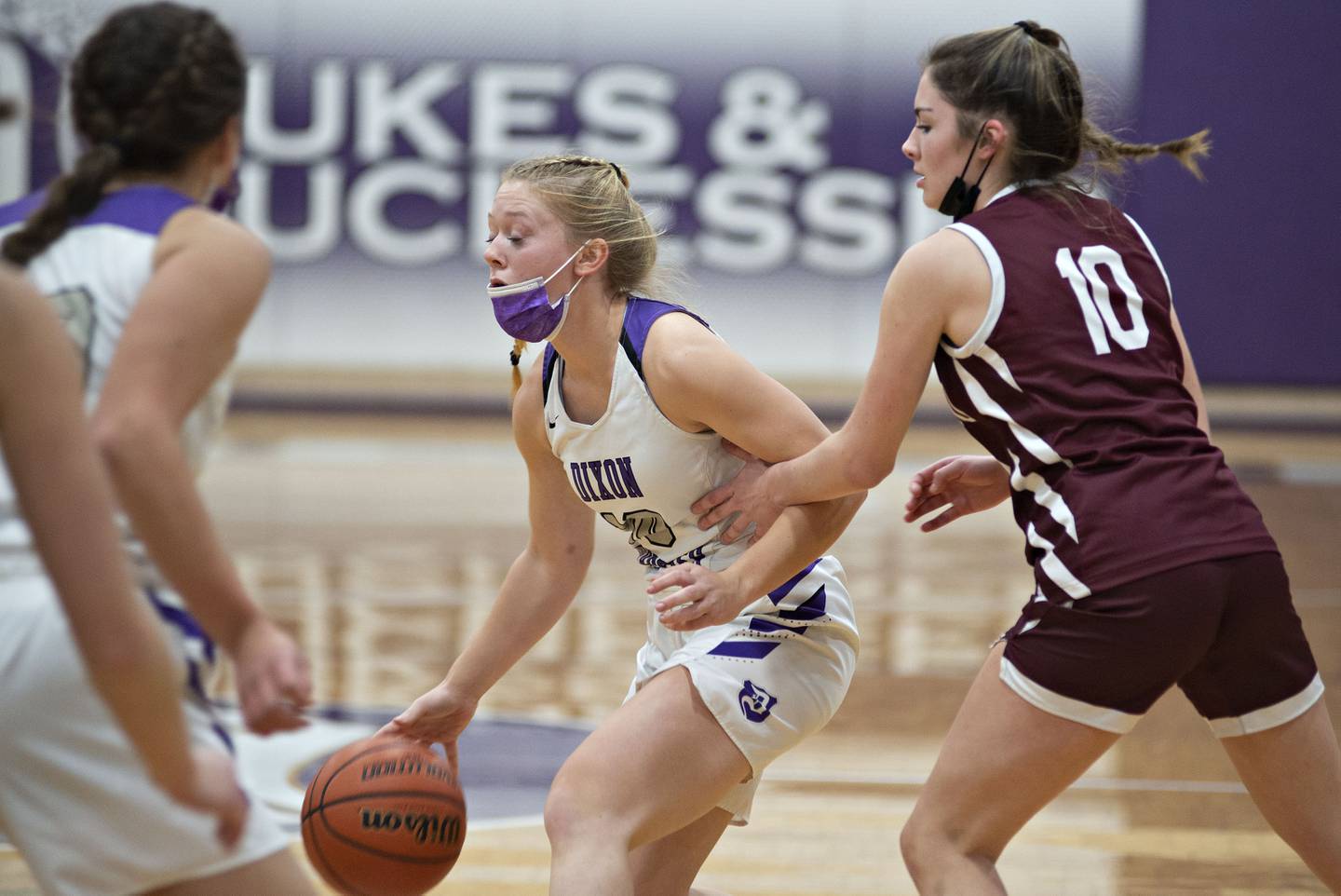 Boys basketball
Dixon 55, Rochelle 46: The Dukes picked up a nonconference road win in a back-and-forth affair.
Dixon (6-1) led 20-8 after the first quarter, only to see the Hubs rally to take a 25-24 lead into halftime. But the Dukes answered, outscoring Rochelle 12-6 in the third quarter and 19-15 in the fourth.
Jacob Gaither poured in a game-high 32 points for Dixon, while Riley Abell scored seven and Wyatt Wetzell finished with five points.
Adam Kemp hit four 3-pointers and scored 12 points to lead the Hubs, and Ryan Simmons added 10.
Morrison 61, Milledgeville 58: The Mustangs used a 23-13 second-quarter surge to take the lead on the road, then held off a late charge by the Missiles for a nonconference win.
Andre McQueen's 18 points paced Morrison, with Trey Strating scoring 17 and Danny Mouw adding 12.
Connor Nye had 19 points for Milledgeville, which trailed 46-39 going into the fourth quarter before mounting a comeback. Bryce Aude scored 11, and Izaac Toms-Smith and Kieren Harris each added eight.
Eastland 49, Dakota 43: The Cougars outscored Dakota 20-12 in the fourth quarter to rally for an NUIC win in Lanark.
Kellen Henze had 31 points for Eastland, including all 13 Cougar points in the first period, and eight of their 12 in the second. Andy Anderson hit three 3-pointers and finished with 11 points.
Kaidyn Neidermeier led the Indians with 10 points.
Girls bowling
Sterling 2,319, Moline 2,206: The Golden Warriors won all three games by fewer than 100 pins in a Western Big 6 victory at Blackhawk Lanes.
Hannah Conderman rolled a 499 series, and Katelynn Garcia added 457 for Sterling, which won the first game by two pins, the second by 19, and the third by 92. Kailynn Wickham (372), Emily Doss (345), Madison Schmitt (333) and Brendy Gatica (313) also competed for the Warriors.
Skylar Housemann's 414 series led the Maroons.
Dixon 2,715, Rochelle 2,664: The Duchesses won the final game 843-796 to pull away from a four-pin advantage through the first two games to notch a win at T-Bird Lanes.
Tianna Bryson had a 589 series and a 203 high game for Dixon, while Grace DeBord opened her 515 series with a 238 game. Autumn Swift (455), Leslie Pettorini (443), Abby Tate (364) and Olivia Gingras (349) also bowled for the Duchesses.
Cassidy Vincent led the Hubs with a 555 series and a 205 game, while Alyssa Schwanert had a 524 series, and Alyssa Mickley added a 501.
Boys bowling
Sterling 2,907, Rock Island 2,856: The Golden Warriors eked past the Rocks at Backyard Bowl in Milan, winning the first game by six pins and the second by 122 before hanging on for the Western Big 6 victory.
Ethan Melcher led Sterling with a 548 series and a 201 game, while Tristan Oelrichs added a 536 series. Mikah Hernandez (475), Dylan Doss (474), Connor Jaglisch (442) and Brenden Stanley (432) rounded out the Warriors' lineup.
Austin Cantrell led Rock Island with a 598 series and a 223 game, and Sean Anthony added a 557 series and a 227 game.