The Sterling boys soccer team scored two goals in the final 11:18 to defeat La Salle-Peru 4-0 on Wednesday to advance to the Class 2A La Salle-Peru Regional final.
The No. 2-seeded Golden Warriors will face fifth-seeded Streator for the regional championship at 3 p.m. Saturday.
Fabricio Peña scored twice, and Nathan Sanchez and Luis Ibarra added goals for Sterling (10-8-4) as goalkeeper Sergio Garcia kept a clean sheet.
"We game planned after playing them a couple weeks ago, and the boys executed that game plan pretty well," Sterling coach Brian Cebula said. "I'm just thankful that they listened, they executed it, and I'm glad to be coming back here Saturday."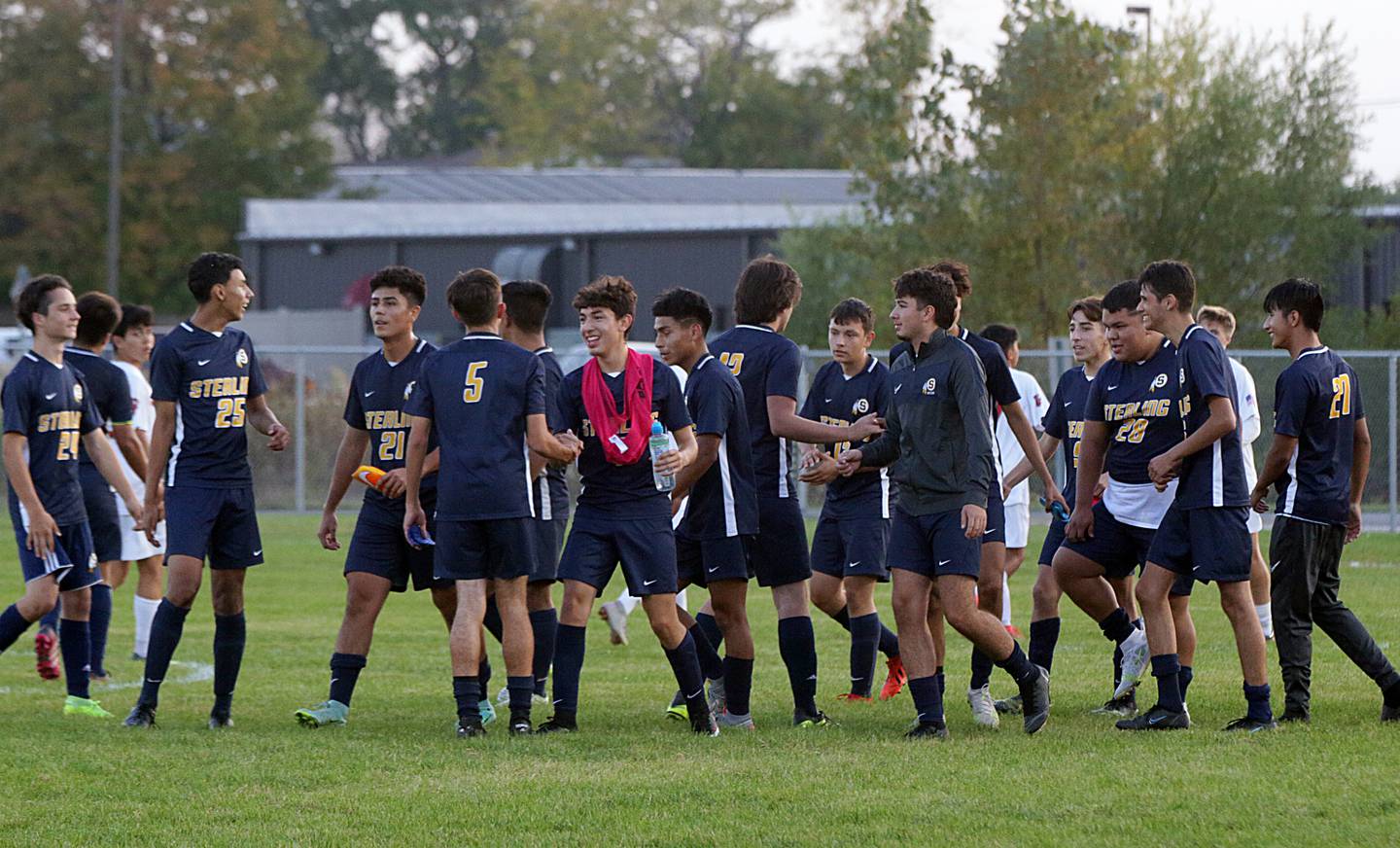 Geneseo 6, Dixon 2: The Dukes' season came to an end in the semifinals of the Class 2A Rock Island Regional, with senior Bradyn Langloss providing both goals.
Langloss scored on a free kick in the first half, taking advantage of Dixon's only shot on goal in the period. That goal came with 5:04 left in the half, cutting the Dukes' deficit to 2-1, but a goal in the final minute of the half by Geneseo's Nate Vergane gave the Maple Leafs a 3-1 lead at the break.
Langloss cut the deficit to 5-2 with a second-half scoring strike, finding the upper left corner with 11:45 left in the game.
Geneseo outshot Dixon 17-4 on goal, and the Leafs had six corner kicks while the Dukes (7-9-3) had none. Freshman goalkeeper Rex Blackburn made 11 saves.
"A hard-fought game where this group battled all the way to the end," the @Dixon_Soccer Twitter feed posted after the game. "Thank you to our seniors, you will be missed!"
Hunter Holke recorded a hat trick for Geneseo. Ethan Ernst and Jacob Nelson also scored for the Leafs, and Matt Daly, Bennett Kreiner and Brayden Combs all had assists.
Volleyball
Newman def. Erie-Prophetstown 20-25, 25-16, 25-14: The Comets closed out their regular season with a Senior Night win over the Panthers.
Ally Clevenger had 17 kills and 13 digs for Newman (25-4-2), while Jessalin Johns finished with 10 kills, eight digs and four aces. Kennedy Rowzee had six kills and six blocks, Shannon Kelly added four blocks and two kills, and Paige Grennan chipped in 23 digs. Shae McNeill had 19 assists and 10 digs, and Katie Grennan added 15 assists and seven digs.
Kennedy Buck led Erie-Prophetstown with 12 kills to go with 11 digs and 10 assists, and Aylah Jones and Hailey Bush spiked five kills each. Madyson Bushaw added four kills and two blocks, Jaiden Oleson dished 15 assists, and Emma Davis chipped in 21 digs.
Belvidere North def. Sterling 25-15, 25-15: The Golden Warriors finished the regular season with a nonconference loss on the road.
Grace Egan had 13 kills and three blocks for Sterling (14-17-1), and Katie Dittmar stuffed three blocks. Delali Amankwa had 14 assists and five digs, and Karmen Weinrich chipped in nine digs.