In a busy day at the boys and girls state golf meets for local athletes, seven of the eight individuals golfing in Saturday's final round placed in the top 51 in Bloomington-Normal and Decatur.
The area's top finisher was Newman junior Kyle Wolfe, who tied for ninth in the Class 1A boys meet at Prairie Vista Golf Course in Bloomington. He followed up Friday's first-round 74 with a second-round 77 on Saturday, shooting a 151 for the two-day tournament.
"Honestly, I didn't really have one good part of my game; it all flowed together, and the good rounds just happened," Wolfe said. "My personal best before this weekend was 76, and I come down to state and average a 75.5 – it's pretty amazing.
"I don't know when it's going to set in, but I'm going to remember this for the rest of my life. My whole family was out there to watch me, and I went out and competed and played awesome. This is a lifelong memory."
Wolfe made a birdie and only three bogeys in his round of 2-over 74 on Friday, shooting 1-over on both nines. He then came back on Day 2 and made a pair of birdies on the back nine to help offset seven bogeys in a 5-over 77.
"The goal the first day is just to make it to the second day, and I realized I had accomplished that after the front nine Friday because I was playing so well," Wolfe said. "So I was able to relax and continue playing well on the back nine, and then [Saturday] I had nothing to lose, so I just went out and had fun."
Wolfe's teammate, senior Jacob Donald, finished in a tie for 41st, following Friday's 79 with an 81 for a 160. In between, he returned to Sterling on Friday night to kick four extra points and a 38-yard field goal in the Comets' 43-0 win over Hall.
"It was a big thing for me having Jacob down there at state with me, and he played well," Wolfe said. "Even in a practice round, to have another familiar face out there along with my dad to bounce ideas off of, ask what he'll do on this hole or does it make sense to use driver on that hole, or what his approach is on a hole. I think having a teammate down there helped us both."
Eastland's Kellen Henze shot an 83 on Saturday after an opening-round 80, tying for 51st with a 163.
Vandalia shot a 616 to win the 1A team title by one stroke over North Shore Country Day, with IC Catholic another shot behind in third. Riverdale placed sixth with a 645, led by James Moorhusen in a tie for 26th at 157.
Rockridge senior Drew Hall was the 1A state medalist with an even-par 144, two shots better than Vandalia's Chase Laack.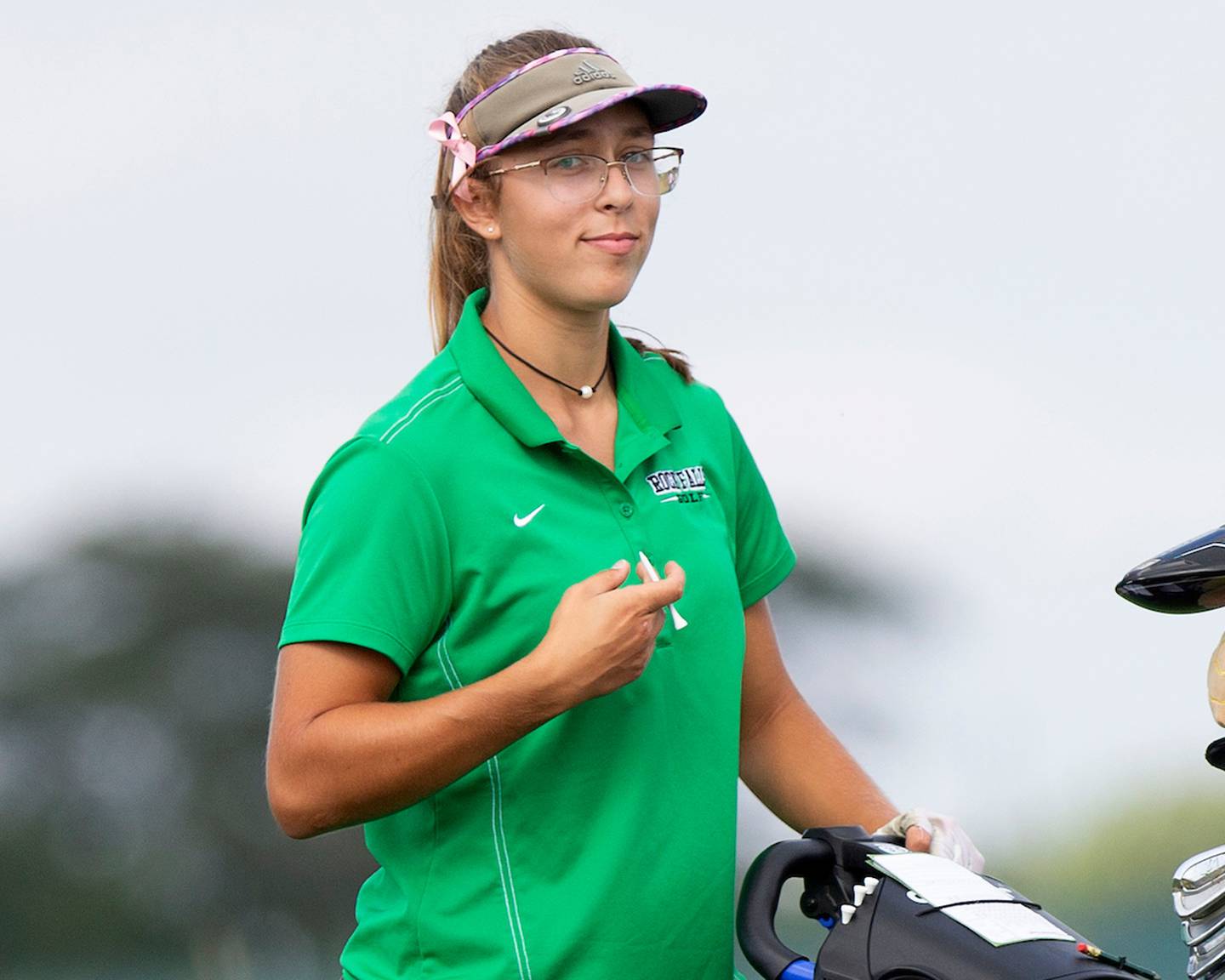 At the 1A girls meet at Red Tail Run Golf Course in Decatur, Rock Falls sophomore Megan Fiorini followed up Friday's 80 with a 75 to finish in the tie for 18th at 155. After just one birdie on Day 1, Fiorini had two birdies on each nine to finish a 1 over par on Day 2.
"The first day, my irons weren't clicking; I was hitting it fat, thin, left, right, everywhere, and that made me struggle," Fiorini said. "The second day I cleaned it up a bit, but my putter wasn't working well. I just wasn't clicking both days.
"But I don't see this as a loss or a bad thing; it's a lesson learned. I learn something new every time I play, so I'll come back next year and come back stronger."
Dixon sophomore Katie Drew tied for 30th with a 163, as her second-day 83 featured one birdie and 11 bogeys.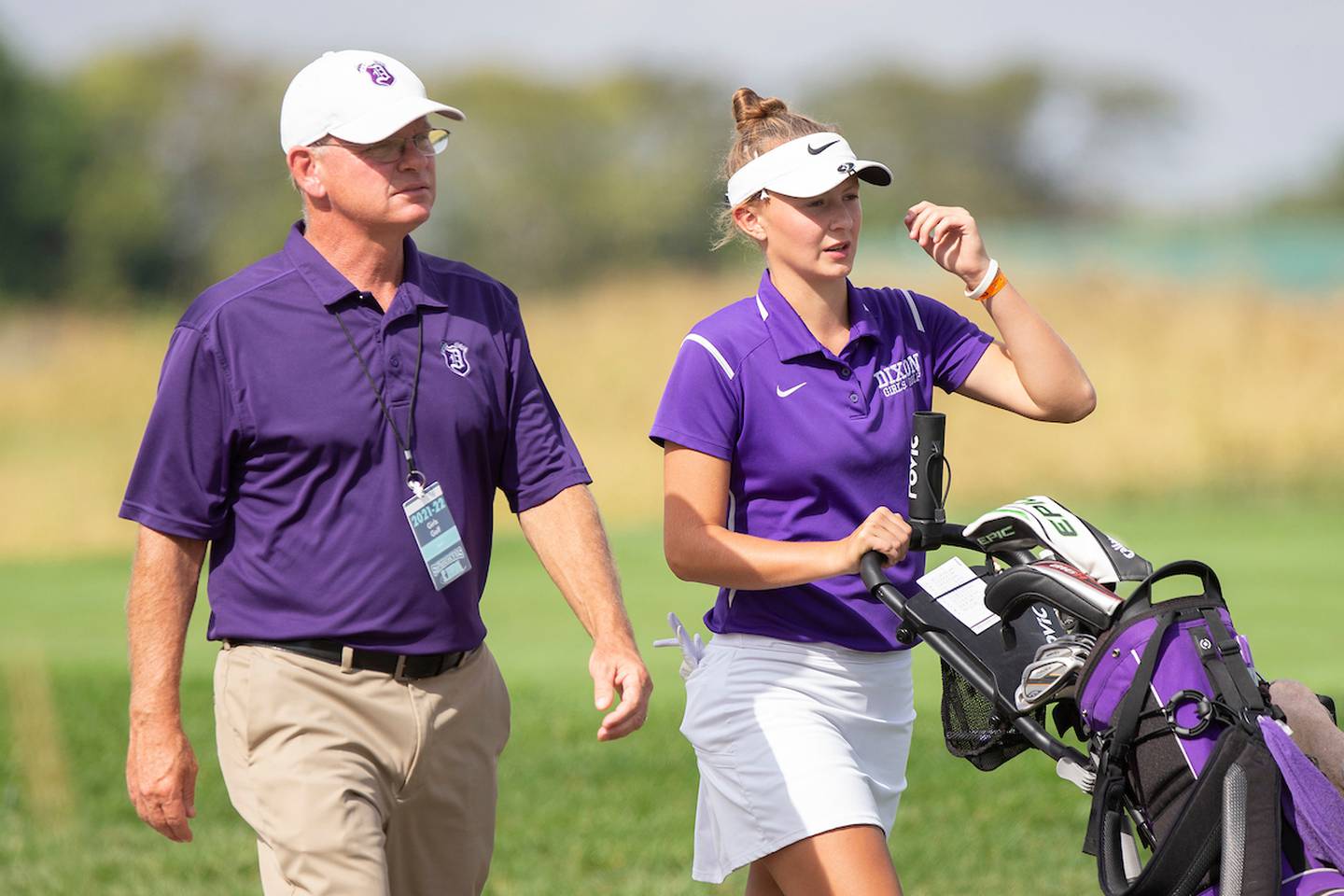 Oregon junior Ava Hackman tied for 42nd at 168, shooting a 79 on Day 2, 10 strokes better than her Day 1 89. She made three bogeys to offset seven bogeys; two of the birdies came on consecutive holes on the front nine.
Rock Falls senior Ellie Wasson followed her Friday round of 88 with an 85 on Day 2, notching three pars in her round. She and Firorini were cheered on by the rest of their teammates, as the Rockets advanced to the state meet for the first time in program history but couldn't make the cut to play as a team on Day 2.
Fiorini said the experience of playing at state with her teammates is one she truly enjoyed.
"I had a great time with my teammates," she said. "They're really like big sisters to me, with all of them being older, and I didn't play as well as I could have, but I had fun regardless."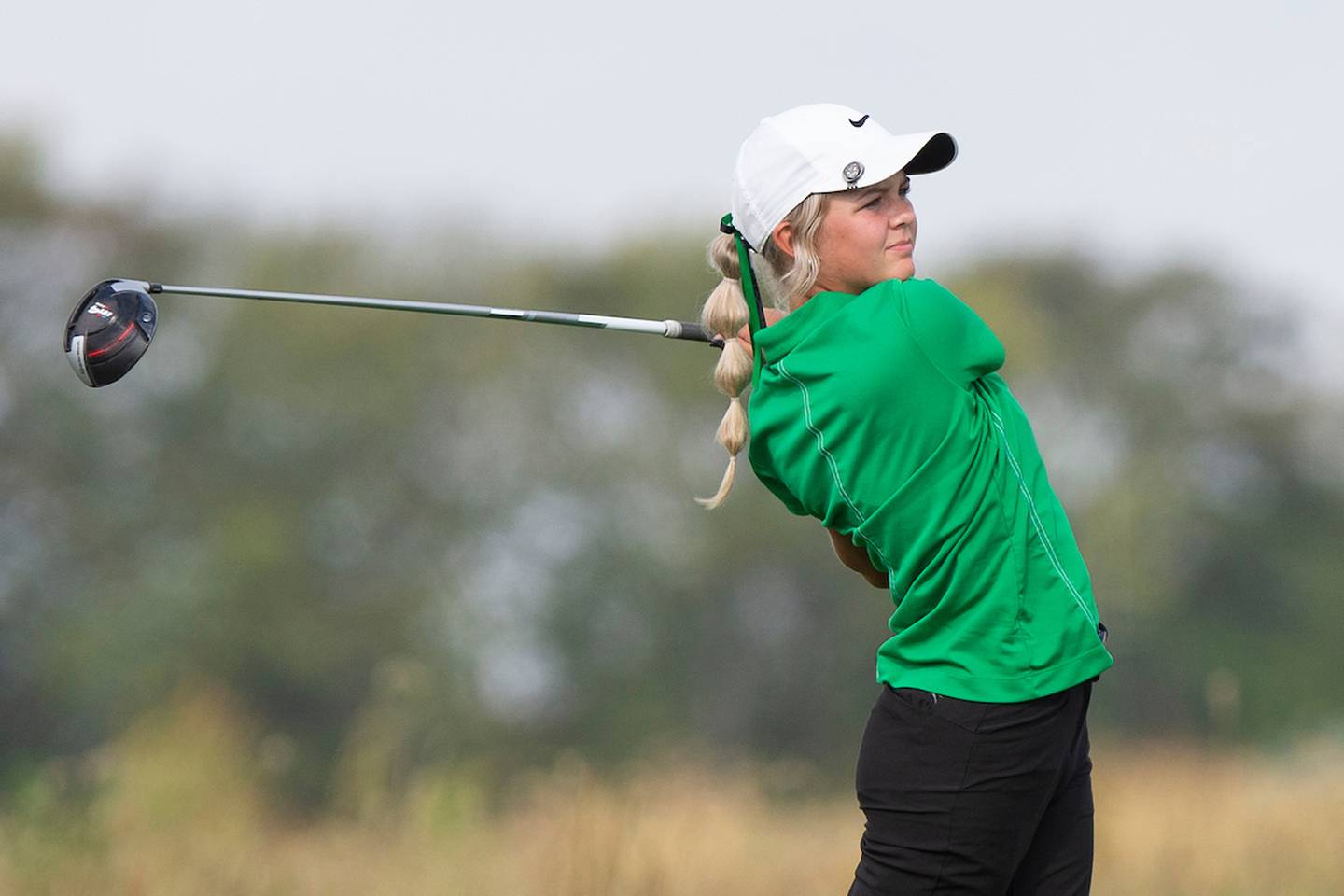 Mt. Carmel easily won the team title with a 604, 36 strokes better than runner-up Alton Marquette, which did have the medalist in senior Gracie Piar, who shot 65-71 for an 8-under-par 136. Pontiac senior Dani Schrock (3-under 141) and Boylan junior Ella Greenberg (1-under 143) also finished under par, and Eureka senior Allison Pacocha shot even-par 144.
In the 2A girls meet at Hickory Point Golf Course in Decatur, Sterling's Maddie Pink followed her 86 on Day 1 with an 88 on Day 2, finishing in a tie for 79th with a 174. Barrington took the team title with a 595, led by medalist Mara Janess' 3-under 141 and Sophia Sulkar's third-place finish with a 145; she lost a scorecard playoff with Yorkville's Mia Natividad.