The Byron girls swimming co-op won a triangular at home Wednesday, scoring 101 points to defeat Sterling (37 points) and Morrison (32).
Audrey Kilmer won the 200 IM (2:12.78) and 100 butterfly (1:00.28), and Kate Schilling won the 50 freestyle (25.35 seconds) and 500 free (5:30.30) for the Tigers. Dixon senior Laci Long won the 1-meter diving competition with a score of 226.75, and Rylie Vatch added a win in the 100 breaststroke (1:13.36).
Byron also swept the three relay races, winning the 200 medley in 1:59.69 (Avery Clark, Lily Swiech, Audrey Kilmer, Natalie Kilmer), the 200 freestyle in 1:48.76 (Natalie Kilmer, Vatch, Swiech, Audrey Kilmer), and the 400 free in 3:58.65 (Swiech, Vatch, Madi Groharing, Schilling).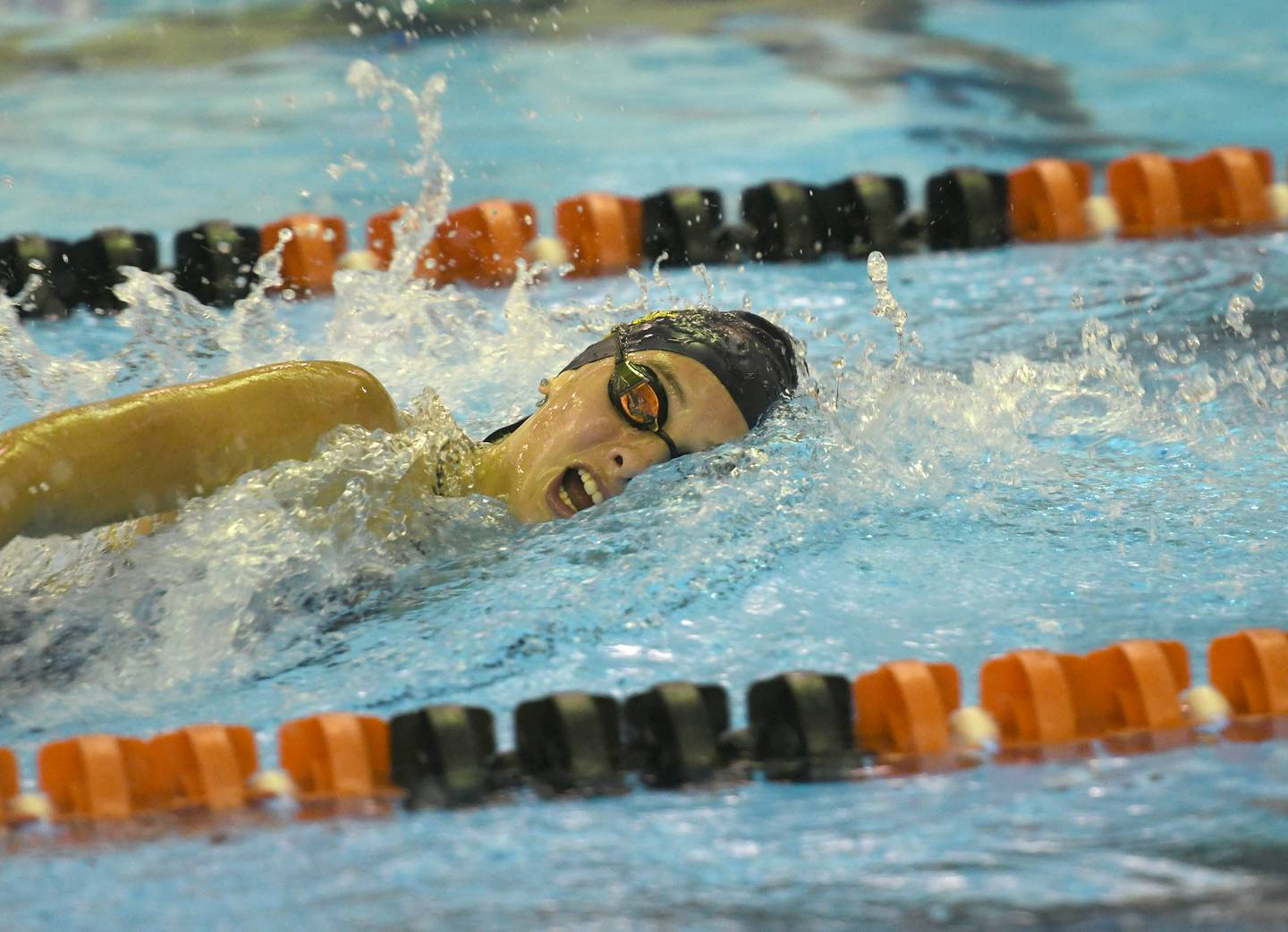 Madison Austin led Sterling with a win in the 100 freestyle (56.77) and a runner-up finish in the 50 free (25.47), while Kate Austin won the 100 backstroke (1:07.08). The Water Warriors took second in the 400 free relay in 4:05.28 (Payton Purdy, Kate Austin, Sammie Knox, Madison Austin), and Ryan Finley was third in 1-meter diving (135.25).
Kate Henson was second in a pair of events for Morrison, the 200 IM (2:25.95) and the 100 breaststroke (1:13.43). Schyon Drolema was third in the 50 free (26.45) and the 500 free (5:57.80), and Landri Harmon took third in the 100 butterfly (1:10.12) and the 100 backstroke (1:08.71). The Fillies also placed third in all three relays.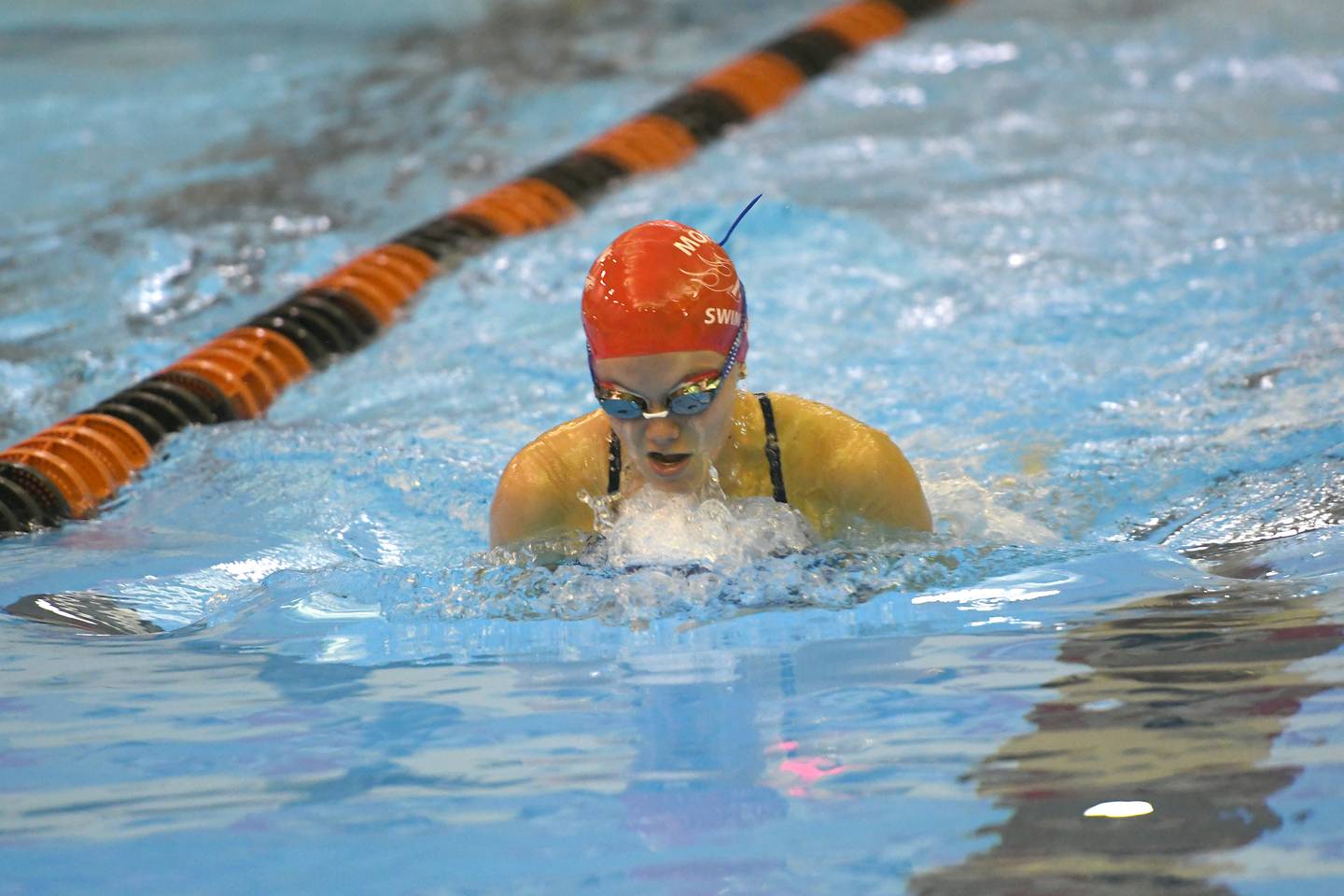 Girls cross country
Dixon 15, Streator 58, Oregon 67: The Duchesses took the top seven spots, and 10 of the top 11 to amass a perfect score in a three-team meet at Mendota.
Katie Shaeffer won in 23:30, followed by Veronica Wade (23:51), Emily Conderman (23:51.5), Emily Smith (23:52), Kait Knipple (23:52.5), Emma Smith (23:563), and Keeley Mick (23:53.5).
Ellen Hodson paced Oregon in 13th place (27:41). Valerie Nyderek was 15th (28:08), and Taylar Rufer (30:39), Valeria Davis (30:40) and Simona Carriero (30:41) finished 17-18-19.
Boys cross country
Mendota 26, Streator 38, Oregon 56: The Hawks took third in a five-team meet at Mendota, while Dixon did not field a full team.
Dixon's Jack Johnson (19:56) and Jacksen Ortgiesen (19:56.5) were the top local finishers in seventh and eighth, while Aaron Conderman (20:01) and Hayden Fulton (20:41) finished 10th and 11th.
Oregon's top runner was Aidan Guida in 12th (21:47). Christopher Smith finished 14th (23:20), Isaac Brooks was 16th (23:55), Nicholas Meives-Wylie was 18th (25:47), and Bryan Immel took 20th (30:04).
Streator's Kody Danko won in 17:26, with Mendota's Anthony Kelson taking second (18:12).
Girls tennis
St. Bede 3, Newman 2: The Comets swept the singles matches, but lost all three doubles matches in a dual loss at home.
Sarah Tunink won 6-0, 6-1 at No. 1 singles, and Marisel Schalck was a 6-0, 6-0 winner at No. 2.
Volleyball
Polo def. Scales Mound 25-20, 25-22: Nicole Boelens had 14 kills and 19 digs to lead the Marcos to an NUIC win on the road.
Natalie Nelson had four kills and 10 assists, and Lindee Poper finished with three kills and two blocks for Polo. Bekah Zeigler added 11 digs, and Teah Almasy dished four assists.