The Dixon and Sterling boys golf teams both shot 360 at the Sterling Invite on Saturday at Emerald Hill, while Sterling's Dale Guerrieri took third individually with a 77.
Kaneland won the team title with a 317, followed closely by Moline (321) and Riverdale (322). Kaneland's Joshua Pehl won a playoff over Riverdale's James Moorhusen for medalist honors, as both shot 75s.
Dixon took sixth and Sterling was seventh after a fifth-score tiebreaker. The Dukes' Sage Magnafici shot a 93, and the Golden Warriors' Trevor Dir and Carter Morris both shot 99s.
Mason Weigle and Grant Jacobs tied for 25th with 89s, and Alex Harrison and Steven Kitzman tied for 29th with 91s for Dixon. Ben Oros was 47th (100).
Cameron O'Brien tied for 20th with an 86 for Sterling, while Cale Cushman was 42nd with a 98. Braden Hartman was 55th (116).
Boys cross country
Clippers win title in Kewanee: Amboy-LaMoille placed all five scoring runners in the top 15 to take home the trophy at the Kewanee Boiler Invite at Baker Park, led by race winner Brock Loftus.
The Clippers scored 26 points, easily outdistancing runner-up IVC (66).
Loftus clocked a 16:35 to outpace IVC's Brecken Fahrenkrug (16:51.6) by more than 15 seconds. Ian Eller was third in 17:20, while Bureau Valley's Elijah House was fourth in 17:35.9.
Also scoring for the Clippers were Charlie Dickinson in seventh (18:36), Wyatt Lundquist in 12th (18:53), and Kelton Schwamberger in 15th (18:57). Other Amboy-LaMoille runners were Andruw Jones in 17th (19:04), Atticus Horner in 21st (19:21), Ryan Dickinson in 28th (19:38), and Garrett Pertell in 29th (19:43).
Bureau Valley's other runner was Ben Roth, who placed ninth in 18:46.1.
Locals run in Schmidt Invite: Neither Oregon nor Polo fielded a full team at Winnebago's annual race at Fuller Forest Preserve.
Polo got a 13th-place finish from Carson Jones (16:20.43), while Ben Plachno was 29th (17:28.78).
Oregon's runners were Christopher Smith in 48th (20:10.09) and Bryan Immel in 55th (25:47.53).
Boylan eked out a 37-38 win over Auburn, while Boylan's Alex Valerio won the race in 15:29.34.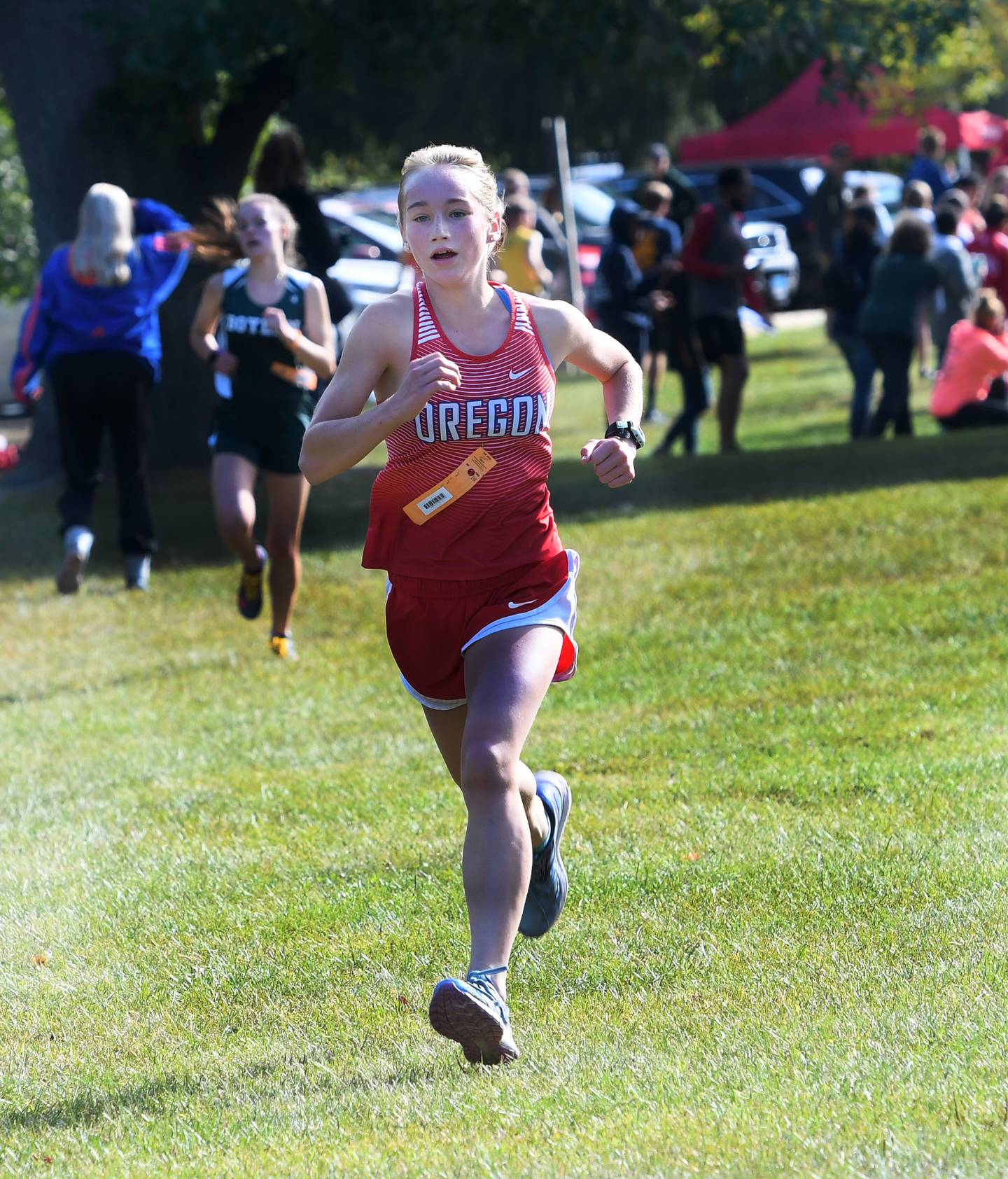 Girls cross country
Oregon 8th at Winnebago: The Hawks scored 192 points to place eighth at the Schmidt Invite at Fuller Forest Preserve, led by Ella Dannhorn's 10th-pace finish in 13:00.
Other Oregon runners were Ellen Hodson in 49th (16:38), Valerie Nyderek in 55th (17:02), Taylar Rufer in 59th (17:44), Simona Carriero in 64th (19:16), and Natalia Pascual in 66th (20:07)
Polo had a quartet of runners, led by Kamryn Stockton in 29th (14:45). Courtney Grobe took 35th (15:07), Leanne Diaz was 53rd (16:52), and Ellia Escobar finished 57th (17:20).
Winnebago had five of the top seven runners to take the team title with 21 points, led by winner Marissa Roggensack, who covered the 2.05-mile course in 12:18.12.
Clippers, Storm run in Kewanee: Neither Amboy-LaMoille nor Bureau Valley fielded a full team at the Kewanee Boiler Invite at Baker Park, but Amboy LaMoille's Lauren Althaus earned a medal with a 16th-place finish in 22:14.7.
Other Clippers competing were Bailey Ellis (24th, 23:20.6), Addison Pertell (35th, 24:52) and Natalie Pratt (64th, 38:20).
Running for the Storm were Amalie Graversgaard (26th, 23:34.6), Darla Kepner (42nd, 25:29.6), Jillian Hulsing (50th, 27:29.5), and Kaleen Carlson (57th, 30:28.0).
Volleyball
Missiles 2nd at Polo: Milledgeville split with champion Dakota to take second on a tiebreaker at the Polo Invite.
Led by all-tournament selections Ali Mertz and Adriana Miller, the Missiles defeated River Ridge, West Carroll and Rockford Christian Life in two sets each.
Other locals who earned spots in the all-tournament team were Polo's Lindee Poper and Nicole Boelens, Morrison's Shelby Veltrop, Amboy's Tyrah Vaessen, and West Carroll's Lacey Eissens.
Women's college tennis
College of Lake County 6, Sauk Valley 3: The Skyhawks suffered their first loss of the season Sunday, falling at home after coming up short in four third-set tiebreakers.
Kenzie Hubbard won 6-2, 6-1 at No. 3 singles, and Lexi Sneek won 6-3, 6-2, at No. 5 singles for Sauk (5-1). Sydney Schott and Meghan Van Buren teamed up for a 6-0, 6-2 win at No. 2 doubles.
Saryn Seeley lost 6-4, 4-6, 11-9 at No. 2 singles, Van Buren fell 6-3, 2-6, 10-5 at No. 4 singles, and Olivia Pitkin lost 4-6, 6-0, 10-8 at No. 6 singles. Hubbard and Pitkin also fell in a hard-fought battle at No. 3 doubles, losing 4-6, 6-1, 11-9.