The Rock Falls volleyball team remained undefeated with a 25-11, 25-13 win over Rockford Christian on Tuesday night at Tabor Gym.
Maya Sands had 10 kills and eight digs, and Mallory Pinske added eight kills for the Rockets (17-0, 2-0 BNC). Nicolette Udell spiked four kills, Emily Lego added three kills, and Cara Goff had eight digs. Denali Stonitsch dished 11 assists, and Cadence Stonitsch set eight assists.
Yorkville def. Sterling 26-24, 25-17: The Golden Warriors dropped a tight first set before falling to Yorkville in straight sets in a nonconference match at Musgrove Fieldhouse.
Grace Egan had 11 kills, four digs and a block for Sterling (6-10), and Kathryn Rowzee added three kills and a block. Katie Dittmar had two blocks and two digs, and Delali Amankwa chipped in 15 assists and two digs.
Rockford Lutheran def. Oregon 21-25, 25-16, 25-12: The Crusaders rallied from a set down to beat the Hawks in a Big Northern battle.
Jenae Bothe had nine kills, five digs, a block and an ace for Oregon. Ava Wight had seven kills and 20 digs. Aubrey Point had 11 digs, an ace and 16 assists.
AFC def. Amboy 25-15, 25-22: Despite a close second set, the Raiders pulled off the two-set win in Ashton over the Clippers.
Ellah Dorn led the Raiders with six kills, six aces and four digs. Brianna Gonnerman had six aces, two kills and 12 assists. Kate Bass had four digs and four aces.
Elly Jones had seven assists, four digs and two kills for Amboy. Lexi Ketchum and Chloe Heath had three digs.
Polo def. Milledgeville 23-25, 25-23, 25-20: The Marcos earned a hard-fought win at home over the NUIC rival Missiles.
Nicole Boelens led Polo with 15 kills, 24 digs and 2.5 blocks, while Bekah Zeigler added 21 digs, seven kills and 10 points. Teah Almasy stuffed the stat sheet with 10 digs, nine assists, three kills, 2.5 blocks, 11 points and three aces. Lindee Poper had 10 digs, 6.5 blocks and three kills, Emileigh Williams added two kills and 2.5 blocks, and Natalie Nelson finished with 12 assists and six digs.
Emma Foster had 10 kills, 11 assists, 10 digs and two aces for Milledgeville (9-5, 2-2), and Lilianna Smith had seven kills and four digs. Adriana Miller finished with five kills, 28 digs and two aces, Alyssa Mertz had four kills, 18 assists, 14 digs and an ace, and Lydia Faulkner chipped in three kills, two blocks, two digs and an ace. Carissa Hubbard added 11 digs and two aces, Rylee Matthews had 10 digs, and Marissa Sturrup spiked three kills.
Eastland def. Forreston 29-27, 25-21: Two close sets both went to the Cougars for the NUIC win.
Addison Burkholder had eight kills and 16 digs for Eastland. Kaydence Coulthard had five kills and an ace. Annika Myre had two blocks and an ace. Chloe Sweitzer had 16 digs. Jenica Stoner had 21 assists.
Rylee Broshous had 10 kills for the Cardinals. Jaiden Schneiderman had five kills. Brooke Boettner had 11 assists.
Boys golf
Wolfe 5th, Comets 6th at TRAC Meet: Kyle Wolfe shot a 78 to finish fifth at the Three Rivers Conference Meet at Byron Hills in Port Byron, as Newman placed sixth as a team with a 351.
Riverdale shot a 305 to win by 28 strokes, claiming the conference crown for the eighth straight year. The Rams' James Moorhusen was medalist with a 72.
Bureau Valley was ninth with a 365, with Morrison taking 10th with a 370. Erie-Prophetstown placed 13th with a 389.
After Wolfe, Bureau Valley's Bryson Smith was the next highest local finisher in a tie for 21st with an 86. Isaac Melton led Morrison in a tie for 23rd with an 88; BV's Seth Spratt and Newman's Logan Palmer also fired 88s. Erie-Prophetstown's top finisher was Blake Geuns in a tie for 44th with a 94.
Newman's Carson Palmer (92) and Ty Brockman (92) also had top-50 finishes, as did Morrrison's David Stralow (91) and Mason Dykstra (91), Bureau Valley's Landen Birdsley (93) and Cooper Balensiefen (97), and E-P's Ethan Palmer (95) and Caden Van Horn (97).
Le-Win-Pearl City 214, Forreston 216: The Cardinals fell by two strokes at Sunset.
Heath Schubert's 52 led Forreston. Mikhail Hanson shot a 45 for Lena-Winslow/Pearl City.
Girls tennis
Dixon 5, Princeton 0: The Duchesses picked up a sweep over Princeton.
At No. 1 singles, Chloe Coil won 6-2, 6-2. At No. 2 singles, Miriya Jones won 4-6, 6-3, 11-9.
At No. 1 doubles, Leah Kuehl and Grace Ferguson won 1-6, 6-4, 10-8. At No. 2 doubles, Addison Arjes and Kyarra McGlown won 6-2, 6-1. At No. 3 doubles, Leah Stees and Siena Kemmeran won 6-1, 6-1.
Boys soccer
Geneseo 6, Sterling 1: The Golden Warriors lost a Western Big 6 game on the road, as the Leafs outshot them 12-3 on goal.
Fabricio Peña scored on a penalty kick in the 25th minute for Sterling (6-4, 2-2) after Geneseo had jumped out to a 3-0 lead.
Byron 1, Oregon 0: The Hawks lost a Big Northern battle at Oregon Park West, as Byron scored with 9:14 left in the game to notch the victory.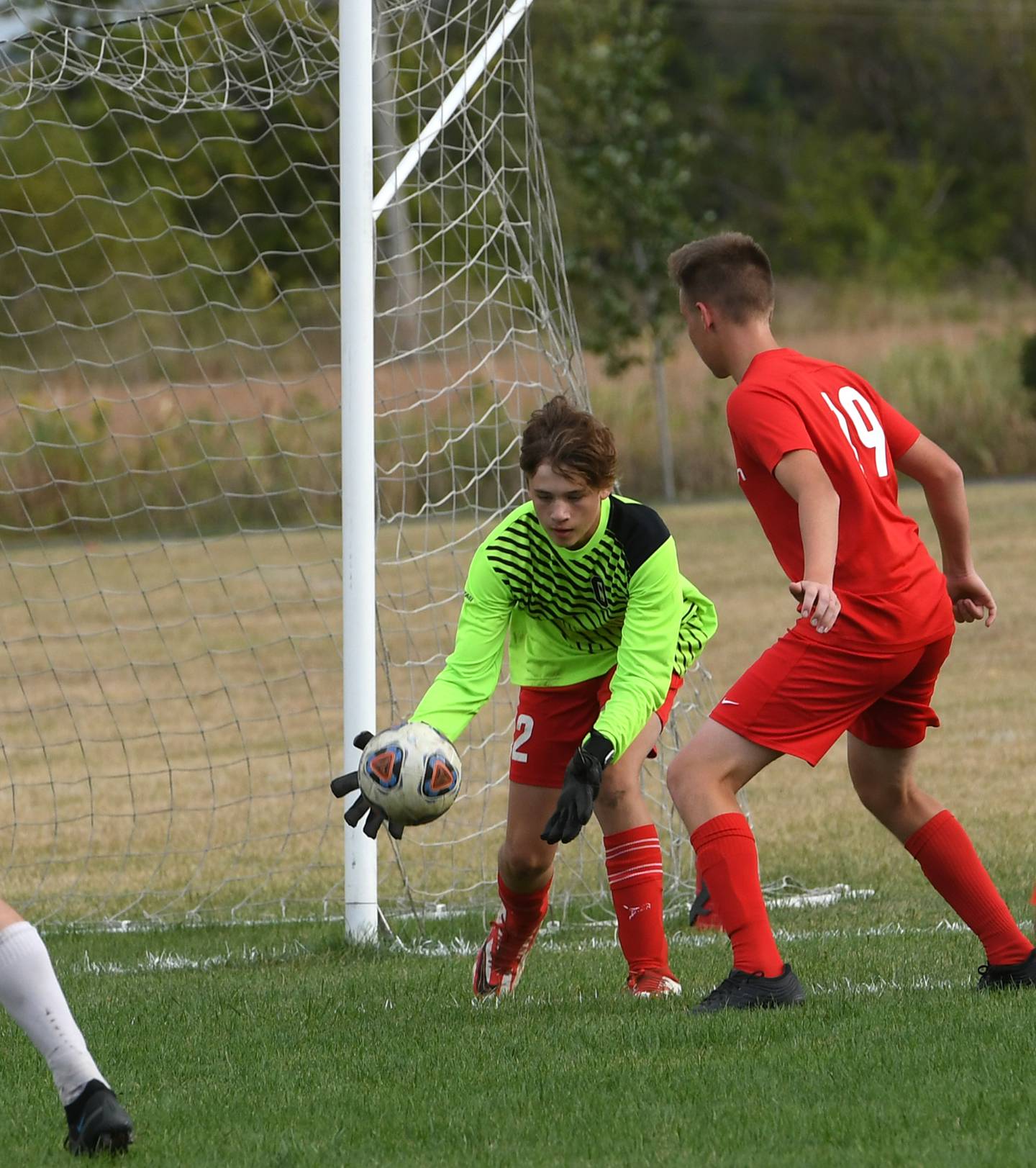 Boys cross country
Amboy 21, Mendota 46, Princeton 69: Brock Loftus and Ian Eller finished 1-2, and the Clippers nabbed seven of the top 10 spots to win a triangular in Mendota.
Loftus won the race in 15:41, with Eller taking second in 17:20. Wyatt Lundquist (18:10), Charlie Dickinson (18:35), Andruw Jones (18:43) and Kelton Schwamberger (18:46) finished fifth through eighth for Amboy, and Garrett Pertell was 10th (18:57).
Erie-Prophetstown 25, Sherrard 38, Monmouth United 65: The Panthers won a triangular in Sherrard, grabbing five of the top seven spots in the race.
Lucas Dreisbach led E-P in third place (18:50), just ahead of teammate Jacob Gibson (18:51). Aiden Jepson (19:11), Andrew Bomleny (19:35), and Victor Bonnell (19:37) went 5-6-7 for the Panthers.
Bureau Valley 35, Kewanee 38, Orion 47: The Storm grabbed two of the top four spots on their way to victory at a Three Rivers triangular in Kewanee.
Elijah House was second in 17:46, and Benjamin Roth finished fourth in 18:57 for Bureau Valley. Evan Entas (10th, 20:39) and Payton Walowski (14th, 21:08) also finished in the top 15 for the Storm.
Kewanee's Colin Vanstechelman won in 17:41.
Girls cross country
Clippers run in Mendota: Lauren Althaus won the race, but Princeton was the only school to field a full team in a triangular in Mendota.
Althaus won in 21:01, while Bailey Ellis was fourth (23:07), Addison Pertell took sixth (25:13), and Natalie Pratt placed seventh (25:51).
Sherrard 24, Erie-Prophetstown 31: The Panthers ran in a three-team meet in Sherrard, with Monmouth United not fielding a full team.
Dylan Chandler led EP in third place in 22:05, with teammates Jillian Norman (23:19) and Jade Nickerson (23:27) finishing 5-6. Alexis Anderson (8th, 25:22) and Shea Winters (9th, 25:46) also placed in the top 10.
Storm 4th in five-team meet: Bureau Valley scored 90 points to finish fourth in a race in Kewanee. Cambridge won with 32 points, followed by St. Bede (60) and Rockridge (65). ROWVA was fifth (104).
Amalie Graversgaard led the Storm with a seventh-place finish in 24:08. Darla Kepner added a 16th-place finish in 26:05.
Cambridge's Miranda Reed won the race in 19:42.