NORMAL – Playing for the final time under retiring head coach Sheila Pillars in the Class 2A girls volleyball state third-place match at CEFCU Arena on Saturday afternoon, the Rock Falls Rockets showcased everything that got them there.
After erasing a seven-point deficit in a first-set win over the Carmi-White County Bulldogs (33-9), Rock Falls (35-7) regrouped from a second-set loss and won the match 27-25, 21-25, 25-14.
[ Photos: Carmi-White County vs. Rock Falls Class 2A Girls Volleyball Third Place Match ]
"I think we showed some grit and that we wanted it more. I think we came out unlike ourselves," Rock Falls senior outside hitter Claire Bickett said. "Maybe it was nerves, it was our last game, and we knew we needed it. And I think by the time that third set came around, we just didn't want to mess around with them, because we knew we wanted it more."
The Bulldogs seized a 12-5 lead in the first set, led by a six-kill barrage from sophomore outside hitter Caroline Simmons. But the Rockets showed their resolve and battled back.
Bickett made the first inroads toward a comeback, slamming back-to-back kills in front of a block to pull the Rockets within 12-8.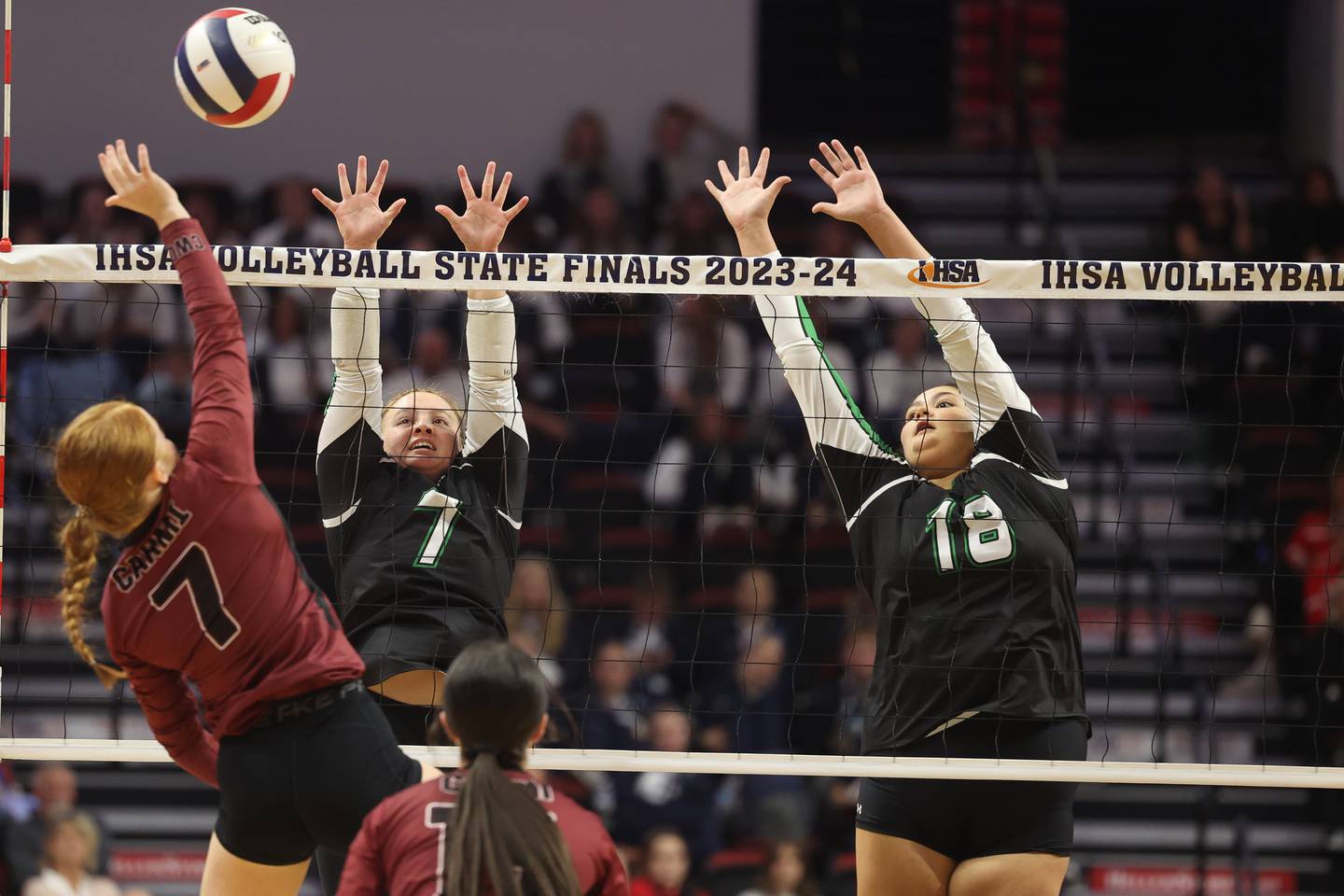 Later, after the margin went back to four points, Rock Falls turned the tide with a 9-2 run. A lift violation cut the deficit to three points, then junior defensive specialist Elizabeth Lombardo served an ace to draw within 20-19. After a serving and hitting error by the Bulldogs, the Rockets went up 24-21 on three straight Bickett kills, each assisted by senior setter Denali Stonitsch.
Carmi senior outside hitter Mara Serafini tied it at 24 and 25 with a pair of kills, but Rock Falls senior outside hitter Nicolette Udell countered with two straight kills to conclude the first set.
"I feel like there was just some communication errors. I think we came back, though," Udell said. "We played with energy and confidence and just played our volleyball. We knew that as a team, we could play better, and I think we did that."
The Rockets matched the Bulldogs point-for-point in the second set up to a 5-5 tie on a kill by senior middle hitter Taylor Reyna. After a Rock Falls serving error put Carmi in front, it never looked back. Simmons closed the second set and forced a third with back-to-back kills.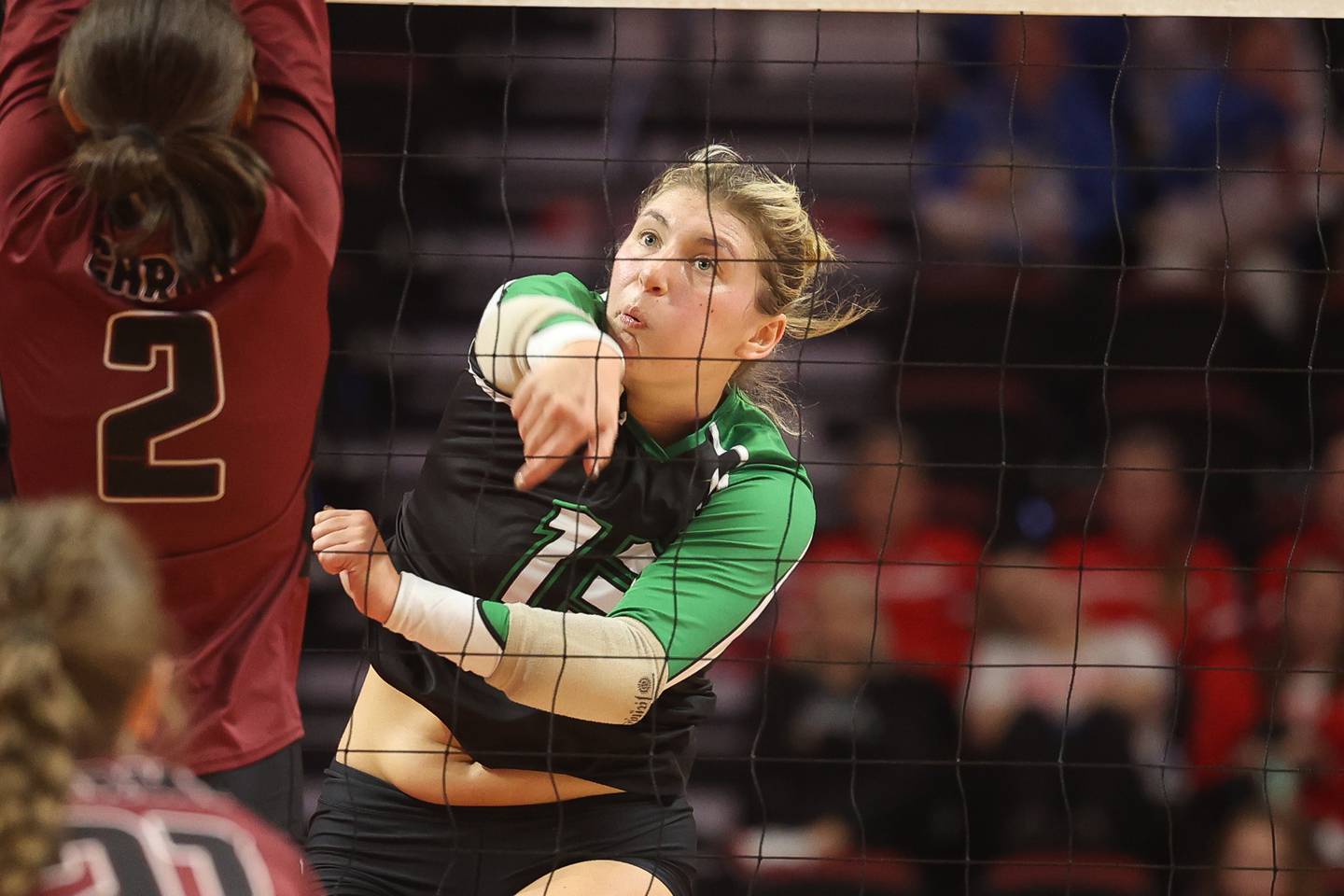 After conceding the momentum in the second set, the Rockets regrouped, refocused and came out red-hot in the third.
"I think it was kind of funny what we did. We kind of screamed to settle [down]," Taylor Reyna said with a laugh. "I feel like that kind of led us through."
After trading points to a 4-4 tie, the Rockets completely dominated the third set. Sophomore middle hitter Kayla Hackbarth stuffed a block to put Rock Falls in front and ignite a 6-0 run. Bickett followed with two more kills, then sophomore middle hitter Ari Reyna stuffed a block, Hackbarth stuffed another block, and Lombardo served her second ace for a 10-4 lead. Senior defensive specialist Sophia Moeller tapped a kill to push it to 16-6, then served an ace to stretch it to 17-6. Udell spiked three kills over a six-point stretch to seal the win.
"I'm going to give a little shoutout to Kayla Hackbarth and her getting blocks and touches on the ball immediately. I think that really spurred us a little bit more, just got us a little bit more excited," Pillars said. "Got a couple of those, shut their best hitter down for a rotation or two, and I really thought that that was the key to us getting that momentum in that third set. That's the first time she's stepped up as a varsity player. To do it in this match and step up as she did, I'm super proud of her."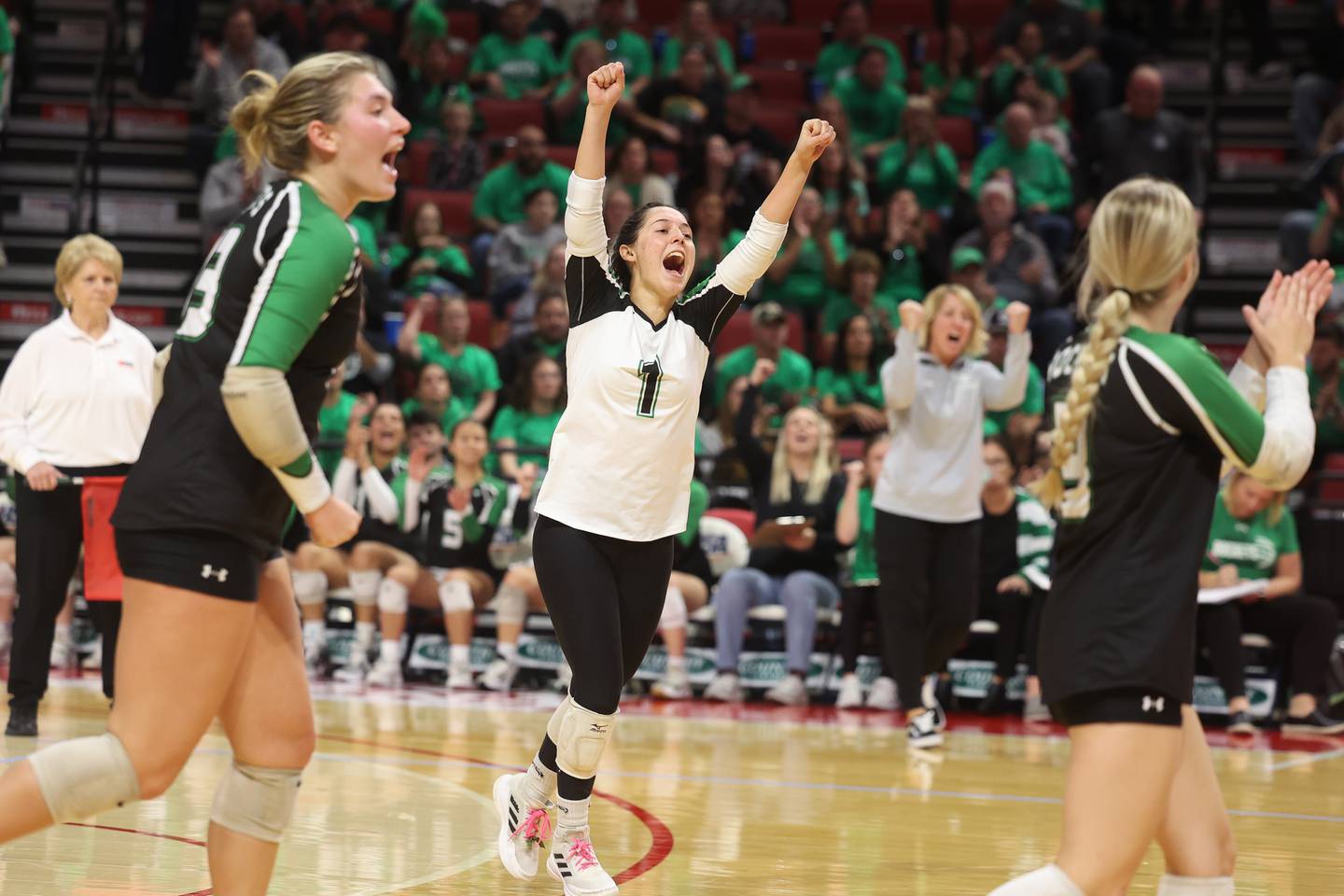 Bickett compiled 22 kills and eight digs, Udell totaled 14 kills and two digs, Stonitsch amassed 33 assists, 10 digs and two kills, Carli Kobbeman supplied 10 digs and four assists, Zoe Henson contributed eight digs and Moeller added six digs for the Rockets. Bickett was recognized as an Illinois Volleyball Coaches Association Class 2A First-Team All-State selection after the match.
Simmons tallied 19 kills and seven digs, Serafini gathered 12 kills and 10 digs, and Lauren Burzynski compiled 32 assists and 10 digs for the Bulldogs.
Pillars retires with a career coaching record of 642-283-5 over 26 seasons at the helm for Rock Falls.
"It's amazing. I thought we battled through those first two sets," Pillars said. "I think we put more pressure on ourselves than we really needed to and then by the time that third set rolled around, we just really played our game. And it was great to end on the way that we know how to play volleyball. To send these seniors out – this whole team out – to send them out with a 'W,' for them to give me a 'W,' I could not be more proud of them."