NORMAL – Playing for retiring head coach Sheila Pillars for the second-to-last time in the Class 2A Girls Volleyball State semifinals Friday afternoon at CEFCU Arena, the Rock Falls Rockets were amped up and ready to go from the opening serve against the Breese Mater Dei Knights.
The Rockets (34-7) used that energy to build early leads in both sets. However, the Knights (32-6) came storming back both times. Mater Dei prevailed 25-20, 25-22, advancing to play IC Catholic for the state championship at 1:55 p.m. Saturday. Rock Falls faces Carmi-White County in the third-place match at 12:25 p.m. Saturday.
[ Photos: Rock Falls vs Breese Mater Dei 2A state volleyball semifinal ]
"I'm really excited [to play one more match tomorrow]. We've been playing together for a really long time," Rock Falls senior outside hitter Nicolette Udell said. "I feel like this is a really important moment in our lives and something we've been working toward our entire career, so I feel very privileged that we get to experience this together as a family."
"We're really excited because we know these are the last two games," Rock Falls senior libero Carli Kobbeman said. "There's [nothing] more after state, and we're really going to play our hearts out the whole time."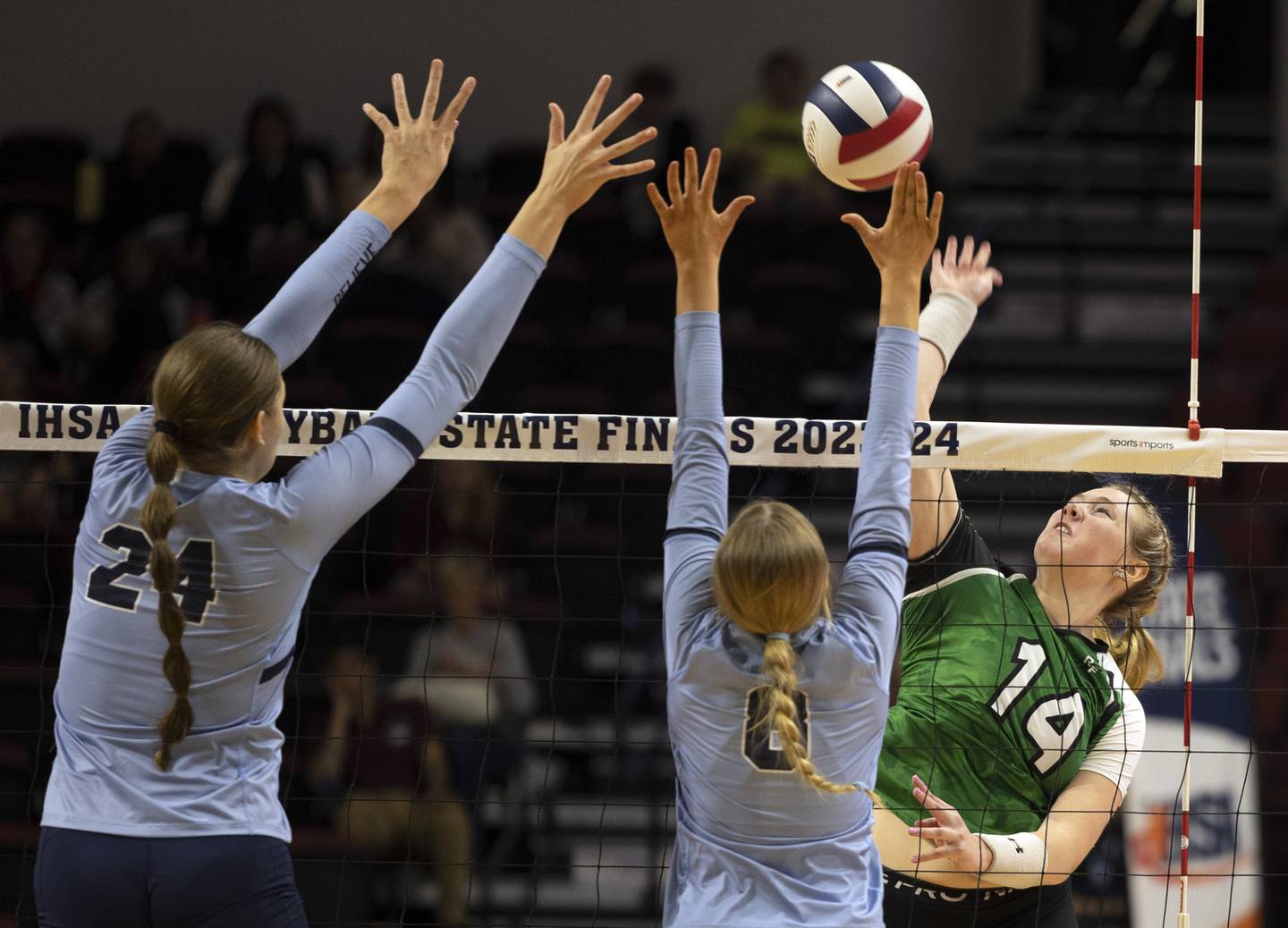 The Rockets seized a 6-2 lead in the first set with the help of a three-kill outburst from Udell. Later, a 4-0 run by Mater Dei tied it at 14. Junior outside hitter Avery Wuebbels hammered a kill to start it off, senior middle Elyse Strader followed with a kill and a block, and a lift violation evened the score.
The Rockets retook the lead on a Mater Dei hitting error, but the Knights took it right back after a Strader kill and Wuebbels block made it 16-15. Junior 6-foot-5-inch middle Alyssa Koerkenmeier spiked back-to-back kills to stretch it to 23-18, then senior outside hitter Emma Johnson answered two Udell kills with one of her own. The Knights claimed the first set on a Rockets' hitting error.
"I just thought we had one rotation where we gave them too many points in a row," Pillars said. "I thought we were really good at siding out after we gave them one, maybe two points, and then we kind of got stuck in the same spot, I think, in both sets. And then, when we kind of got out of that rotation, I thought we executed very well, so I feel super proud."
Rock Falls took charge early in the second set, as well, this time with a 4-0 run. Udell fueled the opening surge again, hammering two kills in front of a block before senior outside hitter Claire Bickett delivered a powerful spike.
Mater Dei tied the set 5-5 on a kill by Johnson, and lead changes ensued from there.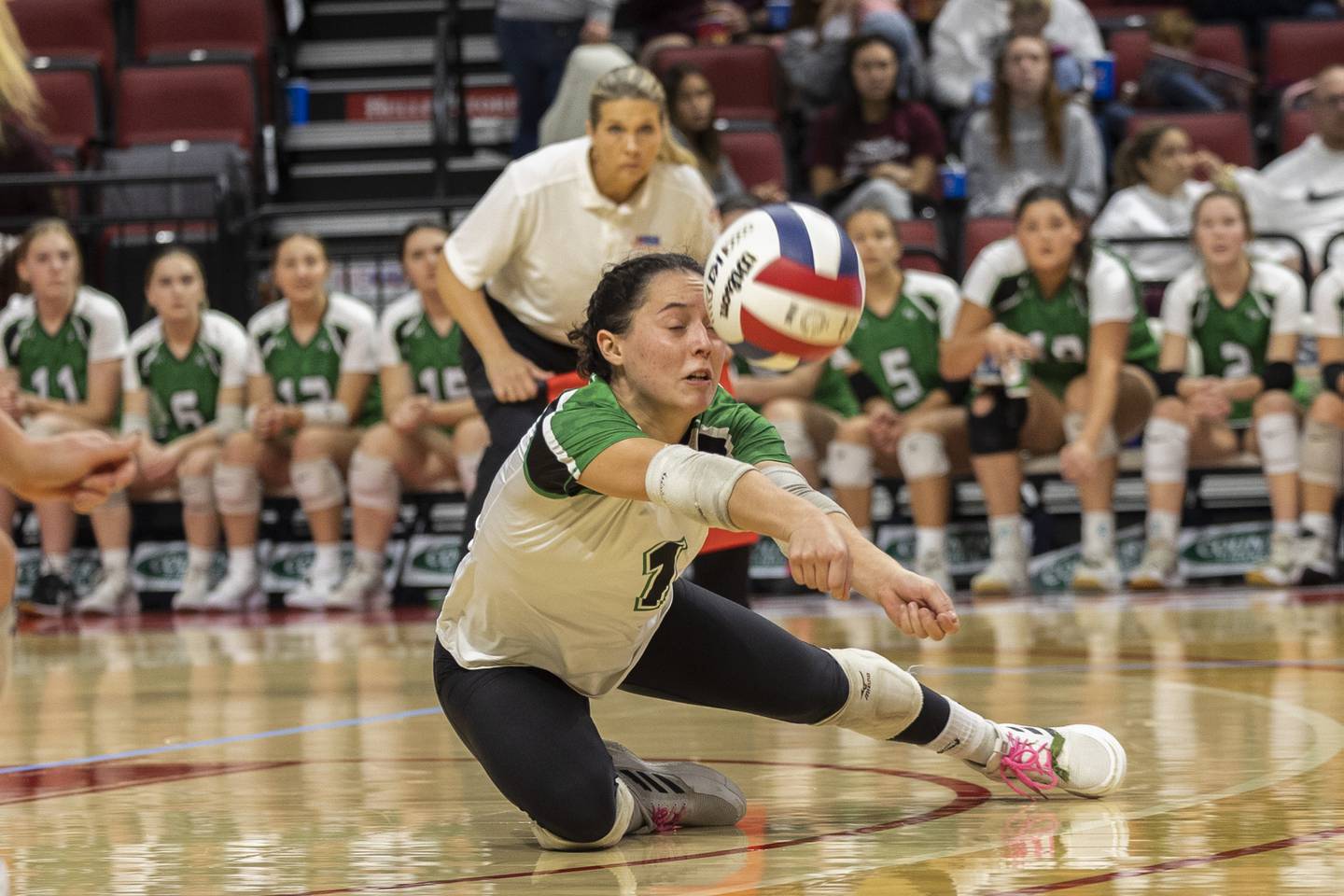 "We were really trying to keep our composure, keep calm. We were talking about what was working, what we needed to go back to," Pillars said about the huddle after the first set. "Just really trying to refocus and reante-up for that second set. And then we started out hot again, kind of got stuck in that one rotation, and that's where they scored a couple of those points. I thought we did a nice job fighting at the end to finish that out. I thought we did a really, really great job, especially playing defense. ... I thought we stepped on the court ready to go, right from point No. 1."
The Rockets went up 12-10 on a block by sophomore middle Ari Reyna, then junior outside hitter Ella Diercks served an ace to tie it 14-14 for the Knights. Mater Dei took the lead for good at 15-14 on a Rock Falls hitting error.
After falling behind by four points, the Rockets twice rallied to within two: on a Bickett kill (23-21) and an Ari Reyna block (24-22). However, it wasn't enough to complete the comeback. Sophomore setter Addison Nenninger stuffed a block to seal the Knights' win.
Udell totaled 12 kills and four digs, Kobbeman supplied 14 digs, Bickett compiled seven kills and 13 digs, senior setter Denali Stonitsch tallied 17 assists and six digs, and senior defensive specialist Zoe Henson added three digs for the Rockets.
Strader and Koerkenmeier totaled seven kills apiece, Nenninger added 20 assists and 10 digs, and junior libero Addie Lampe had eight digs for the Knights.