POLO – From inside every nook and cranny and from around every corner, history peaks out at visitors to 110 East Mason St.
The light bulbs hiding on the underside of the marquee beneath the furring strips. The original tiling outlining the men's and women's restrooms.
The formerly neon-lit letters spelling "POLO" tucked away in the basement. And upstairs, sitting in plain sight, the old film projectors – so heavy they'd likely cause the stairs to collapse if anyone tried to carry them out.
"It takes a minute to just take it all in," owner Cynthia Reynolds said.
Located in downtown Polo, the building was constructed by the Upton family in 1944 and opened as a movie theater in 1945, according to an article in the Feb. 5, 1960, edition of the Freeport Journal-Standard. The article said that, that week, co-owners Mrs. H. E. Upton and Mrs. Virginia Brown sold the building to Roscoe Shipman, who used it to house a Gambles — a retail chain that went out of business in 1984.
In the 1970s, it became a pharmacy and hardware store, Reynolds said.
She and her husband, James Reynolds, bought the property in February with restoration in mind.
"It's just, there's something about the building that I was, 'We gotta have it. We gotta restore it,'" she said.
Today, if one steps through the front door onto the level floor, they'd find boxes and shelves filled with things previous owners never threw away — much of it now organized, thanks to Reynolds. Across the room is the built-up stage that served as a pharmacy.
A glance at the theater blueprints shows that's not what a visitor 75 years ago would have seen.
Customers who entered the then-cavernous space were greeted by a terrazzo flooring mosaic near the entrance. A little ways inside – past the restrooms, manager's office and concessions – the floor began sloping down toward the stage. There was seating for about 130 people and light strips illuminated the aisles leading to the front rows.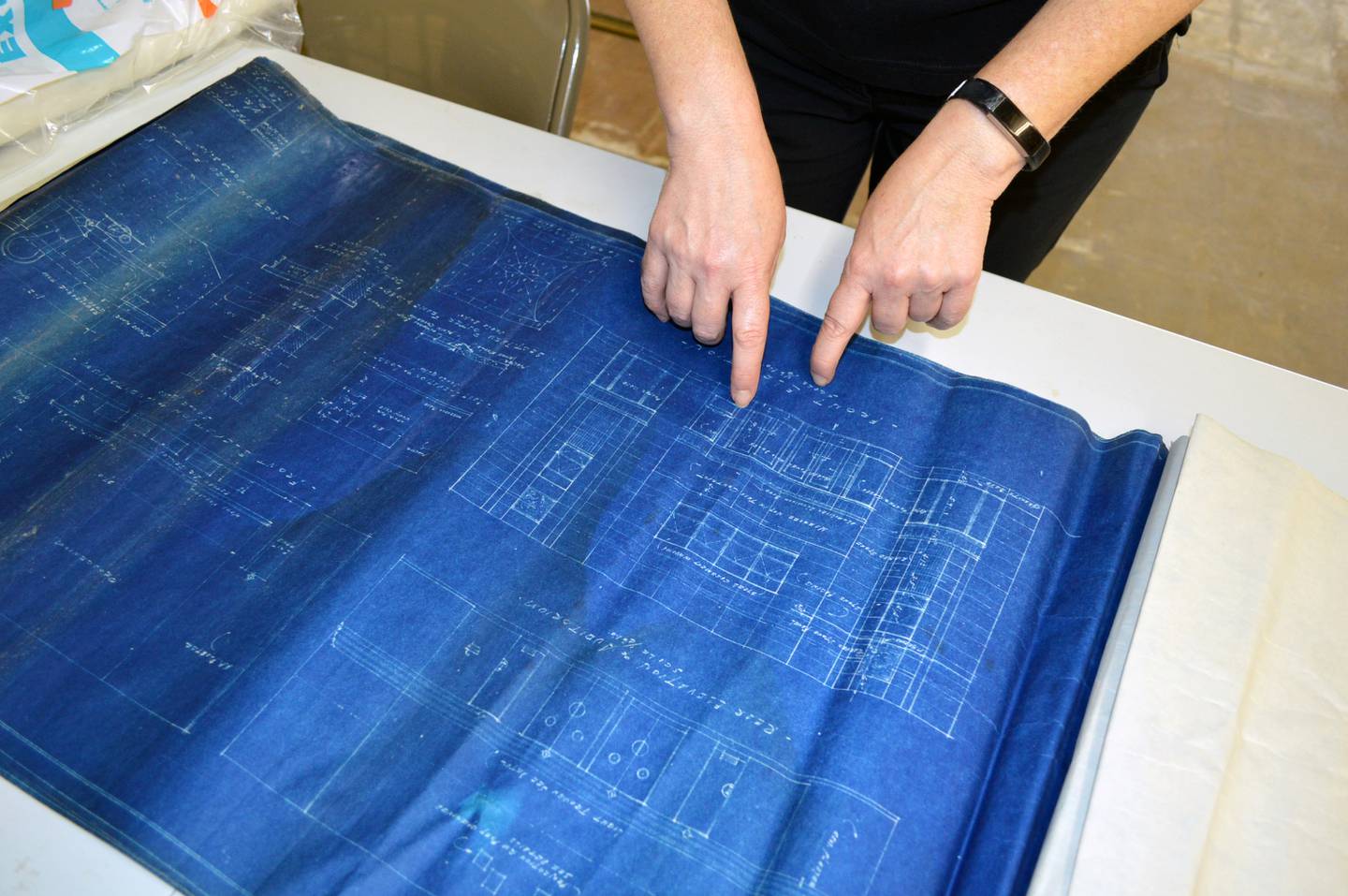 "If you look more closely at the blueprints, you will see everything — because it shows you everything," Reynolds said.
The blueprints were found in the basement, but they weren't the only fun thing down there, Reynolds said. There also are vintage glass display cases, an old compressor for a pop machine, sales pamphlets, a box of spare tiles for the bathrooms, a GE sign worth thousands of dollars and the "POLO" marquee letters.
While the GE sign will be sold to help pay for renovations, the letters are staying, she said. They'll be fabricated, powder-coated and altered to run LED lights before being returned to their original place above the marquee.
"We're definitely going to put the marquee to use, because once we reveal all that, anytime there's an anniversary or somebody has a baby or the Marcos' are playing their games, it's going to be advertised," Reynolds said.
Upstairs also was a treasure trove, with findings such as the theater's original ticket windows, Simplex oil for the antique projectors, oil for the popcorn machine and bags for said snack, movie reel storage boxes and a mechanism to rewind films.
It's just, there's something about the building that I was, 'We gotta have it. We gotta restore it.'

—  Cynthia Reynolds
"When they made it a Gambles' store, they basically just shoved everything up here and didn't bother to go through it," Reynolds said. "Well, being a history major and historian, I started going through everything.
"It's super fun and cool and it does not feel like a chore when you're over here [cleaning]," she later added. "Well, the day we were taking the shelves down felt like a chore. We were so sore and our bodies felt like we were hitting muscle failure."
One upstairs room — a storage area just off the projector room — took two days to empty of papers, boxes and garbage, Reynolds said.
"As I was going through things, I recognized the books that they had," she said. "Every movie that they had shown and they had to keep track of the movie, when it played, who paid, what tickets — like children's tickets — and then they sent off the receipts. Isn't that amazing?"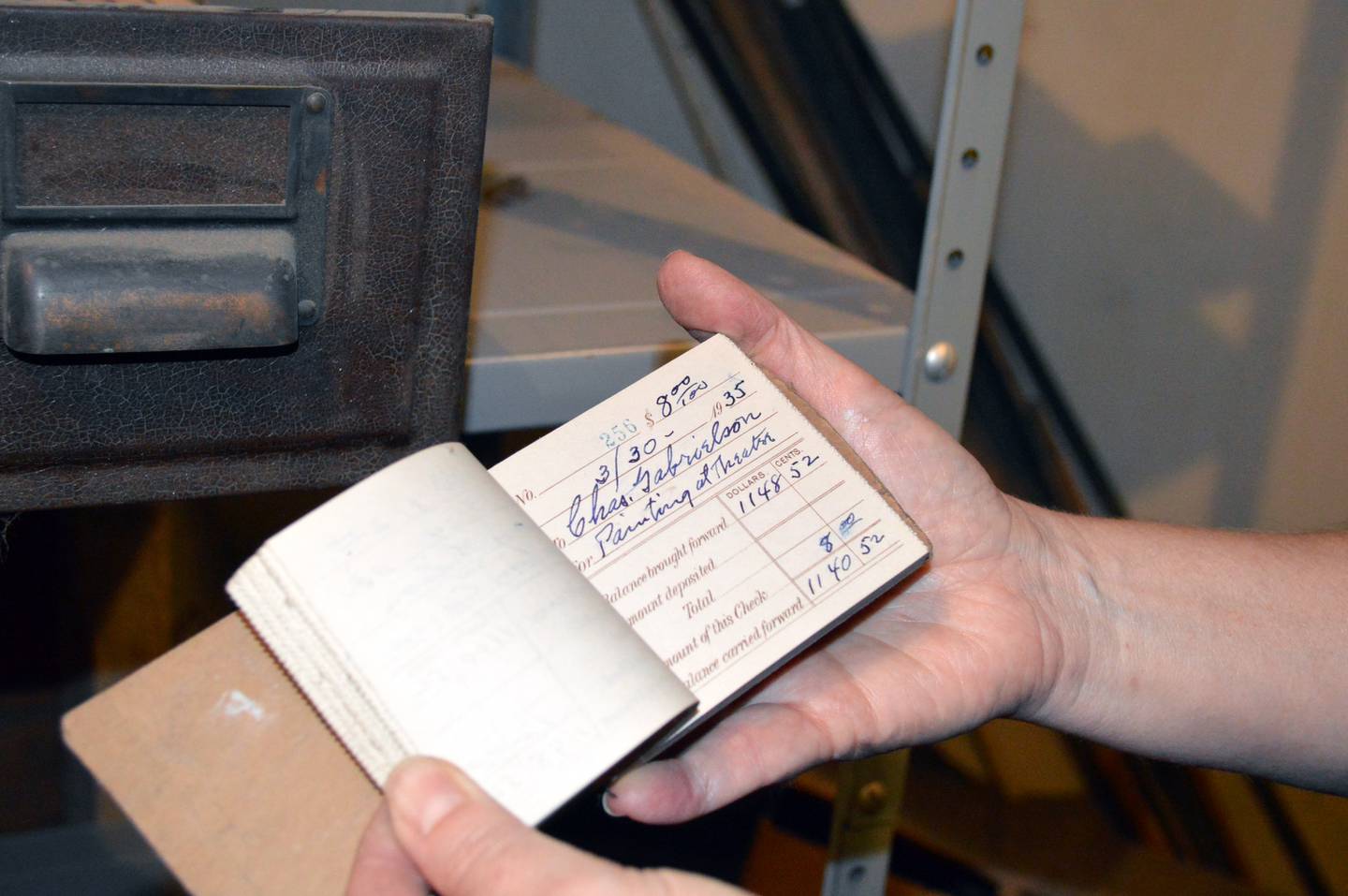 For now, the Reynoldses are busy cleaning and organizing all their discoveries, some of which later will be displayed. But they have plans for 110 East Mason St., including a new name for the building.
They named it The Honoré Centre, after Bertha Honoré Palmer, an American socialite active in women's, artistic and civic affairs in Chicago in the late 1800s. Reynolds said the spelling "centre" is meant to emphasize the meaning of "a point that does not move."
"We intend to support art and creativity in the community, and we plan on going nowhere," she said.
The ultimate goal is for it to be a theater once more, but that's four- or five years down the road, Reynolds said. In the meantime, the plan is to use the building as venue space — at least once the main floor is cleaned up and decorated.
Upstairs will take a bit more time, she said. Plans for that floor include a conference room, office, reception area and kitchenette.
Come Christmastime, Reynolds is planning to host a little winter wonderland where kids can meet Santa Clause.
"It's going slowly, but it will get done," Reynolds said of renovations. "I have to have it [the main floor] done by Christmas because I want that little winter wonderland."