Closing out a postseason win is a cause to celebrate.
So of course there's a party hat.
When the final out comes in a Sterling win – and there have been plenty of wins with the Golden Warriors on their way to the Class 3A state tournament in Peoria – the celebration begins and players gather for a group photo. And there in the photos, donning a blue pointed party hat and holding a decorated stick, is Brooklyn Borum.
"Hannah [Jacoby] got it for me at the dollar store because she knew I would wear it," Borum said. "It's my party hat."
It's never the wrong time to party for Sterling. Borum wears it in the dugout the entire game.
The hat made its debut at sectionals, an added accessory on Borum's head in addition to one she carries in her hand: Sticky.
The stick fell from a tree near Sterling's softball field. Sterling coach Becki Edmondson told Naveah Frey to use some of her artistic skill to decorate it for the postseason.
"I painted it and put glitter on it, then glued some cotton on the end and put ribbons on the sides," Frey said.
The end result is a colorful blue bedazzled baton, which Borum waves in the air and offers up high-fives with it to celebrate good plays on the field.
"It just brings a lot of energy," Frey said. "It makes us want to play more and helps motivate us, our good-luck charm."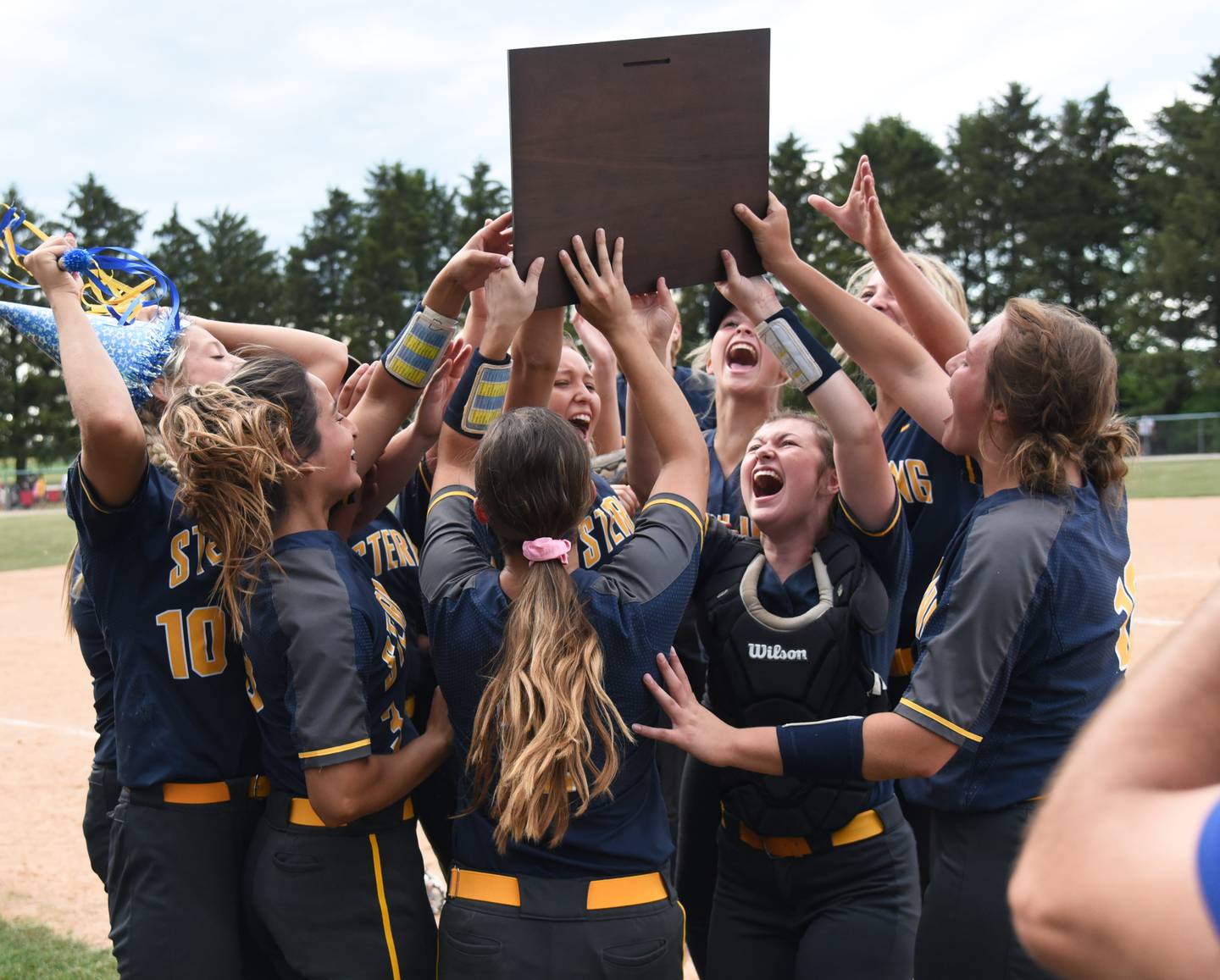 When combined, the hat and stick give Borum the appearance of being some sort of wizard, bringing a little more magic to the Golden Warriors.
"I love it," Borum said. "I feel like it's made me louder and more cheerful, and it helps me support my team more because they look at me and think I'm goofy."
Frey also helps keep up the energy in another way: by giving her teammates a sugar high.
"I just brought candy one time, and now before every game I go and buy more to add to it," she said,
The candy stash has been featuring a lot of Starburst, but other items are on the menu.
"Normally it's like sour candy, Sweet Tarts or chocolate," Borum said. "It helps us get energy and stay loose."
There are some older traditions. Before the national anthem each game, the players lined up on the foul line will draw their uniform number in the dirt.
"We've done that since the beginning of the season," Frey said. "It's just our pregame ritual."