After a two-year hiatus, the West Carroll FFA Chapter held its 15th Annual Parent-Member Banquet on March 14.
Chapter President, Max Eaton, opened with a greeting to the approximately 100 members and guests.
FFA Advisor, Don Mathey, gave the invocation. A meal catered by the Candlelight Inn included macaroni and cheese, lasagna, mashed potatoes, green beans, Chicken George, and french fries.
Numerous team and individual awards were given at the banquet.
West Carroll FFA CDE teams received first in Section #1 FFA competition and included the Varsity and Greenhand Parliamentary Procedure Teams. Seven FFA Greenhands were present and initiated into the West Carroll FFA chapter, and Ashlyn Foster was awarded the Star FFA Greenhand of 2021.
Greenhand member, Dalton Duggan, recited the FFA Creed. Chapter FFA Degrees were presented to 12 members.
Lacey Eissens recognized Section 1 FFA Proficiency Award winners, Tom Falk and Taylor Schmoll. Mathey recognized
the three prospective State FFA Degree recipients; Nathan Veith, Faith Hovoius and Erika Rice.
For special awards, FFA Advisor, Mathey presented the Chapter's Honorary FFA Degree to Krum Farms for their contributions to the Chapter's successes through the FFA Plot.
John Kustes also awarded the $1000 Tom Kustes FFA Memorial Scholarship to Erika Rice. Mrs. Polk presented Faith Hovious the Blue and Gold Member Award.
The 2022-2023 West Carroll FFA officer team was also installed: President, Max Eaton; Vice President, Victoria Reiland; Secretary, Tori Moshure; Reporter, Haley McGinnis; Treasurer, Emily Harridge; Sentinel, Lacey Eissens.
The newly installed officer team concluded the banquet by performing the official FFA closing ceremony.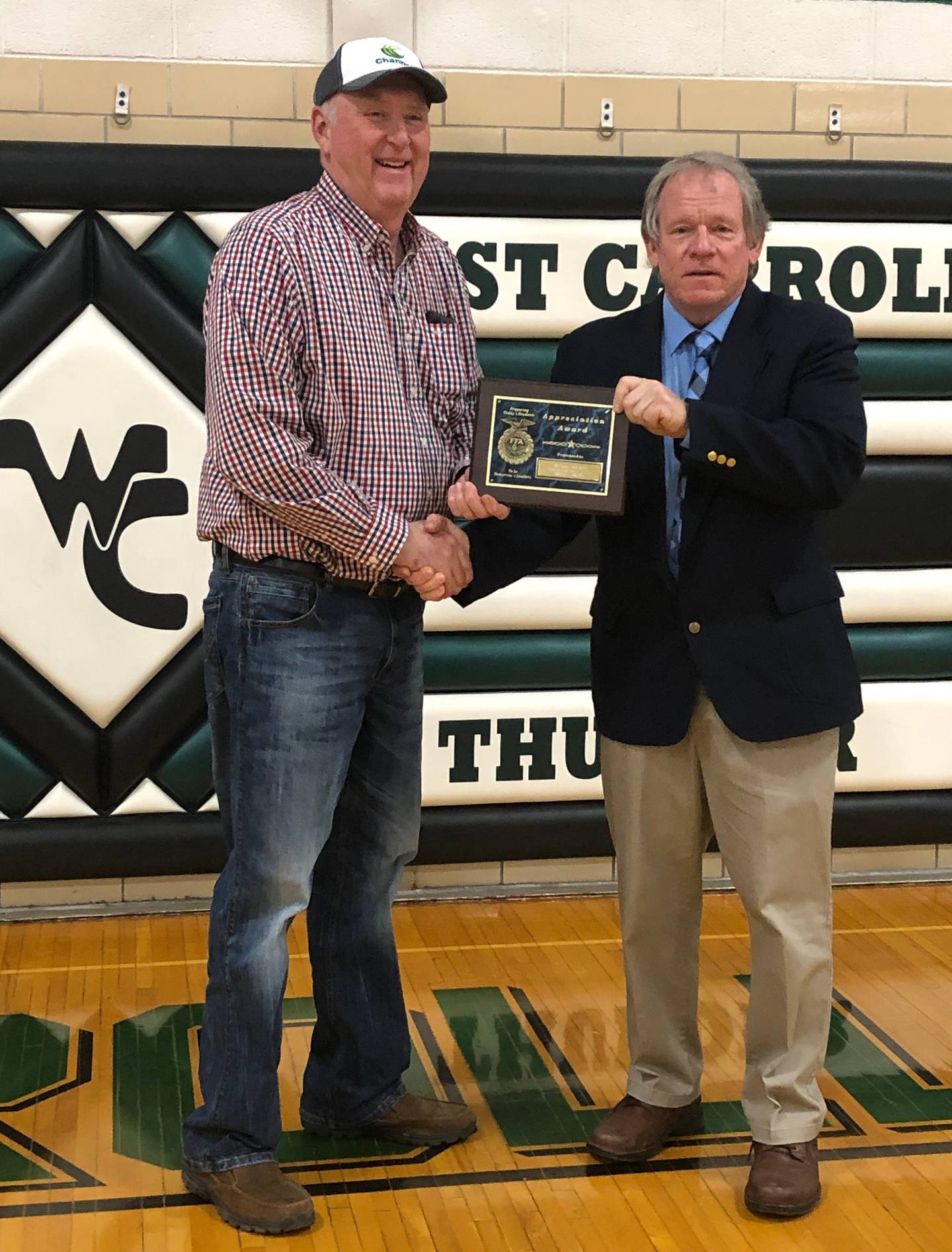 The West Carroll FFA thanked all individuals and businesses who donated to the Illinois FFA Foundation Drive, volunteer judges and the people who helped in planting and harvesting the West Carroll FFA plot.