NORMAL – Seniors Ella Grundstrom and Ava Kultgen took the reins in the Tigers' Class 2A state semifinal win over Chicago Noble/Butler at Redbird Arena on Thursday.
Kultgen led Byron on the offensive end with 17 points in the 55-43 victory, while Grundstrom snared 14 rebounds – 12 on defense – to help offset the second looks the taller Lynx got from 20 offensive rebounds.
"I had so many turnovers I had to make up for something. We could not let them have second chances. We had to limit them to one and done," Grundstrom said.
At a one point early in half, Grundstrom and a Noble player both grabbed a defensive rebound, but Grundstrom soon ripped the ball away and headed down to the offensive end.
"We knew we had to be really strong with the ball. They were coming from all over to double-team us." Grundstrom said.
Coach Eric Yerly defined that type of determination in one word: seniors.
"That's seniors this time of year. Rebounding is all about effort," Yerly said. "We had a senior that wanted to play for the state title on Saturday. That's just effort, and a senior who wanted to win. When you have 14 rebounds, that's just unbelievable. And Ella, just so you know, you did not lead us in turnovers."
Byron went 0 for 6 from the field and didn't score for nearly three minutes to start the game before Kultgen made a free throw at the 5:35 mark.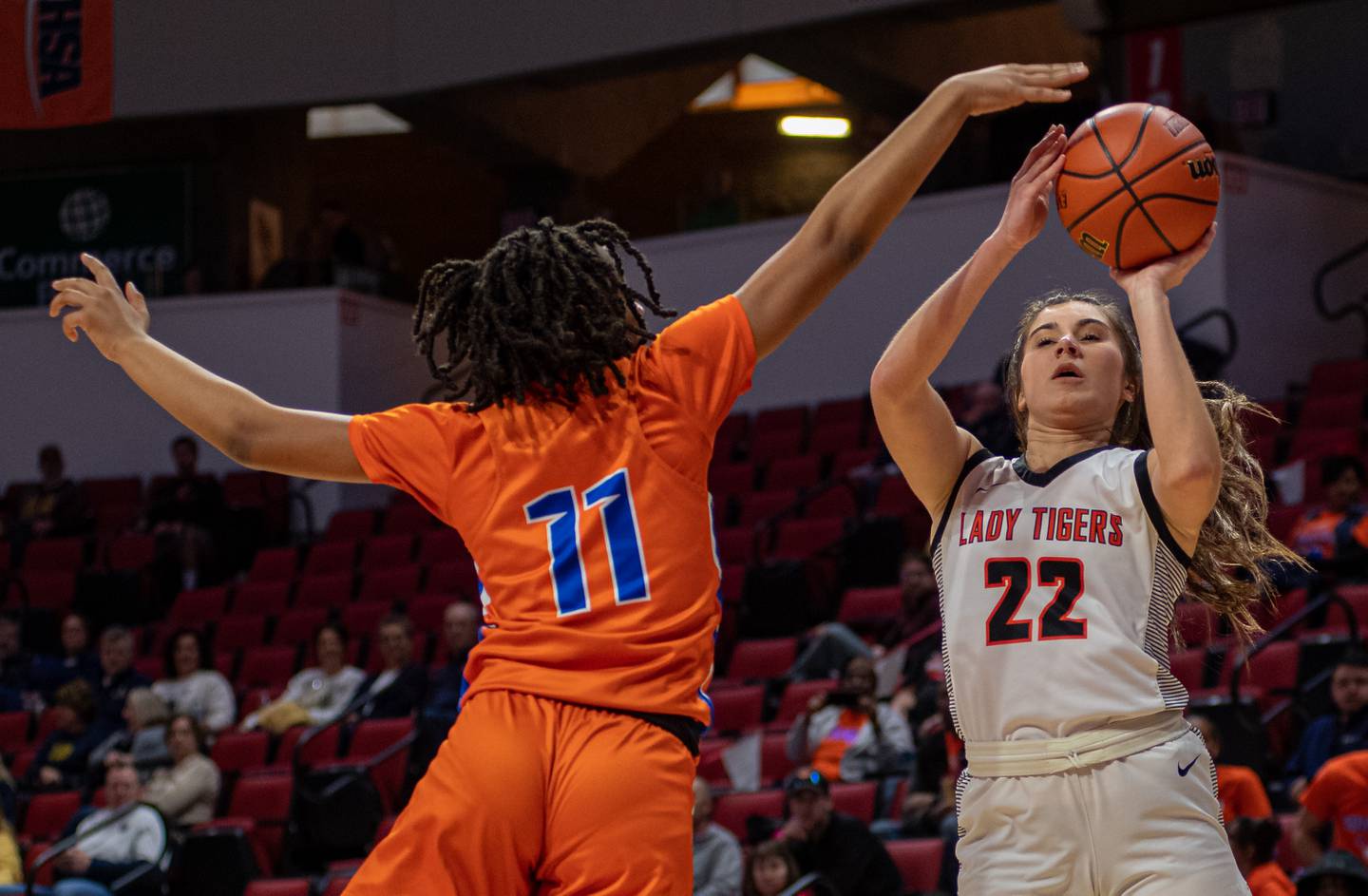 She scored the next four points for Byron, and Brittyn Bielskis drained a 3-pointer to tie the game at 8-8, but Noble led 11-10 at the end of the quarter.
"It's all about staying in the moment," Kultgen said. "At the beginning of the game, everyone is going to be a little nervous. It's a big stage, and we haven't been here before."
Byron took the lead early in the second quarter when Kultgen scored and freshman Macy Groharing converted a fast-break layup to make it 14-11.
After a bucket by Karsyn Bielskis and free throws by Grundstrom, it was Kultgen again as the Tigers outscored the Lynx 12-2 in the quarter to take a 22-13 lead at the half.
Byron extended that lead to 30-13 on a Groharing layup early in the third period. Kultgen, Grundstrom, and Karsyn Bielskis added buckets to give the Tigers a 38-30 lead, and Groharing nailed a jumper at the buzzer for a 40-32 lead.
The Tigers went on to outscore the Lynx 15-11 in the fourth quarter, with six points from Malia Morton, also a freshman, and four each from Kultgen and Grundstrom en route to the win.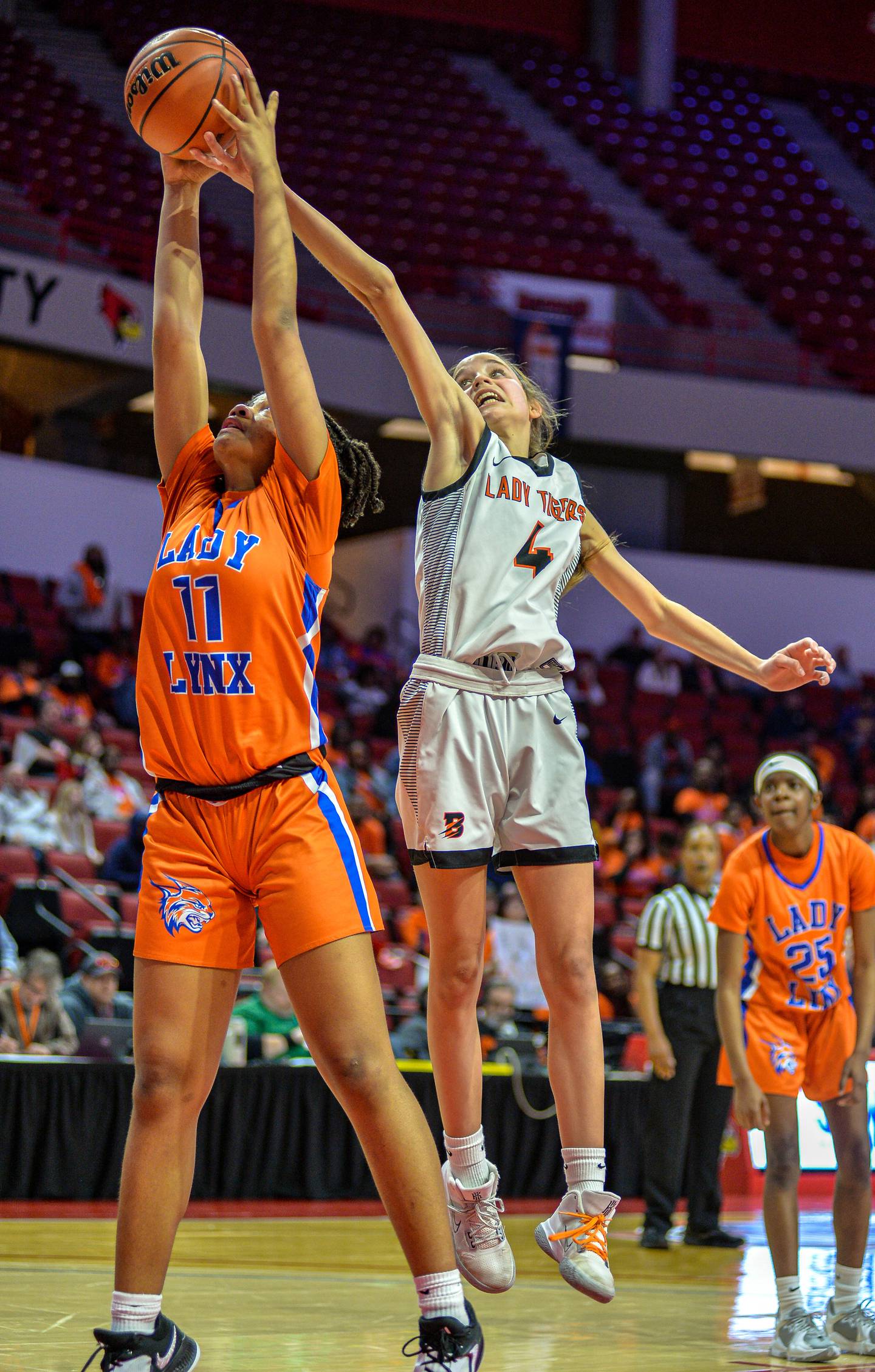 "It's just an honor that I get to play with these seniors," said Groharing, who had 10 points, five rebounds, three steals and two assists in the game.
Morton echoed that sentiment: "Its great to play with the seniors we have," she said.
Kultgen led Byron with a game-high 17 points and five steals, followed by Groharing and Morton with 10 points each; Morton also had five rebound and two steals. Karsyn Bielskis scored nine points and dished three assists, Grundstrom had six points, seven assists and two steals to go with her 14 rebounds, and Brittyn Bielskis chipped in three points, four rebounds and two blocked shots.
Yerly, whose Byron teams won state titles in 2016 and 2017, said Big Northern Conference teams have fared well at the state tournament. Winnebago took second last year, falling to Quincy Notre Dame in the 2A championship game. Stillman Valley took third in 2012.
"Our conference has had a great run down here and success when we do come here," he said. "It's a great tournament."
Byron (35-2) will face Breese Mater Dei (26-7), who upset the 2022 state champ Quincy Notre Dame 61-54.
The Tigers play for the state title at 12:45 p.m. on Saturday.