OREGON — John Lindhorst's "newest retirement gig" officially is up and running.
"I could never actually stop working," said Lindhorst, owner of Ukulele Station America and, now, Oregon Music Garage.
About 40 people attended the grand opening and ribbon-cutting for Oregon Music Garage — or OMG, as it's known for short — early Saturday afternoon.
"Thank you for coming," Lindhorst said just before the store opened. "This is exciting for me and for Oregon and for everybody."
Lindhorst gave the ribbon-cutting honor to Union Savings Bank Assistant Vice President Christy Eastman.
"Because without them, we'd all be around that little tiny stone building cutting a little ribbon," Lindhorst said of the bank.
He also thanked Kyle Stumpenhorst, owner of Rural Renovators. The Franklin Grove-based business constructed OMG.
"Rural Renovators built this above and beyond what it stated out as and it's an amazing structure," Lindhorst said. "We get people every day literally coming just to take pictures of the building. They don't even care what's in it, they're just like, 'Cool building!'"
OMG sits just behind Ukulele Station America at 1000 West Washington St. in Oregon. Parking for both businesses is available at the end of Mix Street.
"It started with Ukulele Station America for six years, and it was so successful, a lot of people started asking, 'Are you going to sell other things?'" Lindhorst said. "So I decided to expand and designed the building and then it was a three-year process to add guitars, banjos, mandolins, etc."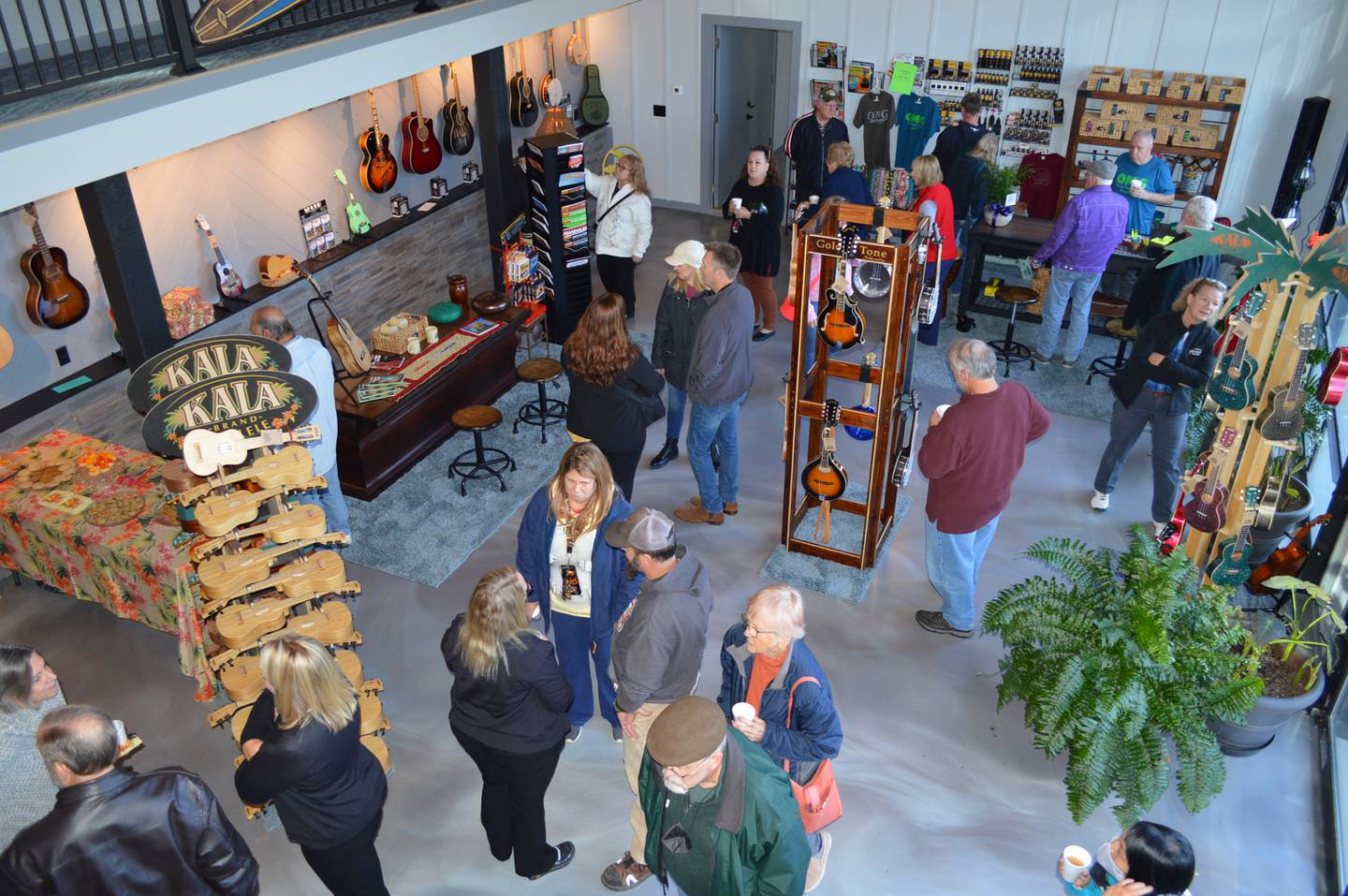 While Ukulele Station America focused on the sale of ukuleles, OMG's stock includes acoustic and electric guitars, electric basses, banjos, mandolins, ukuleles, banjo-ukuleles and more.
Lindhorst said he also plans to expand music lessons and offer live music in OMG.
"It's exciting," he said. "I just lucked out. The builder's are amazing and this building just grew — I mean this structure is phenomenal. I was thrilled as can be."