OREGON — Several Mt. Morris residents on Monday again questioned an August decision by the Oregon School Board to close the David L. Rahn Junior High School at the end of this school year.
"Yes, every school district is having issues, but you could wait 5 years. You do not have to make this decision now," said Bruce Obendorf as he spoke at the first public hearing designed by school officials to share plans as to how seventh and eighth grade students will be moved to the Oregon High School.
In May, Oregon Superintendent Tom Mahoney proposed closing DLR, the last school remaining in Mt. Morris a village of 3,000, due to decreasing enrollments and increasing maintenance costs. The two school districts merged in 1994 after the Mt. Morris School District dissolved due to financial reasons. Mt. Morris is located 5 miles west of Oregon.
Mahoney said the pros of closing DLR included: allowing junior high students to have access to additional elective courses at the high school; aligning the curriculum more closely and providing more frequent opportunities for staff to collaborate; bringing more coaches/sponsors to a building where some sports/activities have no coaches in the building; and allowing for more staff collaboration while also giving younger athletes more immediate exposure to older athletes.
But Obendorf a member of an Advisory Committee formed earlier this year to research the proposal, said Mahoney's financial rationale was incorrect.
The Oregon School Board voted 5-2 on Aug. 16 to close DLR despite pleas from Obendorf and other Mt. Morris officials and residents to keep the school open.
A multi-page presentation presented this summer, argued that the 1950s building was in "sound shape", could still serve as a "viable educational facility" and that the district's finances did not warrant the school's closing.
At Monday's meeting, OHS Principal Heidi Deininger and DLR Principal Kip Crandall offered overviews on administrative and student support structures, location of the Jr High and Sr High classrooms, and explained how lunches would be managed for students.
Under that plan Deininger will serve as principal for the 7-12 school and Crandall will be the assistant principal. Shannon Cremeens will be the Dean of Students/Director of College and Career Readiness (CCR) and Joanna Cermak and Jim Turffs, will be counselors. Cermak will serve grades 7-9, Turffs 10-12.
Morgan Peterson will be "Social Emotional Interventionist" whose duties include functional behavior assessments and interventions.
"We feel we are doing something innovative with our administrative structure," said Deininger.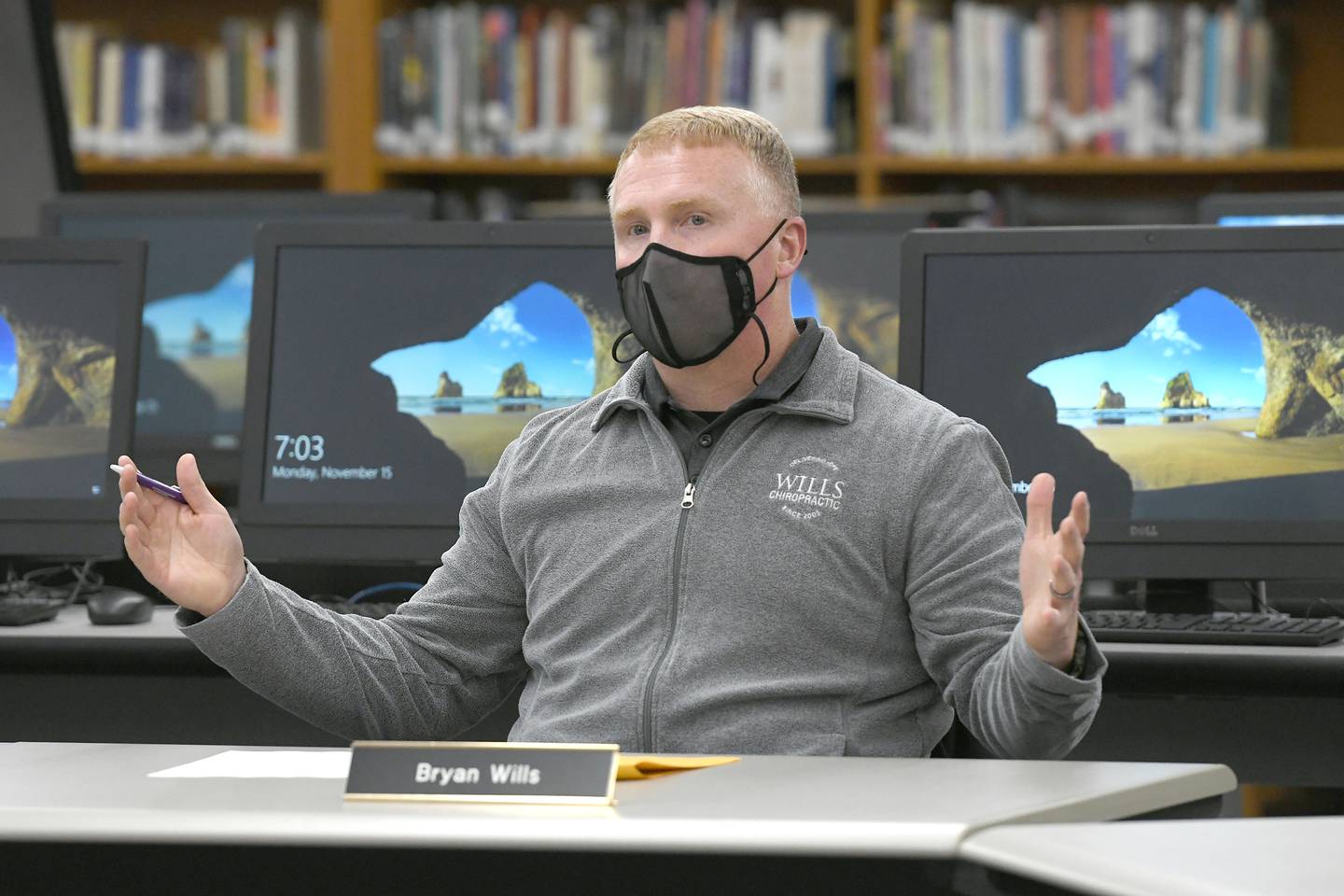 Junior high classes will be in the 1936 section of the high school in Rooms 101-119 and 201-211. High school classes will be in Jefferson Street section, including the science wing.
Junior high students will have lunch first, 11:15-11:45 in two lunch areas, the cafeteria and Room 138/Hawk's Nest, and high school students will have lunch from 11:50-12:50.
Mahoney told the 40 people present at the hearing that materials presented at the hearing are available on the district's website, www.ocusd.net.
"You don't have to move on this next year," said Karen Urish asking what officials planned to do if more students moved into the district. "Don't rush to judgment. Put it off for awhile."
Others questioned the timing for the closure and said funds used for improvements at the high school and Blackhawk Center, both located in Oregon, could have been used at DLR.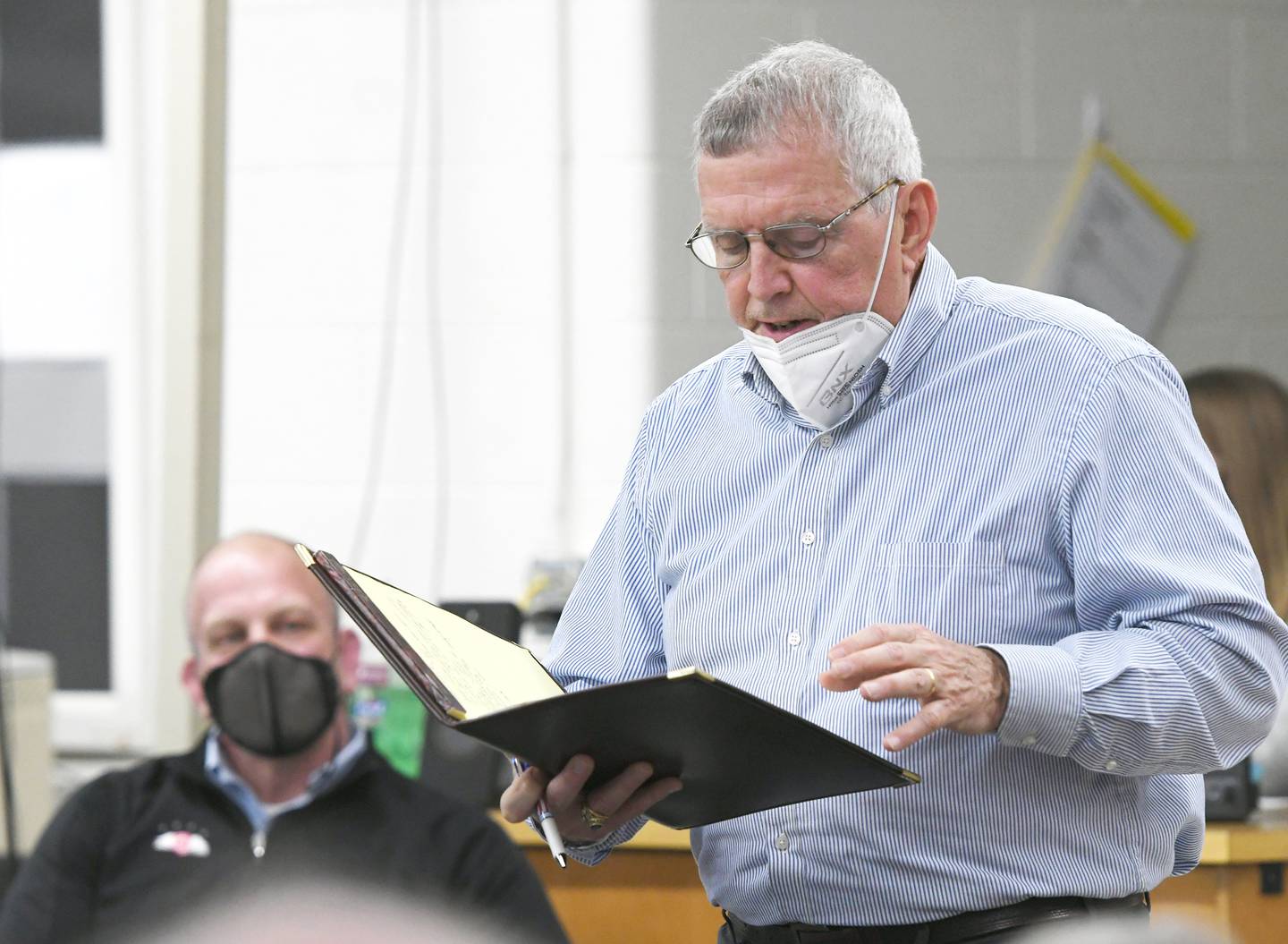 But two parents spoke in favor of closing the school. "I have 5 kids and I love that you are doing this," said Angie Sowl, noting that some of her children had fallen at DLR on slippery floors caused by condensation due to an aging ventilation system. "My kids are excited about this. I applaud our district for making these decisions."
Aaron Mudge of Oregon echoed Sowl's sentiments, noting that he was a junior high student when junior high students attended classes at OHS after the Rahn Elementary fire.
"We are not in an area that is growing and Illinois is not a growing state," he said referring to possible enrollment increases. "This plan has worked before and can work again as long as the details are worked out."
Mahoney said the second hearing will provide an overview of additional electives for junior high students and how bell schedules will be managed. The final hearing will focus on how junior and senior high school activities like sports, music, plays and clubs will be incorporated.