By Andy Colbert
For Shaw Media
FORRESTON – After a hard-fought 22-14 win over Galena in the first round of the 1A playoffs Oct. 29, Forreston quarterback Logan Dyson and running back Matthew Beltran immediately approached the Pirates' Ethan Hefel and consoled him.
Hefel nearly single-handedly brought his team to victory with a combined 200 yards passing and running of the 230 yards gained by Galena.
"I told him he's such a great player, and humble, too," Beltran said. "We told him to keep his head up. He has a bright future."
It was Hefel who gave No. 14 seed Galena (5-5) life after a dismal start. A misplay on a booming kickoff by Ethan Scaman resulted in Galena taking possession at the 1-yard line. A three-and-out and an 11-yard punt against a strong wind gave Forreston (8-2) the ball at the 18-yard line.
Five players later, 205-pound fullback Noah Johnson crashed over for a touchdown, with Beltran adding the PAT run for an 8-0 Cardinals lead.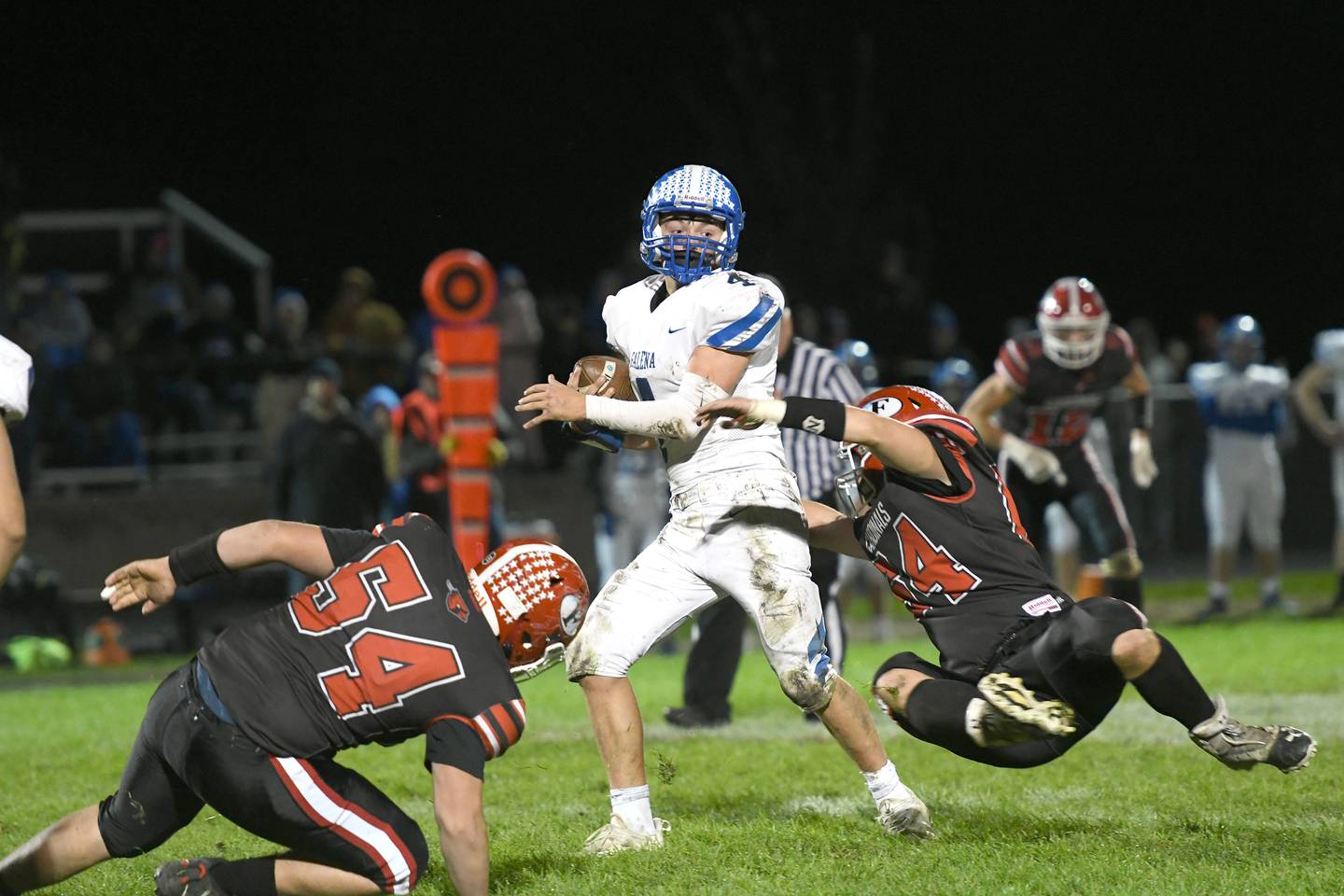 Another botched kickoff return forced Galena to start at its own 13-yard line, and the next play of scrimmage resulted in a loss.
"We couldn't have started any worse," said Galena coach Ed Freed, who is 0-12 all time against Forreston.
With Forreston hoping to pin the Pirates back and get another short field, it was Hefel to the rescue with a 67-yard run.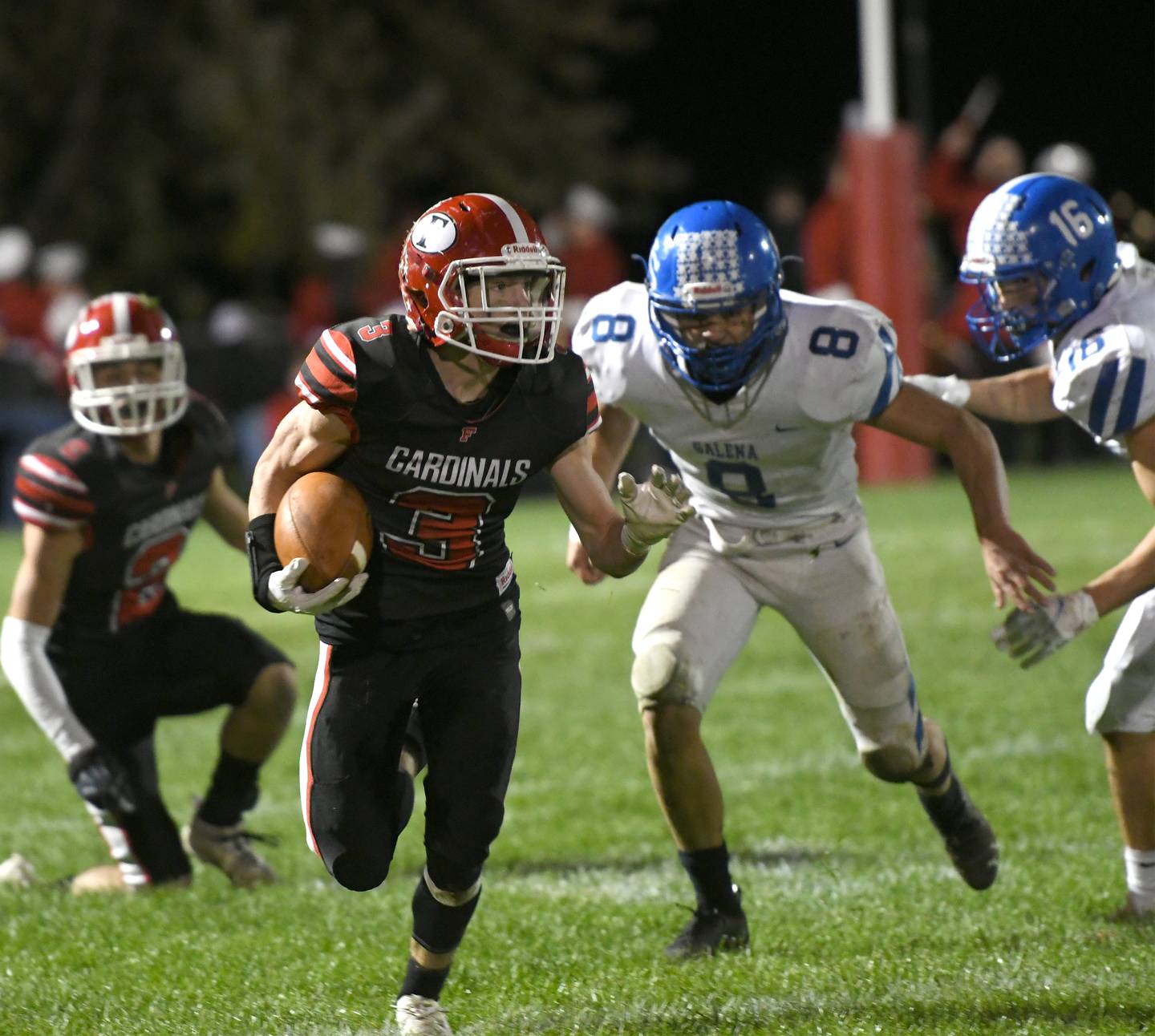 That one play completely changed the game, and from that point forward it was dogfight, much the way it was seven years ago when Forreston had to come from behind to edge Galena to earn a berth downstate in the semifinal round.
"Galena is a great team and great program," Forreston coach Keynon Janicke said. "But we gave them too many opportunities to stay in the game.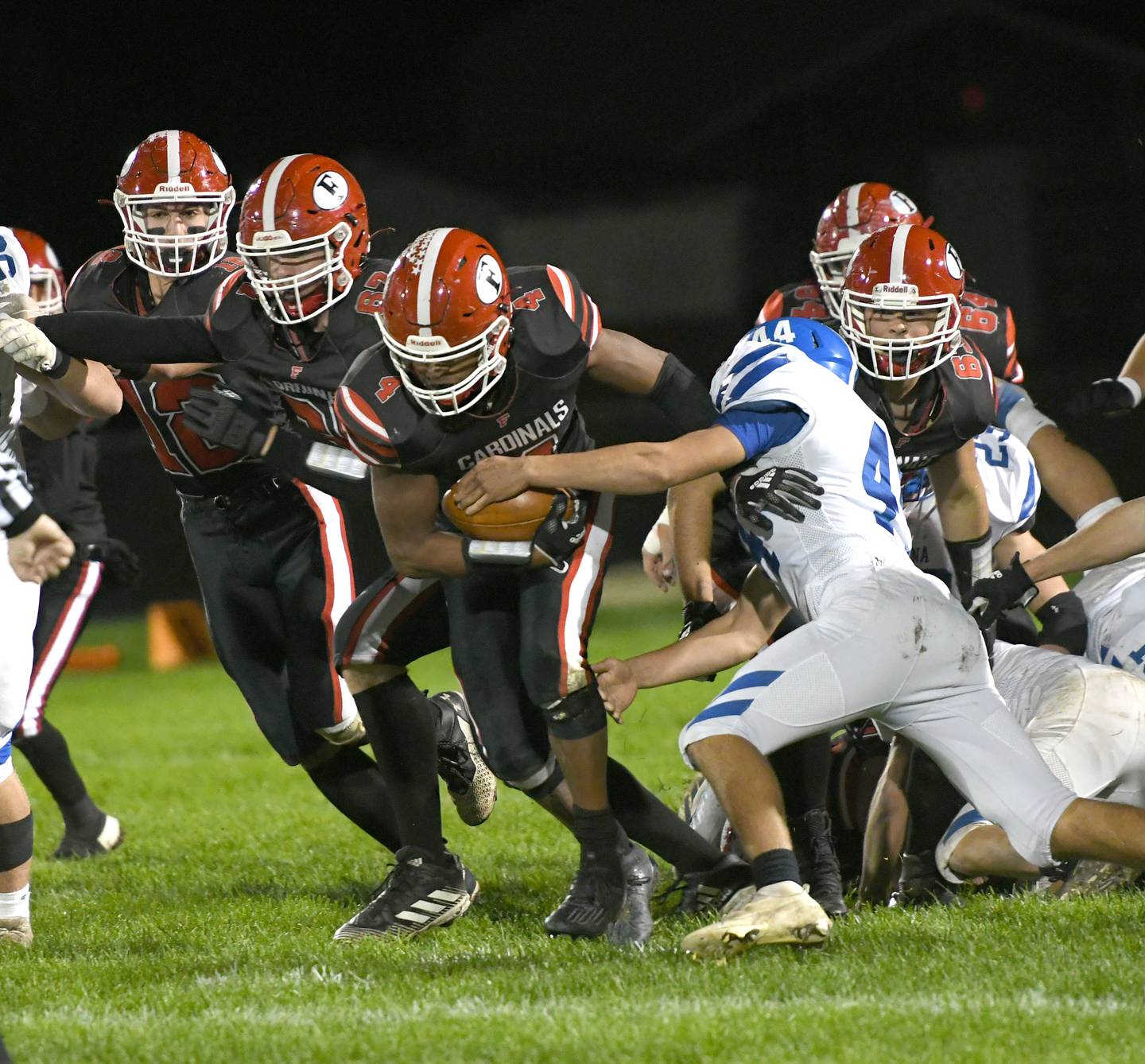 Galena tied the game 8-8 on a Hefel 9-yard pass across the field to a wide open Calvin Quick.
But the vaunted Cardinal ground game quickly went 63 yards on 12 plays to regain a 16-8 lead on the first play of the second quarter. It was sophomore Micah Johnson setting up the score with gains of 16 and 13 yards.
Joseph Fiorello, who led everyone with 105 yards rushing, scored the 1-yard touchdown, and Devonte King-Black added the important PAT run.
"Bottom line, they're a big, physical team that wears you out, and they spread it out well," Freed said.
Hefel drove his team to midfield, only to see Tommy Appel rush in to break up a pass play to a wide-open receiver on third down. However, the Pirates pinned Forreston to the 1-yard line with a 52-yard punt.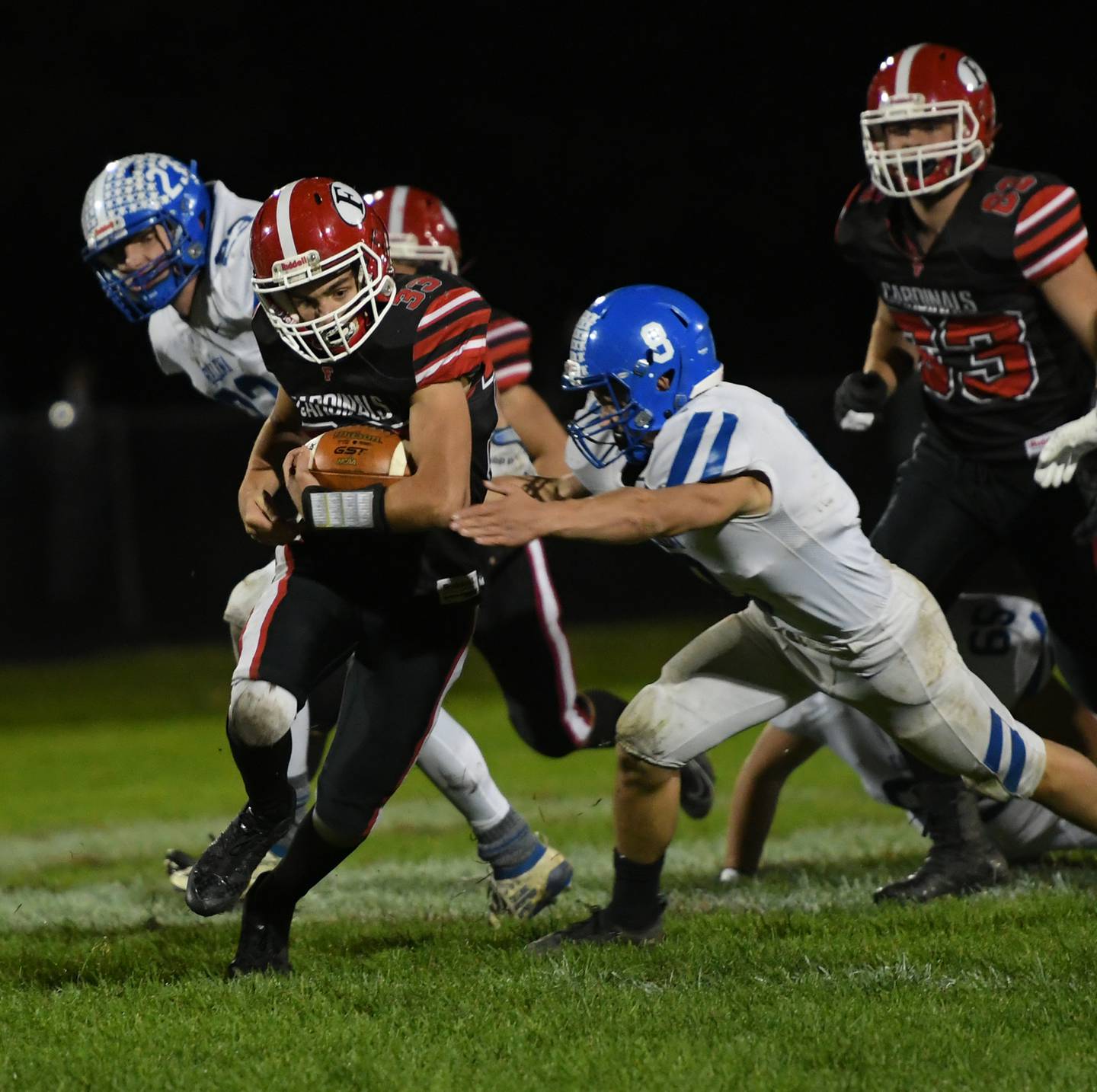 Going against the wind didn't faze Forreston, but a staunch defensive stand did. A QB sneak by Dyson on fourth down was stuffed for no gain, and Galena had its first stop of the game.
"Our defense was playing better than the last time," said Freed, whose team gave up 52 points in a loss to Forreston earlier this season.
With two would-be tacklers on him, Hefel was able to convert on fourth down to keep the next drive alive. The Pirates got into the red zone, but a pass break-up by King-Black stymied the drive.
In the second half, Forreston had to punt against the wind on its first drive, and Galena was able to take advantage.
Hefel found Quick for 14 yards, and on the next play hit Brady Schemehorn with a 45-yard scoring bomb, with Jacob Heisler delivering a devastating downfield block. The PAT pass attempt was incomplete, and Forreston clung to a 16-14 lead.
It was Hefel's 16th TD pass of the year to go against only one interception.
Taking over at the 20 following a touchback, it was Kaleb Sanders running for 27 yards and Fiorello tight-roping the sideline with 36-yard gain on second-and-20.
Wanting to make it a two-possession game, Forreston faced a fourth-and-goal at the 1-yard line. Last week against Lena-Winslow in the same scenario, it was Beltran crashing over as the second man through for the winning touchdown.
Freed must have intently studied game film, as his defense stuffed Beltran for no gain on the identical play.
"We've got to finish plays," Janicke said. "We shouldn't be putting ourselves in that situation anyway."
The score stayed 16-14 heading into the fourth quarter, with the teams trading punts. Forreston had an excellent opportunity to put the game away, but a roughing the passer penalty made it first-and-10 for Galena instead of third-and-24 deep in Pirate territory.
Hefel, who broke tackles all night, was finally corralled for a 9-yard loss by Joseph Snyder, and Galena had to punt into the wind. The 14-yard boot gave Forreston the ball at the 32-yard line.
Finally, the Cardinals got in the board after a nearly 30-minute scoring drought. It was the 5-7, 140 pound speedster Fiorello darting 12 yards for the score.
Beltran's PAT attempt came up inches short, leaving Hefel and company one last shot to tie the game with six minutes left.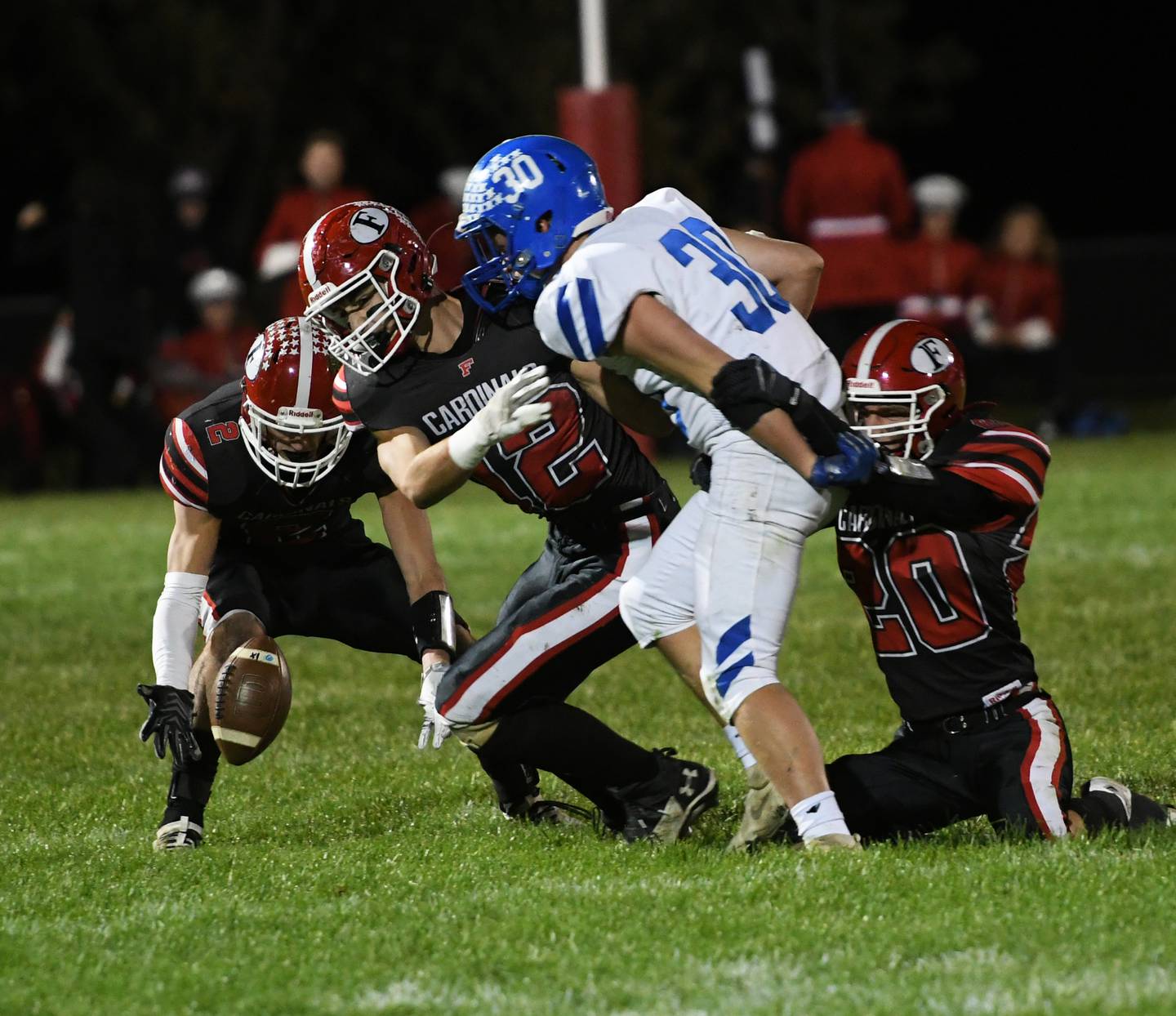 A pass interference against Forreston and a 16-yard run by Hefel, who broke three tackles on the play, put the ball in Cardinal territory. But on fourth-and-5, Hefel had a rare bad pass, and Forreston was able to run out the clock.
"We need to clean up some things out there," Janicke said. "I don't think we were complacent after our big win last week. We just allowed Galena to stay in the game."
As usual, the high point for Forreston was the 407 rushing yards, with Fiorello (105 yards), Beltran (74), Johnson (70), Sanders (60), King-Black (49) and Nelson (45) all running for 45 yards or more.