By Andy Colbert
For Shaw Media
After missing out on two games mid season due to Covid and not being tested since a close game with Amboy on Sept. 10, Polo coach Ted Alston wasn't sure what to expect from his No. 1-ranked team in the regular-season finale with perennial grid power Freeport Aquin.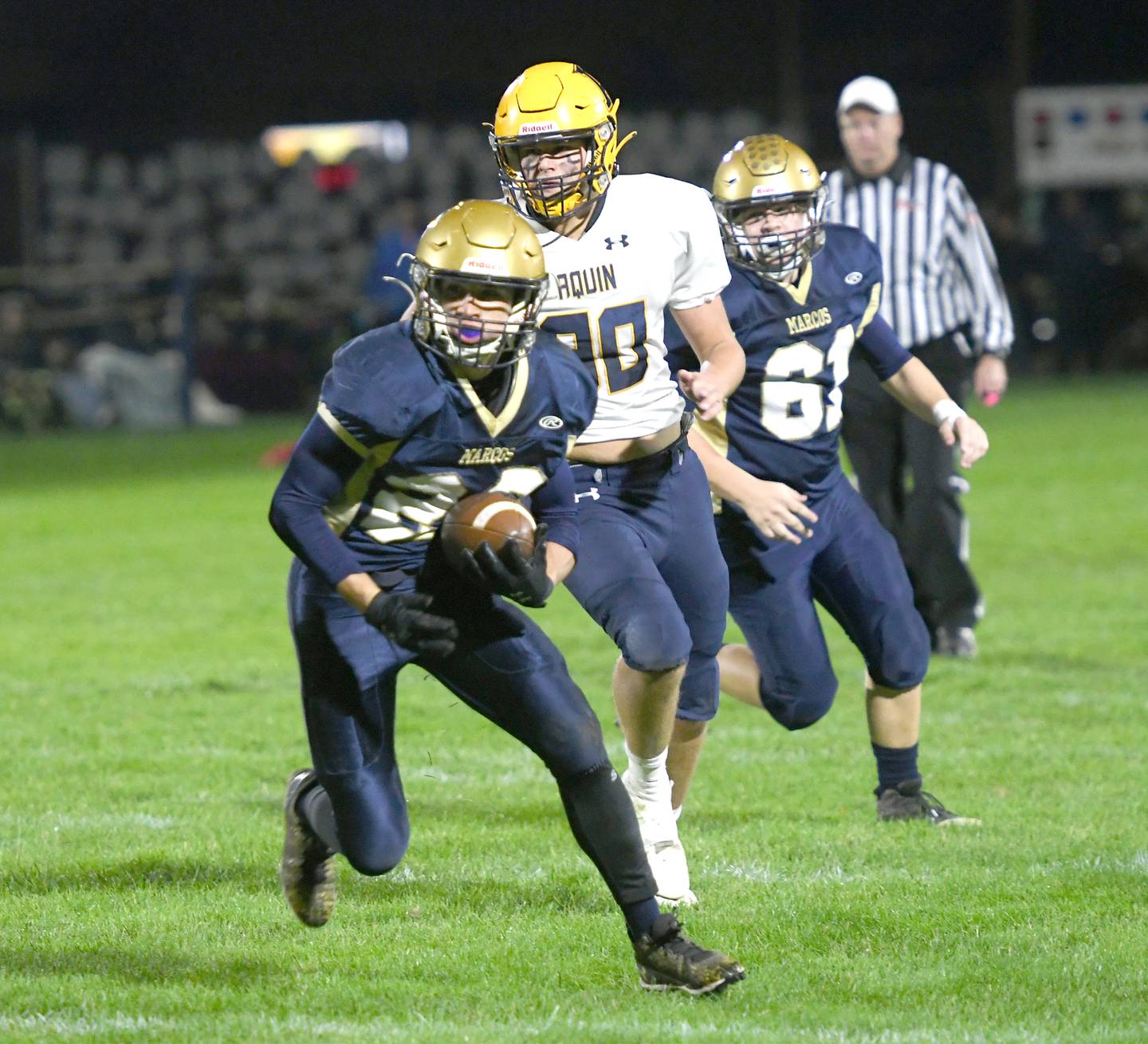 Any uncertainties Alston had were squashed early in a resounding 38-20 win over the Bulldogs on the Marcos' home field Oct. 22.
"It's been a weird season losing weeks four and five due to Covid. It's tough to keep a team motivated when they're not playing," Alston said. "I thought we came motivated. To be honest, we really weren't sure what to expect tonight."
Aquin (6-3), which finished spring ball as the top-ranked team in 1A for 11-man ball, never was able to get untracked against a more physical opponent. The Marcos (9-0) set the tone an the opening drive, completely stuffing Aquin's running game and getting the ball back on a punt at the visitor's 34-yard line.
They wasted little time in making it an 8-0 game on an Avery Grenoble 7-yard touchdown. Running behind Daniel Engel, Wayde Reimer, Cooper Blake, Wyatt Queckboerner and Kahlil Sankey, Grenoble (22-86) and Brock Soltow (24-167) combined for five rushing touchdowns.
It was Soltow making it 16-0 on an 11-yard run early in the second quarter, following a 59-yard drive. That drive was set up by a blocked field goal and return by Tyler Merdian.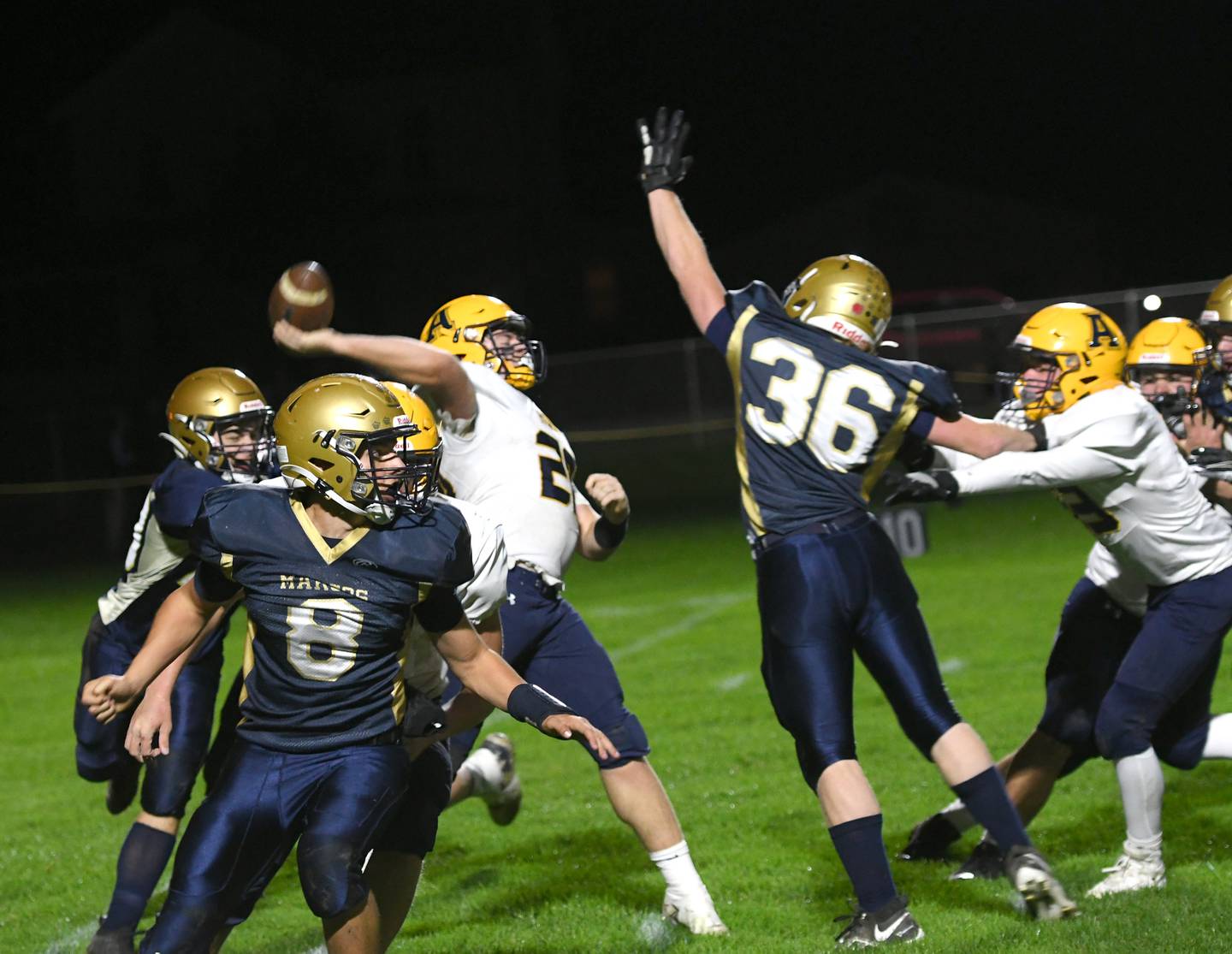 Executing a screen pass to perfection, Aquin caught Polo's defense off guard and scored on a 40-yarder from Aiden Wolfe to top receiver Ollie Arndt, with Arndy running untouched to endzone.
Polo got good field position again on a punt and scored with 1:42 left in the half on a 1-yard Soltow plunge. Merdian connected for 22 yards with Grenoble to set up the score.
The Marcos nearly scored again before the half after Ryelan Lindaas recovered on onside kick. Merdian found Soltow deep with a pass to the 7-yard line, but the officials ruled an Aquin defender had possession ahead of Soltow.
Strangely, the identical situation presented itself on the first drive of the second half and this time Soltow was awarded possession. Two plays later, Grenoble crashed in from 11 yards out to make it a 30-6.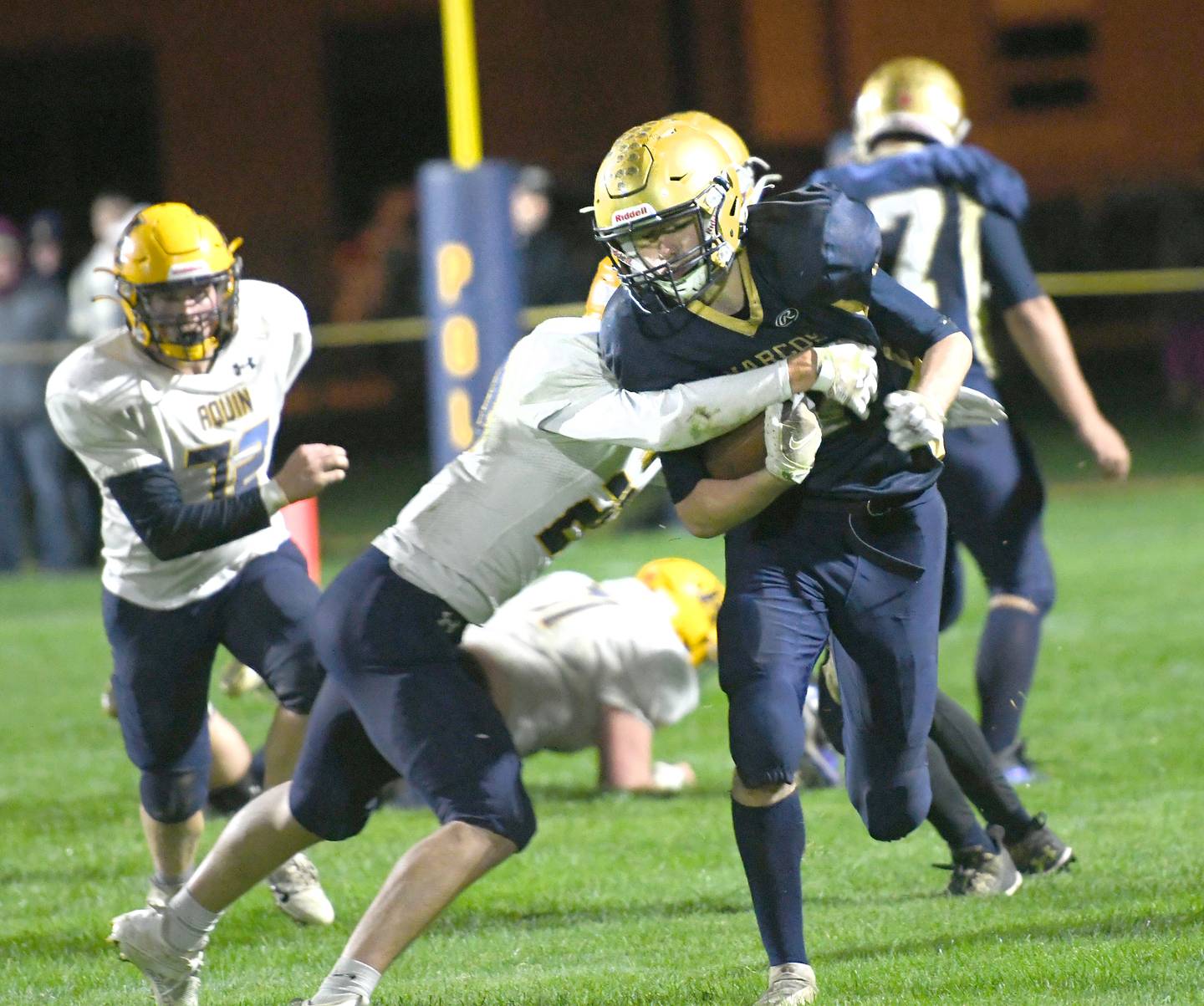 "Avery's a great skill player and played with a chip on his shoulder," Alston said.
Midway through the fourth quarter, Aquin closed to within 30-12 on a 51-touchdown pass to Drew Ege.
Cayden Webster then wisely grabbed the ensuing squib kick on the run and advanced it to the Aquin 18-yard line, giving Polo its third short field of the night. Grenoble added his third TD for the 38th point and all Aquin could manage the rest of the game was a kickoff return for touchdown.
The normally potent Aquin offense was held to 18 yard rushing on 15 attempts, far below its 200-plus yard average.
"I'm extremely happy with our defense," Alston said. "That's a talented team. I thought our defensive line played its best game of the year."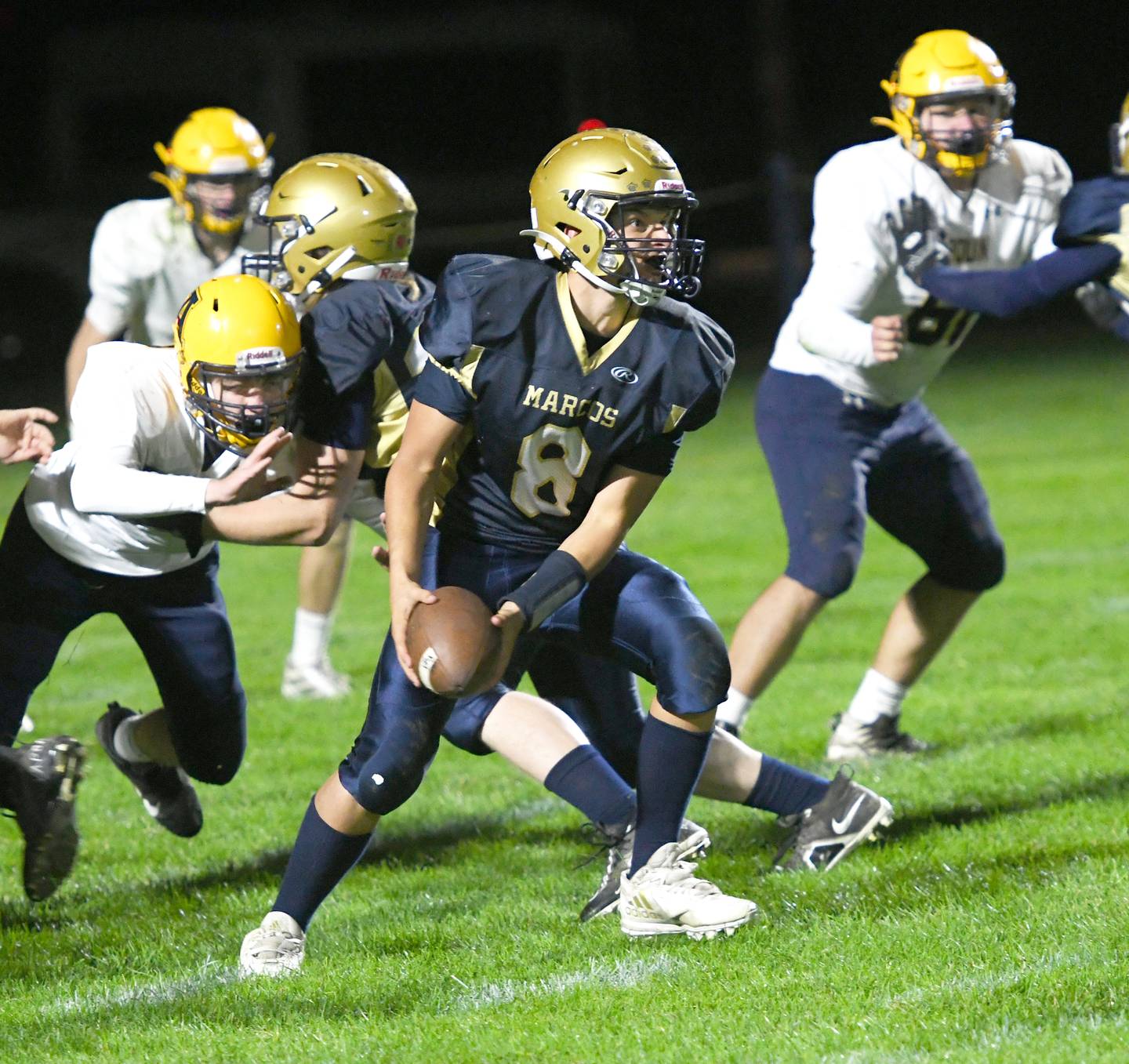 Polo racked up 286 yeards rushing and Merdian completed two passes for 53 yards.
The Marcos received the No. 1 seed in the 8-man state playoffs and will face No. 16 seed Sciota West Prairie (4-5).