Twenty Mt. Morris residents concerned about the future of education, took 2-hours on July 15 to discuss and draft ideas in a "Town Hall Vision Meeting" to present to the Oregon School Board in an effort to save the David L. Rahn Junior High School from closing.
In May, Oregon Superintendent Tom Mahoney announced a proposal to close DLR, the last school remaining in this village of 3,000, due to decreasing enrollments and increasing maintenance costs. He outlined his proposal to close the school at two school board meetings, a Mt. Morris Village Board meeting, and a Town Hall meeting, held in Mt. Morris in May.
At a the Town Hall meeting on May 25, several of the 75-80 people attending gave impassioned pleas to keep the school in town with a couple others asking for more details and a delay in any decision until more community inout was given.
At that meeting, Mahoney said it took him 3 years to come to the conclusion to recommend closing the 66-year-old school, which houses 7th and 8th grade students. He said the building needs $6 million in repairs and is costing the district's budget about $400,000 a year.
He is proposing closing the school at the end of the 2021-22 school year and moving students to Oregon High School, located 5 miles to the east. The school board agreed in June to delay any decision for 60-days.
Last Thursday night, 20 people under the guidance of Rev. John Larson, broke up into 5 smaller groups and listed ideas on the provided query "What shall education look like in 5 to 10 years in Mt. Morris?".
Larson, a retired pastor and Mt. Morris resident, said he attended a very small school in Iowa. "For me, living and growing up in a small town is a wonderful thing," he said.
He urged participants to consider the future during their discussions.
"The future is open. It is dependent on what we do now and how we approach it," he said. "I like to be proactive and vision is incredibly important for life. We are here for the next generation for children and families who may not even live here now.
"I feel it is almost unbelievable that a town of 3,000 would not have a school. To me that is unconceivable," Larson said.
Rob Urish said DLR and the Mt. Morris School District had a strong history of "academic and athletic excellence".
"That is a legacy I don't want to see destroyed," Urish said. "Our vision tonight is to envision a future."
Urish is leading a recently-formed "Advisory Group" made up of "concerned citizens and taxpayers" and includes former school board members, former and current school administrators, former and current chief financial officers, an attorney, a school auditor, and other community leaders.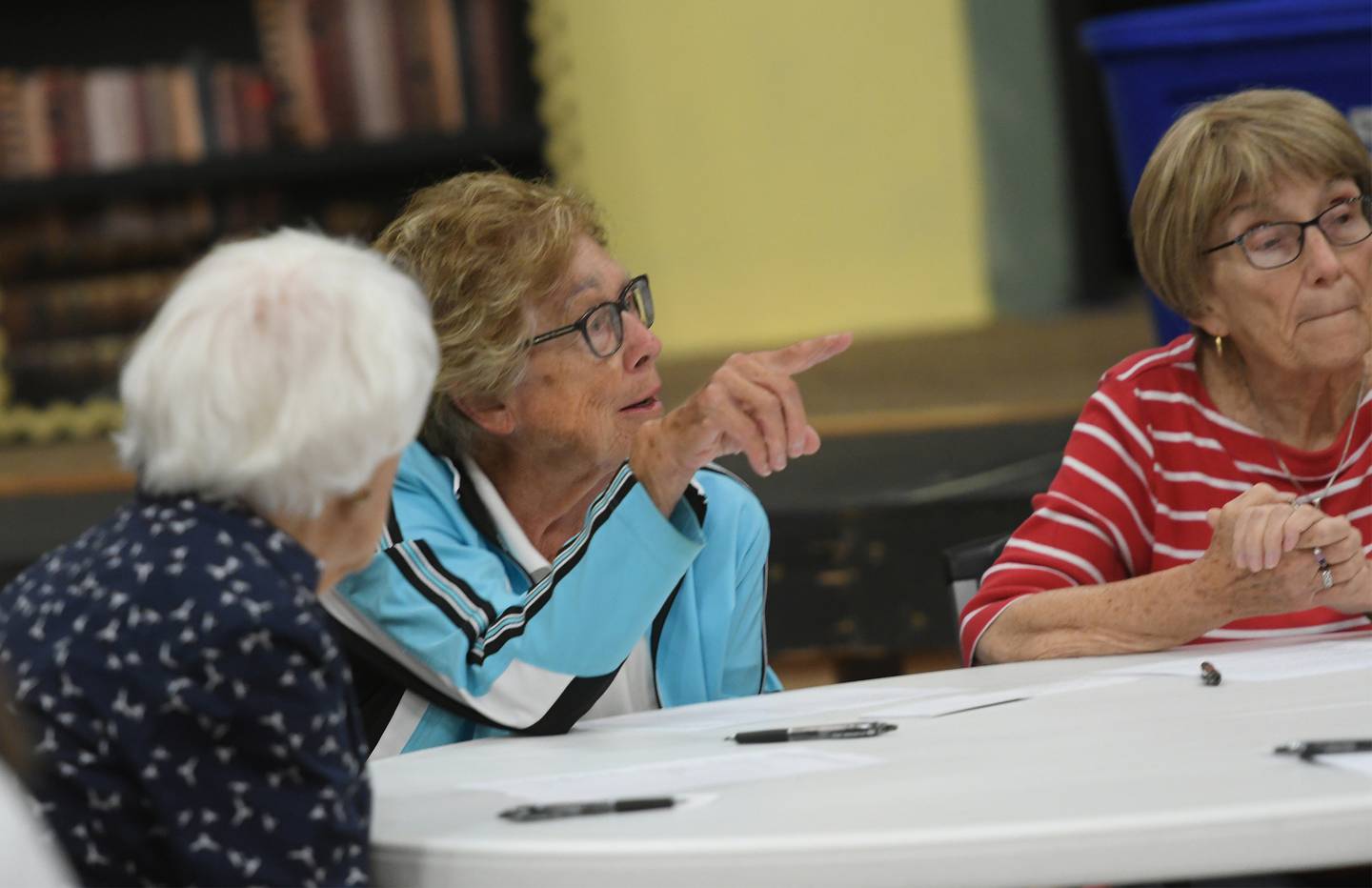 Urish has said the intent of the Advisory Group is "not to usurp or hijack authority" from the school board, but to study the "many circumstances, potential repercussions and possible unintended consequences" with Mahoney's recommendation, and offer "sensible, practical, action-able solutions, alternatives" to closing the school.
After about an hour of deliberation last Thursday night, groups offered suggestions like having the school house 6-8 grades to make it a "real middle school" and improving communication between the school district and Mt. Morris residents.
"That way the junior high could have its own identity and not just be an adage to the high school. And we felt we need better communication between the schools and the community," Jan Dietrich, a retired teacher said.
Lenny Wells said his group wanted to see the life safety funds used to bring DLR "up to code".
"Use the life safety money. It looks like Oregon is spending all that in Oregon," said Wells, referring to recent building and parking lot work on all the schools in Oregon and the Blackhawk Center.
Mahoney has said that a state-required 10-year Health, Life, Safety survey of the district buildings, done last fall, shows nearly $6 million in state-mandated improvements are needed at the 66-year-old school, including asbestos removal.
The school district could issue bonds to pay for the work, which would then be passed on to all taxpayers within the school district as debt-service, Mahoney said. Electrical, roof, and security upgrades have been made at DLR after the two districts consolidated in 1994.
Other suggestions from the Vision Meeting included using the DLR as a facility to host college, vocational, trade, and lifeskill classes for the community and adding a kindergarten through 3rd grade school with preschool capability. "We want the see the little kids here," said Heather Schwartzrock.
Salley Wessels, another retired teacher, asked if the group's suggestions should be more definitively based on age groups as to usage. Urish said the exercise was to plan and offer ideas for years going forward, but to focus on having the school remain a junior high.
"Is our response to the Oregon board to convince them to keep DLR open because its the best 'climate' and do they really give a hoot about 10 years down the road?," Wessels asked.
Larson said a mission statement would be created from ideas gathered at Thursday's meeting.
Urish said Thursday's exercise will be part of the presentation that will be given to the Oregon School Board in August. He said that presentation would also include questions about school finance and past decisions made by the school board.