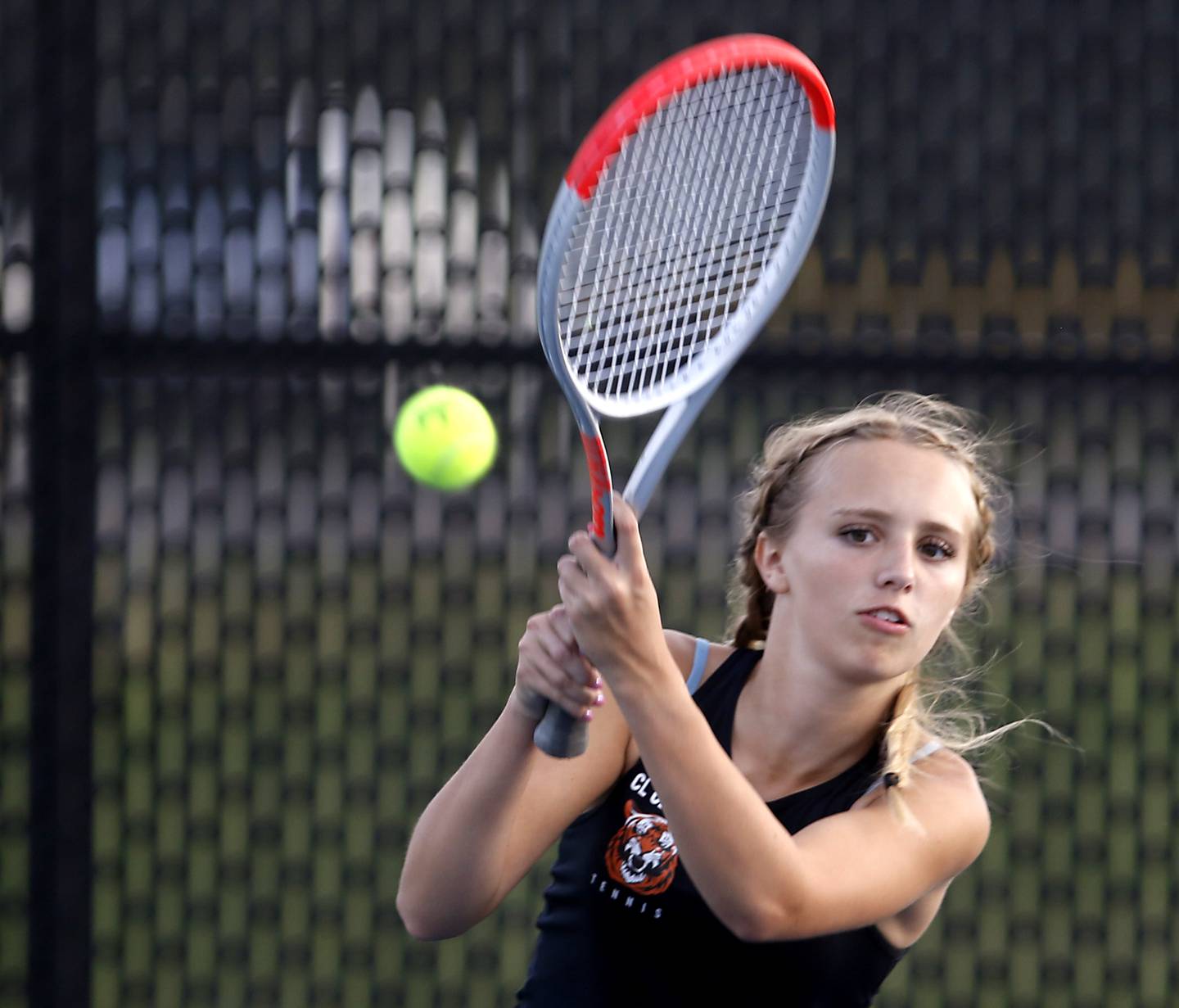 Girls tennis
Crystal Lake Central triangular: At Crystal Lake, the host Tigers picked up a pair of wins Monday, taking down McHenry 6-1 and Marian Central 3-2.
Central swept doubles play against Marian, which picked up wins in singles from Kaitlyn Remke and Madison Kenyon, to earn the victory.
[ Photos: Crystal Lake Central, McHenry, Marian Central, and Wauconda girls tennis ]
Kaitlyn Coffey and Katie Hamill (No. 1), Lexi Mailey and Maggie O'Connell (No. 2) and Maddie Corpolongo and Maddie Reeser (No. 3) grabbed the doubles wins.
Against McHenry, the Tigers swept doubles play and got singles wins from Bella Lisle (No. 2) and Emily Pinion (No. 3).
Lorelei Galvicius picked a win at No. 1 singles for McHenry.
Huntley 6, Cary-Grove 1: At Huntley, the Red Raiders won six of seven matches to earn the Fox Valley Conference victory.
Ella Doughty and Gia Patel won at No. 1 and No. 2 singles, respectively. The Red Raiders swept the doubles matches, with Ari Patel and Julie Klockner holding off Cary-Grove's Katelyn O'Malley and Aubrey Lonergan 6-7 (3), 6-2, 6-3.
Girls volleyball
Johnsburg 2, Harvest Christian 0: At Johnsburg, senior Delaney Stern became the program's all-time assists leader during a 25-19, 25-12 nonconference win for the Skyhawks.
Stern finished the night with 17 assists, three digs and four aces. Juliana Cashmore added seven kills and two aces, and Abri Bruns had seven digs.
Richmond-Burton 2, Lakes 0: At Richmond, Alex Hopp contributed with 27 assists and two aces as the Rockets (13-3) defeated the Eagles 25-22, 27-25 in their nonconference match.
Maggie Uhwat had 11 kills, 12 digs and three aces, Elissa Furlan had nine kills and seven digs, and Dani Hopp added five kills and two blocks.
Marengo 2, Byron 0: At Marengo, Leila Becovic led the Indians with seven kills, a block and four digs in their 25-15, 25-17 nonconference win over the Tigers.
Alana Hartel was 10-of-10 serving and had 10 digs. Addison Sanchez had three blocks, while Sydney Andrews and Madalyn Mardock each had three kills.
Girls golf
Hampshire 194, Marengo 208: At Marengo Ridge, Jaina Farnam's 46 led the Whip-Purs to a nonconference dual win.
Kaylee Seo and Madison Bilek each added 48s, and Lorna Bachta and Maddie Franz shot 52s to tie for Hampshire's final individual scorer.
Emma Leucht shot a 47 for the host Indians. Cadence Leucht shot a 51, and Maggie Hanson followed with a 52.
BOYS SOCCER
Harvard 10, Sandwich 1: At Harvard, the Hornets scored 24 seconds into the game and rolled to a decisive win over the Indians in their first-round Kishwaukee River Conference Tournament game.
Miguel Mercado scored two goals for Harvard, which had a 5-0 lead in the first 16 minutes.
Marco Herrera, David Pichardo and William Salgado also scored early for the Hornets.
Harvard hosts a semifinal game Wednesday against either Johnsburg or Plano.