Jimmy Roberts reeled off the names of Cory Boeckh, Cooper Schwartz and Matt McCoy as some of Jacobs boys basketball's most prolific shooters in recent years.
But the Golden Eagles coach, in his 11th season at the school, puts two of his current players at the top of that list.
"When you have two guys like Brett Schlicker and Jackson Martucci, those two are probably the two best shooters we've had in our program since I've been here," Roberts said. "We've had some shooters. But these two guys, with their ability to get it off in small windows, you have them leading the way."
Schlicker and Martucci have hit 56 3-pointers between them in the past six games, hitting 57.1% combined behind the arc in that stretch. Schlicker (32 of 54) is at 59.3%, and Martucci (24 of 44) is 54.5% over those games.
Not surprisingly, the Eagles (12-10, 6-4 Fox Valley Conference) have not lost in that span, winning nine in a row.
That streak ties Burlington Central for the longest in the area this season.
"We deserve it. All of us are on board. That's a big factor in winning," Martucci said of the streak. "You have to have every single person on your team on board. The amount of confidence we go into every game with feels different."
Jacobs entered its own Hinkle Holiday Classic with a 3-9 record and with Martucci on the bench recovering from a sprained ACL in his left knee. The Eagles lost to Grayslake Central, which went on to win the Hinkle, in the tournament opener and have won every game since.
That winning promotes confidence for a team with a reputation for playing tough man-to-man defense and a shooting prowess perhaps better than any other team in the area.
Schlicker has an area-best 82 3-pointers for the season and is making 41.8% of his 3s. Martucci, who missed nine games, has 32 3-pointers and is hitting 37.6% from long range.
Roberts realizes how fortunate he is to have a good shooting group. He appreciates the way his players, led by Martucci and Schlicker, approach shooting drills.
"The biggest thing is their leadership and their work ethic," Roberts said. "One of the most frustrating things for me as a former player, and shooter, is doing shooting drills in practice. Kids don't go hard in shooting drills to get game shots. Coaches will say, 'Game speed. Game speed.'
"I've never had to say it to these two once. When they work, it's game speed. It makes it easy for us as coaches because the other guys see how they work, how quickly they can get a shot off. Everybody else, they work similarly to those guys."
Martucci said he started shooting a lot at his home when he was about 9 years old.
"My driveway's slanted. I would shoot from the bottom, the ball would go in and bounce and roll back to me," he said. "I just did that for hours growing up. I was probably 9 or 10. I was pretty tall for my age."
Schlicker got a later start, beginning with basketball in eighth grade.
"I went to the park by my house, and I would shoot and shoot and shoot," he said. "When COVID hit, they took the rims down, and I bought my own hoop and shot and shot and shot."
Jacobs also may be the last team opponents want to see at the free-throw line. The Eagles are hitting 74.1% as a team and have four starters at 77.8% or better: Martucci 95.7% (22 of 23), Schlicker 88.9% (24 of 27), Treval Howard 80.5% (33 of 41) and Ben Jurzak 77.8% (35 of 45).
"In practice, we take our free throws seriously," Martucci said. "We make it pressure situations, 1-and-1, and create that pressure. So when you get in a game it's like nothing."
Scharnowski honored: Burlington Central forward Drew Scharnowski was named the IHSA Boys Basketball Player of the Week last week, which was presented by Illinois Pork Producers.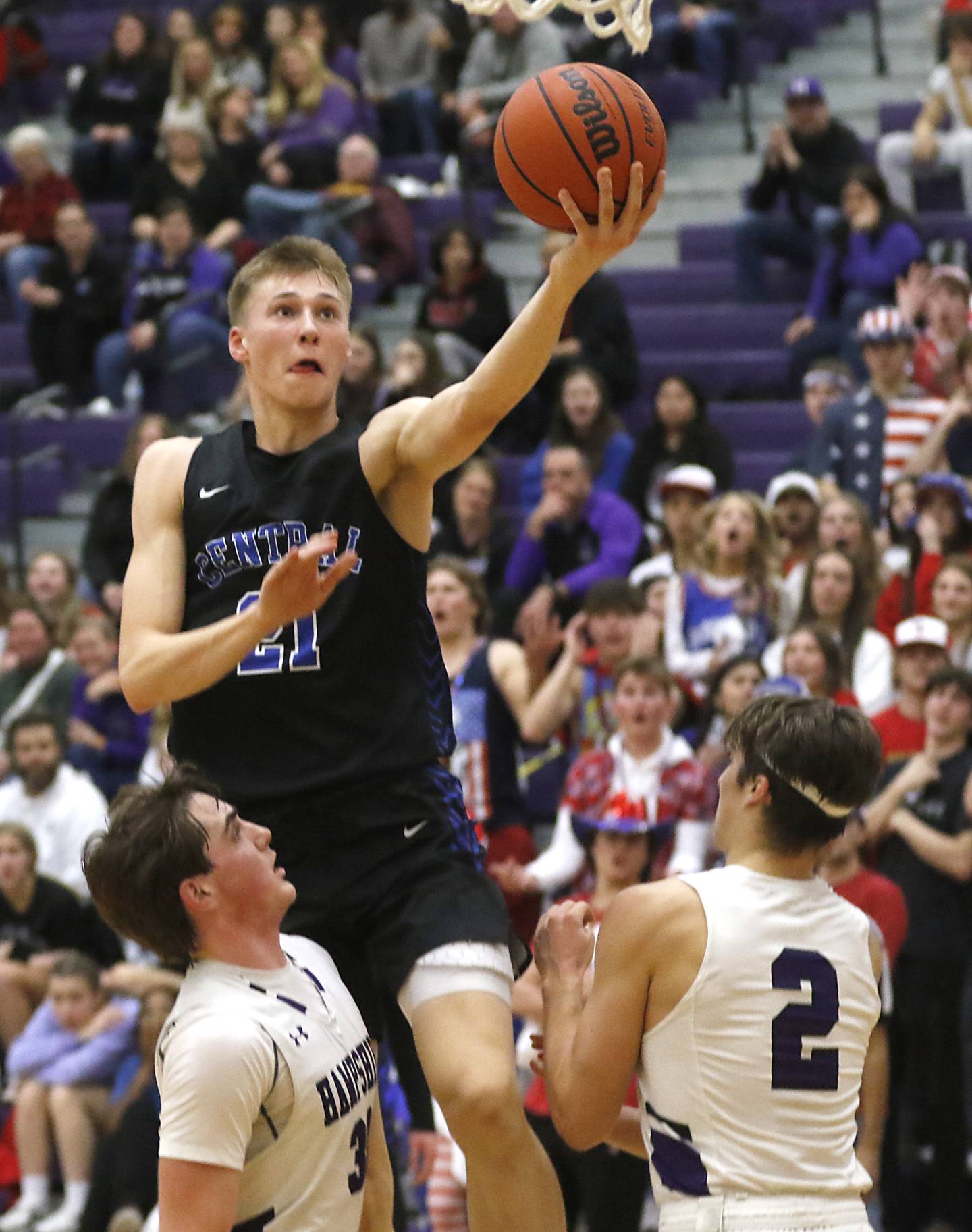 Scharnowski earned the award for his performances against Huntley (31 points, 15 rebounds, eight blocked shots), Woodstock North (29 points, 11 rebounds, seven blocks and three assists) and Neuqua Valley (32 points, 14 rebounds, three blocks and five assists).
The 6-foot-9 senior will play at NCAA Division I Belmont next season.
Interesting Friday: There were some tight games in the area Friday night, three of which had bearings on the FVC and Kishwaukee River Conference races.
Burlington Central held off Hampshire 59-58 to keep a share of first place in the FVC with Huntley.
Dundee-Crown beat Crystal Lake South 65-63 at the buzzer on Zach Randl's driving layup.
D-C is tied with Prairie Ridge at 4-6 for sixth place in the FVC but has proved to be one of the most dangerous teams in the conference. The Chargers handed Burlington Central its only FVC loss, beat South and lost to Huntley by one.
Woodstock North bounced back from a 70-50 loss to Johnsburg to beat Woodstock 43-37 on Friday, leaving Woodstock (5-1), Johnsburg (4-1) and North (3-1) each with one KRC loss.
Join the club: South guard Cooper LePage passed 1,000 career points Friday night in the loss to D-C. LePage, whose father, Matt LePage, is the Gators' head coach, has been on the varsity for four seasons.
Cooper LePage was a Northwest Herald All-Area first-team selection last season and is among the area's top 10 in scoring and 3s. Johnsburg's Dylan Schmidt and Marian Central's Christian Bentancur passed the 1,000 mark earlier this season. Bentancur is a junior.
Scharnowski likely will be the next player to reach 1,000. He sits at 947 and should pass that mark within two or three games.
Ranked Rockets: Burlington Central (19-4, 9-1 FVC) was tied for the No. 9 spot with Grayslake Central in The Associated Press Class 3A poll last week.