WOODSTOCK – There wasn't a doubt in Kaden Harman's mind that he was going to win his match against St. Patrick to lead Marian Central to a win Thursday.
The Hurricanes had just given up their first lead of the dual with three matches to go, but Harman spearheaded the heart of Marian's lineup to win the final three matches and win the dual 40-27.
"There was no doubt in my mind that I was going to win that one," Harman said.
With his team down 27-26, Harman came out quickly in his match at 126 pounds. He ran out to a 10-1 lead in the first period before winning by fall, giving his team a 32-27 lead.
Vance Williams followed by dominating at 132, taking a 10-1 lead after the first period before eventually winning by technical fall and securing the Hurricanes win. Nick Davidson finished the night with a 5-3 win at 138 to complete the comeback.
Marian co-coach Ryan Prater also felt comfortable heading into the final three matches of the night. Prater knows that Harman leads off a dominating part of the lineup that rarely doesn't come up in big moments.
"It's not a secret," Prater said. "Anytime we get to 126, we usually run all the way 160."
The Hurricanes ran out to a 17-0 lead by winning their first four matches. Charlie Fitzgerald opened the night with a technical fall at 145 before Dan French secured the team's first win by fall of the night at 152. Ethan Struck (160) held on to win 7-6, and Max Astacio (170) completed the middle sweep by winning 5-1.
Nate Sarfo (195) picked up a big 6-1 decision and John Herff (285) won by forfeit.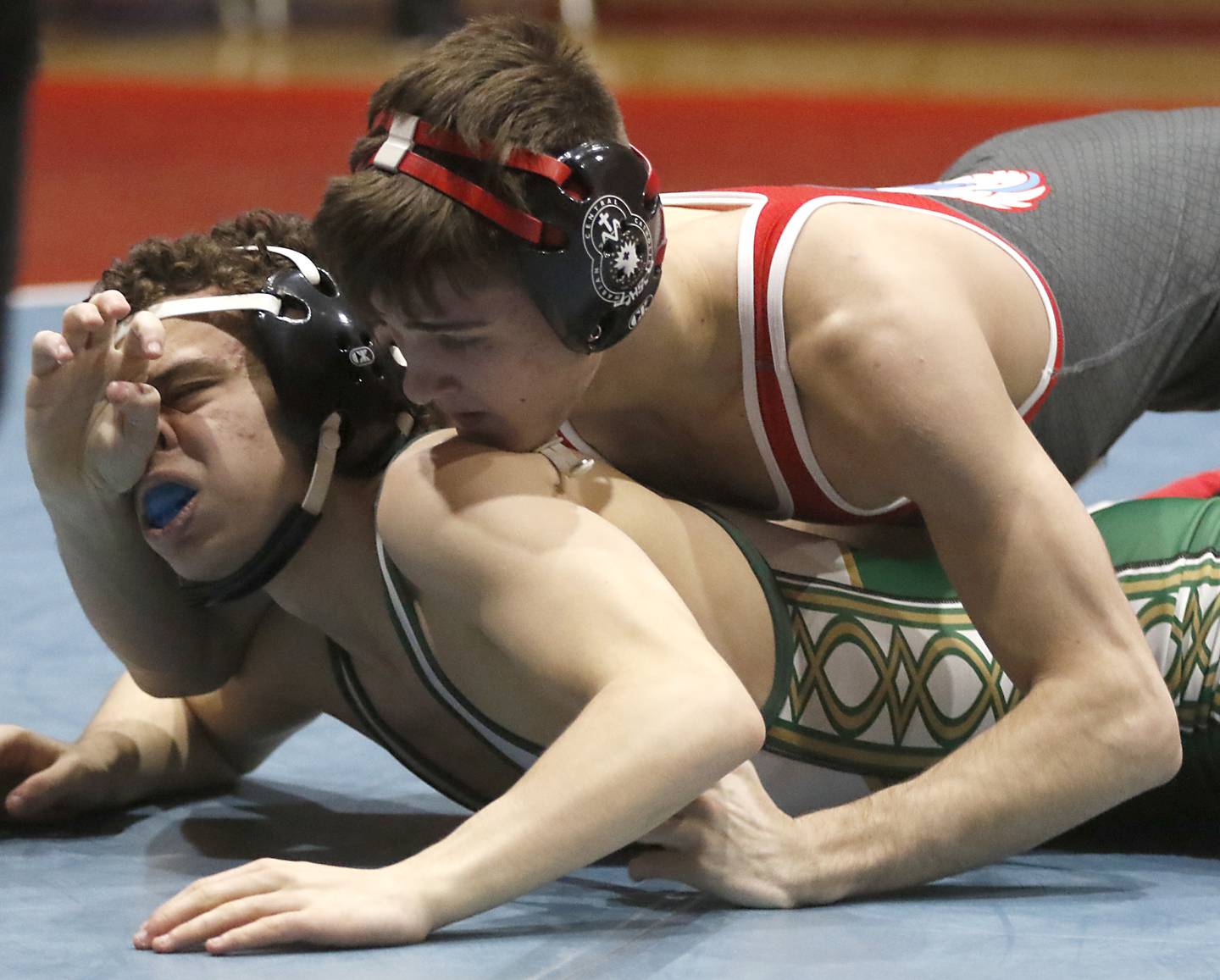 St. Patrick's Jack Clancy defeated Connor Cassels by fall at 182, Aiden Gomez won 3-2 against Hunter Birkhoff (220), and Calvin Stahl (113) and Olin Walker (120) each won by fall. The Shamrocks took 106 by forfeit.
Prater expected the heart of his lineup to come up big, but there were moments that stood out. He was proud of how hard Sarfo competed as a first-year wrestler and thought Birkhoff wrestled his best match even though he lost.
"All our guys are competing hard, but we have a lot of young guys and green guys. This is just an experience," Prater said. "The more we do this, the better we're going to get."
[ Photos: Marian Central vs. St. Patrick wrestling ]
The Hurricanes compete in two more triangulars before competing at the Class 1A Richmond-Burton Regional on Feb. 4. Marian will host one Wednesday and then end the regular season at Wheaton Academy on Jan. 27.
Prater is hoping to get healthy before heading to Richmond-Burton. Austin Hagevold (106) has been out of the lineup with a knee injury, but Prater expects him to come back Thursday, and Andrew Alvarado should be ready at 113 by then, too, after spending time trying to get down to that weight.
Before then, Marian will get back into the gym and make adjustments from Thursday's win.
"We'll take the win, but there's a lot more that we want to do this season," Prater said. "This is peanuts."