After winning an area-best 27 games and a Class 3A regional championship last season, Prairie Ridge coach Tim Taege anticipated a slower start to the 2022-23 season.
That's because the Wolves graduated a whopping eight players, including the school's all-time leading scorer in Karsen Karlblom and big-time contributors in point guard Elani Nanos and forward Kelly Gende.
Seniors' Abby Kay, Grace Koeppen, Kate Pactol and Izzy Pollastrini have all stepped into bigger roles as a result. Junior Addie Meyer has been one of the team's top scorers.
Prairie Ridge, which beat Crystal Lake South 50-43 in overtime on Tuesday, is 3-4 in its first seven games and 2-1 in the Fox Valley Conference.
Taege said his new-look team has been hardworking.
"We've got kids who are willing to grind it out; they just need to play with a little bit bigger chip on their shoulder," Taege said. "We talked postgame about being stronger between the ears and showing a little bit more strength. Not get on our heels and play with some swagger.
"We're going to be in many close games. That's just how the conference is going to be."
Koeppen, who had eight points and nine steals in the Wolves' win over South, said the team already has good chemistry. She thinks they will only continue to get better with more time together.
"I love them all," Koeppen said. "They're all amazing people, which makes them easy to play with and easy to work with, and that's all that I could ever ask for."
Raethz wins No. 400: Huntley coach Steve Raethz collected his 400th career victory on Friday with the Red Raiders' 45-16 win against Jacobs. Raethz entered the season with a 394-276 record (.588 winning percentage) in his 23 years at the school.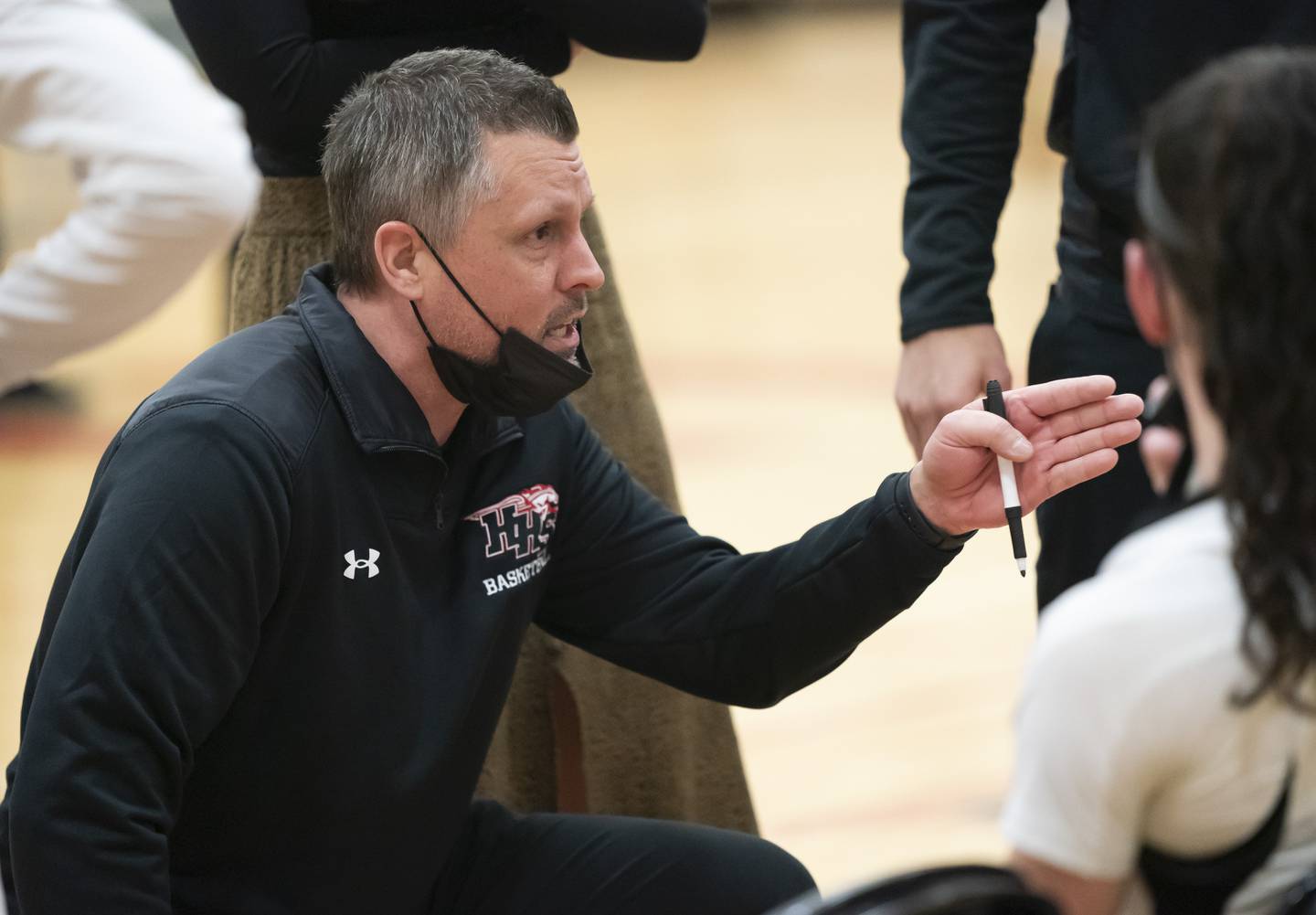 Raethz has led Huntley to 11 regional, three sectional and one supersectional titles, with the 2013 team finishing fourth in Class 4A. The Raiders went 23-7 last year for their most wins since going 30-4 in 2015-16. Huntley won the FVC title last season with a 17-1 record.
Huntley's best stretch of seasons – led by McHenry County's all-time leading scorer, Ali Andrews – was between 2013 and 2016, when it went 111-21.
LePage impresses: Crystal Lake South freshman guard Laken LePage simply took over in the fourth quarter against Prairie Ridge on Tuesday, scoring 10 of her team's 13 points and making a game-tying, one-handed shot with 5.5 seconds left in the Gators' eventual overtime loss.
LePage finished 6-of-12 shooting and made 9 of 10 free throws as Prairie Ridge struggled to keep her from scoring.
"She's sneaky fast, she's sneaky quick, and she gets to the rim with ease," Wolves coach Tim Taege said. "We did a terrible job all night of containing her. We talked about her as someone we obviously had to prioritize defensively, but she was able to split our traps, get into the paint and finish.
"When she got to the free throw line, she was lights out. My goodness, that's a load. To be a freshman and play with that poise, I'm pretty impressed."
Milison leads Whips: Hampshire senior forward Kaitlyn Milison has made a significant impact on both ends of the floor for the Whip-Purs, who are 3-0 in FVC play, tied with Huntley for the conference lead, and already halfway to their conference win total from last season.
In a 44-30 win against C-G, Milison stuffed the stat sheet with four points, eight rebounds, three assists, four steals and two blocks. She only had two points in a 37-20 win over Burlington Central, but still was a difference-maker with a team-high 10 rebounds.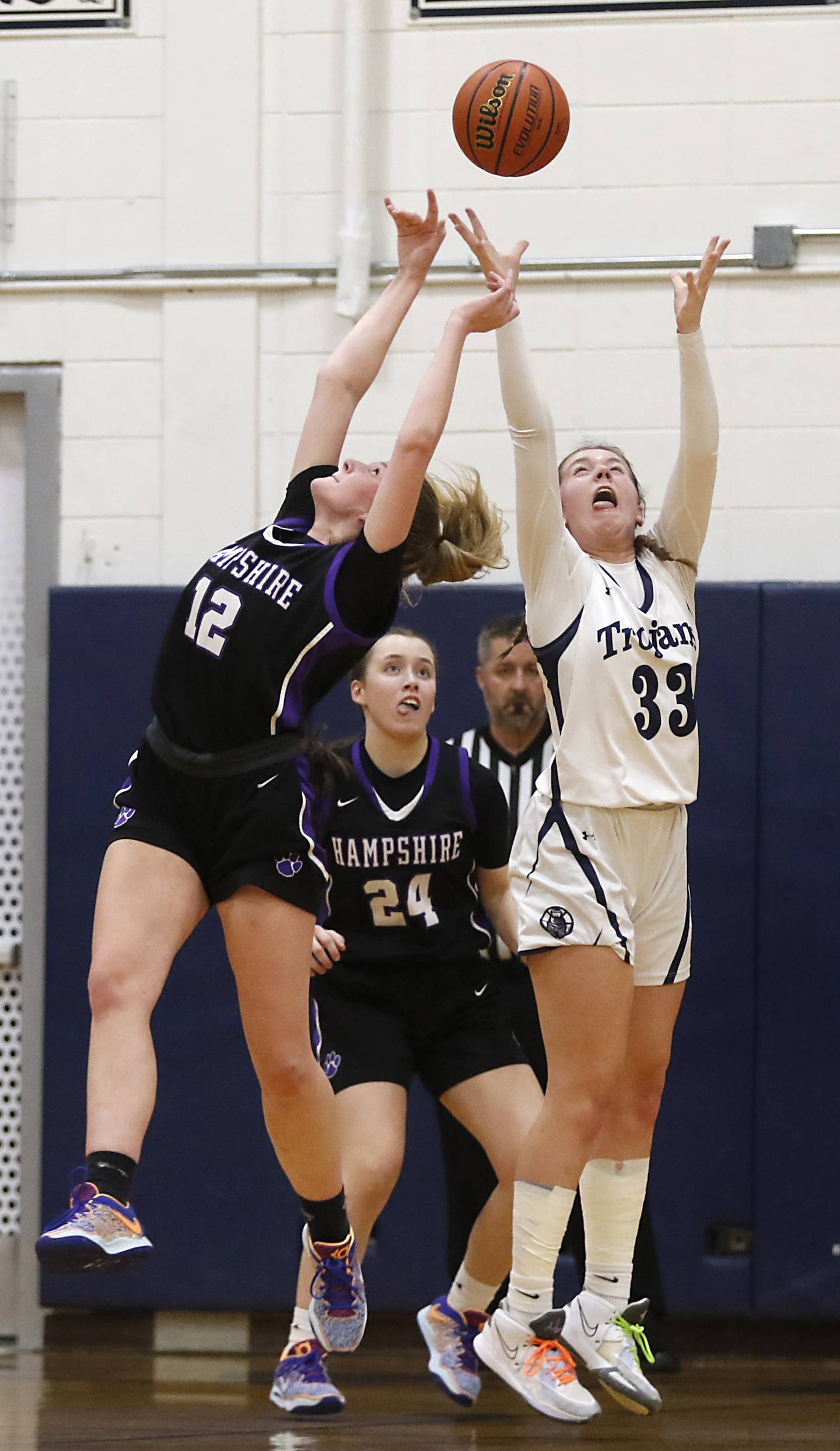 Hampshire had not had much success against the Rockets in the past few seasons.
"That's a tough place to play. We haven't beaten them in four years," Whips coach Eric Samuelson said. "To go in there and beat them by 17, she was a big reason for that. Her rebounding and determination to get the basketball, just that fierceness, that was really fun to see."
Samuelson said Milison has shown a lot of maturity.
"You take her sophomore year, if she got a couple of fouls, we'd lose her on the bench and it was hard to get her back," he said. "Last season, we really worked on that. We told her, 'Don't worry about the refs do. Just worry about what you do.' She has been real solid for us."
Good signs: Despite C-G's five-game winning streak ending last week at the hands of Hampshire, coach Tony Moretti has been encouraged by his team's early-season play.
The Trojans started the season with a 44-40 loss to Marian Central at the Johnsburg Thanksgiving Tournament, but seven days later defeated the Hurricanes 45-41. Against Hampshire, C-G had a 7-0 lead but could not hold it in the eventual loss.
"They never quit on each other," Moretti said. "They're hardworking and they do all the right things. The start was great, yeah, but we've got to learn to play with a lead and slow things down a little. ... I felt overall they worked their [rears] off."
The Trojans graduated their top two scorers from last year, but have received a nice boost from sophomore Ellie Mjaanes, who led them with 13 points and nine rebounds against the Whips. Mjaanes, a 6-foot-1 forward, joined the team after her family moved from Vermont.
Moretti thinks the Trojans (5-3), who took fourth in the FVC last year, can compete with the top teams in the conference.
"We're learning a lot about ourselves, and we're going to learn a lot about ourselves the next couple of weeks," Moretti said. "If we consistently play at our top level, we'll be near the top of the conference. We'll be up there with all of those teams, I really believe that."