MILWAUKEE – McHenry stood dangerously close to seeing a really nice Sunday afternoon turn sour.
The Warriors were thoroughly enjoying their game against Johnsburg at the Milwaukee Bucks' Fiserv Forum with a 15-point lead early in the fourth quarter.
"We got too excited about being so much up in a bigger arena," McHenry forward Hayden Stone said. "It got to our heads a little bit. Dylan (Schmidt) is a tank. He came down and hit a couple and-ones and we lost momentum."
[ Photos: Johnsburg vs. McHenry at Fiserv Forum ]
For 6 minutes, the Warriors did not score and eventually lost the lead. But guard Marko Visnjevac drained a 3-pointer from the left corner and one final strong defensive stand gave McHenry a 58-55 victory in their nonconference game.
Warriors coach Chris Madson called for a play against Johnsburg's zone defense to have Visnjevac pass the ball and slide through to the left corner off of a ball screen. Zack Maness flipped a pass to Visnjevac, who swished it in for his sixth 3 with 35 seconds remaining for a 56-55 lead.
"We were up 15 and they came back and took the lead," said Visnjevac, who finished with a game-high 27 points. "I knew I had to make a big play, and I did. It was a pretty good look. Zack made a good pass to me and the defense shifted late, and I knocked down the shot."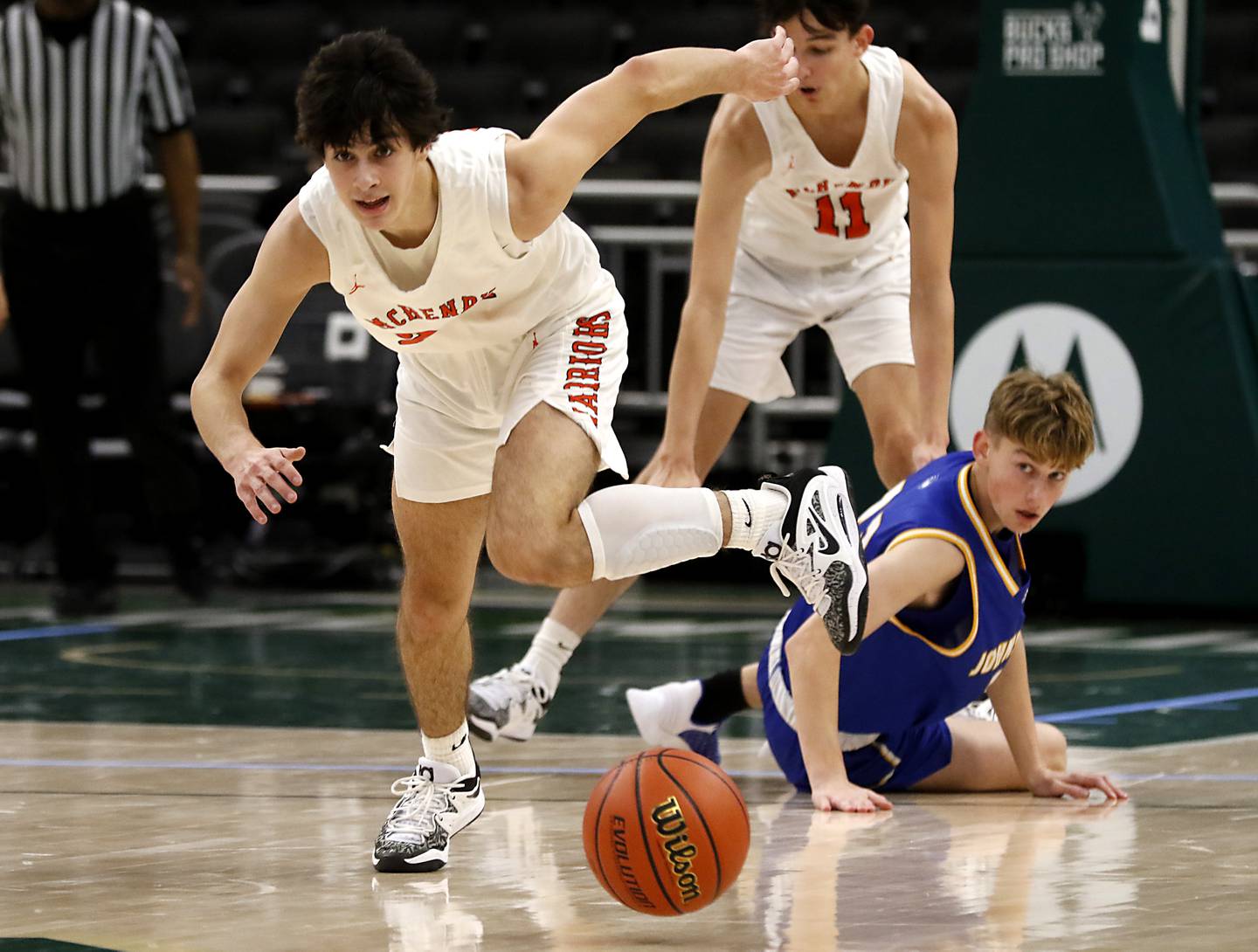 Schmidt scored 14 of his 25 points in the fourth quarter for the Skyhawks (3-2), so McHenry (3-1) went box-and-one on Johnsburg's last possession. JT Schmitt attempted a 3 from the left corner and McHenry's Kyle Maness rebounded and was fouled with 1 second remaining.
Maness made two free throws even though he was supposed to miss the second. Johnsburg's long throw down the court went out of bounds and McHenry inbounded to kill the last second.
Madson gave credit to assistant coach Rob Niemic for the defense on Johnsburg's last possession.
"We're always scheming against each other, and Dylan was killing us," Madson said. "We put Conner McLean on him and went box-and-one to make sure that their best player doesn't beat us.
"Kyle got the rebound and two free throws. We told him to miss the second one and we wouldn't have to deal with anything. He shoots it super high and makes it. Good for him."
Stone's play at the end of the third quarter was critical as well. He blocked Schmidt's shot, came down with the rebound, dribbled just past halfcourt and hit a 3 at the buzzer.
"From my angle it looked like it was whiffing off to the left side and it kind of did a little curve at the end," Stone said. "It just went in."
Johnsburg came back Friday in its own Thanksgiving tournament to beat Wauconda 67-60 after trailing by 16 in the third quarter. The Skyhawks were ready for another comeback.
McHenry pulled ahead 53-38 with 6:30 to go and Johnsburg put together a 17-0 run.
"It's nice to know we can come back," Skyhawks coach Mike Toussaint said. "We played complacent at times. We were soft with our dribble and soft with our passes. Defensively, when we went to the press that helped us a little bit. Maybe it forced us to get our heads clear, get up tempo and push the pace a little bit."
Toussaint lamented not going to the pressure sooner.
"It's kind of like what happened with Wauconda the other day, we picked up our defensive intensity and we got some momentum and hit some shots and got back in it," Schmidt said. "This is the second time we've been down big and came back. We have a fighting team with a lot of athletes, we have a good team this year."
Stone scored 10 points and grabbed 14 rebounds for the Warriors. Zack Maness added nine points.
Schmidt had 14 rebounds, Ian Boal scored 10 points and Jacob Welch had eight points and 10 rebounds for the Skyhawks.
NBA teams often let high school teams play games in their arenas if they sell an allotment of tickets to a game. McHenry and Johnsburg agreed on the date and set up the game with the Bucks. Players, coaches and many fans stayed after the game, visiting nearby restaurants, before going back to Fiserv for Sunday night's game between the Bucks and Dallas Mavericks.
Toussaint didn't want the disappointment to dampen the trip.
"I hope I don't mope the rest of the day because I hate losing and then it ruins the rest of my day," Toussaint said.
McHenry 58, Johnsbug 55
JOHNSBURG (55)
Metze 1 0-0 3, Schmidt 8 8-9 25, Schmitt 0 0-0 0, Person 2 0-0 5, Welch 3 1-2 9, Boal 3 2-4 10, Groves 0 0-0 0, Patterson 1 0-0 2. Totals: 19 11-15 55.
McHENRY (58)
Z. Maness 4 1-2 9, Visnjevac 10 1-2 27, McLean 1 1-2 3, Sone 4 2-4 10, Jett 1 2-2 4, Anwar 1 0-0 2, K. Maness 0 2-2 2, Tapia 0 0-0 0, Sites 0 0-0 0, Mendez 0 0-0 0, Honea 0 0-0 0, Wojcik 0 0-0 0. Totals: 21 9-14.
Johnsburg 15 13 7 20 – 55
McHenry 21 13 15 9 – 58
3-point goals: Johnsburg 6 (Boal 2, Schmidt, Metze, Person, Welch), McHenry 7 (Visnjevac 6, Stone). Total fouls: Johnsburg 14, McHenry 14.