Richmond-Burton softball coach Tylar Stanton set lofty expectations for the 2022 season: "Sectional or bust."
That part, the first-year coach admits, shouldn't have been said out loud.
But the Rockets, led by Kishwaukee River Conference Player of the Year Taylor Davision, a Michigan State commit, and freshman pitcher Hailey Holtz, had their coach's back as R-B captured the program's first sectional title since 2002 with an exciting 4-3 win over Stillman Valley.
A few days later, the Rockets lost a hard-fought game to eventual Class 2A state champion Rockridge, 1-0, in the EastSide Centre Supersectional, ending R-B's memorable playoff run one victory short of its first state semifinals appearance.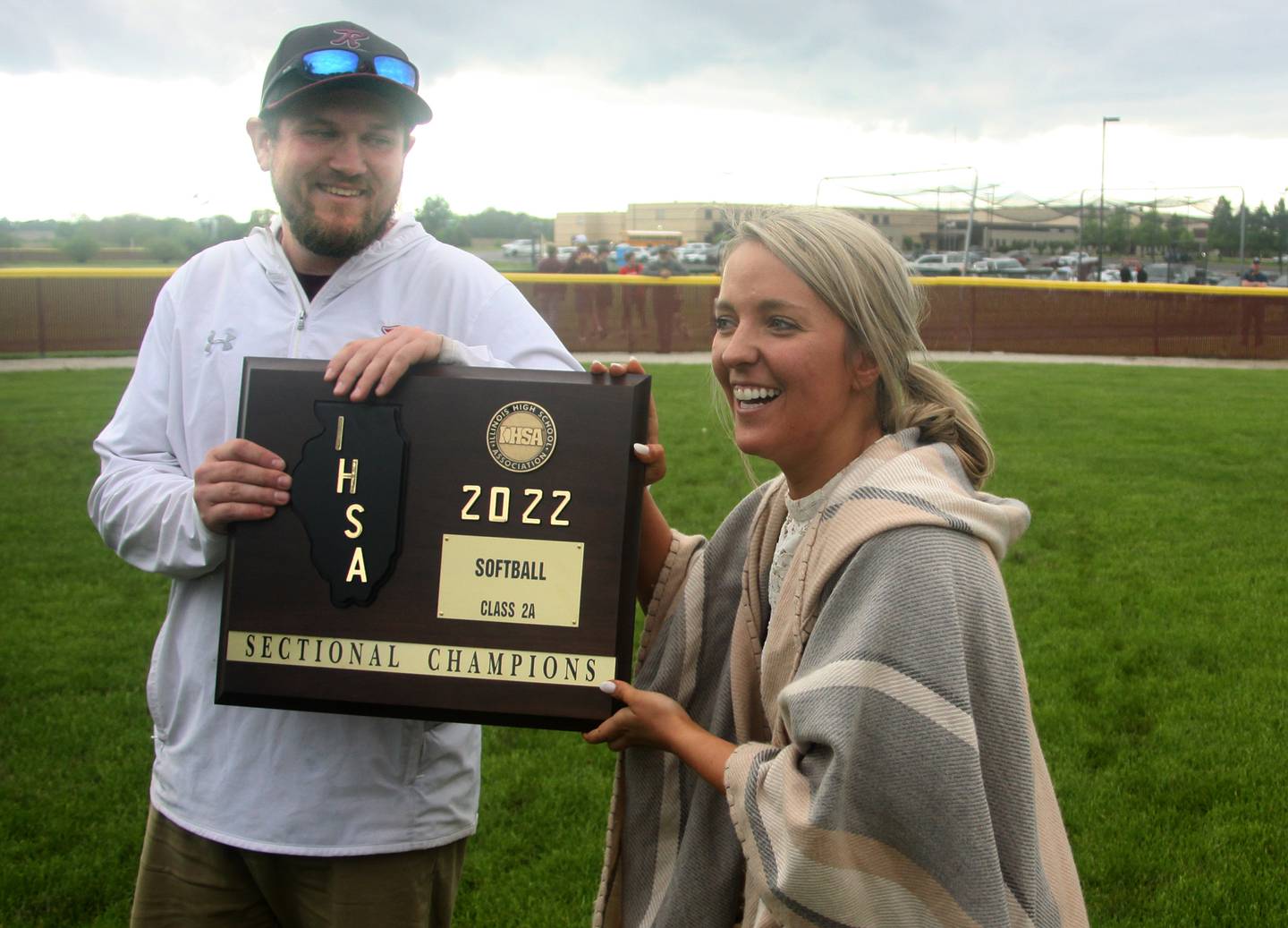 Richmond-Burton finished its outstanding season with a 20-6 record, its first sectional championship in 20 years, fourth regional title in the past five seasons and third consecutive KRC title.
Stanton, who also is the JV football and JV boys basketball coach at R-B, and the Rockets already are back to work with an eye on making history next year. R-B will return its entire team and should be among the highest-ranked 2A squads in 2023.
For his team's success, Stanton is the 2022 Northwest Herald Softball Coach of the Year, as selected by the sports staff with input from local coaches. Huntley's Mark Petryniec, Marengo's Dwain Nance, Crystal Lake Central's Brian Strombom and Cary-Grove's Tammy Olson also were considered.
Sports writer Alex Kantecki caught up with Stanton after a memorable debut season for the Rockets coach.
What are you up to this summer?
Stanton: So I got married the day after we won the sectional, went on my honeymoon [to the U.S. Virgin Islands], and the day I got back, I went right back into coaching. I had basketball to run, football has begun, and we're doing a softball camp for two weeks that we're still in the heart of. I had my week and a half of what I can get and it's right back into all three sports.
Who has made the biggest impression on you as a coach?
Stanton: As far as my athletes, I'd have to say [freshman pitcher] Hailey Holtz. Just an absolute stud in the circle. The fact that she's a freshman is even more impressive. The way she carries herself, you would never guess it. Her composure, her fight and her desire to win are off the charts.
What stands out to you most about your first season?
Stanton: Being my first year, I look back, and I plan to do this for a long time. I can't imagine I won't remember this group. Outside of all the success we've had, the way the team grew as the season went on, seeing some girls come out of their comfort shells and really buy into the family mentality we instilled early. I'm here to build a program, and this is a great group to build a program behind.
Do you have any rituals or superstitions?
Stanton: I really don't think I do. I guess one thing would be for away games, I would always sit in the second seat behind the driver, so I'm always on the left side. As far as the team, they always had to make sure they had their eye black. If they didn't, that was always a stressor. [Junior shortstop] Mia Spohr was rocking the same batting glove all year that was beat to heck. I don't even think it helped. It was half of a glove.
Who made you laugh the most?
Stanton: Oh, that's [freshman] Gabby Hird without question. To begin the year, I don't think we had a conversation outside of practice, but she's really come out of her shell. She'd go from hiding and not talking to you, to now she's screaming out her car, waving at me and saying hello. She's always smiling and always goofy. In the dugout, on the bus ride before games, she's just that character that gets all the girls laughing and makes the games a little easier.
What are three of your favorite movies?
Stanton: "Step Brothers," "Coach Carter" and "Remember the Titans." And "Sandlot" is up there for me, as well.
Which one of your players inspires you?
Stanton: [Junior catcher] Taylor Davison. Her work ethic is something I never had. I've known her and watched her play since she was probably 10. My dad coached her and my sister still gives her lessons. She's committed to [Michigan State] and she's still taking lessons right after a game, right after a practice. I've seen her develop from not saying a single word behind the plate to calling pitches and a running a game all on her own. She had to change her schedule up and couldn't take strength class, so now she gets up at 5 a.m. and heads to the gym. She's always busting her butt. She knew she wanted to go [Division I] and do something big, and she made it happen.
If you could spend a day with anyone from history, who would it be?
Stanton: Walter Payton.
What was the biggest challenge you faced this year?
Stanton: I would have to say myself. I saw the skill set and talent this group had and we talked about "sectional or bust," and I probably shouldn't have said it out loud, but that was all that I had in my mindset. I'm one of my biggest critics, for sure. Whether it's a win or loss or a certain situation, I put it on myself. I'd come home after a win and still be down about a certain situation or substitution that I did or didn't do, dealing with playing time, or how everybody is feeling.
What are you looking forward to most next season?
Stanton: Getting back to where we stopped and going forward. That was kind of my end-of-season talk, that we'll be back. Last year was, 'We're going to get ourselves a sectional [title],' and now we've got bigger aspirations. We are already in softball mode. I gave them two weeks off, and we're right back at it. I'm itching to take the next step with this group. It's a really special group, and they deserve success at the highest level.