The transition from high school softball to college involved plenty of change for Marengo graduate Jenna Turner and Prairie Ridge's Bella Crimaldi, especially in the batter's box.
"In high school, I struggled a little bit," said Turner, who was NJCAA Rock Valley College's starting second baseman this season.
"If I'm being honest," said Crimaldi, who started at third base, "I couldn't tell you what my swing looked like at the beginning of the year. I know it did not look anything like it does now."
Thanks to big offensive seasons from the two local players, Rock Valley won its eighth consecutive NJCAA Division III national championship last month in DeWitt, New York. At nationals, Rock Valley went 4-0 and outscored opponents, 24-8.
The eight titles in a row is a record across all NJCAA divisions.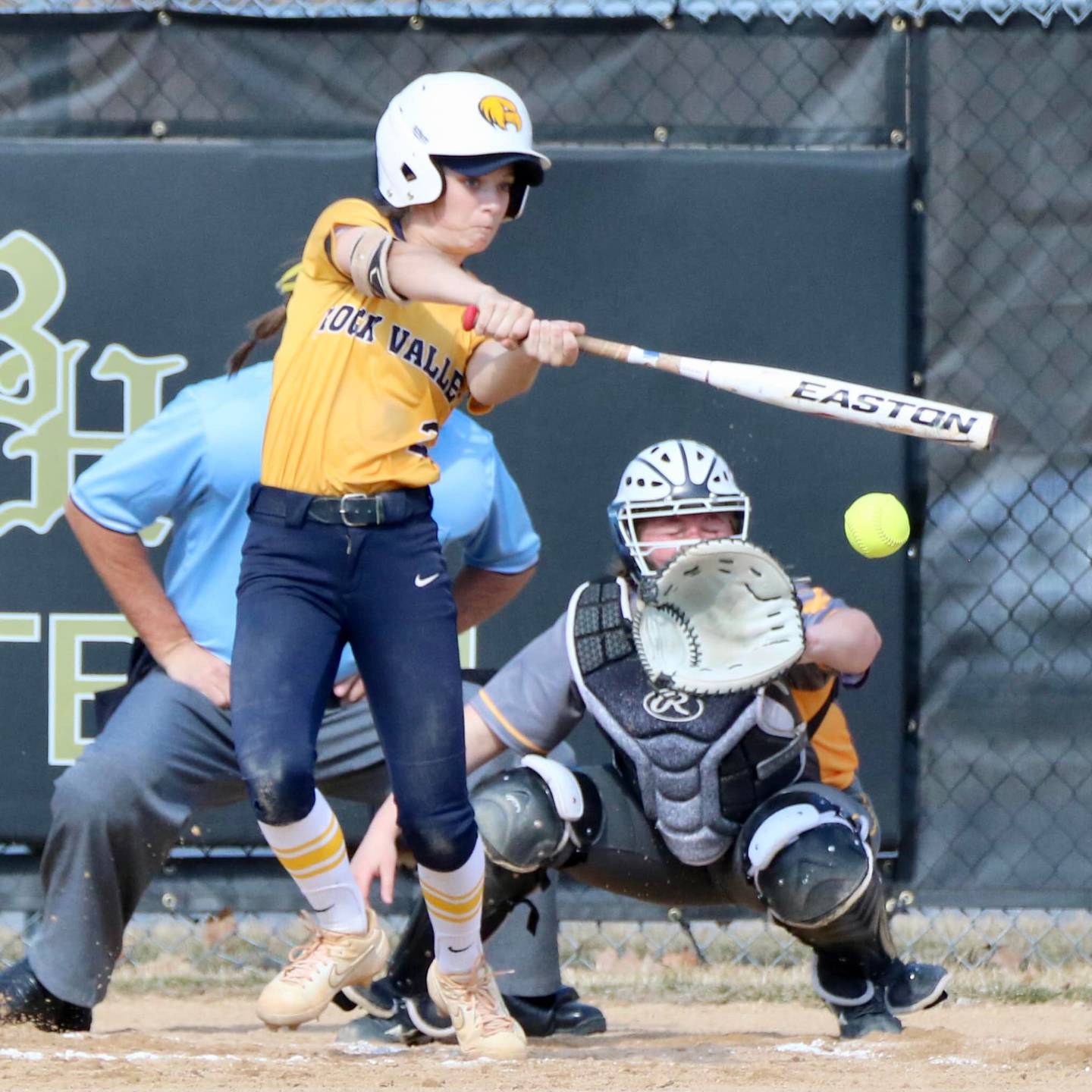 Turner, a left-handed slapper at the plate, batted .413 with 14 doubles, six triples and 44 RBIs. She also stole 23 bases while earning National Fastpitch Coaches Association first-team All-America honors.
Crimaldi, a right-handed power hitter, batted .391 with 11 doubles, seven home runs and 35 RBIs. For the season, almost 40% of her hits went for extra bases.
Turner and Crimaldi both were named to the all-tournament team at nationals for the Golden Eagles (48-11). In addition, both players earned all-region and All-N4C Conference honors.
The pair credited the work of Rock Valley co-head coaches Darin Monroe and Vivi Marquez for their offensive success.
"Coach Monroe is our slapping coach, and I learned so much from him about how to bunt, slap and hit [to improve] those three dimensions in my game," Turner said.
When it came to swinging away, Turner said she would get lessons from Marquez, who helped the team's power hitters.
"We have a great relationship with the coaches," Turner said.
Crimaldi said the coaches added some pop to her offense.
"I usually hit line drives and hard ground balls, but this year I was definitely a power source," she said. "The coaches did a great job of teaching. I learned so much this year, especially about hitting. I would definitely say [my swing] is more powerful.
"I don't think I've ever hit this well in my whole life."
With its 9-2 victory May 28 against No. 2 seed Corning (N.Y.), top-seeded Rock Valley continued its impressive streak of national dominance.
"That was something I was looking forward to since I committed to Rock Valley," Crimaldi said.
For Turner, the championship was part of a family legacy. Her older sister, Jessica, who teaches second grade at Marengo's Locust Elementary School, won two championships at Rock Valley during her college career.
"Knowing that not a lot of girls get to go and compete for a national title, it was so surreal," Turner said of holding the championship trophy last month.
Jenna Turner said she was in seventh and eighth grade when her sister helped Rock Valley enjoy the national spotlight.
Has Jessica reminded her little sister that she has two titles?
"Of course she has," Jenna Turner said with a laugh. "I always wanted to follow in her footsteps. She's a great role model."
Dineen begins coaching career: After playing one season as a graduate transfer for Indiana State's football team, Marian Central grad Gavin Dineen has transitioned into a coaching role for the Sycamores.
Dineen, who had 19 tackles from his defensive tackle spot last season, will coach the defensive line this fall, according to the school's website. The Sycamores will open the 2022 campaign Sept. 1 at home against North Alabama.
Before transferring to Indiana State, Dineen played four seasons at Drake and was a two-time first-team All-Pioneer Football League defensive tackle.
Ignoffo is NECBL's best: Cary-Grove grad Ryan Ignoffo, a senior infielder for Eastern Illinois, was chosen Monday as the New England Collegiate Baseball League's Player of the Week.
Ignoffo, who is playing the summer with the Vermont-based Upper Valley Nighthawks, hit five home runs last week to claim the honor. For the season, Ignoffo is batting .318 with 16 RBIs and seven stolen bases in 11 games.
Ignoffo has reached base safely in all 11 games and currently has a six-game hitting streak.
Barry Bottino writes about local college athletes for the Northwest Herald. Write to him at barryoncampus@hotmail.com and follow @BarryOnCampus on Twitter.