CHARLESTON – Richmond-Burton may have something else to add to its impressive spring résumé after Saturday afternoon, its first boys track and field state title in school history.
The Rockets, whose girls soccer team will play for the Class 1A state championship and whose softball team has clinched a spot in a Class 2A supersectional, while the baseball team will play for a sectional title Saturday, have the best time heading into the Class 2A 4x400-meter relay finals at the IHSA Boys Track and Field State Meet.
Tristan Rockwell, Joe Miller, Sean Rockwell and Jack Verdoni ran a blazing 3:22.96 in their preliminary heat Friday at Eastern Illinois University's O'Brien Stadium, more than two seconds faster than the next two teams.
"I'm obviously really happy with that time, dropping a few seconds off what we came here with from sectionals," Verdoni said. "Everybody did great today, everybody did their best to get that time.
"Tristan was feeling sick, throwing up, but he toughed it out and gave us a great start. Joe and Sean and I picked it up and finished strong."
That same four, although in a different order, qualified with the seventh-fastest 4x200 time at 1:29.70 to make the finals.
"Keeping it calm, keeping it cool. So far, so good," R-B coach John Osmanski said. "We have to do it again tomorrow. The most important thing is to just get a lane. Do our job tomorrow.
"We're right there in that 4x2, Kankakee looks awesome, but 0.3 away from second place in the 4x2. The 4x4 looks absolutely incredible. Let's get ready for tomorrow."
Other area qualifiers in Class 2A were Woodstock's Jack Novelle (high jump) and Tim Maidment (long jump) and three qualifiers from Burlington Central in Zac Schmidt (400), Yusuf Baig (1,600) and the 4x100 relay team of Alec Zaccaria, Dylan Stahl, Gavin Sarvis and Nolan Milas.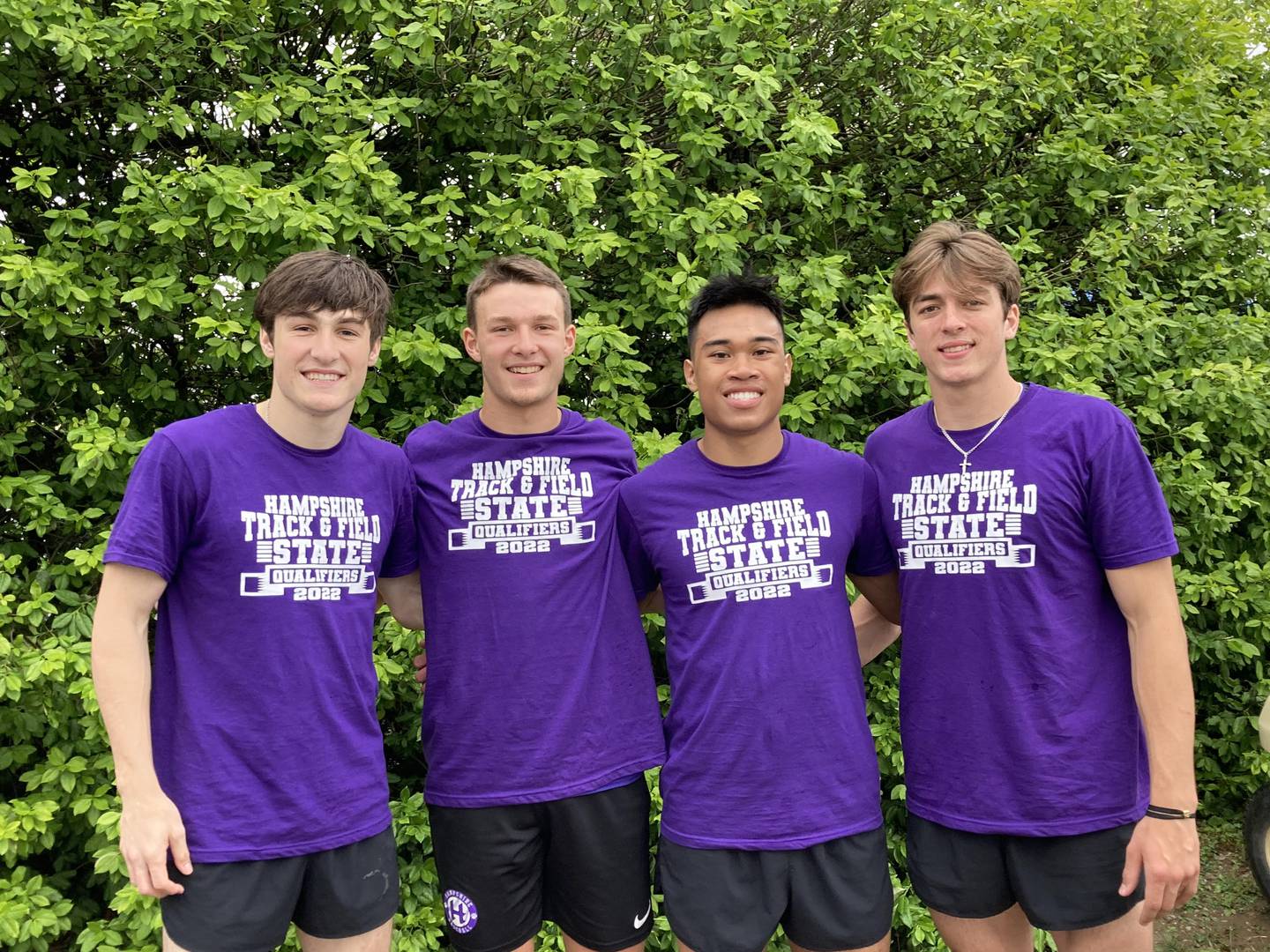 In Class 3A, Cary-Grove's Zach Petko qualified in the shot put. Huntley will have Evan Gronewold (400) and McKale Hood (high jump) in the finals. McHenry's Hayden Stone advanced in the high jump, and Hampshire's 4x200 relay team of Devin Yeats, Tyler Fikis, Maddux Chanthaboury and Jack Rummell qualified.
R-B came to state with a 4x400 time of 3:24.36 out of sectionals, the fastest time by 0.67. The Rockets knocked another 1.4 off that time with their run Friday.
"We got a lane in the finals, that's what matters," Tristan Rockwell said. "Now we just have to do our job tomorrow. The 4x2 is looking like a really tough race with Kankakee and teams like that. The 4x4 we're going in as No. 1 again, we're looking good. I'm proud of everybody today.
"It was just being tough and wanting it the most. That last 150 you have to be strong, and we're all strong in the last 150. [The 3:22.96] shows we have more to cut off, better to do, faster to run."
R-B's James Kaht, a Class 2A 1,600 state runner-up in 2013, is R-B's highest state finish in school history.
Gronewold, last year's 3A 400 runner-up, made the finals by the slimmest of margins, tying Round Lake's Jamariel Brown for the last spot. Both were timed at 50.770, which will produce a two-heat final in that race, one with three runners, the second with seven.
"That first 200 was fine, but the last 200 was rough," Gronewold said. "I think I gave too much at the beginning, but that's how I run every race.
"It means I have to last longer when I attack that race. Trying to fight on the curve vs. the straightaway is where I lost most of my energy from what I can remember."
Hampshire's 4x200 team had the 16th seed out of sectionals, but ran a 1:30.27 to qualify.
"That's just what we do. We were prepared and worked all week, took no days off and perfected our handoffs," Rummell said. "We just hit our corners really well. We prepared the whole week and hit our handoffs. Without those perfected handoffs, I don't think we would have made it in the top nine."
Class 2A State Meet
Local preliminary results
*-Denotes finals qualifiers.
4x800 relay: 15. Burlington Central (Zac Schmidt, Joseph Kowall, Leighton Dietz, Adam Hinkelman) 8:31.32.
4x100 relay: 6. Burlington Central-* (Alec Zaccaria, Dylan Stahl, Gavin Sarvis, Nolan Milas) 43.03, 15. Richmond-Burton (Landon Jacoby, Jack Martens, Dan Kalinowski, Tristan Rockwell) 43.57, 22. Woodstock North (Chris Carreno, Devin Tumminello, Jay Randecker, Mark Duenas) 44.50.
110 high hurdles: 23. Jared Kniola (Woodstock) 16.91.
100 meters: 10. Milas 11.08, 25. Duenas (WN) 11.38. 26. Josh Holst (Marengo) 11.43.
4x200 relay: 7. Richmond-Burton-* (T. Rockwell, S. Rockwell, Joe Miller, Jack Verdoni) 1:29.70, Woodstock North (Carreno, Tumminello, Randecker, Duenas) 1:32.00.
400 meters: 9. Schmidt-* (BC) 50.05, 22. Forrest Hull (Johnsburg) 52.50.
300 int. hurdles: 19. Landan Creighton (WN) 43.41
1,600 meters: 9. Yusuf Baig-* (BC) 4:30.08.
4x400 relay: 1. Richmond-Burton-* (T. Rockwell, Miller, S. Rockwell, Verdoni) 3:22.96, 13. Burlington Central (Milas, Zaccria, Dietz, Schmidt) 3:30.65.
Shot put: 24. Jacob McConnell (WN) 12.72 (41-8.75).
Discus: Jacob 13. McConnell (WN) 44.17 (144-11).
High jump: 13. Jack Novelle-* (Wdk) 1.83 (6-0).
Long jump: 11. Tim Maidment-* (Wdk) 6.34 (20-9.5), 17. Sarvis (BC) 5.91 (19-4.75).
Triple jump: 13. James Kaunas (Jbg) 12.46 (40-10.5).
Pole vault: 14. Grayson Burton (BC) 3.80 (12-5.5), 18. Creighton (WN) 3.50 (11-5.75).
Class 3A
Local preliminary results
*-Denotes finals qualifiers.
4x800 relay: 22. Hampshire (Aidan Gonzalez, Jason Schmidt, Owen Cuplin, Mitch Dalby) 8:16.89, 27. Jacobs (Isaac Pepin, Adam Lakeman, Zach Osmanski, Matt Andreano) 8:23.88.
4x100 relay: 24. Dundee-Crown (Diego Farias, Henry Kennedy, Kali Freeman, Alex Ledezma) 43.69.
110 high hurdles: 11. Jonathan Tegel (CL Central) 15.12, 21. Gavin Wang (CLC) 16.04.
800 meters: 17. Dalby (Hamp) 2:03.83.
4x200 relay: 6. Hampshire-* (Devin Yeats, Maddux Chanthaboury, Tyler Fikis, Jack Rummell) 1:30.27.
400 meters: 9 (tie). Evan Gronewold-* (Huntley) 50.77.
300 int. hurdles: 12. Tegel (CLC) 41.43.
200 meters: 14. Kennedy (DC) 22.41.
4x400 relay: 21. Hampshire (Fikis, Cuplin, Bryce Bannerman, Dalby) 3:30.45.
Shot put: 7. Zach Petko-* (CG) 16.90 (55-5.25), 19. Hayden Swim (Hunt) 15.95 (52-4).
Discus: 14. Petko (CG) 45.90 (150-7).
High jump: McKale Hood-* (Hunt) 1.83 (6-1.25), Hayden Stone-* (McHenry) 1.83 (6-1.25).
Triple jump: 19. Nate Van Witzenburg (CL South) 12.33 (40-5.5).
Pole vault: 22. Zach Galvicius (McH) 3.95 (12-11.5); Sam Schroll (CLC) no height.