Six games into her college softball career, Kyra Lard was batting .222 and had gone hitless in three consecutive games on the team's spring break trip to Florida.
What came next was an impressive offensive display that led Lard, a McHenry East graduate, to an historic campaign for the University of Wisconsin LaCrosse softball team.
"Halfway through our spring break trip, it started coming to me," said Lard, who started all 37 games this season at shortstop. "Once you get that one hit, it just comes more naturally."
Over the team's next 31 games, Lard had at least one hit in 27 of them and reached base in 19 games in a row to end the season. She finished with a .410 batting average and led the team with 55 hits.
Her impressive season resulted in being named the Wisconsin Intercollegiate Athletic Conference Newcomer of the Year, a first-team All-WIAC selection and a second-team honoree on the National Fastpitch Coaches Association's All-Region team.
"It's super rewarding to get recognized like that," said Lard, the first LaCrosse player ever to win the conference's top newcomer award. "It feels like all of your hard work is paying off and being seen."
Lard had 17 multi-hit games and eight multi-RBI games for NCAA Division III LaCrosse (27-10), which ended its season with a one-run loss in the WIAC tournament's title game. She also had 28 RBIs, four home runs and 13 doubles, which ranks as the third-most in a single season in school history.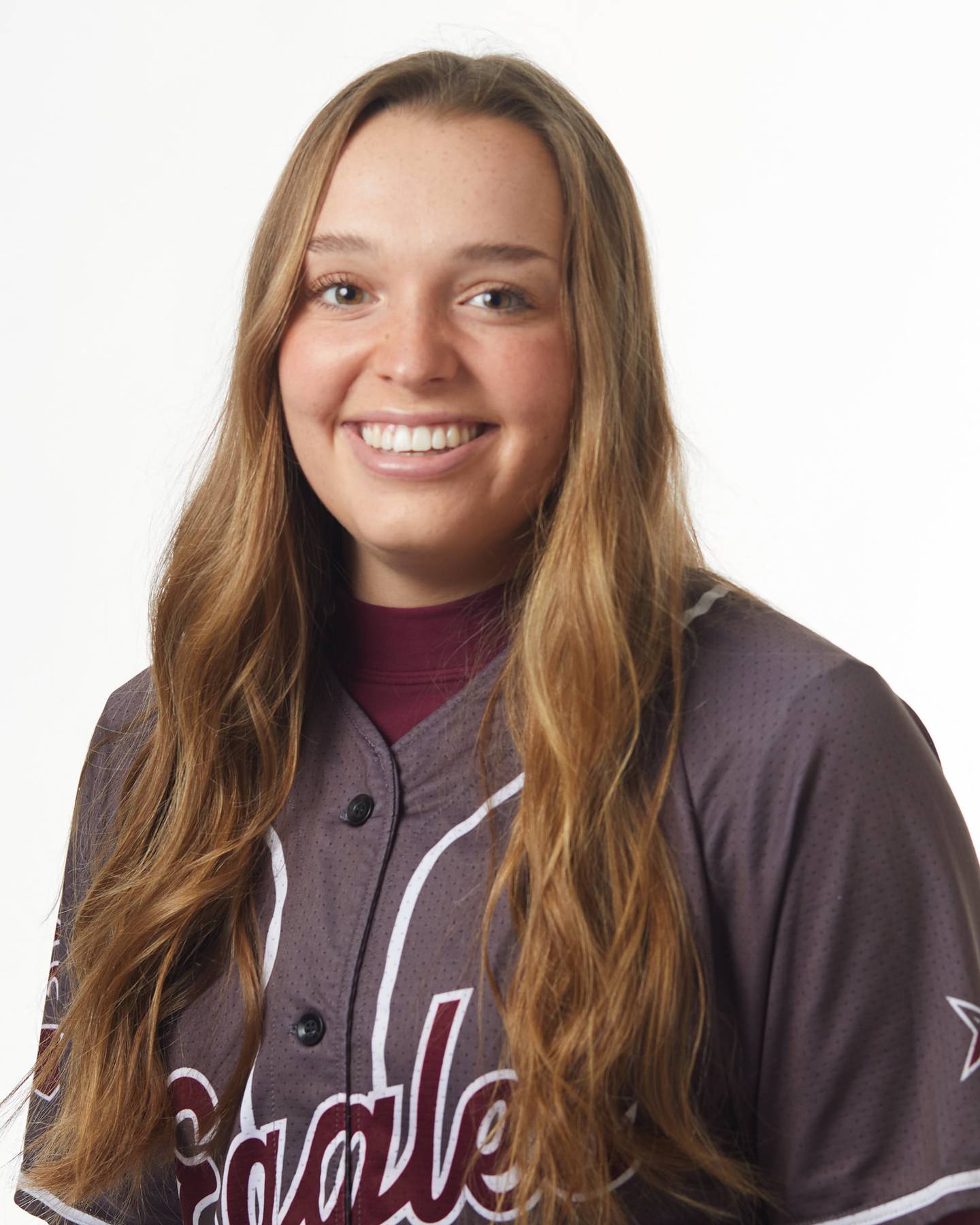 "I didn't really look at my personal stats," she said. "I was just happy to be winning with my team and be on a roll like that (at the plate)."
Late in the season, Lard said she had to make adjustments to pitchers throwing more changeups and outside pitches as her accomplishments grew while feasting on balls over the plate. She expects more of the same next season.
"I'm probably not going to get my favorite pitch because they know what that is," she joked.
Lard was joined on the first team by Marengo grad Hannah Ritter, a junior who plays first base at UW-Oshkosh. Ritter batted a league-leading .500 this season with 29 RBIs and nine doubles. She also led the team and ranked second in the conference in hits (58). Ritter also earned third-team NFCA All-America honors for the second time in her career.
The WIAC second team featured Richmond-Burton grad Jesse Klicker, a freshman shortstop at UW-Stevens Point. Klicker batted .358 this season with team highs of 16 doubles, five triples and 35 runs scored.
Fuentes to World Series: Crystal Lake South grad Brian Fuentes batted .500 with three home runs and 10 RBIs last week to guide NAIA Southeastern University to a three-game sweep in the opening pound of postseason play and a spot in the NAIA World Series in Lewiston, Idaho.
Southeastern (54-3) is ranked No. 1 in the nation and Fuentes – an infielder/outfielder – was one of seven Fire players to earn first-team All-Sun Conference honors.
For the season, Fuentes leads the team in eight offensive categories, including batting average (.421), home runs (20) and RBIs (82).
Southeastern earned a first-round bye and opens the tournament at 5 p.m. Saturday.
Bannon leads UIS: Richmond-Burton grad Brandon Bannon became the University of Illinois Springfield's career hits leader in baseball May 15, reaching 200 hits.
Congratulations to @Baseball_UIS player Brandon Bannon who became the program's all-time hits leader yesterday. Bannon broke the previous record with a RBI single in the third, and then collected his 200th career hit in the ninth. pic.twitter.com/eav2sQjuST

— #ProtectThePrairie (@UISAthletics) May 16, 2022
A junior second baseman/catcher for the Prairie Stars, Bannon is batting .363 with 16 doubles, nine home runs and 51 RBIs for a team that will host an NCAA Division II Super Regional this weekend against Quincy. This marks only the second time in school history that UIS has reached the Super Regional round, which is one step away from the D-II World Series.
Bannon's team-leading 83 runs scored ranks fifth nationally, and he has 23 multi-hit games for UIS (46-8).
Marian Central grad A.J. Golembiewski, a sophomore relief pitcher, has six strikeouts in seven appearances this season.
Pauly, Murray State prevail: Junior Jenna Pauly (McHenry West) won the heptathlon title to help Murray State to the Ohio Valley Conference women's track and field championship May 13 for the seventh time in school history.
Pauly led a sweep of the event by Murray State athletes, scoring 4,952 points, which ranks second in school history.
She won the shot put (36 feet, 7 ½ inches) and high jump (5-8) while finishing second in the javelin (93-9) and the 100-meter hurdles (14.52 seconds).
Locals soar at ISU: Illinois State pole vaulters Max Schweitzer (McHenry West) and Sam Peschke (Crystal Lake South) earned All-Missouri Valley Conference honors in the event earlier this month at the MVC outdoor meet in Des Moines.
Schweitzer, a junior, placed second by clearing 15 feet, 9 inches in the event final, while Peschke, a senior, took third at 15-1.
As a team, the Redbirds finished second with 173.5 points.
• Barry Bottino writes about local college athletes for the Northwest Herald. Write to him at barryoncampus@hotmail.com and follow @BarryOnCampus on Twitter.