As Don Wells watched customers peruse his Crystal Lake shop's collections of crystals, candles, incense and statues, the Evolve for Inner Peace shop owner said it felt good to see people coming in on Black Friday, especially considering the past year.
"It feels like some kind of progress, at least a little bit," said Wells, who owns the store with his wife, Melinda.
Because of the COVID-19 pandemic, Evolve didn't have its usual storewide sale last year, and many stores had capacity limits and other restrictions to which they had to adhere.
But this year, the sale – 15% off almost everything in the store this weekend – is back.
Throughout the area, as customers started their shopping the day after Thanksgiving, local shops also prepared for another busy day: Small Business Saturday.
The holiday season is one of Evolve's busier times of the year, which is why Wells said he really works to keep calm energy in the store.
"That's an emphasis for us, to try to give people a little reprieve from the chaotic time of year," Wells said.
Carol Chrisman, owner of Black Orchid Boutique, said she and co-owner Vicki Johnson look forward to Small Business Saturday every year. Like Evolve, Black Orchid also is offering 15% off most merchandise, as well as a $25-off coupon if a customer buys a $100 gift card.
"It's like our bread and butter," Chrisman said.
People have been very supportive of local businesses over the course of the pandemic, Chrisman said, which was a challenging time for a lot of places.
Because of COVID-19, Black Orchid, with the help of McHenry photographer Kelsey Adams, put together an online store, which still is going strong and offering specials this weekend as well.
"We're very blessed in this community," Chrisman said. "People are coming and shopping local. To me, I think they realized that they didn't want to lose their businesses."
Crystal Lake Chamber of Commerce President Bill Eich said the Chamber is seeing a lot more consumer sentiment and people starting to shop again, "which is a wonderful thing."
"That is encouraging people to feel more comfortable shopping," Eich said.
Especially now, Eich said, the Chamber is encouraging these businesses to promote what they're doing and make sure that people know who they are, what they sell and how they help the community so that their presence is known.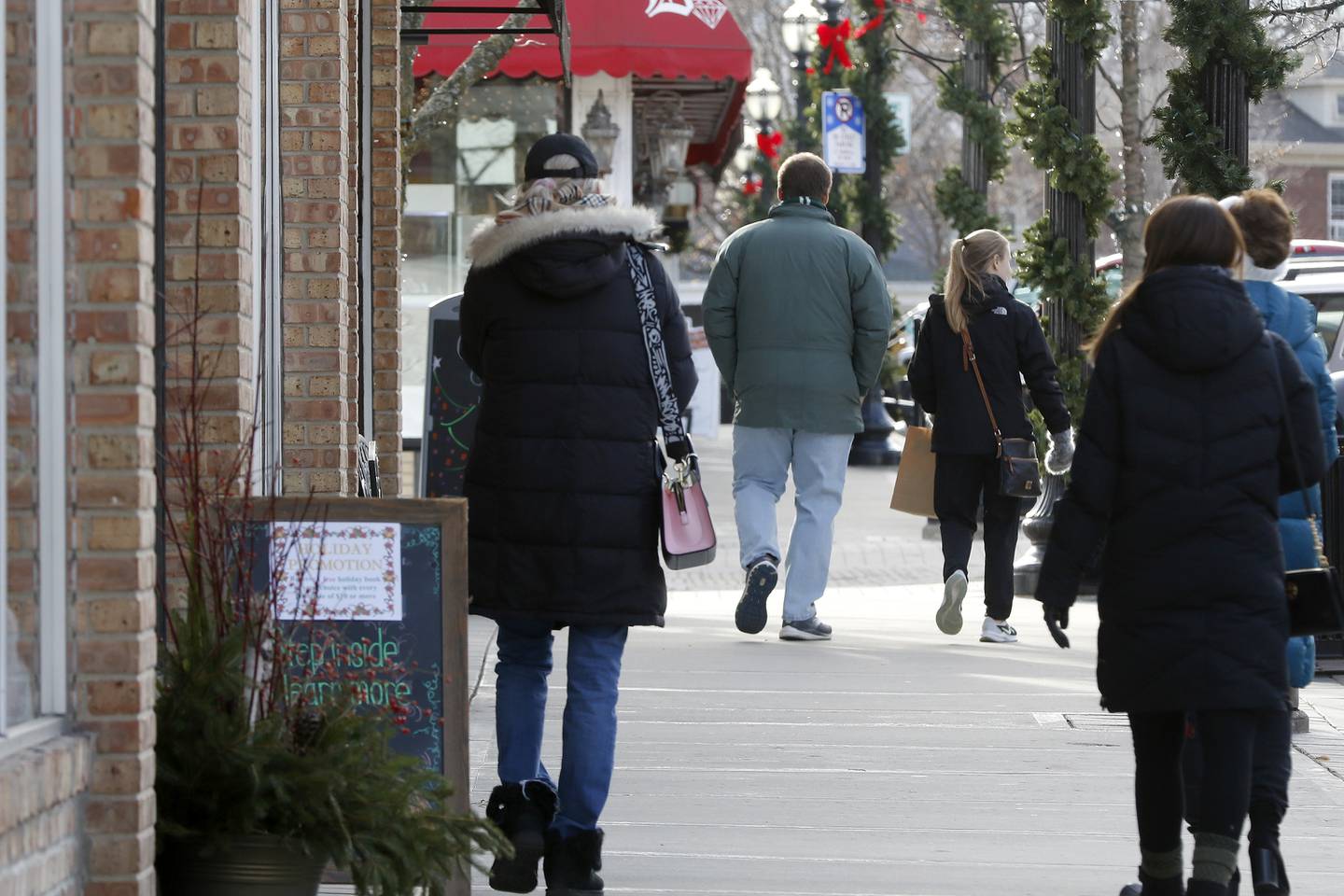 Rebecca Floyd of Crystal Lake, who went to downtown Crystal Lake with her family Friday, is one customer who likes to shop locally.
"I think there's more creative selections down here," Floyd said. "There's less uniformity and sterility."
Floyd said she often will find items that she never expected to find when scouring local establishments.
"Sometimes I come down here with something specific in mind, and sometimes I just come down here because I know there'll be something that surprises me and gives me a little giggle that I can pass on," Floyd said.
With Christmas just around the corner, Floyd said she already was eyeing some potential stocking stuffers.
At Siren Records in McHenry, it was Black Friday and Record Store Day, a time when limited edition vinyl and CDs are made available to independent stores. The first Record Store Day took place April 19, 2008, according to its website.
On Friday, Siren Records had some limited-edition items from Lana Del Ray, Jimi Hendrix and Fleetwood Mac, general manager Bill Linquist said. That morning, about 150 people already had stopped in. An average Black Friday customer count is about 250 to 300 people, Linquist said.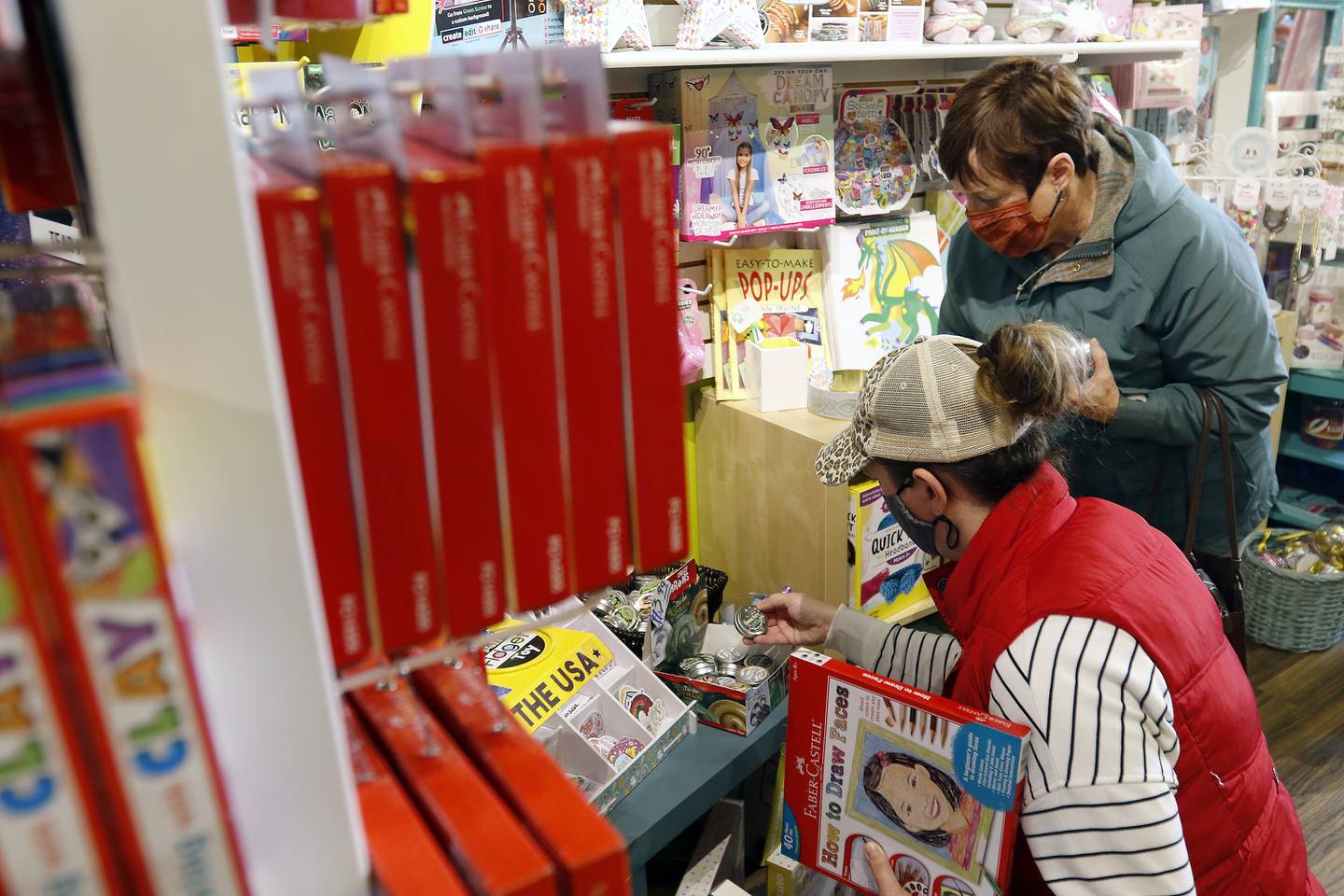 "There's more and more people getting into vinyl records," Linquist said. "You get new customers every day."
People can be frugal when it comes to holiday shopping, so it means a lot when they choose to shop locally and support small businesses, Linquist said.
When people buy from local places, these businesses can then in turn play a larger role in their community, Linquist said, whether it be by donating to school events or Little League organizations. Siren Records sponsors the McHenry high schools' Battle of the Bands event and signs independent local artists on its record label.
When people spend their money at big-box stores instead, it can make it hard for small businesses to have this kind of community involvement, Linquist said.
Wells said it can be difficult for small businesses to compete against large chain stores, but it is important that they remain.
They have a certain charm and personality that isn't always found other places, and they help keep downtown areas "vibrant and colorful," Wells said.
"If you didn't have thriving businesses, then that wouldn't be the case," Wells said.