For about three years, U.S. Marine Corps veteran Marty Lenzen, who was deployed to Vietnam in the late 1960s, has found solace and meaning while working with and riding mustangs at a nonprofit Bull Valley ranching operation known as Operation Wild Horse.
Now, Lenzen's therapeutic experience with the locally kept mustangs is featured in a documentary film produced by Robert Redford that was released in limited theaters across the nation on Friday.
At downtown Woodstock's Classic Cinemas, the 90-minute picture, "The Mustangs: America's Wild Horses," is showing through Thursday evening after its debut late last week. It also can be streamed online through MusicBoxDirect.com, which charges $12 to viewers, who have three days to watch after buying.
The documentary showing now has done well in the Woodstock theater, said Classic Cinemas head Chris Johnson, even outperforming some of the feature films during some showing periods.
"It's hard for a local movie to gain the notoriety and audience, but it sounds like there is an audience out there and they were excited about it," Johnson said.
The film centers around horses that have been tamed since being removed from wild herds roaming the American West. It analyzes controversial Bureau of Land Management policies that both protect wild horses and slim the size of their herds to keep them from proliferating too quickly and debilitating rangelands.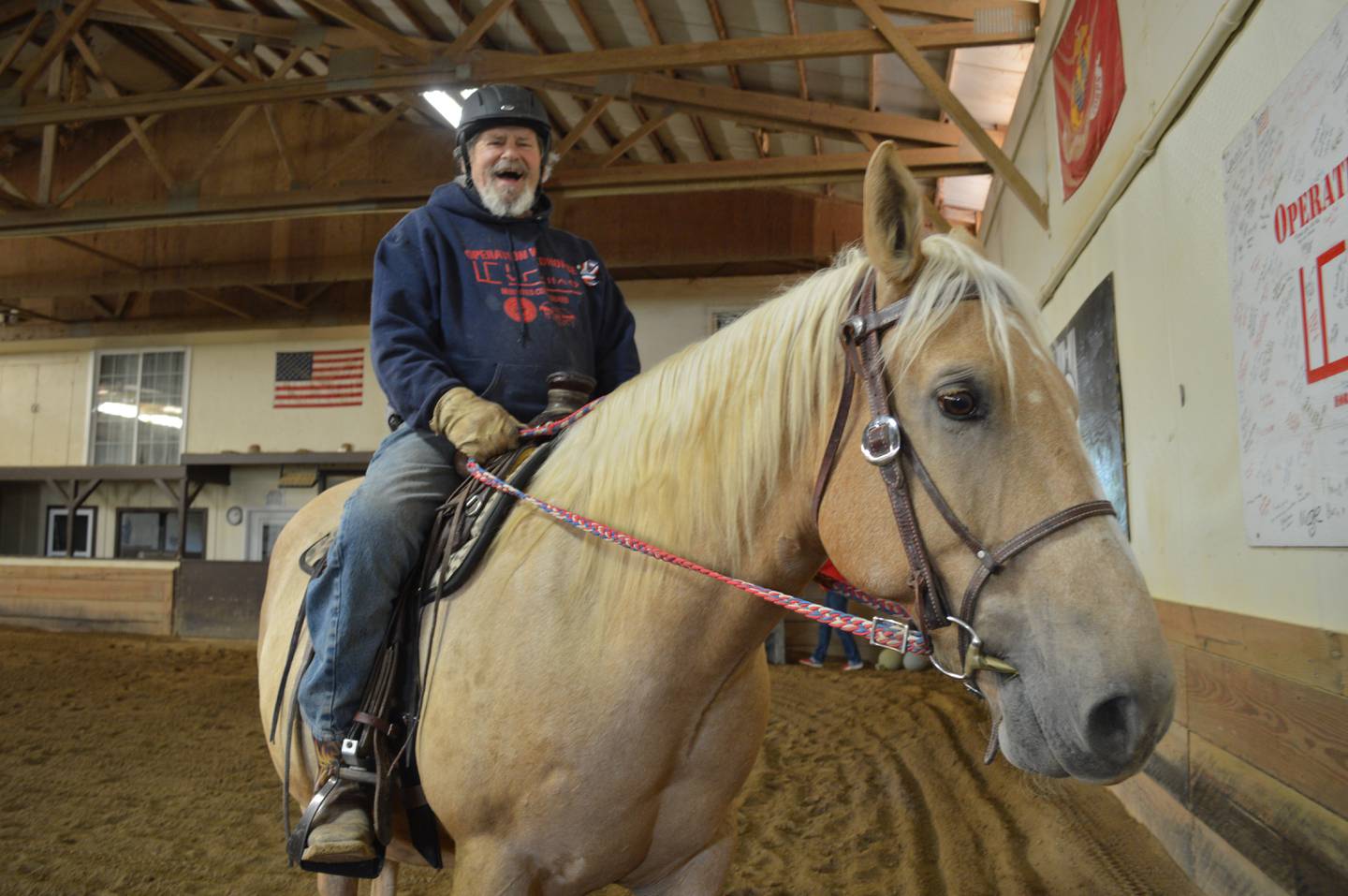 Removing some of these horses from the wild has been the main method to keep their populations in check for decades, since the animals were federally protected in the 1970s. But it's a difficult balancing act for the government agency, which has struggled to keep the populations to its stated goals, according to the film.
While Operation Wild Horse founder and program director Patti Gruber and others, including subjects of the film, advocate scaling up other techniques, including using dart guns with drugs that can sterilize mustangs while keeping them in the wild, there is also a need for training the animals once they are removed and finding them permanent domestic homes.
There can be a demand for mustangs that have been taken from the wild and trained, as demonstrated by another subject of the movie known as the Extreme Mustang Makeover that was created by the Mustang Heritage Foundation as an annual event.
It involves trainers who are given horses recently removed from the wild. They are given 100 days to get them ready to compete in a horse show of equine maneuvers that can take some horses years of preparation to perform, and then the mustangs are auctioned off to permanent owners who keep them and raise them.
Gruber was at an Extreme Mustang Makeover in Texas several years ago while a film crew for the movie was there. That's when she was approached and agreed to participate in the project.
The film documents her auction purchase of a mustang named Pearlstrap at the makeover event, a male from Wyoming that has since been renamed Pearly and still resides on the Operation Wild Horse property on Valley Hill Road.
It shows the emotional parting of ways between trainers and the mustangs they prepped for the makeover event before they are taken home by their buyers.
"There can be something special about a mustang that once they trust you and you build that special relationship with them, there is nothing like it," Wylene Davis, an Extreme Mustang Makeover judge, said in the film.
It also includes a tender moment between Gruber's boyfriend, Jim Welch, who founded the nonprofit Veterans R&R, the entity that has overseen Operation Wild Horse since it was started in 2017. Welch said he was motivated to help veterans after he learned they face higher risks of suicide than the general population and after experiencing a suicide within his own family.
Gruber saw the therapeutic potential of mustangs for veterans and has been teaching them to ride since her idea was backed by Veterans R&R.
On Tuesday, she was helping Lenzen and two Vietnam War-era U.S. Army veterans, Dale Winblad and George Monaco, who still walks well without assistance after his left leg was amputated below the knee in 2006 after a battle with a cancer he said was linked to Agent Orange exposure.
"He's going to save some lives. We knew that you knew that," Welch said in the film to Pearly's first trainer, Brittani Johnson, as he hugged her.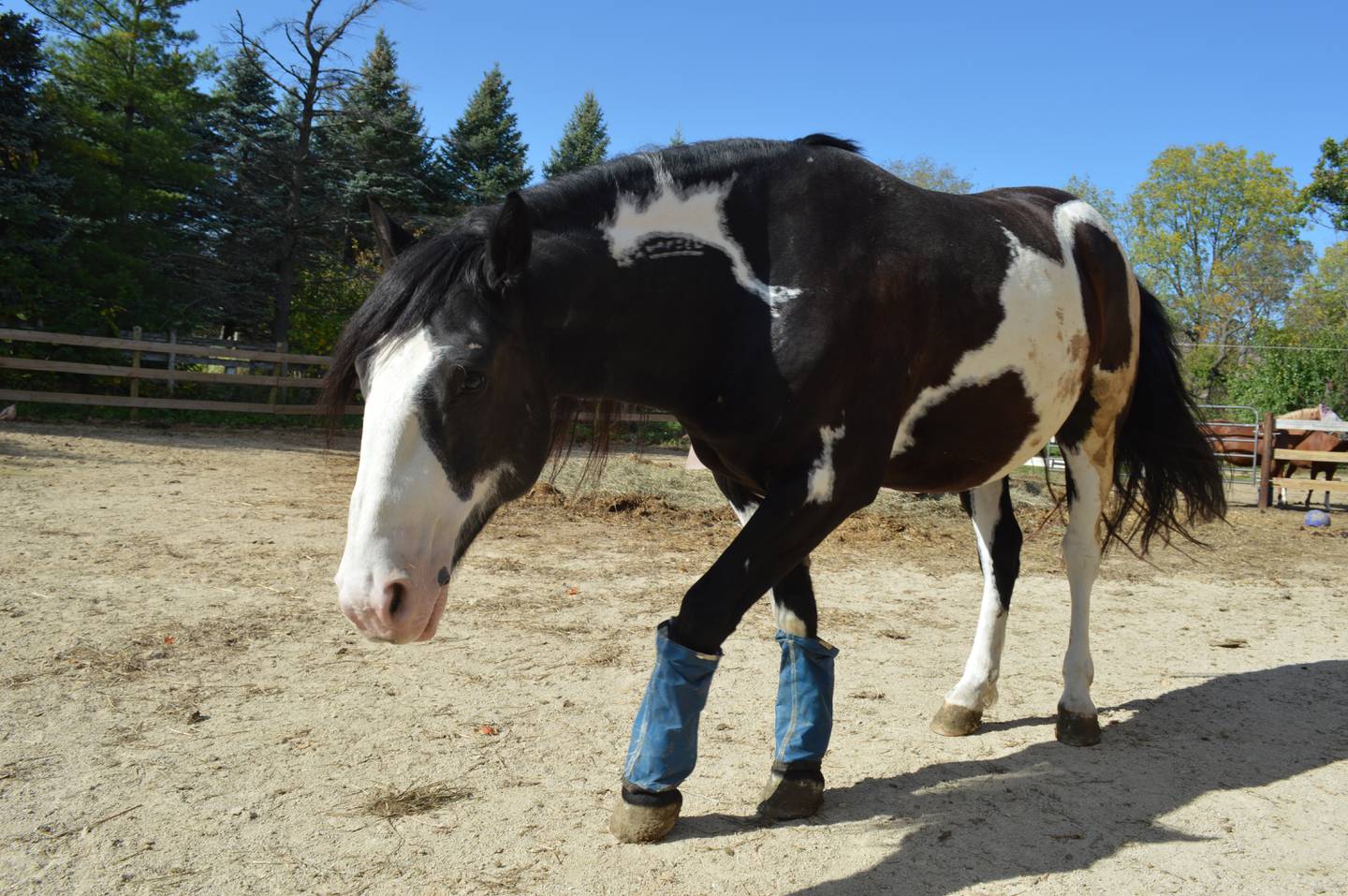 That promise has been fulfilled. Pearly and his fellow mustangs at Operation Wild Horse have improved the lives of veterans like Winblad, Monaco and Lenzen, they all said Tuesday.
"This past year, I decided to get back into it," said Monaco, who rode a large mare named Shrimp and used to ride horses in the early 1970s, when he first got out of the military. "I needed something to do. I'm 78 years old, and there are a lot of things to do."
He doesn't allow his prosthetic leg deter him from doing much.
"The idea is to see how far you can go," Monaco said.
Gruber's success on a mustang named Padre in a dressage show known as Dressage at Devon in Pennsylvania gained her renown in the equestrian world, according to her biography on the Veterans R&R page. Padre is the first and only wild horse to qualify, compete and win at Dressage at Devon.
Nine mustangs are a part of Operation Wild Horse, each of which takes about $10,000 annually to keep, Gruber said, and the nonprofit is sustained entirely by private donations.
Another film project, which will be titled "The Mustang Discovery Ride," has since done filming work with Operation Wild Horse, Gruber said, and it will follow mustangs on border-to-border journeys across each state in the nation.