Editor's note: This story has been updated with a comment from the Crystal Lake Police Department.
Following a protest against the state's mask mandate on Saturday afternoon in Crystal Lake, a group of people took things a step further by walking into local businesses along Route 14 without face coverings.
"We don't have to do what [Gov.] Pritzker is trying to force us to do," Joshua Alvarado, of Rolling Meadows, said. "He doesn't have the authority to tell me what to do with myself."
The group was able to enter some establishments, such as Best Buy, Ross Dress for Less, TJ Maxx and Ulta Beauty.
One furniture store, Steinhafels, kicked them out.
Protesters left, but not without loudly chanting "USA, USA" on their way out.
Alvarado said he believes these protests to be effective, such as one they had in Schaumburg, where people joined those marching maskless in stores against the mandate.
"They came and started walking, and they took the mask off," Alvarado said. "I think people are just afraid to be the first one to do it."
World Market did not even let the maskless group in, so protesters took a picture in front of the building, with a couple arguing with the employees who denied them entry.
Shortly after, the police were called to the location and one officer spoke briefly to protesters before the group moved onto other places.
In total, police fielded four calls regarding the protest: someone who called saying protestors were blocking the entrance to Chen Restaurant, one from World Market, one from Starbucks, where protestors were also asked to leave and complied, and Ross Dress for Less, Crystal Lake Police Department spokesperson Derek Hyrkas said.
"Our on-duty patrol sergeant met with the protestors as they were setting up, encouraging them to remain peaceful and to respect the wishes of any businesses that may ask them to leave should they decide to enter without masks," Hyrkas said.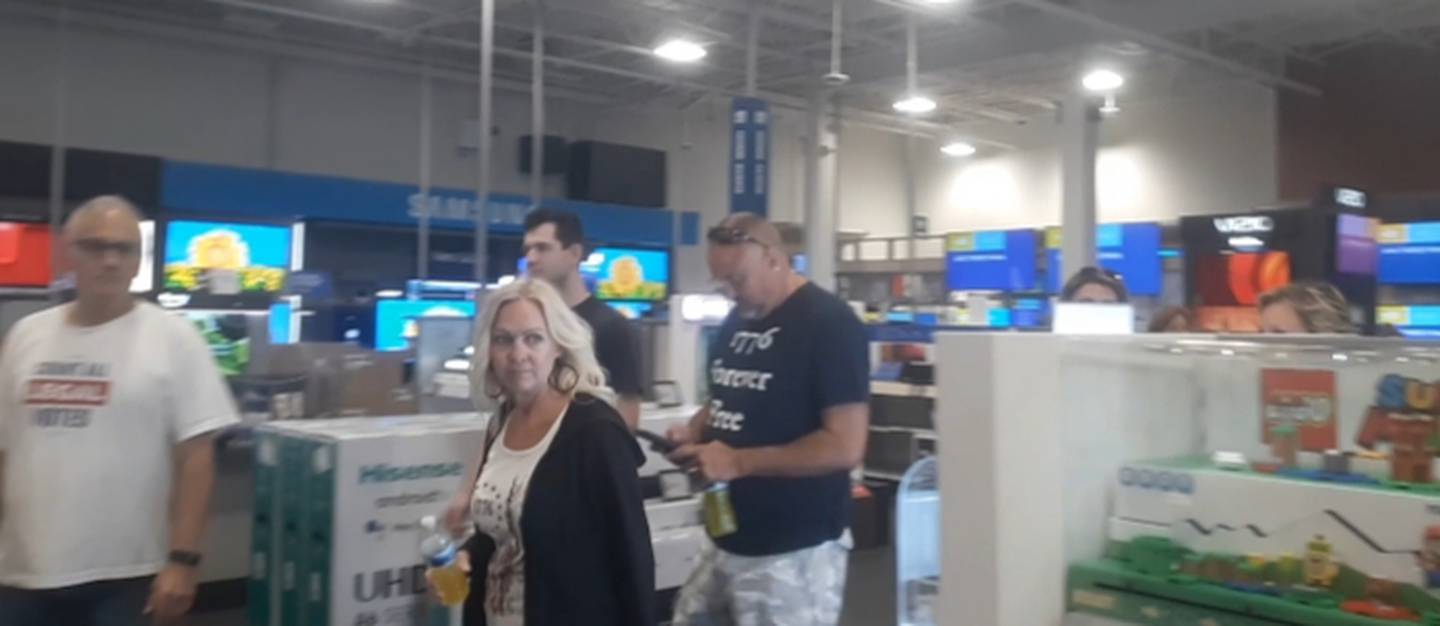 The statewide mask mandate was put into place on Aug. 26 after cases hit 157 per 100,000 residents, the highest level it had been at since May.
Illinois Department of Public Health Director Ngozi Ezike has previously said rising cases, especially among the unvaccinated, along with reduced hospital capacity necessitated the new mandates.
"Wearing a mask continues to be one of the simplest, cheapest ways to reduce the spread of COVID-19 – and there is robust scientific evidence that widespread use of masks, including the non-medical masks, do, in fact, prevent the spread of COVID-19," Ezike said when the mandate was issued.
Hospitalizations because of COVID-19 continue to increase. Statewide, the number of hospitalizations statewide increased to 2,286 Thursday, the highest since April 19. Of those hospitalized with COVID-19, 551 were in ICUs, the highest since Jan. 27, and 302 were on ventilators, the most since Jan. 25. Both the McHenry County Department of Health and IDPH say McHenry County is currently at a "high" level of community COVID-19 transmission.
Patti Snyder of Bartlett said she is not abiding by the mask mandate, but that for adults, it should be their decision on whether to wear one.
"Everybody should have their own choice," Snyder said. "A lot of people say, 'Oh, forget the masks.' I say, 'It's your choice. You do you and I'll do me.'"
Alison Griffin of Woodstock also thinks mask-wearing should be optional. She said she has asthma. Although she wears a mask every day at work, she said she finds it hard to breathe with one on.
"I think it was really successful," Griffin said of the maskless walk. "I wish we had more people out here but we had a pretty good turnout. Overall, no one got hurt."
Although she disagrees with the mask mandate, Griffin acknowledged that businesses are being put in a difficult situation.
"We're just trying to raise awareness. We're trying to set an example," she said. "We need to stand up for our rights, and we need to stand up for the business' rights to not have to tell people to leave and lose their income."