McHenry County drivers can expect to see more road work congestion over the next five years, all in the name of easing increasingly crowded roadways and improving unsafe intersections.
The McHenry County Division of Transportation's 2022-26 Transportation Program, a short-term outlook at projects throughout the county that it is pursuing as part of its long-term 2040 plan, outlines projects of all kinds designed to make transportation around the county safer and easier. They includes miles of new bike paths, resurfaced and widened roads, intersection improvements and public transportation investments.
In total, the county is working toward at least 31 miles of roadwork throughout the county, with small projects planned in all areas.
Resident feedback identified four main projects for the county to focus on: improvements to Route 47 between Reed Road in Huntley and Route 14 in Woodstock, Route 47 between Route 14 and Charles Road through Woodstock, and Route 31 between Route 176 in Crystal Lake and Route 120 in McHenry, as well as upgrades along Metra's Union Pacific Northwest line.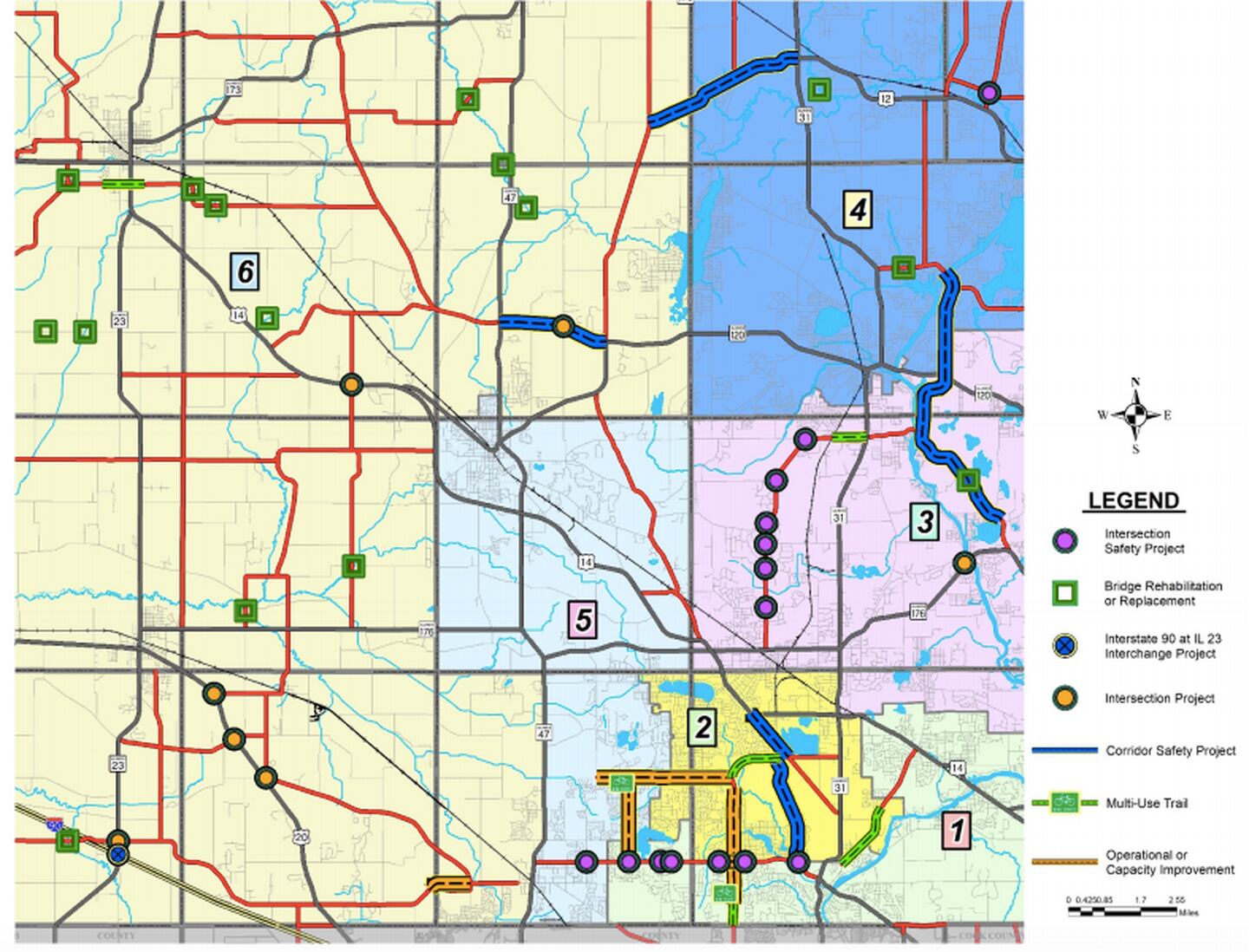 "In addition to realizing these projects, the 2040 Plan calls for a greater focus on addressing congestion on local streets. Future traffic models indicate that the local streets will likely see a more dramatic increase in congestion levels than state and county highways," according to the program.
The county's long-term plan for the next two decades focuses on six areas: highway congestion, safety, mobility, different transportation options, environmental quality, and relationships between land and transportation use.
In the short term, the county is devoting $331.4 million to ongoing projects to meet these goals.
With the Randall Road project completed, the county is moving forward on other projects to improve traffic flow, safety, and access throughout the corridor. Final projects will be completed to make operational improvements and increase capacity along the road. Sidewalks will also be installed along Randall Road between Harnish Drive and County Line Road.
On Algonquin Road, resurfacing will take place next year along a 7-mile stretch from Route 31 to Route 47.
Lakewood Road in Lake in the Hills will also see $11.1 million in road improvements over the next five years.
In Huntley, the county plans to address safety and congestion issues at the intersection of Marengo-Huntley Road and Main Street by extending Main Street for about a mile to the west so it merges on to Harmony Road.

Throughout the rest of the county, $36.8 million is budgeted for resurfacing and pavement preservation projects, including addressing potholes.
Upgrading the county's aging bridges also is a focus. At least 10 bridges around the county will undergo maintenance in projects, totaling $24.06 million over the next five years. Separate funding will help repair at least seven bridges managed by townships.
Drivers should also expect ongoing work at intersections and stretches of road in the county with higher crash rates.
Work will be done on at least 21 intersections to improve safety. The work includes improving visibility for drivers, improvements to traffic flow, and changes to traffic signals.
One of the major intersections where drivers can expect to see work happen in the next five years is at Route 14 and Hartland Road near Woodstock, where $5.1 million will be spent to make safety improvements.
Other projects around the county include upgrades to public transportation and additional access the county's public transportation routes and improving biking safety with more sidewalks, paths and dedicated bike lanes. The county is planning to add a new bike path off of the Prairie Trail along Bull Valley Road to Route 31 to improve bike access throughout the county.
The majority of the funding for the county's projects comes from the Regional Transportation Authority sales tax and motor fuel tax.
The McHenry County Board will vote later in November on whether to approve the 2022-26 program.