Marci Martin, a stay-at-home mom in Crystal Lake, was one of the dozens of people to show up at Crystal Lake Elementary School District 47′s job fairs this week.
The job fairs, held Tuesday and Thursday at the district's administrative center, were aimed at recruiting paraprofessionals, substitute teachers, nurses and bus drivers in the hopes of lessening the staff shortages that many districts across Illinois and the nation are experiencing.
About 20 to 25 showed up to Tuesday's event, while a half dozen came during the first couple hours of the fair Thursday morning, said Claudette Valencia, human resources analyst for District 47.
"People want to come and connect and get information," said Rob Bohanek, the district's director of human resources.
A variety of people came in both days, Bohanek said.
"We have some people that are already licensed. There are some people that are exploring, 'How do I get licensed to be a paraprofessional or substitute?'" Bohanek said. "We have parents coming in [who] have students in the district."
School staff shortages have been an issue for the last couple of years, but have been exacerbated by the COVID-19. Across the nation, the stress of teaching in the COVID-19 era has triggered a spike in retirements and resignations, the Associated Press has reported.
Bus driver shortages, especially, have been among the thorniest issues schools have dealt with this year.
Since March 2020, Crystal Lake Elementary School District 47 and Crystal Lake-based Community High School District 155, which share buses, had about five or six drivers leave because of the pandemic, according to the districts' director of transportation.
At District 47, principals, teachers, and administrators have had to cover for classrooms because substitutes weren't available, the Northwest Herald reported earlier this month.
Not only did COVID-19 worsen the staff shortage, but the restrictions on gatherings during the pandemic made recruiting people a bit tougher, too.
Since the pandemic started, the district had only been doing virtual recruiting events, Valencia said. This week was the first in-person job fairs.
"That hasn't been entirely successful, but we've been able to get a couple of candidates out of it," she said.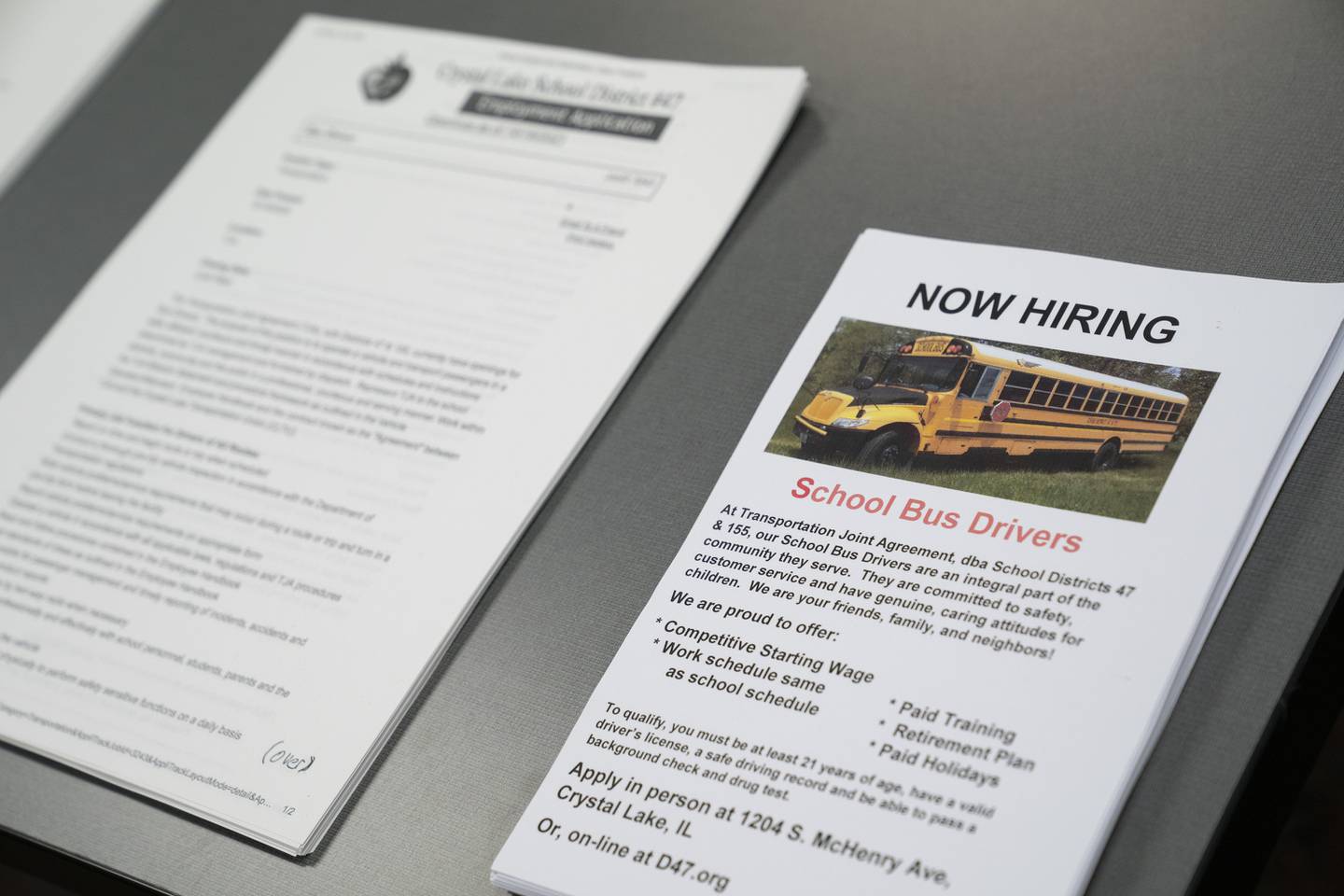 Seeing somebody in person "is a must in my mind," Valencia said. People feel more comfortable asking questions, and it's easier for employers to feel potential employees out and get a sense of what skill sets they have when they're face-to-face.
"You build that relationship, whereas virtual, it's just hard to," she said. "Sometimes you miss out on that conversation overall. You're missing bits and pieces."
A couple of people searching for jobs mentioned that they had been let go from their previous employers because they did not get the COVID-19 vaccine, Valencia said. Per a state mandate, school district employees have the choice to either get vaccinated or test weekly to see if they have COVID-19.
Most people appreciate that choice, Valencia said, although she did have a couple of substitute teacher applicants say they were not willing to do that.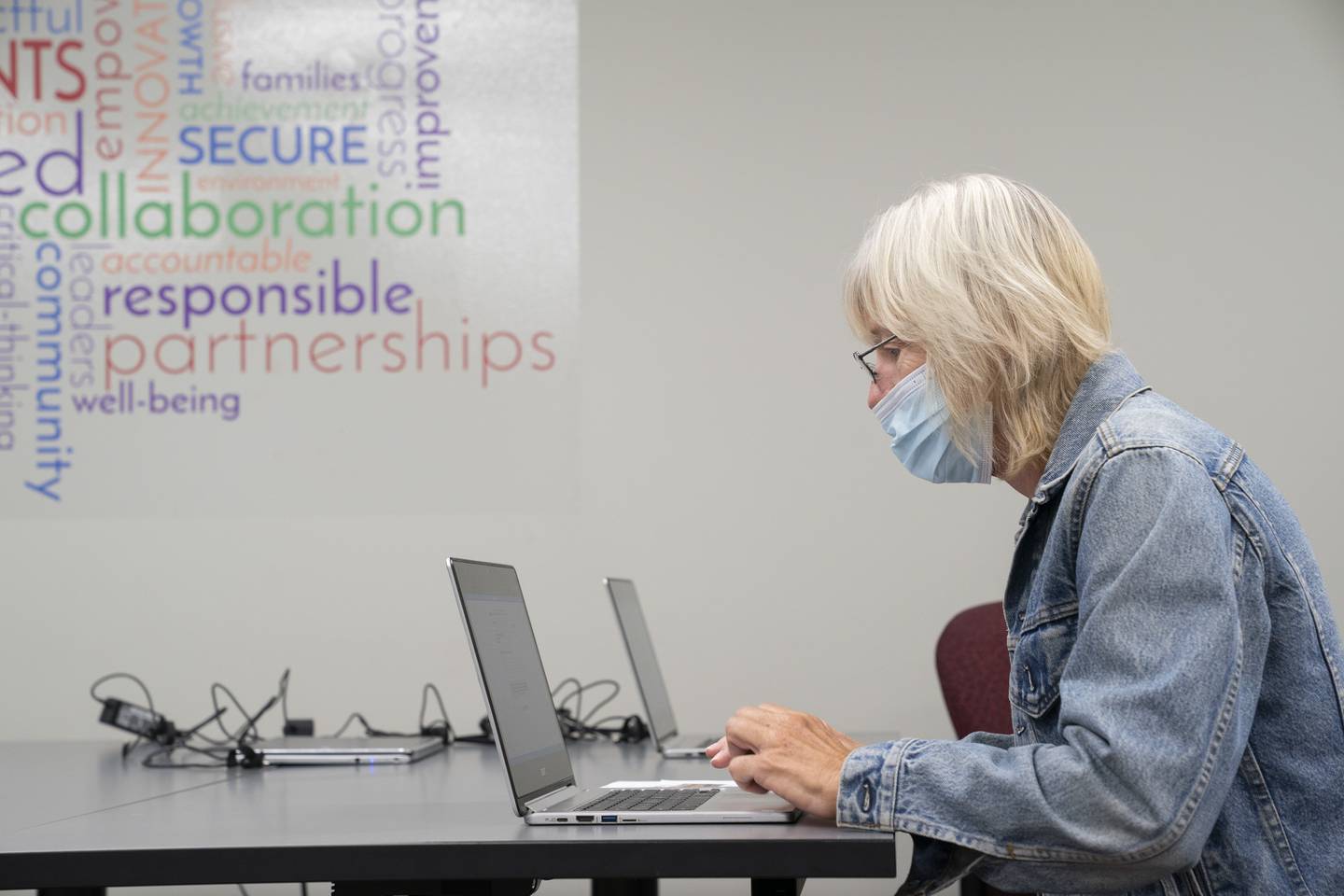 The mandates weren't an issue for Martin and her husband, David Martin, who are both fully vaccinated. With the Martins' children being back in school in person, Marci Martin, a stay-at-home mom, thought working at the district was an attainable goal, and she figured it would be a good way to get back into the workforce.
"With last year being [COVID-19], this is the first time I've really felt able to branch out," she said.
With more people getting vaccinated, David Martin, who runs a business from home that produces podcasts, videos and articles about video games and movies, said he wasn't too nervous about catching the disease by working at a school.
"As long as everybody's careful, then I don't really have any significant concerns," David Martin said.
Despite barriers to getting people to apply, a couple of people were hired on-site at Tuesday's job fair, Valencia said.
"That's nice to see," she said. "It's definitely a good feeling to actually see them, talk to them in person, and then see their application come through."