Before opening the new Woodstock wine bar, specialty food and pasta market dubbed Americano, co-owner Craig Degel knew he wanted to try a new model in the food business that would be a step away from the traditional restaurant and hospitality industry he had worked in for years.
The COVID-19 pandemic made what was already an uncertain business model – preparing loads of expensive food five to six nights a week in hopes enough patrons will come in to turn a profit – even more risky, Degel said.
So when he and his wife and co-owner, Malory Scordato, a veteran of the Italian food industry, decided to start a new business, they wanted to diversify its revenue streams while still sometimes serving up some special dinners.
"We've worked in restaurants so long, and while we love restaurant operations, it's just such a grind," Scordato said. "There is a lot of money to be made in restaurants. They can be very lucrative."
But, she said, that success can sometimes require a bit of luck and getting started at the right time and place.
The couple's new store centers around wine that can be ordered by the glass and enjoyed at a newly built bar, made by small producers from all over the world "who value flavor, tradition and story," Degel said.
They want Americano to showcase great bottles that come without high prices, and it will also serve as more of a traditional sit-down restaurant for dinners that could include wine and Italian spirit pairings at ticketed events at least once a month to start off.
Americano also will offer the pastas handmade by Degel, which he has been selling by the bag for take-home cooking at local farmers markets.
Plus, Roman pizzas made with specialty dough imported from Italy will be available daily as a snack at the bar as well as for take-home baking, said Scordato, who worked as a director of store operations for Eataly in Chicago before moving to Woodstock, where she had relatives.
She said the COVID-19 pandemic has been "an eye-opening experience that drove home the message you have to diversity your portfolio in business."
"When we were talking about doing something like this, we said we would really have to mix it up," Scordato said, adding the business may work its way up to two ticketed dine-in events a month.
Patrons will be welcome to come in and enjoy a glass of wine, even while perusing the retail store's aisles for the specialty items Degel will display.
Before Degel started his PastaBar retail business, which will sell items at Americano, he ran café and catering operations for the Google offices in Chicago's Fulton Market neighborhood, and previous to that, was an executive chef for Lettuce Entertain You Restaurants, also in Chicago.
He said during the pandemic only a few dozen people were still working in person at the Google offices – down from the about 1,400 he was used to serving before. He formally left Google in June and now has been running the PastaBar business for months, selling his products at the Woodstock and Crystal Lake farmers markets.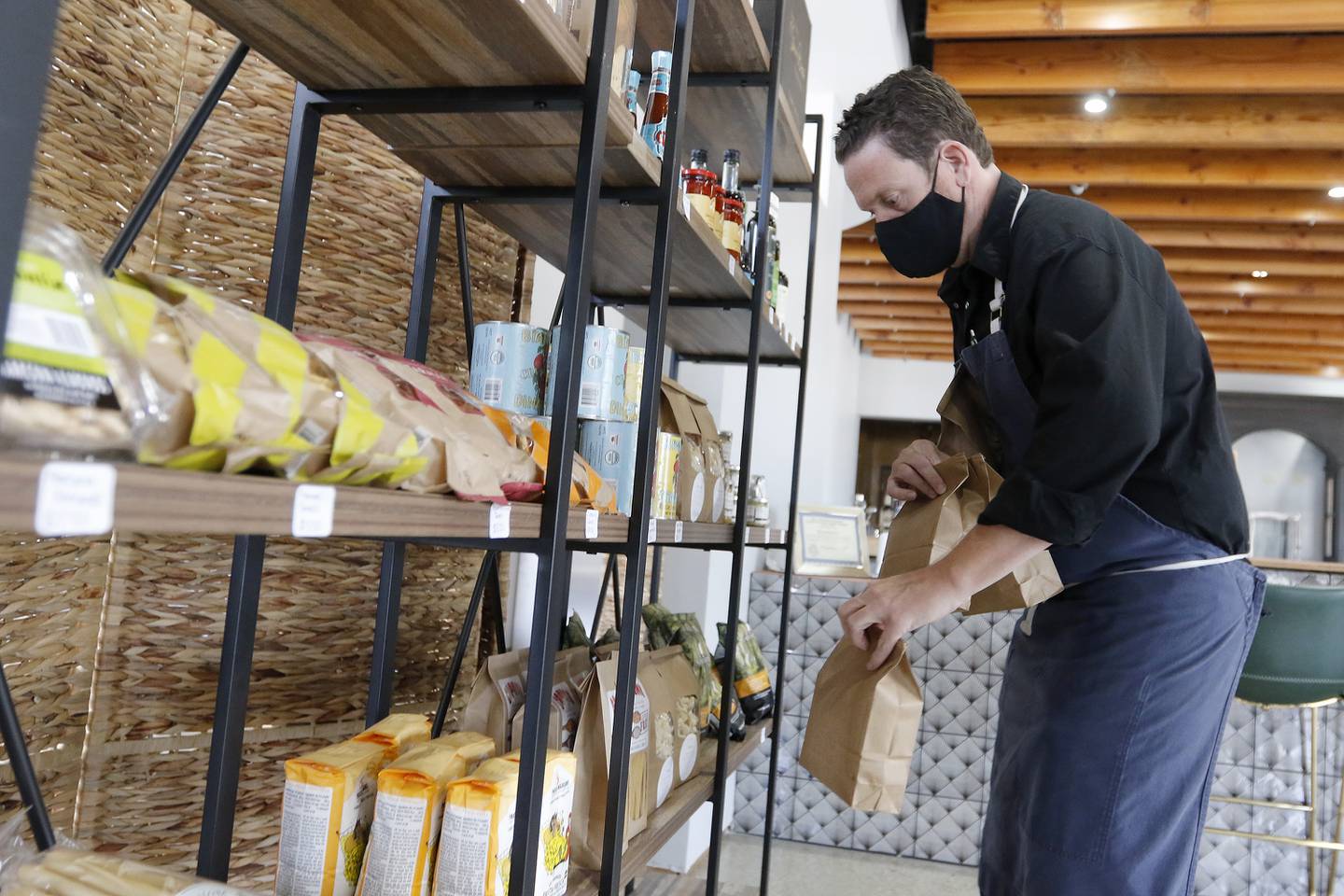 "I've tried to forge this identity for PastaBar that is somewhere between traditional Italian and like Italian-American, if that make sense," Degel said. "The most popular thing I do is what I call Sunday Sauce. It's basically Sunday gravy, like Sunday lunch at grandma's house."
He makes a traditional pesto, among other flavors, and said the ticketed dining events Americano puts on "won't always be pasta."
"In November, we're talking about what we're calling 'burgers and burgundy,' a really awesome cheeseburger, and we'll have a bunch of different pinot noirs by the glass," Degel said.
Americano's first ticketed event, which will feature Degel preparing a five-course meal and a wine pairing, is set for the evening of Oct. 7, and tickets cost $127 and include tax and service charges. Food without the wine pairing also is available for $83.
Later next month, on Oct. 29, Americano will host a wine tasting featuring three producers who will each showcase a few wines so that 10 bottles can be tasted at the event, with meat and cheese plates available, too. Tickets to that evening will be $39 and go on sale Oct. 15, Scordato said.
The store has been open for drinks and shopping Wednesdays through Fridays, but is closed this week for some more renovation work before opening back up next week, Scordato said. It has plans to expand the hours later in the fall.
"Every week, there is a couple more people trickling in every day," she said.