Dennis Walker could not catch a break on Tuesday night.
Within 10 minutes of getting into the dunk tank at the village's National Night Out event on Tuesday, the Algonquin police chief had hit the water at least two dozen times. As he planned to stay in the tank until the event ended at 8 p.m., Walker assumed he'd be in the water more often than not.
"We want to show how human we are, and our community engagement."

—  Algonquin Chief of Police Dennis Walker
He volunteered to take on the challenge in an effort to increase the department's social media numbers. Walker announced in July that if the department's Facebook page reached 10,000 followers before the event, he'd be the dunk tank's target.
Several communities throughout McHenry County are hosting National Night Out events this year, traditionally held on the first Tuesday in August. Other towns held theirs last weekend, and even more are set for Thursday night.
In addition to Algonquin's event on Main Street, Huntley also held its on Tuesday, spreading out on Main Street and the Huntley Square. Crowds were so thick that parking near downtown was near impossible, with many residents walking in from the neighborhoods to be part of the fun.
Walker noted his department's Facebook page didn't reach its total follower goal. "It did go up a considerable number, about 1,500. I am impressed by that," Walker said.
Using challenges to increase the department's profile on social media goes hand-in-hand with hosting events such as National Night Out, Walker said. "We want to show how human we are, and our community engagement."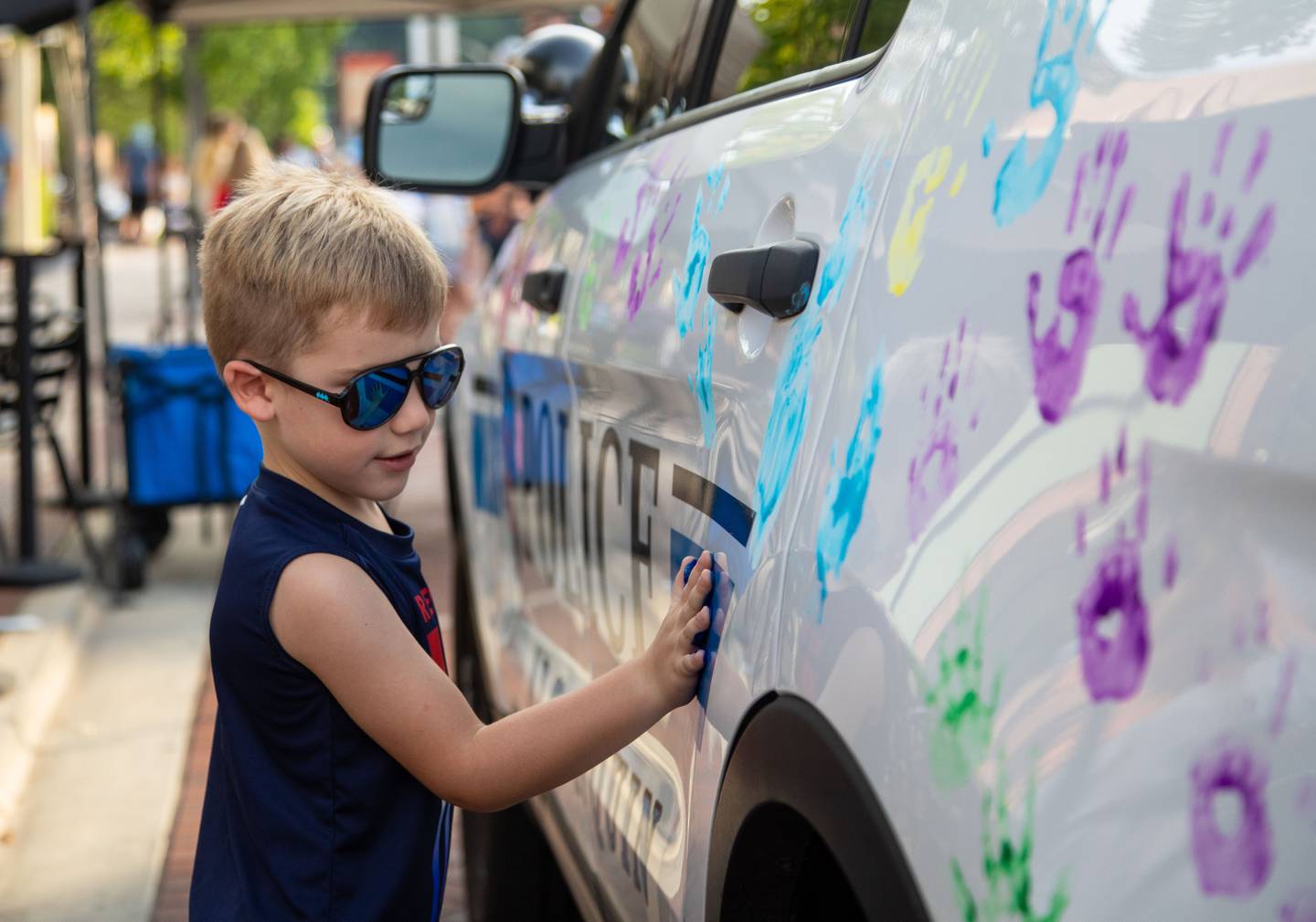 He also tried, via a Facebook post, to get some of the other area police chiefs who may not have had their own events on Tuesday to maybe come out and take a turn in the tank.
Walker invited Mary Frake from Lake in the Hills, Robert Porter from Huntley, McHenry County Sheriff Robb Tadelman, Todd Shaver from Carpentersville and Lee Redlin from Wonder Lake "to get splashed, too."
The Lake in the Hills Police Department responded but noted that Frake did her dunk tank duty on a 20-degree day in February. "We play our Uno reverse card and call out Chief Walker," according to the writer. "August and warm weather is just too easy."
Walker said he'd cut the other chiefs some slack for not taking a turn because they had their own towns and events to handle.
Events such as Tuesday's help connect police with their community, and the community with each other, Algonquin Village Board President Debby Sosine said.
"You develop a relationship and build camaraderie," Sosine said.
It is "also a plus in her book" that it's a positive event, when policing as a profession "has had so much negativity," Sosine said.
She does believe that the village's department has a good reputation. In a time when some departments are struggling to find new officers, 100 people applied to test for the job earlier this year. A total of three new officers were hired.
"A lot of it is the chief" and his positivity, she said.
That didn't stop her from taking a spot in the very long line of people – mostly younger children – who had lined up to give him a dunking and put him in the water as well.