Held virtually the past couple years, an annual Dr. Martin Luther King Jr. Interfaith Prayer Breakfast brought people of all faiths back together – not only in unity, but in person.
The 13th annual Crystal Lake event hosted on Martin Luther King Jr. Day by FaithBridge, an interfaith coalition of religious communities, nonprofits and residents of McHenry and Lake counties, drew more than 150 people from throughout McHenry County and beyond.
"At last," said Suzanne Martinez, chairman of FaithBridge. "We're just so grateful to gather. You can see and feel the excitement in the air."
FaithBridge represents peace, community, compassion and dialogue, she said, and members of the interfaith organization take pride in celebrating the life and legacy of Martin Luther King Jr. Quotes from the legendary civil rights activist were peppered throughout the event.
It's a time of "extraordinary challenges throughout the world," Martinez told the crowd, including aggression in Ukraine, oppression of women in Afghanistan, migration issues, protests in Iran and "inequality, poverty and cruelty in places just too many to list."
She referenced King's quote, "Faith is taking the fist step even when you don't see the staircase."
She encouraged the crowd to summon his faith and face today's challenges by moving forward.
"We begin our new year in the light of Dr. Martin Luther King Jr reminded, encouraged and inspired by his vision," she said.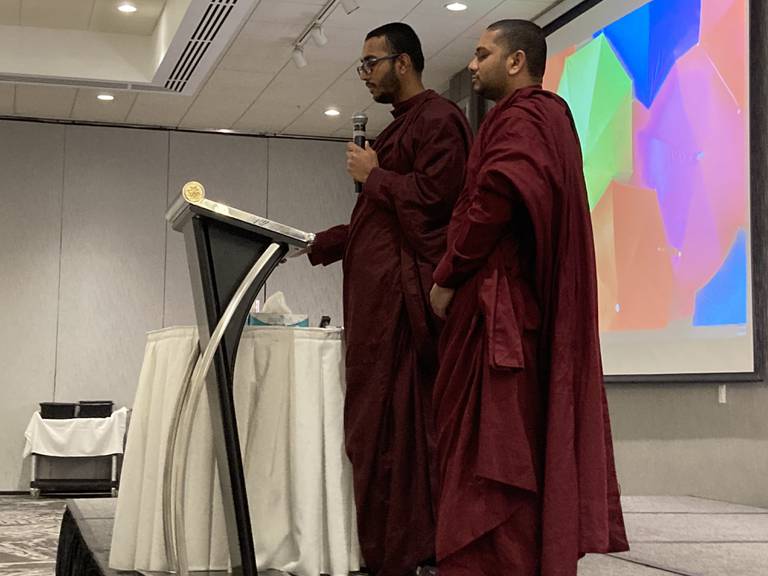 Featuring prayers, chants and musical tributes, the event celebrated numerous faiths – including Islamic, Hindu, Jewish, Buddhist and various Christian denominations – and the presentation of service awards to Lion Buddies, a peer mentoring program at Lundahl Middle School, and Recognizing American Diversity at Huntley High School.
The event also included the presentation of service awards to Lion Buddies, a peer mentoring program at Lundahl Middle School, and RAD at Huntley High School.
Lion Buddies won the Judy Eugebretson Humanitarian Award for its efforts to pair students recognized by teachers as leaders with "compassion, kindness and a willingness to create an inclusive environment" with students in District 47′s ASPIRE, a program for students with autism spectrum disorder.
RAD at Huntley High School won a service award for efforts to recognize, celebrate and discover diverse perspectives and identities that have historically been underrepresented.
Venoncia M. Bate-Ambrus, executive director of the Healthcare Foundation of Northern Lake County, gave the keynote speech, "Beyond the Lunch Counter: Health, Wealth & Equity Through a MLK Lens."
Pointing out socio-economic factors that can lead to health inequity, she encouraged the crowd to consider and discuss the relationship between health, wealth and social justice using lessons learned from Dr. King.
"When we think about health, we have to think about whole person health, mind, body and spirit, and we have to think about the social conditions that impact our health," she said as she presented studies that show ways in which minority groups and low-income communities are disproportionately impacted by a lack of timely access to health care.
"I believe that access to healthcare is a human right. It's not a privilege," she said. "We all should have access to health care."