HUNTLEY – Huntley sophomore Katie Mitchell never stopped running.
After Red Raiders No. 9 hitter Abbey Simandl worked a full count and eventually took a walk against Harlem pitcher Cheyenne Nietz with two outs in the bottom of the fifth inning Thursday, Mitchell slapped a pitch the other way to left fielder Kaylie Banks, who made a diving attempt to record the third out.
Instead, the ball slipped under Banks' glove and continued to roll, scoring Simandl from first base. Mitchell, one of the speediest runners on the Raiders, kept her head down and kept running.
Mitchell took the turn around third as the ball was fired into the infield, sprinted toward home plate and scored on an inside-the-park home run. The No. 3-seeded Raiders went on to score six runs in the fifth, all with two outs, en route to a 7-1 victory over top-seeded Harlem in a Class 4A sectional championship game.
The Raiders advance to face No. 1-seeded Barrington, which beat Gurnee, 9-3, in the Barrington Supersectional at 7 p.m. Monday at Barrington's Field of Dreams. That winner will go to the state tournament June 17 at Louisville Slugger Sports Complex in Peoria.
The Raiders (33-6) won their first state title in 2019 but were unable to defend last season because of the COVID-19 pandemic. Now, a year later, Mitchell's wild trip around the base paths helped keep alive that possibility.
"I was just looking to put the ball in play wherever I could," said Mitchell, who went 3 for 4 with two RBIs, a run scored and two steals. "When they kept sending me, I was like, 'Oh, something good happened,' so I was just running my butt off, hoping to get more runs. Someone said [coach Mark Petryniec] held me, but I wasn't looking. … It turned out well."
"I've held her up a few times this year when I probably should have sent her," Petryniec said. "There was no way she was stopping. It was a great play, great read by Katie. One of our fastest girls, and a big spark plug. The two-out rally was amazing today."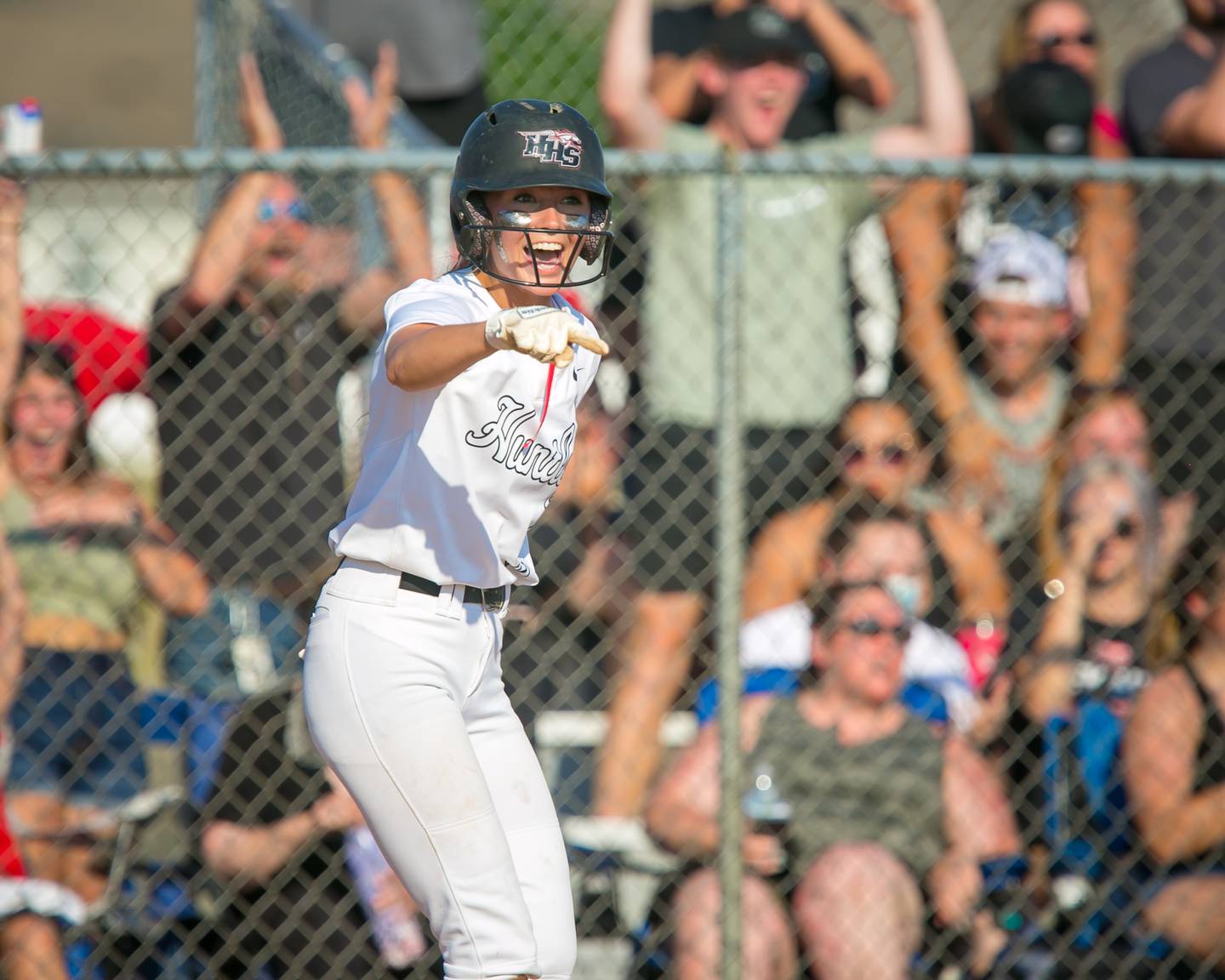 Huntley had only two hits against Nietz, a Valparaiso commit, through four innings and started the fifth with two strikeouts. But Simandl worked her second consecutive full count against Nietz, setting up Mitchell's go-ahead home run. The next batter, Marley Reicher, reached on an error, followed by a base hit from Briana Bower.
Reese Hunkins (2 for 3) smacked a two-run triple to score Reicher and pinch-runner Alyssa Ekstrom, extending Huntley's lead to 4-1. Clara Hudgens (2 for 3) beat out an infield hit, driving in Hunkins for the fifth run. After a base hit by Jori Heard, Lindsay Morgan had an infield hit to score Hudgens for a 6-1 lead.
In the fourth, Harlem (24-2) took its first lead against Huntley senior ace Briana Bower, a Mississippi State commit, on a solo homer by Makayla Howard. The homer was nearly caught at the fence on a leaping attempt by Reicher.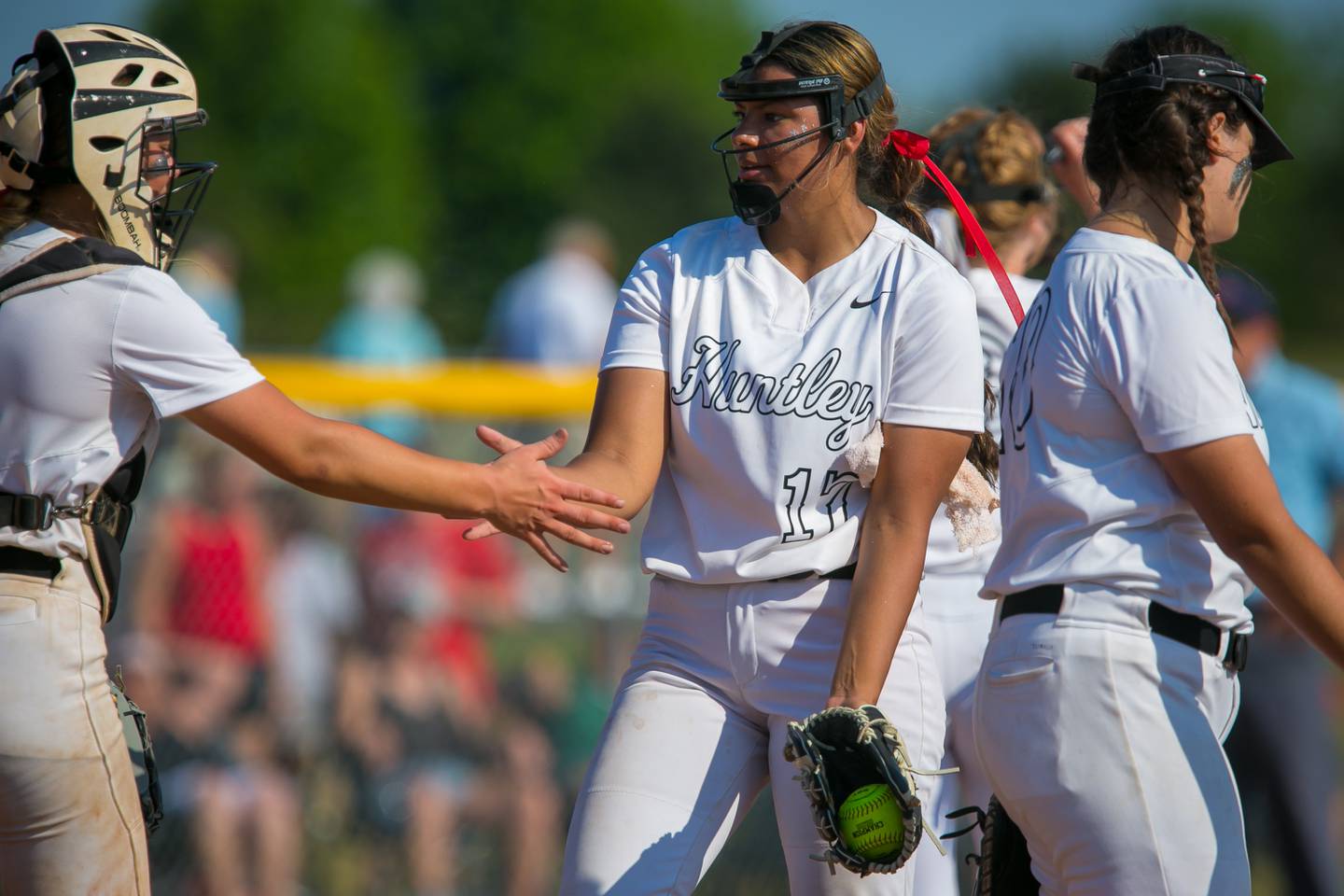 "It was an exciting hit [by Howard], but I knew there were still nine outs to get and they were going to be the toughest nine outs," Harlem coach Kurt Head said. "That is an unbelievable team over there. I knew they were gonna answer back. I just hoped it wasn't so big, that's all."
Nietz (21-1) allowed nine hits and four walks in six innings, striking out 10 and taking her first loss of the season. Five of the seven runs against Nietz were unearned. Hudgens added Huntley's final run in the sixth on a bases-loaded walk.
After giving up the homer to Howard with two outs in the fourth, Bower retired the final 10 batters on eight strikeouts. She finished the game with 16 strikeouts in seven innings, walking one and allowing only two hits.
Bower (29-5) now has 418 strikeouts in 196 2/3 innings this year, the 16th most in a season in state history, according to records on IHSA.org.
"It feels great," Bower said of winning a second consecutive sectional title and the team's first at home. "Katie getting it going [in the fifth], actually it started with Abbey with her [walk]. She just passed it on with two outs. A heads-up play by [Mitchell]. I wouldn't have made it home."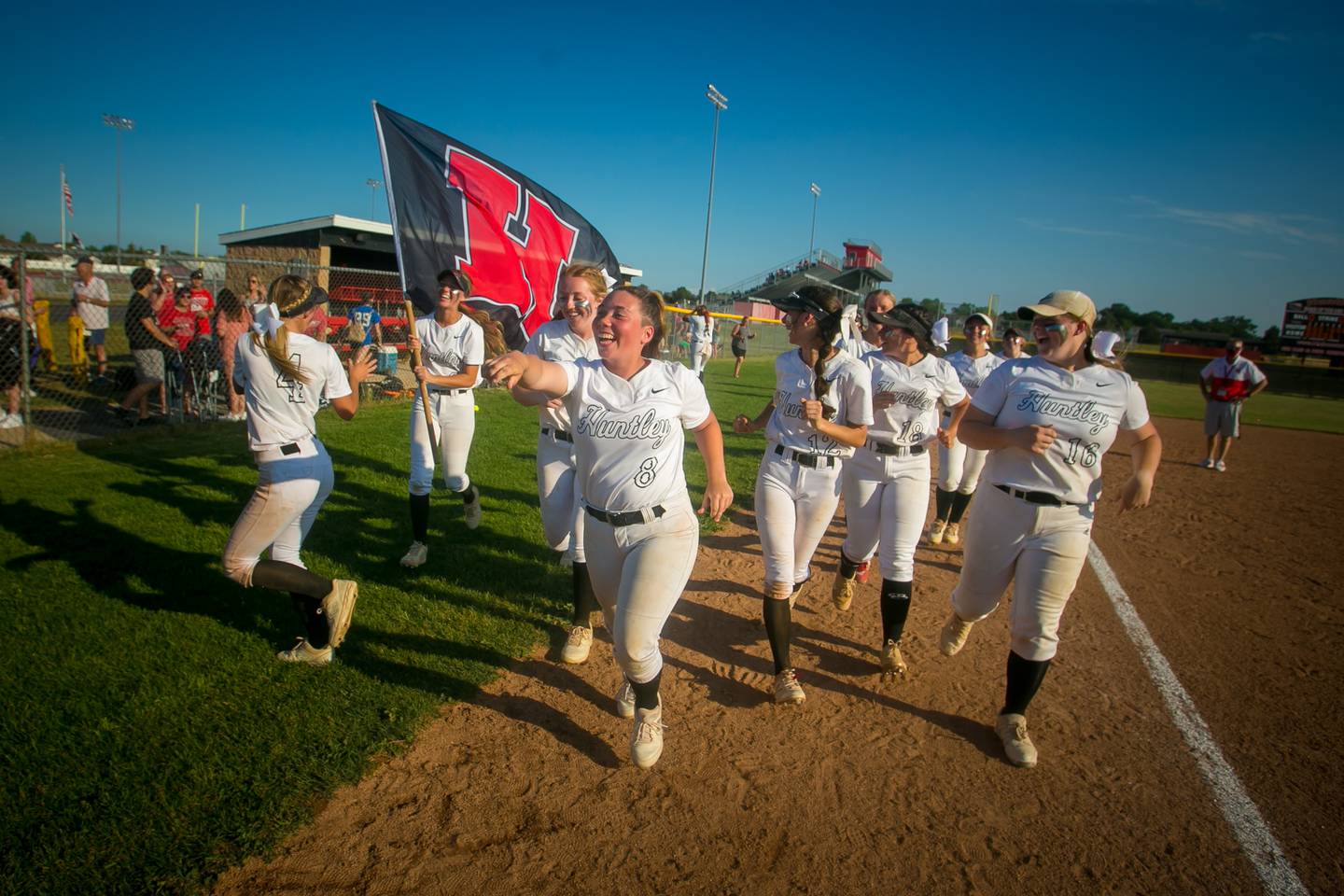 The Raiders were surprised when they got the chance to host the sectional championship game, despite being the lower seed.
"We thought we were done playing on this field," Petryniec said. "Just being on the home field with the fan support is amazing. ... We wouldn't want it any other way, except let's go against Barrington again."