Every day at volleyball practice at the University of Connecticut, McKayla Wuensch and her teammates are drawn to a whiteboard that features the Big East Conference standings.
"We have a list of all the teams and their ranking in the conference," said Wuensch, a Marian Central graduate. "We have a line under the fourth-ranked team. Our goal all season has been to stay above the line, because the top four teams go to the conference tournament."
The Huskies (19-7) were predicted to finish sixth in the conference in a preseason poll of the league's coaches but have outperformed those expectations and sit in third place with an 11-3 record, just one game behind co-Big East leaders Creighton and Marquette.
"We're still focused on staying above that line, but now our focus is … to have our season go as long as it possibly can," Wuensch said. "We don't have an end date. It's not, 'OK our last conference game is the end.' We have the potential to go to the conference tournament. We have the potential to win the conference tournament."
UConn is 14-3 in its last 17 matches and has thrived with Wuensch, a graduate transfer from Wichita State, at setter.
She ranks third in the Big East with a team-leading 9.57 assists per set and has helped the Huskies to the second-best hitting percentage in the league at .244. Wuensch has posted 25 or more assists in 20 games this season and had a season-best 47 assists in a 3-2 victory against Butler on Oct. 31.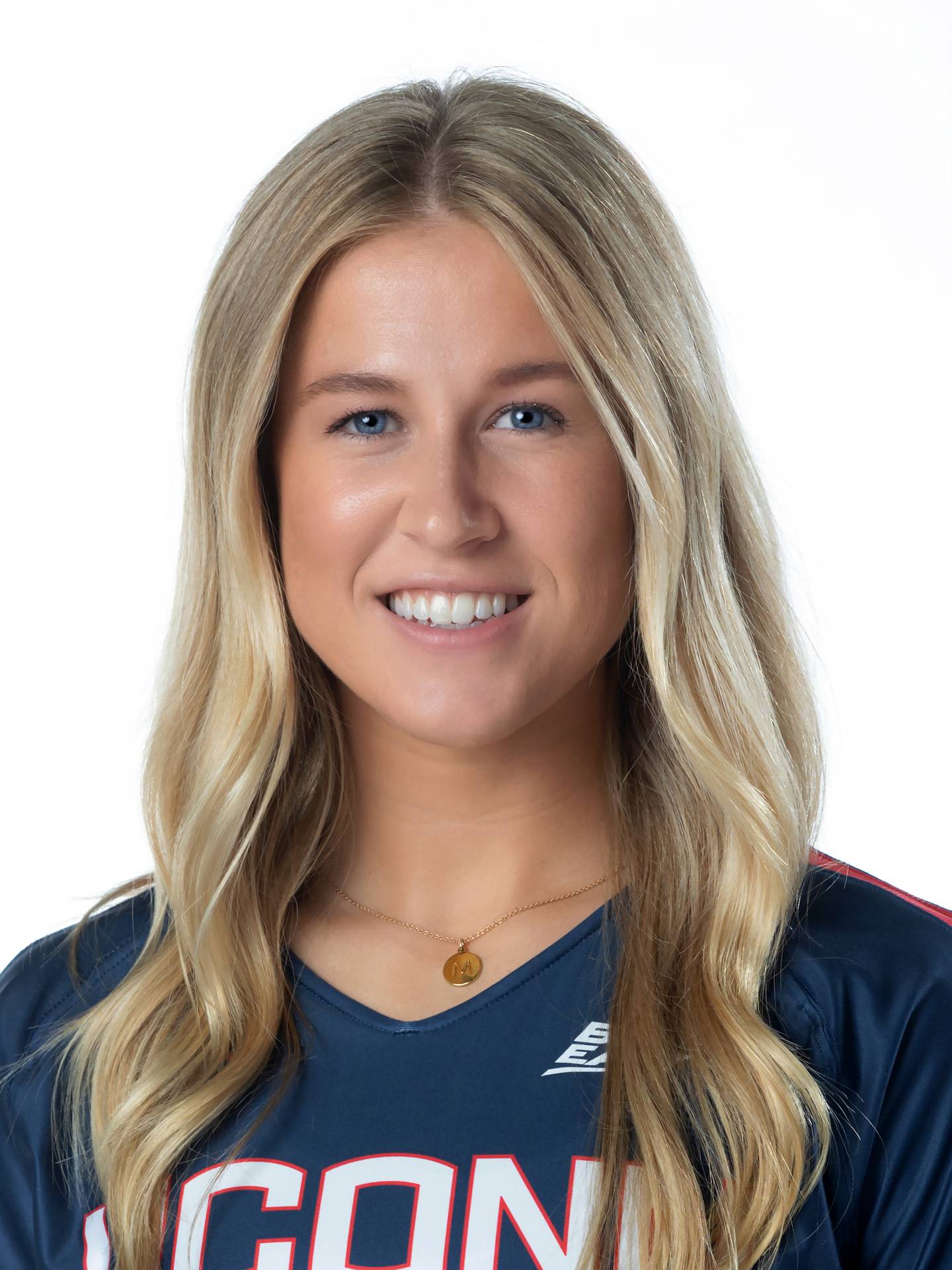 "I love seeing my hitters succeed," she said. "Having my hitters have a good hitting percentage means I'm doing my job. It means decision-wise, I'm doing the right things and putting my hitters in position to score."
Wuensch said having the support of her teammates and coaches has been a major positive.
"What's helped the most is the confidence I've received from my coaches and teammates," she said. "They trust me. I tell them, 'My job is to make you look good. If you look good, I'm happy.'"
One of those UConn coaches – Huskies assistant Abby Gilleland -- is a familiar face.
Gilleland also played at Marian Central and was a high school teammate of Wuensch's older sister.
"She was a year older than my sister, so I kind of grew up watching her," Wuensch said of Gilleland, who joined the UConn staff in 2019. "It was a cool connection to be able to have when coming here. That was some familiarity going so far from home. We know a lot of the same people."
Wuensch and the Huskies also know that one more victory clinches a spot in the Big East tournament – which will take place Nov. 26-27 at Marquette. The next victory also would help the Huskies achieve their first 20-win season since 2008 and the program's first 12-win Big East record in school history.
The team's success can be tied to a simple aim at every practice in front of the whiteboard.
"It's been perseverance and having that mindset of getting better every day," Wuensch said.
Ross, Ramblers are champs again: Loyola University women's soccer defender Jenna Ross (Crystal Lake South) scored her first goal of the season Sunday and the Ramblers roared to a 4-0 win against Evansville for their fourth consecutive Missouri Valley Conference tournament title.
Ross was part of a defense that allowed Evansville only three shots in the match as Loyola (13-2-2) collected its 10th shutout of the season. The Ramblers finished 7-0-1 in the MVC campaign.
Ross, who also has two assists this season, and the Ramblers earned the league's automatic NCAA tournament bid and travel to Purdue for a 6 p.m. match Saturday against the No. 24 Boilermakers.
Tomlin keeps Foresters perfect: Prairie Ridge grad Cooper Tomlin caught two touchdown passes last weekend to help D-III Lake Forest College (9-0) stay unbeaten with a record-setting 84-3 victory against Beloit.
Tomlin, a senior tight end, ranks second on the team in receptions (18), TD catches (three) and receiving yards (215). Tomlin has at least one catch in eight of nine games for Lake Forest, which set the single-season school scoring record (414 points) with the win against Beloit.
The Foresters, who have won a school-record 12 games in a row dating to last season, face the University of Chicago on Saturday. With a win, Lake Forest would clinch the Midwest Conference title, an NCAA playoff berth and the first 10-win season in school history.
NACC volleyball honors: Algonquin's Hannah Griffith (Harvest Christian Academy) earned second-team All-Northern Athletics Collegiate Conference volleyball honors Nov. 4.
A senior middle blocker at D-III Benedictine University in Lisle, Griffith was second on her team with 87 blocks this season while posting 139 kills for the Eagles (17-12).
Soccer standouts: Crystal Lake Central grad Joseph Perez and Dundee-Crown's Gerardo Estrada both were honored by the D-III Northern Athletics Collegiate Conference as second-team all-league men's soccer players.
Perez, a junior goalkeeper at Concordia Chicago, had a league-leading .816 save percentage. A senior at Aurora University, Estrada was part of a defense that allowed 1.29 goals a game and posted seven shutouts on the season.
• Barry Bottino writes about local college athletes for the Northwest Herald. Write to him at barryoncampus@hotmail.com and follow @BarryOnCampus on Twitter.