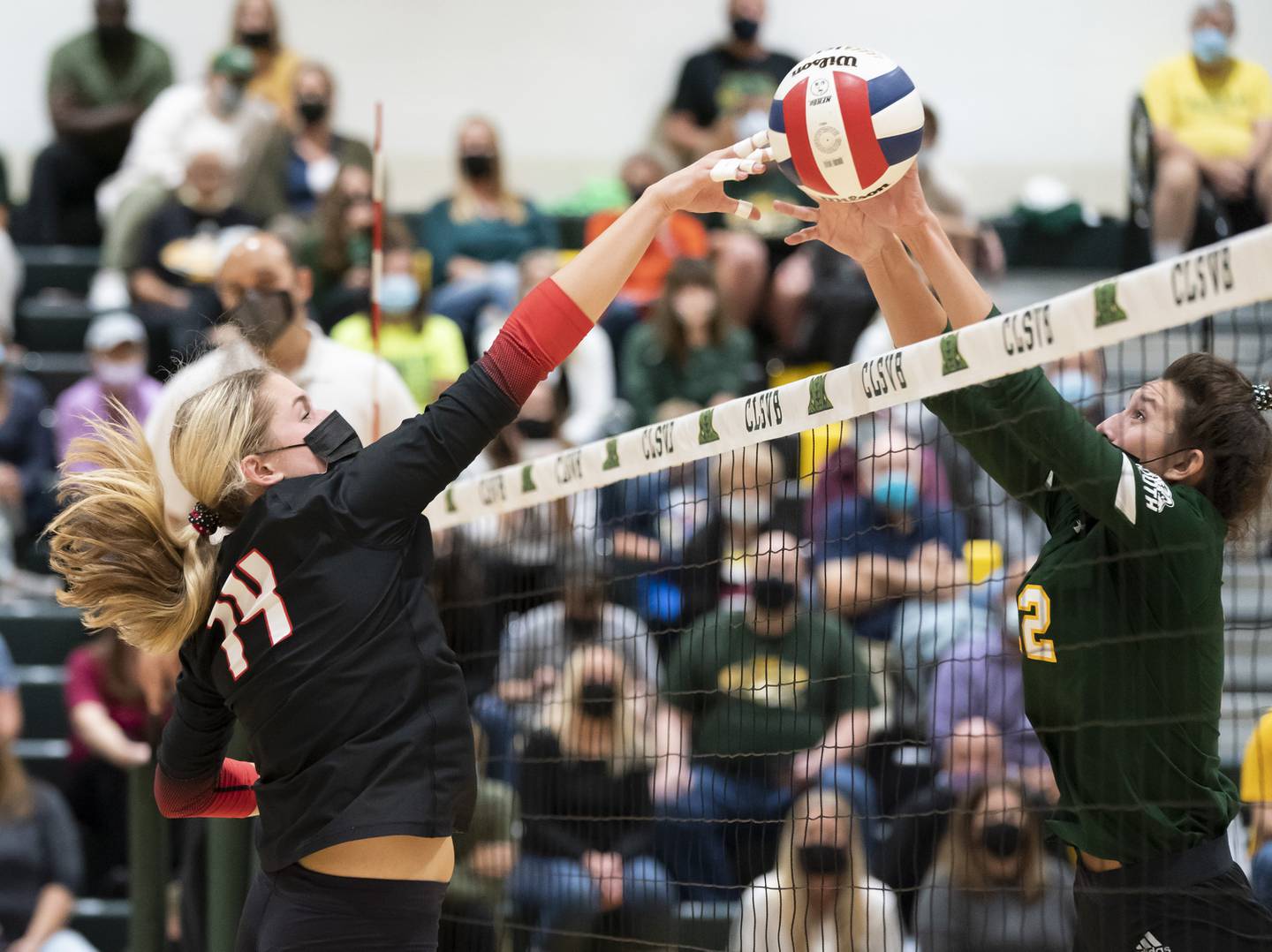 Huntley junior middle blocker Avary DeBlieck has become a real difference maker for the surging Red Raiders, who are flying up the Fox Valley Conference standings with the postseason fast approaching.
Entering Monday, Huntley has won 12 of its past 14 matches, with DeBlieck playing a big role in the middle. The Miami (Florida) commit led Huntley with 11 kills and six blocks in a three-set win against Burlington Central on Oct. 5 and had 12 kills a three-set win over Jacobs on Oct. 7.
She also was among the team leaders at the Huntley Invite, helping lead the Raiders to a 4-1 record and a third-place finish.
DeBlieck was voted the Northwest Herald Athlete of the Week by readers and she talked to sports writer Alex Kantecki about her most memorable moments playing volleyball, her dream job, superstitions and more.
How did you get your start in volleyball?
DeBlieck: I was super into hip-hop dancing growing up. I danced at Center Stage. When I was in fourth grade, my mom signed me up for volleyball at Huntley Park District. In sixth grade, my parents signed me up to try Sky High. I was surrounded by amazing coaches and teammates. We all supported each other and pushed each other to be where we are today. I am lucky that I can play with some of my teammates at both high school and club.
What other sports did you play growing up?
DeBlieck: Growing up, I danced and played soccer and basketball. I was also involved in musicals.
Do you have any rituals or superstitions before you play?
DeBlieck: Yes, Huntley is a very superstitious team. Before every varsity game, we clap on our way to a special spot where we sing and dance to, "Ain't No Mountain High Enough". Next, we do one more fun cheer that we chant four times. After that, we have a chat with our coach about our goals for the game. For home games, we hustle onto the court and do a blocking and defense warm-up routine to the song, "Bring Em Out". It's all about the music rituals for us.
If you could change one thing about volleyball, what would it be?
DeBlieck: If I could change one thing about volleyball, I wish we could have the music going during the game. It would make it seem as though we were in a movie scene as we ace, roof the ball, get a good dig, a beautiful set, and kill it to the beat of "Mr. Worldwide."
What is your favorite fast food or quick snack?
DeBlieck: I have a lot of favorite snacks, but my favorite go-to is a Strawberry Limeade or Sunrise Sunset Smoothie from Tropical Smoothie. At home, I love all treats but my faves are Reese's Cups and Caramel M&M's.
Who is your favorite professional athlete?
DeBlieck: My favorite professional athlete is (American professional women's volleyball player) Jordan Thompson. She is so talented and an amazing role model.
Which teammate makes you laugh the most?
DeBlieck: We all have a bunch of inside jokes and are constantly laughing. Bus rides are the best. We blare our favorite music, sing, and take ridiculous pictures of each other. It's a good way to have fun and stay lighthearted after our hard work on the court.
What is your most memorable moment playing volleyball?
DeBlieck: My most memorable moment playing club volleyball was during our 14′s season. After a long day of games, we paraded through the streets of St. Louis arm and arm while we sang, "Party in the USA" by Miley Cirus at the top of our lungs. It was amazing.
What is a sport you are bad at?
DeBlieck: I am awful at tennis. I tried to play it once with my teammate, Kendall, and I couldn't even hit the ball with the racket. I am also not the best at golf. I played once at Top Golf and whiffed every time.
What's the coolest place you've ever visited?
DeBlieck: The coolest place I have ever visited was Punta Cana. It was beautiful with incredible beaches and amazing sites. We were even able to hold a little monkey, go snorkeling in the beautiful clear waters and went on a mountain zip line escapade.
What would be your dream job?
DeBlieck: When I was young, I always aspired to be a famous singer on American Idol or The Voice. As I grew older, I've decided to look into more attainable options, such as something in the medical field like anesthesiology or pharmacy.