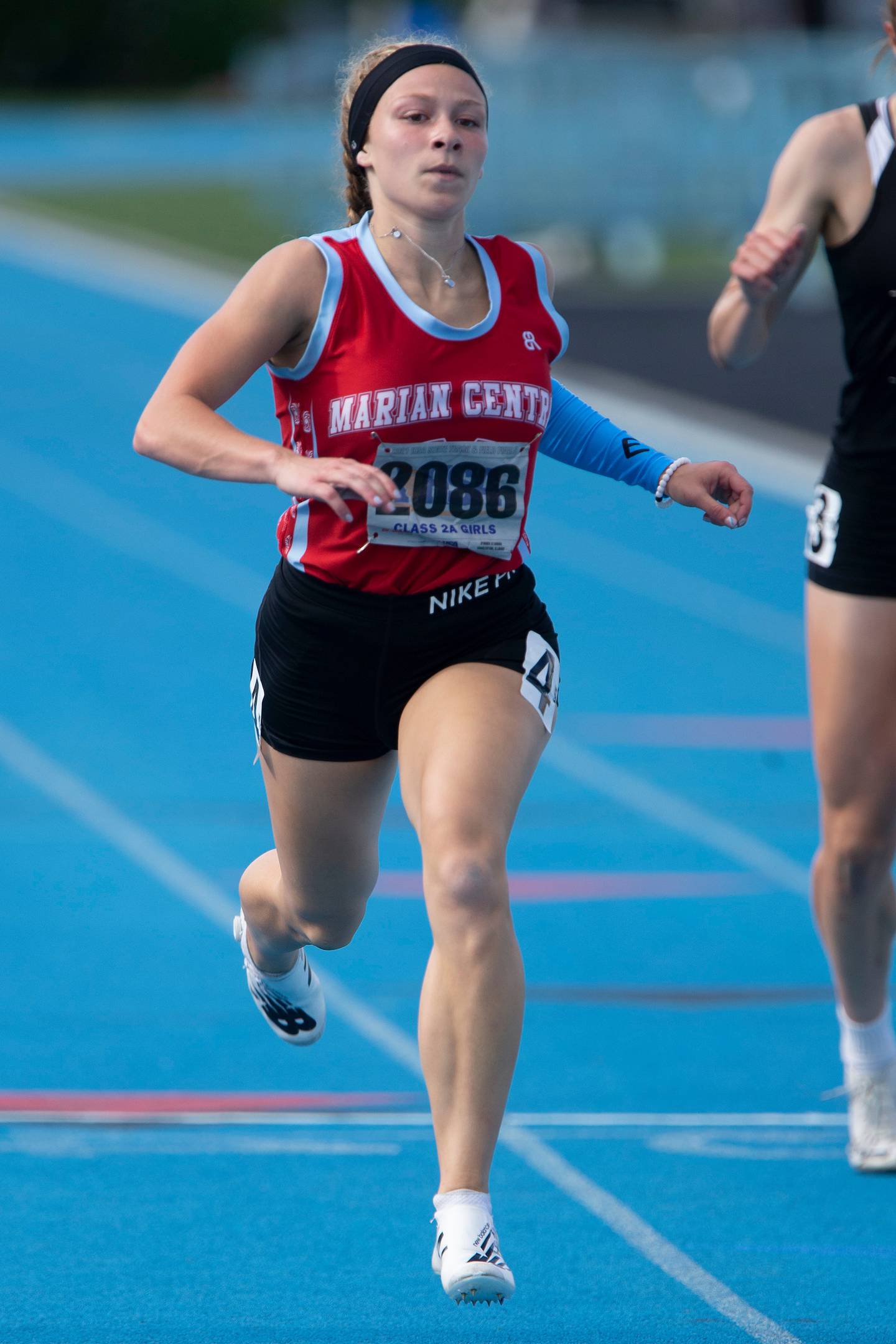 CHARLESTON – Marian Central's Dominique Thomas blazed down the blue track one final time, her customary French braids in her hair and ever-present look of determination on her face.
Just as in the 100 meters earlier, Thomas could not catch Morton's Lauren Doerr, but she did run the 200 faster than she ever had before to grab her second runner-up finish.
[ Photo gallery: Class 2A Girls Track and Field State Meet ]
The 200 gave Thomas her fourth medal and capped a standout day for the Hurricanes, who took eighth in the 4x100 and 4x200 relays at the Class 2A Girls Track and Field State Meet on Friday at Eastern Illinois University's O'Brien Stadium.
"It went well. We got [personal records] in both relays and both my individual events," Thomas said. "I'm pretty proud of all of that."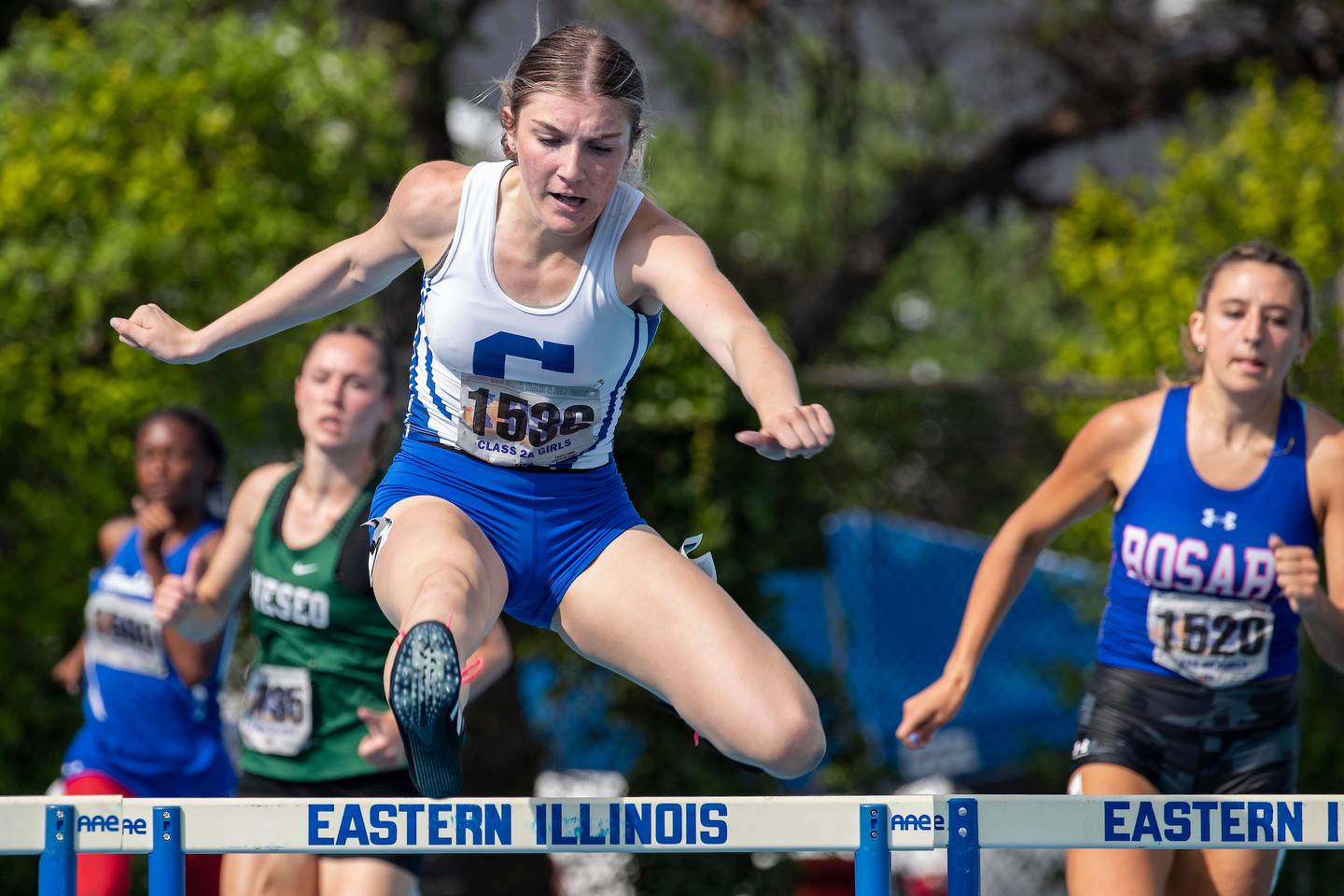 Burlington Central's Brooke Barkocy finished her career with a state title in the 300 low hurdles, a third in the 100 high hurdles and anchoring the Rockets' fourth-place 4x400 relay team.
Burlington, which won the Fox Valley Conference Meet, tied for sixth with 32 points. Marian tied for 11th with 20.
Burlington's Carolina Hintz took second in the discus. Woodstock freshman Hallie Steponaitis was fourth and Marengo's Michaela Almeida was ninth in the high jump.
Thomas was close as a sophomore, narrowly missing the finals in the 100 and 200, then her junior season was lost to the COVID-19 pandemic. She finished her career qualifying for state 11 times and with four medals from Friday.
"I'm almost speechless," Hurricanes coach Andrea Radcliffe said. "I was super-excited to see so many of our girls get out there and compete really hard in this heat. It was awesome."
Thomas got her first state medal in the 4x100 with Molly Iden, Kat Strode, and Bella Zecchin when they took eighth in 50.05. She took second in the 100 with her career-best 12.11.
"I knew it was a bunch of talented girls in that race and whoever executed the best was going to win," Thomas said. "I put together a really good, complete race and I'm happy with my results. It was a really fun run."
Strode, Lily Bures, Zecchin and Thomas then ran 1:46.53 in the 4x200 for eighth before Thomas finished her high school career with another second.
"It really hasn't hit me yet," Thomas said. "We had a great season. I'm so proud of the young girls on this team. They're going to do great things in these coming years. 'Canes out. 'Canes out."
Thomas will run at NCAA Division I Milwaukee next year and met her future teammate from Mount Zion, Morgan Pilate, who triple jumped in the same flight as Strode and Marian's Courtney Sensabaugh.
Barkocy broke the school record of the Rockets' Carissa Wallace with a 44.69 to win the 300 hurdles. It was Burlington's first individual state title since Wallace won the 300s in 1996.
"I feel the happiest I've felt this track season," Barkocy said. "It's actually insane, a PR, a school record, state championship, you couldn't ask for more. If I ever thought I'd come to where I am now … I don't even have words for it. It's crazy. Whoa!"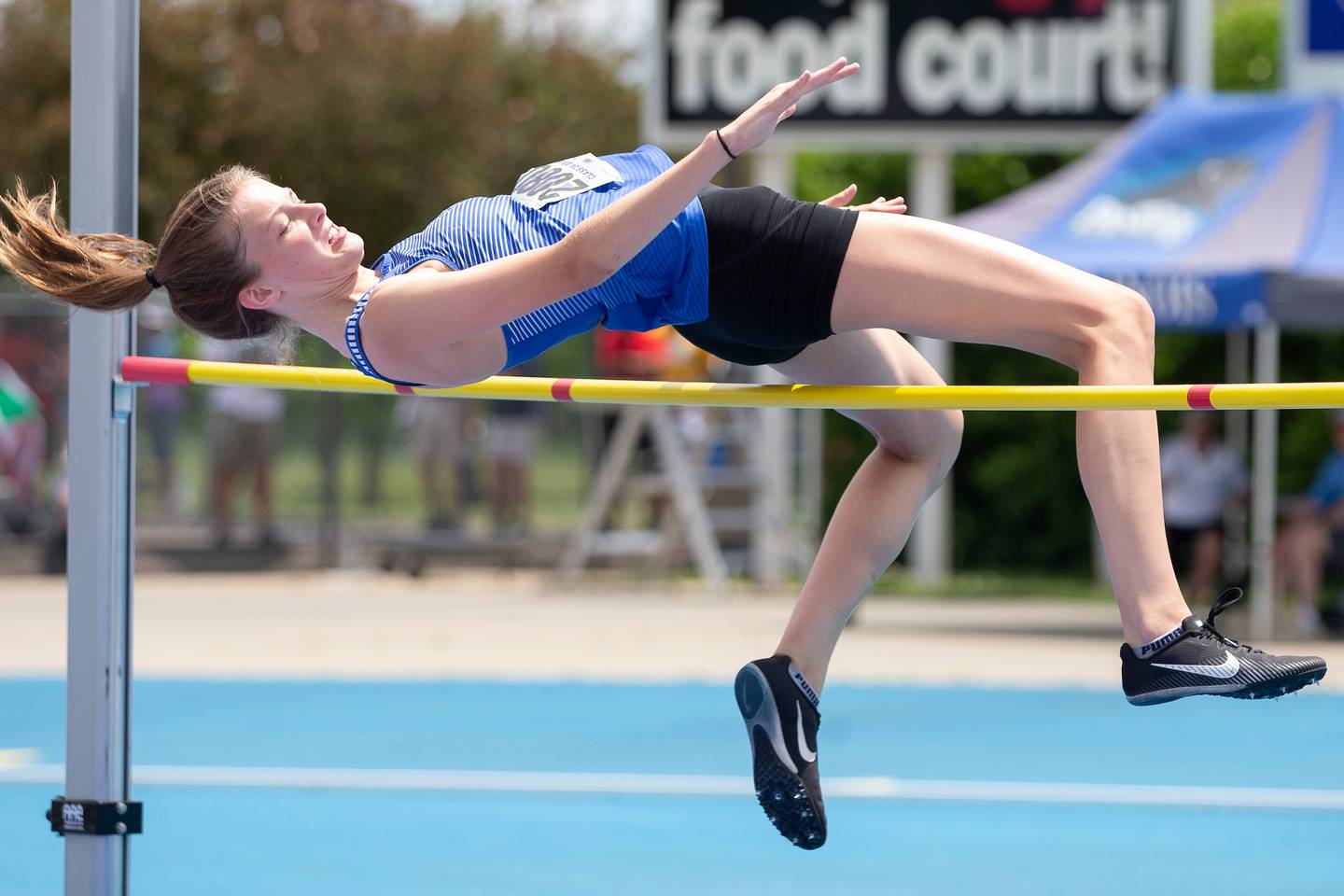 Steponaitis cleared 5-3 1/2 in the high jump to take fourth. Blue Streaks coach Jon Brown just smiled as she competed and interacted with the other competitors.
"I don't even think she knows how good she just did," he said. "It was a really special season and we're really, really proud of her."
Steponaitis set the Woodstock school record at 5-5 with her first varsity meet, beating Jackie Weith's 5-3 1/2 set in 2009.
"It was really hot, but it was really fun," Steponaitis said. "All the girls are so nice. I made new friends. I thought I jumped pretty well, it wasn't my best, but it definitely wasn't my worst.
"I think it's super cool to place as a freshman and get a medal. I know that I can grow for next year."
Almeida, a sophomore, struggled with her steps, but managed to clear 5-1 and finish ninth.
"I felt like it was my worst jump of the season, if I'm being honest," Almeida said. "My steps felt pretty bad. When I qualified, I thought I was going to be dead last, so I was excited to medal."
Class 2A State Meet Local Results
4x800 relay: 14. Burlington Central (Corryn Kester, Jocelyn Victoria, Grace Comparone, Avery Andersen) 10:18.44.
4x100 relay: 8. Marian Central (Molly Iden, Kat Strode, Bella Zecchin, Thomas) 50.05, 12. Burlington (Pedone, Reynolds, Greenhagel, Solomon) 50.79.
100 high hurdles: 3. Brooke Barkocy (BC) 14.93, 13. Sensabaugh (MC) 16.75, 19. Jillian Meyer (Johnsburg) 17.78.
100 meters: 2. Thomas (MC) 12.11, 21. Pedone (BC) 13.04.
4x200 relay: 8. Marian Central (Strode, Lily Bures, Zecchin, Thomas) 1:46.53, 9. Burlington Central (Pedone, Dowd, Greenhagel, A. Andersen) 1:46.57.
400 meters: Zecchin (MC) scratch.
300 low hurdles: 1. Barkocy (BC) 44.69, 19. Audrey Baird (Harvard) 52.27 20. Sensabaugh (MC) 53.36.
200 meters: 2. Thomas (MC) 25.24.
4x400 relay: 4. Burlington Central (A. Andersen, Kenzie Andersen, Lauren Dowd, Barkocy) 4:07.87, 21. Harvard (Lizeth Flores, Asha Billstrand, Julia Chupich, Christina Koleno) 4:23.54.
Shot put: 14. Carolina Hintz (BC) 36-5.75, 22. Cayla Hertzog (Woodstock) 30-5.
Discus: 2. Hintz (BC) 141-8.75, 16. Cayla Hertzog (Wdk) 100-3.
High jump: 4. Hallie Steponaitis (Wdk) 5-3.5, 9. Michaela Almeida (Mgo) 5-1.
Long jump: 10. Pedone (BC) 17-1.5, 22. Brenna Uppleger (Hvd) 15-1.5, 23. Zecchin (MC) 14-8.
Triple jump: 15. Kat Strode (MC) 33-2.425, 19. Sensabaugh (MC) 32-0.25.
Pole vault: 17. Tia Brennan (BC) 9-5.75, 18. Abby Perkins (Hvd) 8-6, Grace Latterel (Hvd) no height.