Marian Central girls track and field coach Andrea Radcliffe heard about this diminutive dynamo in middle school a few years ago, a girl blessed with speed who could be a huge addition for the Hurricanes.
Dominique Thomas' impact with Marian was immediate and powerful. She qualified in four events for the Class 2A Girls Track and Field State Meet as a freshman. The Hurricanes have won or shared a sectional title in each of her three years on the team.
"Dominique brought our program to life," Radcliffe said. "I was excited for her to join the program, but what the team got was much more than an athlete. We got a bright, talented and kind teammate."
The 5-foot senior will compete in high school for the final time Friday, again in four events at the state meet. It seems odd she has yet to win a state medal, although the COVID-19 pandemic is mostly to blame for that, knocking out last season. Thomas seems likely to come home with more than one medal as she will be in the fastest heat in all her four races.
"I am very thankful for my team and my coaches, and I'm so excited to be able to step onto Eastern Illinois' [track] again and compete in four events," said Thomas, who will run at NCAA Division I Milwaukee next year. "I'm very excited for this weekend.
"It's been a great ride at Marian, a great four years. I've had great coaching and been surrounded by an amazing team. They have helped me grow and achieve my goals, and I hope I've helped them to achieve their goals as well and be a role model to them."
The state meets have a very different format this year. Class 1A went Thursday, 2A goes Friday and 3A will compete Saturday. All competitions will be determined through heats, there is no qualifying for finals.
Thomas' sectional times in the 100 and 200 have her seeded third. The Hurricanes' 4x100 team is seeded fifth and their 4x200 is seeded ninth. Marian qualified nine entries in eight events for state while winning the Carmel Sectional last week.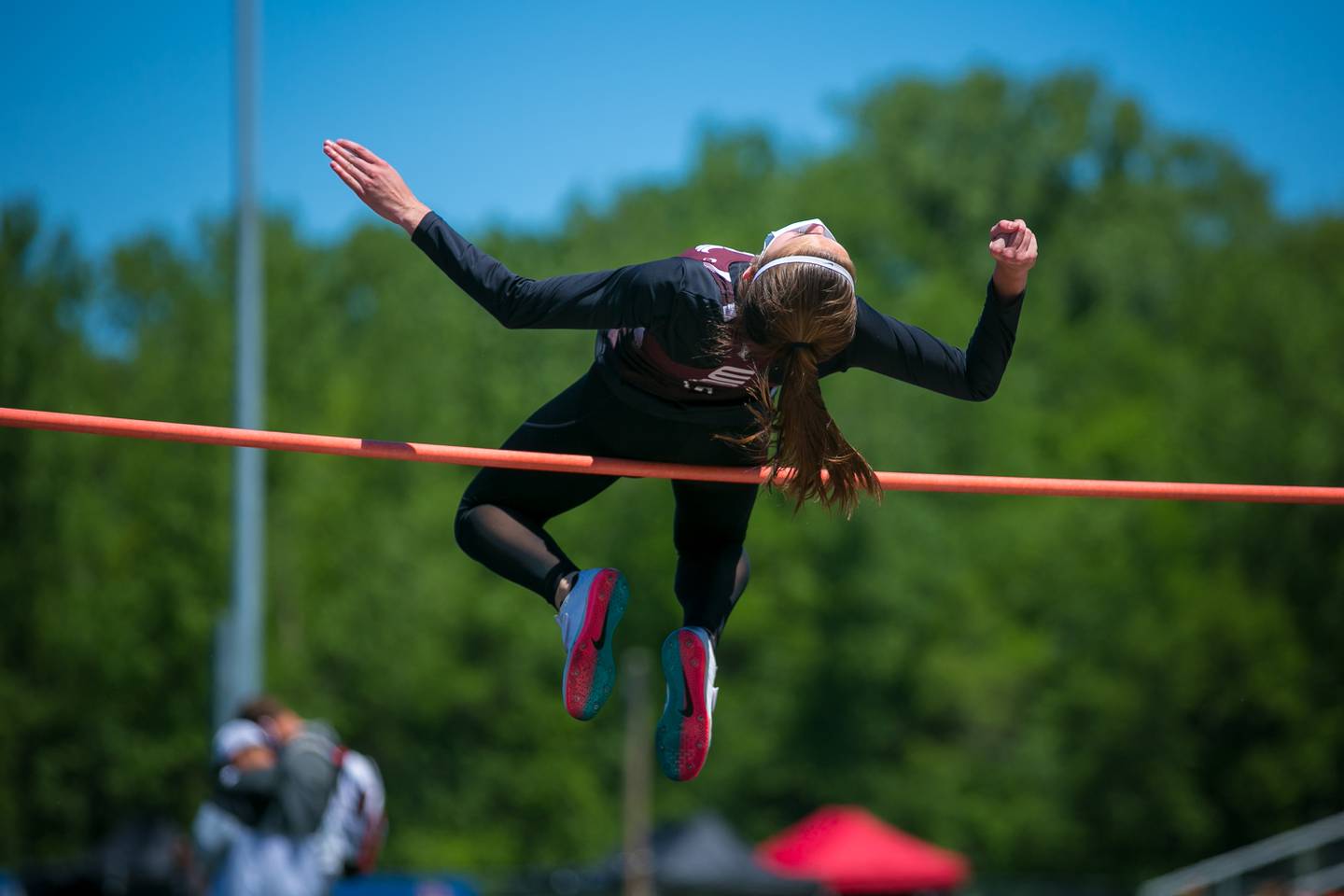 In Class 3A, Prairie Ridge's Rylee Lydon and Huntley's Alex Johnson, both sophomores, will be competing in their first state meets.
Lydon is seeded second in the 400 (57.41) and high jump (5-5) and 10th in the 200. Johnson is seeded fifth in the long jump (18-6 1/2), although she went 19-0 to win the Fox Valley Conference Meet.
Burlington Central, which won the FVC team title, sends a large contingent in Class 2A and could make some noise as a team.
Thomas now has 11 state qualifications in three years. Marian's 4x200 team was disqualified in the 2019 sectional or she would have a perfect 12.
"We're all really impressed with the season Dominique has had," said Marian sprints coach Steve Thomas, her father. "She had a really good indoor season where she dropped her times and got a bunch of [personal records]. But coming out of that she experienced some tightness and her goal had always been to try to do something at state. We delayed her running at meets to get her ready."
Last week at Carmel was Thomas' first 200 race. Since she had no time for seeding, she ran in the first of three heats, outside in Lane 8. With the staggered start, Thomas never saw anyone else in her race and she blew through at 25.66 to win the race.
"She's always been around fast kids," Steve Thomas said. "She runs in summer leagues [with TNT Training out of Mount Prospect]. She ran with [Highland Park's] Taylor Gilling, who set the 100 (11.32) and 200 (23.10) state records (in 2019). She's always been around fast kids. What drives her is times. If she didn't win, but she got an incredible PR, and first place was close to a state record, that would be a thrill for her. It's always about what we're building upon."
Thomas has thoroughly enjoyed working with her father as her coach throughout her high school career.
"It's been amazing, he is a great coach," she said. "He's in love with the sport, we share the same love and passion for it. It's just been amazing to have my dad as my coach. I get teary thinking about it. It's going to be weird not having him as my coach next year."
Dominique Thomas sought out Milwaukee's coaches via email and told them she was interested in their program. With no junior year state meet results, she had to get her name out to colleges.
She felt a connection right away with Panthers head coach Andrew Basler and assistant coach Corey Wilch.
Radcliffe considers Milwaukee lucky to be getting Thomas.
"Dominique's leadership is unmatched," Radcliffe said. "She leads and instructs the underclassmen and even the upperclassmen in the past. Her teammates want to run with her and they want to be placed in a heat with her. She motivates the entire team by her work ethic, positive attitude and flawless running technique."
Steve Thomas says his daughter has worked hard, improved her times and is intently focused.
"Her main goal is to get better," he said. "She got to state and now she has a chance to medal, she's really hoping to do that. Then, she wants to help the Milwaukee program turn around. She's always happy in the moment, but she has that drive. 'What's next? What's next?' "
Class 2A State Qualifiers
Burlington Central: Fiona Pedone (100, LJ, 4x100, 4x200), Brooke Barkocy (100HH, 300LH, 4x400), Brooke Reynolds (4x100), Paige Greenhagel (4x100, 4x200), Izzy Solomon (4x100), Avery Andersen (4x200, 4x400, 4x800), Lauren Dowd (4x200, 4x400), Kenzie Andersen (4x400), Corryn Kester (4x800), Jocelyn Victoria (4x800), Grace Comparone (4x800), Carolina Hintz (SP, discus), Tia Brennan (PV).
Harvard: Abby Perkins (PV), Grace Laterrel (PV), Audrey Baird (300LH), Brenna Uplegger (LJ), Lizeth Flores (4x400), Asha Billstrand (4x400), Julia Chupich (4x400), Christina Koleno (4x400).
Johnsburg: Jillian Meyer (100HH).
Marengo: Michaela Almeida (HJ).
Marian Central: Dominique Thomas (100, 200, 4x100, 4x200), Bella Zecchin (400, LJ, 4x100), Courtney Sensabaugh (TJ, 100HH, 300LH), Kat Strode (TJ, 4x100, 4x200), Molly Iden (4x100), Lily Bures (4x200), Amelia Reiche (4x200).
Woodstock: Cayla Hertzog (SP, discus), Hallie Steponaitis (HJ).
Woodstock North: Lexi Hansen (HJ).
Class 3A State Qualifiers
Cary-Grove: Kelly Fletcher (discus).
Crystal Lake South: Ashley Ciezadlo (TJ).
Dundee-Crown: Tealyn Kamp (discus).
Huntley: Alex Johnson (100, LJ, 4x100, 4x200), Jessie Ozzauto (400, 4x100, 4x400), Sophie Amin (4x100, 4x200), Vicky Evtimov (4x100, 4x200, 4x400), Sammi Campanelli (4x200, 4x400), Breanna Burak (3,200, 1,600), Brittney Burak (3,200), Ally Jorgensen (4x400), Michelle Barnvos (discus).
Jacobs: Kelly Carpenter (1,600, 4x800), Avery Mason (4x800), Adeline Gorman (4x800), Elisabeth Kania (4x800), Haley Schaffer (TJ).
McHenry: Mackenzie Sloan (4x200), Molara Fashola (4x200), Raegan Stinger (4x200), Kelly Huerta (4x200).
Prairie Ridge: Rylee Lydon (HJ, 200, 400), Rachel Soukup (4x800, 1,600), Haylee Yelle (PV), Grace Turman (4x800), Sophie Robinson (4x800), Olivia McPherson (4x800).