If Cary-Grove's girls soccer team mounted an attack, there was a good chance Kate Larry was somehow involved.
Larry, one of the Trojans' center midfielders, often gave opponents trouble with her speed and creativity. She scored 13 goals and had six assists for the Trojans, who were 11-3 and had the Fox Valley Conference's best regular-season record at 8-1.
Larry was selected as the Northwest Herald Girls Soccer Player of the Year by the sports staff, with input from area coaches. Prairie Ridge's Chelsea Gale, Crystal Lake Central's Emma Bolanowski and Richmond-Burton's Layne Frericks also were considered for the honor.
The Trojans won a Class 3A regional before a 1-0 loss to Hononegah in the sectional ended their season.
Larry answered some questions from Northwest Herald sports writer Joe Stevenson about the season, her No. 11 (with which she gives a nod to Spinal Tap), her abiity to stand on her hands and her inability to bowl.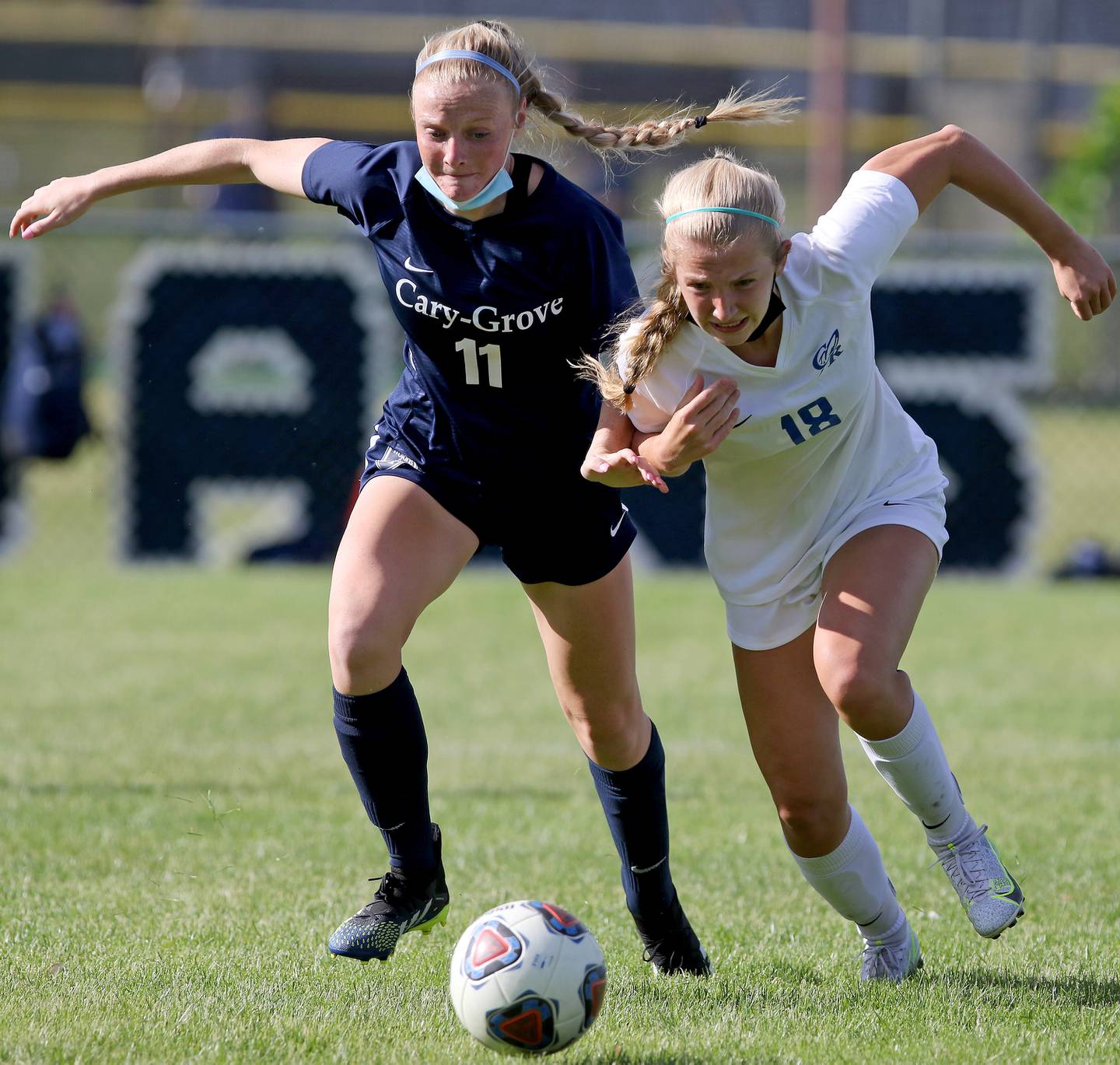 What will you remember most about your senior season?
Larry: I believe to be a good athlete, you need to be surrounded by good athletes. And I was surrounded by a bunch of good athletes this year.
What would be your dream job?
Larry: I'm super into a reality the TV show called 'Selling Sunset' on Netflix, so selling billion-dollar homes on the beach seems pretty good right now.
What act would you most like to see in concert this summer?
Larry: By far, Post Malone. I've heard he puts on a great show.
What is the last really good book you read?
Larry: 'Unbroken,' by Laura Hillenbrand The book was not afraid of cliffhangers and was just an incredible story of perseverance (by Louis Zamperini).
Who are your favorite professional soccer players?
Larry: The whole USA women's soccer team. They play so well all together and really put on a show when you are watching them.
Who was your favorite Disney character as a kid?
Larry: Definitely Rapunzel because I always wanted my hair to look as good as hers.
What celebrity would you most like to hang out with for a day?
Larry: Kendall or Kylie Jenner.
Is there a significance to No. 11, which you wore in soccer and basketball?
Larry: Because it's one better than 10 (#SpinalTap). But in all seriousness, it's because the jersey is a size small.
What would you change about your sport?
Larry: The one thing I would change about soccer is to have a bigger goal so I wouldn't miss as often.
What sport are you just not very good at?
Larry: Bowling. I can't keep a bowling ball in the lane to save my life … I'm the one who needs bumpers.
Do you have any hidden talent?
Larry: You can call me a gymnast. I can hold a handstand for more than 10 seconds.
If you celebrated a goal like NFL players do touchdowns, what would you and your teammates do?
Larry: If I could celebrate with my team after a goal we would throw in some popular dance moves.