Marian Central's Ella Notaro worked hard to strengthen her short game and it paid off in a big way.
The Hurricanes junior placed fourth at the McHenry County Girls Golf Tournament and excelled during the postseason, flying through regionals (82, third place) and sectionals (88, ninth) to qualify for her first state tournament.
In the Class 1A state finals at Red Tail Run Golf Course in Decatur, Notaro had the best finish of any area girls golfer, tying for 35th overall with a two-day score of 86-78-164.
For her performance, Notaro was voted the Northwest Herald Athlete of the Week by readers. She spoke to sports writer Alex Kantecki about her first state experience, advice for first-time golfers, juggling and more.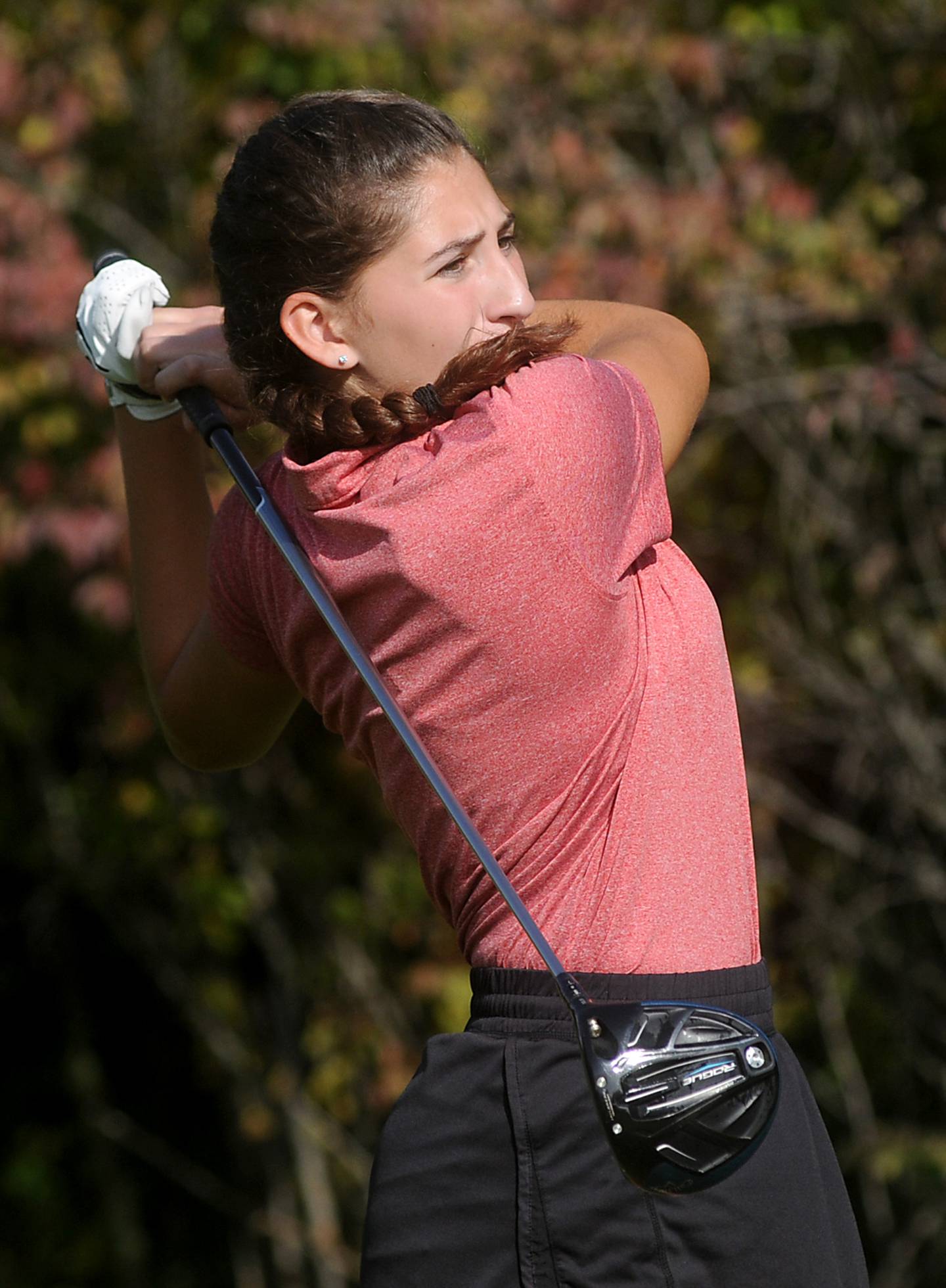 What did it mean to you to qualify for state?
Notaro: Qualifying and going to state meant that all my hard work paid off. It was a cool experience and something I will remember for the rest of my life. I'm so thankful to my family and golf swing Coach Rob Sweno at Boone Creek Golf Club for supporting me for many years.
What will you remember most about your first state experience?
Notaro: My state experience was so fun. The best part was golfing with really talented golfers and being in highly-competitive matches. I will remember spending time with my family and my coaches. We had several days on and off the course together and had a great time. I was also proud to represent Marian Central at state.
What part of your game did you work on the most this season?
Notaro: Overall, my golf focus has been pretty balanced. Although, this season, I worked on my short game the most, and I think that was the biggest improvement. It became much easier on and around the greens from all that hard work and practice. Thanks Coach Rob.
What advice would you give someone just getting started in golf?
Notaro: Some advice I would give is to have patience. I think this is one of the most important qualities as a golfer and as an athlete. It is a very mental sport and keeping your composure is very difficult. Having patience will help you on and off the course.
Do you have any hidden talents?
Notaro: One thing I do for fun is juggle. I'm not sure if that is a hidden talent, but I enjoy doing it. I can also throw a football pretty well.
What is the best birthday present you've ever received?
Notaro: A new set of golf clubs. I currently use them, and I love them.
Who has had the biggest impact on you as an athlete?
Notaro: My dad has the biggest impact on me as an athlete. He is always giving me tips on how to do well, not only in sports but in life. And, most of all, what a good mindset should be to achieve my aspirations in everything I do.
If you could spend a day with anyone from history, who would it be and why?
Notaro: If I could spend a day with anyone from history, I would spend it with Arnold Palmer. He seems like a great guy, awesome golfer and I love the Arnold Palmer drink, too. Or, I would spend it with my papa who passed away before I was born. From stories I've heard, he seemed like an amazing person, and I love that he always put his family first.
What is your favorite food or meal?
Notaro: My favorite food is anything my mom cooks. I love it all. But truthfully, I am more of a fun cold beverage person. I love slushies, smoothies and sodas of all kinds.
What is your dream job?
Notaro: My dream job is to become a golf pro. I would love to own my own golf course some day, especially if it had a basketball court on the property. That would be the perfect combo for me.