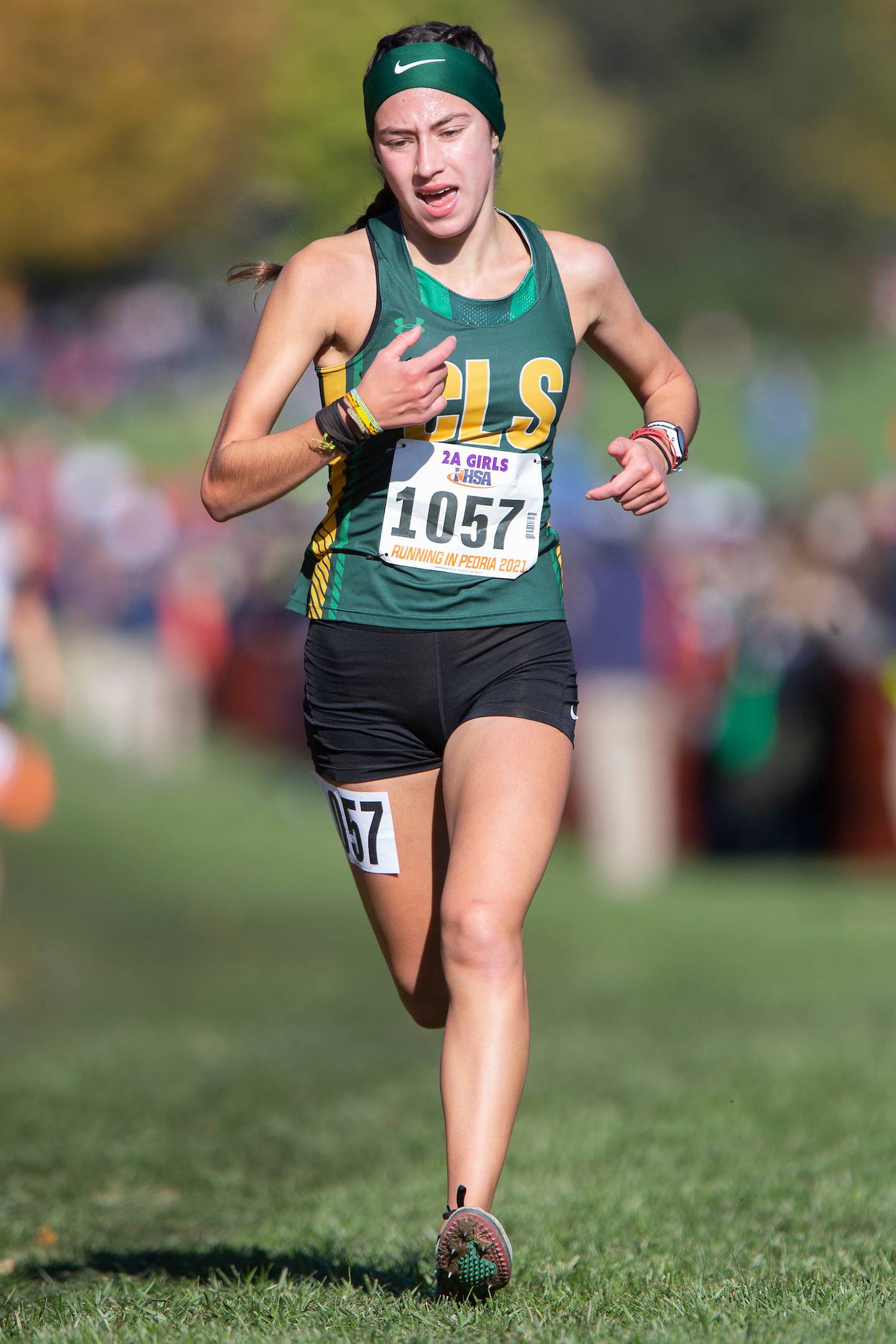 PEORIA – Crystal Lake Central freshman Hadley Ferrero, unaffected by the magnitude of her biggest race, was the first Fox Valley Conference runner across the finish line, taking fourth place.
Prairie Ridge junior Rachel Soukup, largely unaffected by the hip injury that kept her out of the FVC and regional meets, was next, taking seventh.
Then came Crystal Lake South's Bella Gonzalez (ninth) and Abby Machesky (15th), leading the Gators to their best team finish in school history.
Cary-Grove's Jocelyn Onstot took 22nd and South's Addie Frisch grabbed 25th, giving the FVC six Class 2A All-State girls runners at the IHSA Cross Country State Meet Saturday at Detweiller Park.
It was a glorious finish for the conference, which brings home a team trophy for the third consecutive state meet. South scored 162 points to take second behind Grayslake Central (148). Vernon Hills was third with 165.
The Gators' runner-up finish came after they were sixth in 2019. Prairie Ridge took back-to-back thirds in 2018 and 2019. There was no state meet last year because of the COVID-19 pandemic.
South, Graylake Central and Vernon Hills took the top three spots at last week's Woodstock North Sectional. Lakes (fifth), Crystal Lake Central (eighth) and Prairie Ridge (10th) also ran in that sectional.
In the Class 2A boys race, Burlington Central's Yusuf Baig took fifth, C-G's Ian Barnes was 18th and Prairie Ridge's Will Gelon was 22nd, all earning All-State.
Woodstock finished 13th as a team and Crystal Lake Central was 17th. No area runners made All-State in the girls or boys Class 3A races.
Ferrero looked at Chicago Northside's Elia Ton-That, who won the sectional race, to pace herself in her first state meet.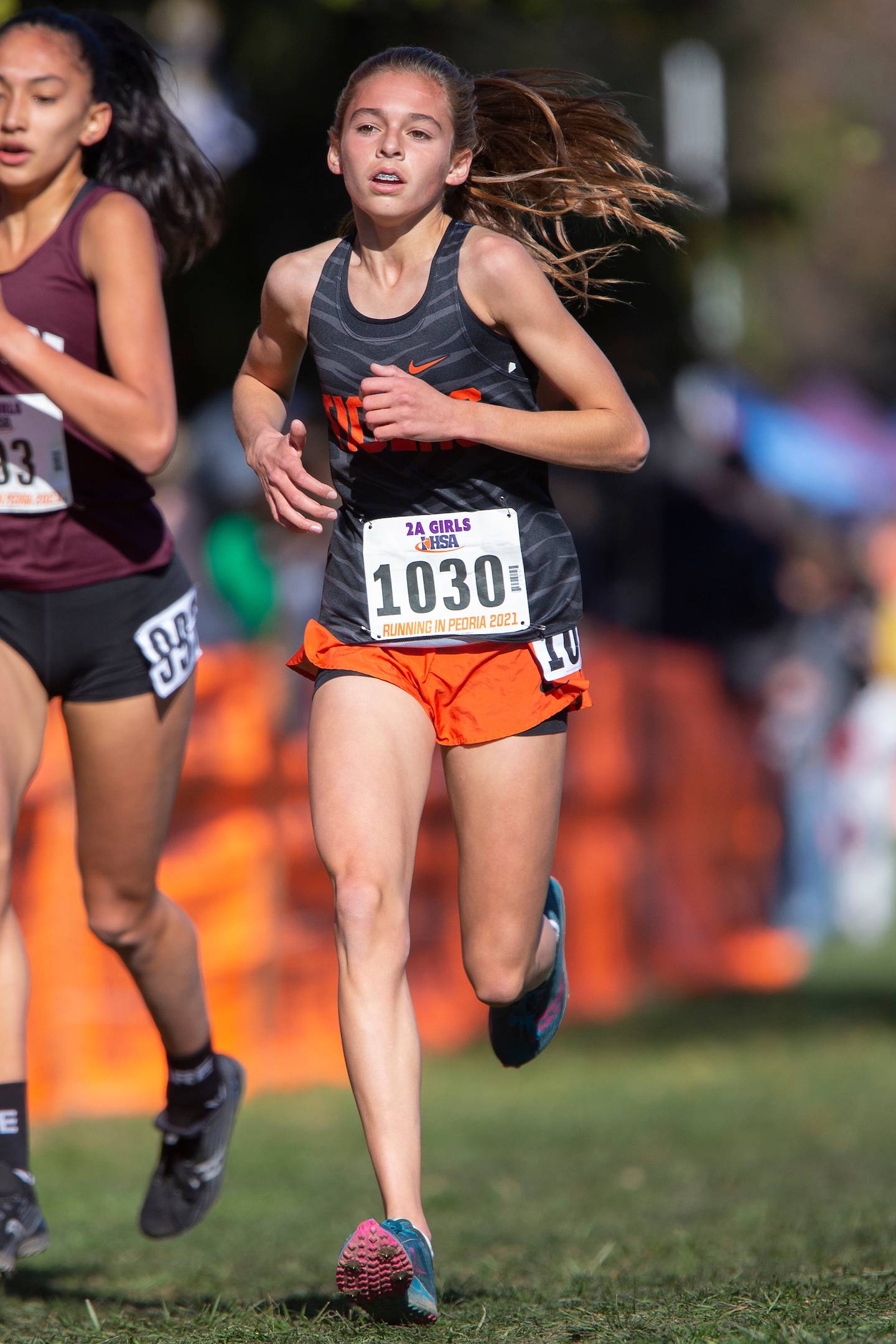 "I was really nervous in the beginning, but when we started running I kind of got into a rhythm," Ferrero said. "I got really excited toward the end, but I had to keep in my head that there's still some more left to run, it's not over yet. In the beginning I was nervous because I thought I was going out too fast, but then I tried to keep my same pace. It's really exciting. It's just really a fun day."
South knew it would have a shot for the team title after winning the state's toughest 2A sectional.
"This senior group has been a part of all four state-qualifying teams," Gators coach Ken Greenfield said. "Our first time (2018) out we were kind of happy to get here. I don't think we ran our best. With each passing year we've brought in new people and they've been rock-solid helping every new class understand, 'Hey, we've been there once, let's get back.' You've seen each year they've been a big part of watching that build."
Frisch and Elise Gorman were the seniors.
"I was just thankful to be here with this team," Gorman said. "We talked before the race we were going to do it for each other."
Frisch got the last All-State spot with her 25th-place finish.
"We did it for the team, and for me and Elise, we wanted to end on a good note and we did that," Frisch said. "I was happy with all the work we put in, it paid off. I'm just happy for such a strong finish."
Greenfield enjoyed how the team replaced three seniors from last year and finished even better.
"Those were some good racers and tough competitors," Greenfield said. "To have that many new girls come in and still move the needle forward from there is a testament to how hard they've worked and their attitude."
Soukup was held out of the FVC Meet and the Woodstock Regional to heal and it worked. She came back for sectional and led the Wolves back to state, then brought home a top-10 finish.
"I felt really good today," Soukup said. "We said we were going to have fun today and give it our all. The front went really, really fast, so I went with the second group. I worked my way up, kept my eyes up and kept pushing forward.
"This week (the hip) hurt a little bit, but today it was completely fine. I've been praying for it all week. God was helping me, I'm glad to be back."
Baig recently committed to Illinois State University to run next year and was thrilled with his high school career ending.
"I was happy with it. I was hoping for something in the top three, but I can't be upset with that," Baig said. "I ran well. I left it all out there, it's my last race of the year. I was really happy with how that went. I was just having fun."
Barnes, who plans on running in college, also felt he went out of high school on top.
"That was awesome, a great way to end my cross country career here at Cary-Grove," Barnes said. "I enjoyed everything about that race. That was probably my best race of the year and it came at a great time.
"I found a will in the first mile and stuck on. When we came out of the triangle there before 2 miles I got ahead and went for it. The second half of the race I wanted to keep is as close to the red line as I could, just go all out."