Huntley understands the challenge it faces over the final month of the regular season.
The Fox Valley Conference co-leaders had to go on a COVID-19 pause over the holiday break and ended up missing all of their games at DeKalb's Martin Luther King Jr. Tournament.
The Red Raiders (12-6) returned to action last week with four road games, earning wins against Crystal Lake South, Crystal Lake Central and Dundee-Crown and losing to Prairie Ridge. Huntley has four more games on its schedule this week: Sycamore, Jacobs, Cary-Grove and Burlington Central, all teams with winning records.
Going into Wednesday, the Raiders are tied with Burlington for first in the Fox Valley Conference at 8-1, followed by Prairie Ridge at 8-2.
Not only have COVID-19 protocols wreaked havoc on the Raiders' schedule, but last month the team lost starting guard Nicole Flaherty for the season to a torn ACL. Huntley already had lost one starter to an ACL injury before the season started, and a third starter, Jori Heard, also missed significant time this season with an injury.
"Obviously, we're facing a little bit of adversity with some injuries going all the way back to December and then coming out of the holidays being shorthanded," Huntley coach Steve Raethz said. "It's been a tough stretch, but we've got to find a way to work through it and find a way to bounce back.
"There's no time to feel sorry for ourselves. It's a tough stretch, but that's the reality, and our kids have to find a way to work through that. We're happy to be out here playing again, but we know it's going to be a grind."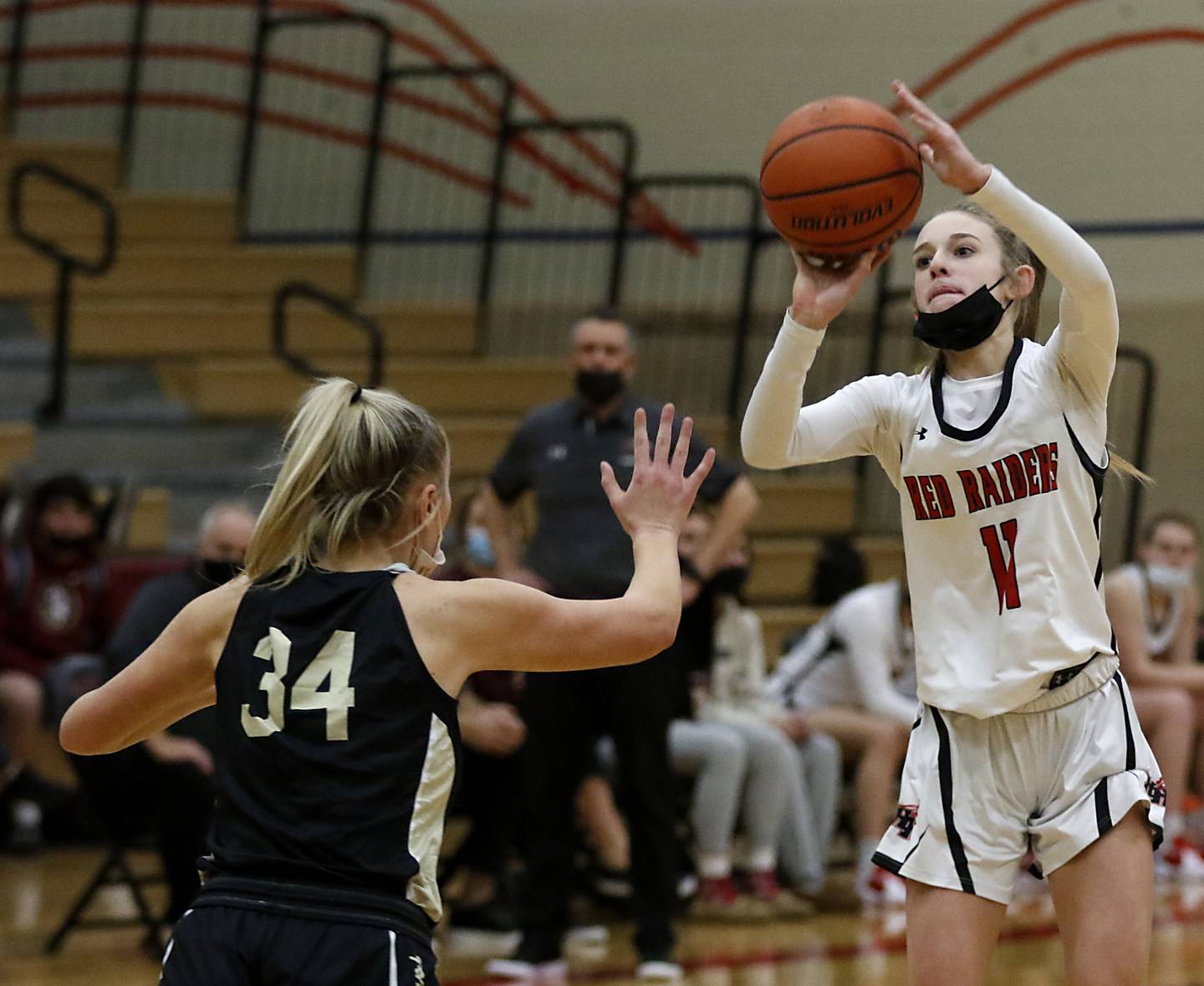 Huntley's goals of winning a conference championship and playing deep into the playoffs have not changed.
But, admittedly, it has taken some time to find its rhythm again.
"The time away was definitely challenging," junior guard Morgan McCaughn said. "We were still close off the court, but it almost had a disconnect on the court, so we're just slowly working back every single day to where we were before the break.
"We know that we have an 'X' on our back, and we're taking that challenge to heart. We're not going to give up. We want that [conference] title."
Statement win: Prairie Ridge's 47-39 win against Huntley on Friday was big for the Wolves' FVC title chances and a longtime coming.
Prairie Ridge had not beaten the Raiders since head coach Tim Taege, now in his fourth season, took over, while senior guard Karsen Karlblom said she can't remember beating a Huntley team going back to middle school.
Friday also had a playoff-like atmosphere and large crowd with the boys playing after the girls as part of a scheduled FVC doubleheader.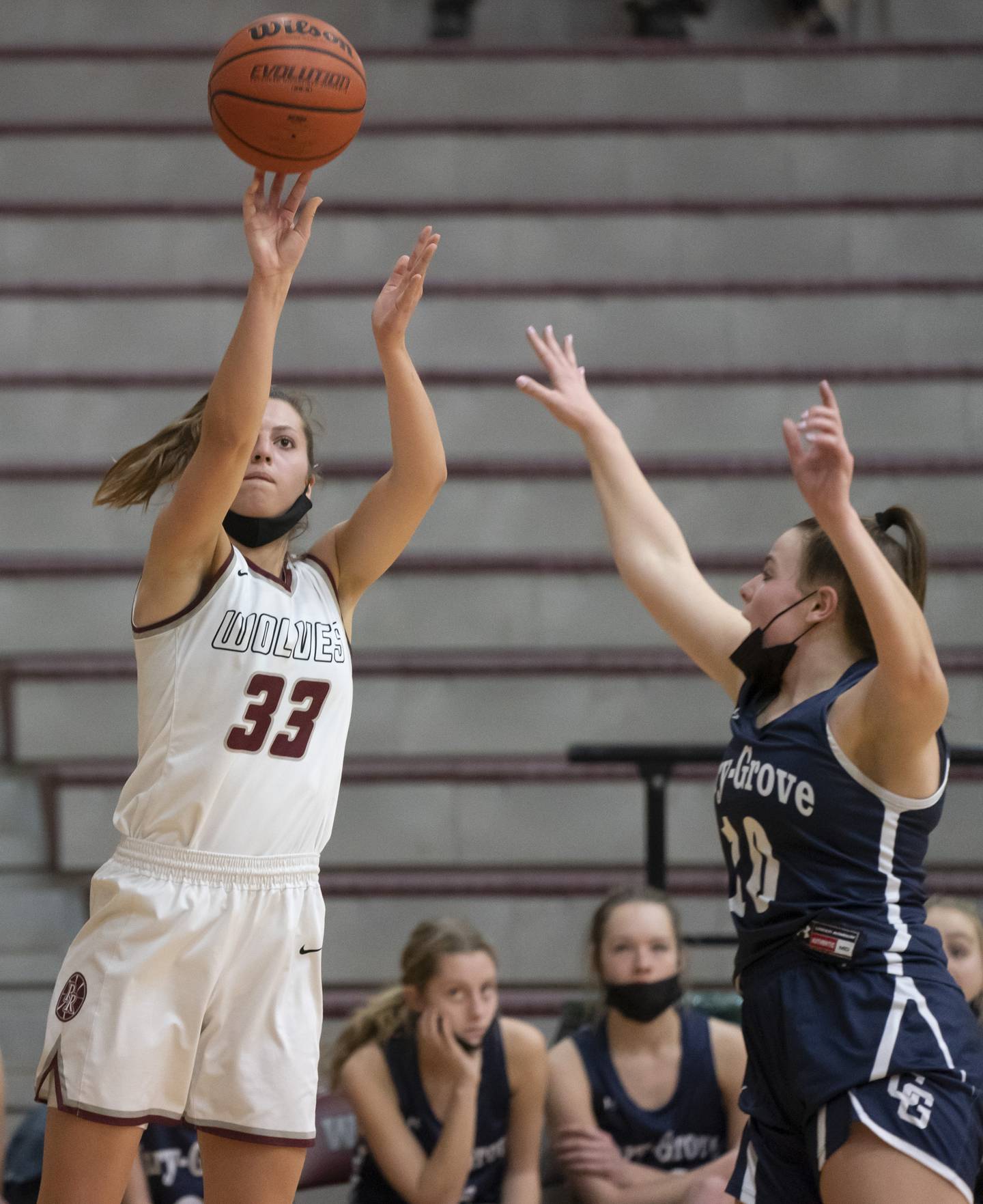 The Wolves (19-3), who still trail Huntley and Burlington Central by one loss in the conference standings, certainly made their case for being the team to beat in the FVC. Prairie Ridge, winners of 12 in a row, has not lost since Dec. 15 against Burlington.
"It felt so good, especially with the big crowd on a Friday night. I think that just encouraged us more," said Karlblom, who had a game-high 19 points in the win. "They had some good runs, we had some good runs, but it was just so fun to play in that type of environment.
"They were undefeated in conference, the best team in conference. I think we might have taken that title now."
[ Girls basketball: Prairie Ridge knocks off FVC leader Huntley for 12th win in a row ]
Beating Huntley was a big deal for players and coaches.
"We admire that program so much," Taege said. "They just play incredible defense, and they're solid all-around every year, so it feels extra nice to beat them."
Burlington (14-7) hosts Prairie Ridge at 7 p.m. Monday in another key FVC matchup.
Reaching 1,500 points: Karlblom became the first player in team history to reach 1,500 career points Friday with a first-quarter bucket against Huntley. The Wolves' all-time scoring leader surpassed 1,000 points during the COVID-19-shortened season.
Karlblom entered the week with 1,517 career points. For the season, she is averaging 20.3 points a game with 62 3-pointers.
Zankle runs the show: Woodstock North coach Mike Lewis learned around lunchtime on game day that starting guards Lacey Schaffter and Kalei Jones, two of the team's leading scorers, would be unavailable because of COVID-19 protocols for a key Kishwaukee River Conference game against Marengo.
The Thunder lost to the Indians, 36-34, on Jan. 12 but Jones returned for the next game. North has since won four straight and Lewis expects to have Schaffter back Thursday against Richmond-Burton on senior night.
Junior Gracie Zankle, who normally comes off the bench, replaced Schaffter in the starting lineup at point guard and has been one of the team's top playmakers for North (13-7) during their winning streak.
"I think [Zankle's] probably the second best point guard in the conference, and I'm so happy to have both of them on my team," Lewis said. "I think adding Lacey back and having two point guards that I can count on is fantastic moving forward."
Scharrenberg steps up: Cary-Grove suffered a letdown loss against Prairie Ridge, 37-29, last week after three straight wins, but Trojans coach Tony Moretti is encouraged by his team's recent play and execution.
C-G (13-7) bounced back a few nights later with a 55-24 win over Jacobs, which had been a game ahead of the Trojans in the FVC standings.
Senior Emily Lukowski averaged 19.7 points a game in wins over Dundee-Crown, Crystal Lake Central and Rolling Meadows and nearly outscored Jacobs by herself with 21 points and four 3-pointers.
Another player who has provided a big boost for C-G this season is senior forward Maddie Scharrenberg. She led all scorers with 13 points and seven rebounds in the team's loss to Prairie Ridge but helped keep the Trojans within striking distance with nine second-half points.
Moretti credited Scharrenberg's hustle for keeping C-G afloat.
"Maddie is a leader and a captain for us for a reason," he said. "She's been everything. A big reason why we've played so well of late is in large part due to her and her effort. Last Friday, she wouldn't let us lose against [Crystal Lake] Central.
"She's really stepped up and been that leader and presence we need."