Marengo's first matchup against Woodstock North – a 51-26 loss at Burlington Central's Thanksgiving Tournament on Nov. 19 – was a wakeup call.
"It wasn't close," Indians first-year coach Elisa Hanson said. "They really took it to us."
The Indians and Thunder again both figure to be in the mix for the Kishwaukee River Conference title. That's what made last week's KRC game – a 36-34 win for Marengo – all that more important.
"I think it just gives us some extra confidence that we can compete with any team," Hanson said. "We knew Woodstock North was a little shorthanded, so that's tough on them, obviously. But [coach Mike Lewis] has got such a good team.
"They've got a lot of great team speed, a lot of great leadership. That was a really solid top-notch team we just beat."
[ Girls basketball: Addie Johnson's go-ahead 3 lifts Marengo past Woodstock North ]
North was playing without its two top scorers – Lacey Schaffter and Kalei Jones – but got Jones back Tuesday in a 47-42 win over Richmond-Burton.
Still, handing North its first KRC loss of the season is a big first step for the Indians, who are going after their fourth straight conference title.
Marengo (6-10, 2-0 KRC) and Woodstock North (10-7, 2-1) were co-KRC champions in 2020, while the Indians won the conference outright in 2021 and shared it with Burlington Central in 2019, the last year Burlington was in the KRC.
The Indians had lost seven of their past eight games before beating North last week and are one of two teams (Johnsburg) without a KRC loss. Marengo and Johnsburg, which defeated the Indians, 54-38, in the Northern Illinois Holiday Classic on Dec. 21, meet in their first of two KRC games on Thursday.
"We were a little slow in the beginning, but we really stepped it up in practice this week," said junior point guard Addie Johnson, who hit a go-ahead 3-pointer with 1:40 left last week to take out North. "I think now this makes us more confident, so it will help us a lot throughout the season. I think we're working hard and getting what we deserve."
"I think if we can win [the KRC] again, it will show a lot."
Marengo lost three key starters from last year's KRC championship, including 2021 Northwest Herald Girls Basketball Player of the Year Jennifer Heinberg. The Indians also graduated starters Alexis Kunde and Lilly Johnson. Heinberg, Kunde and Lilly Johnson were the team's top three scorers.
In addition to Johnson stepping in as the team's point guard and facilitator, Marengo has received a big boost from sophomore Bella Frohling, who has quickly filled in as the Indians' top scorer and rebounder.
Hanson has given Frohling the green light to shoot, and the Indians sophomore hasn't shied away from taking a big shot.
"She's just got so much confidence, and we want her to shoot anytime that she's open," Hanson said. "And not only is she hitting some big 3s for us, she's just a consistent offensive threat for us, and she's getting some big rebounds, too. She averages about seven rebounds a game, so her all-around game is starting to come together.
"I'm really happy with that."
Can't stop the Wolves: Prairie Ridge went two weeks between games after going 5-0 to win the Northern Illinois Holiday Classic title on Dec. 21, but the time away from competition hasn't slowed down the Wolves.
Prairie Ridge has yet to lose in the new year and, entering Wednesday, is on a 10-game winning streak, with its last loss Dec. 15. During their streak, the Wolves are averaging just less than 50 points a game (49.8) while allowing just more than 30 (31.1).
The Wolves have found practices to be a lot more competitive this year, which has translated to wins and a lot more fun.
"One thing that I love about this team is we show up everyday and compete," senior forward Kelly Gende said. "The energy in our gym, I've never seen anything like it [during my time] at PR. We all want to be there everyday."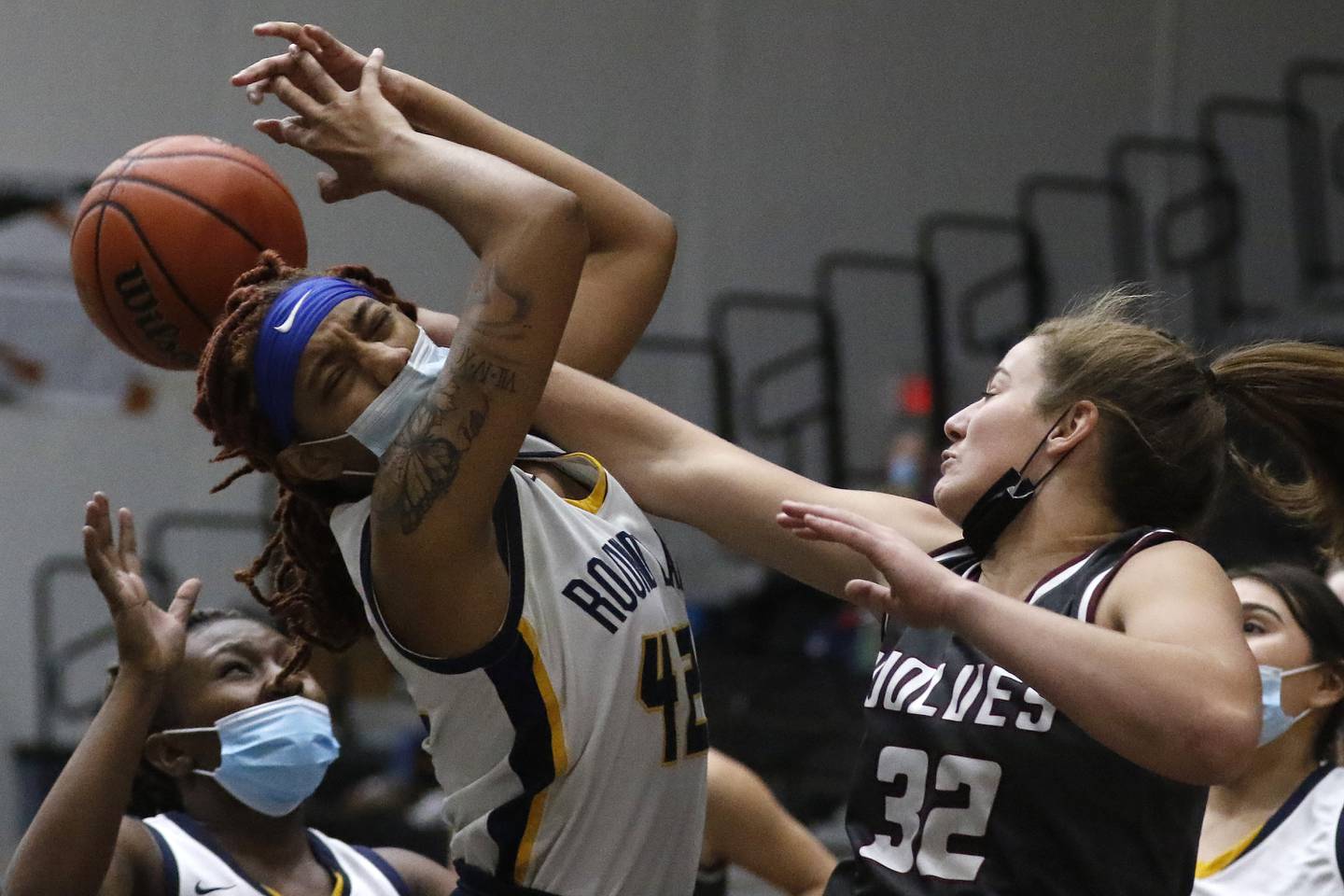 The Wolves handed crosstown rival Crystal Lake Central its first FVC loss Jan. 7 and gave Jacobs its third FVC loss Jan. 14. The win against Crystal Lake Central was its second this season after beating the Tigers in the Northern Illinois Holiday Classic semifinals.
The Wolves will look to continue to climb the FVC standings, with only Huntley (10-4, 6-0) and Burlington Central (11-7, 6-1) ahead of them.
"It's a big confidence booster," Gende said after beating Crystal Lake Central. "We know that we can be the better team now no matter who we play. It gives us that extra confidence that we're going to hit that next shot and that we're going to win that next game.
"It's a great feeling."
Postseason assignments: The IHSA released sectional assignments for the postseason last week. Among area teams, only Marian Central is hosting a regional in Class 3A.
In Class 4A, Dundee-Crown, Hampshire, Huntley, Jacobs and McHenry will compete in the DeKalb Sectional.
In Class 3A, Cary-Grove, Crystal Lake Central, Crystal Lake South, Harvard, Prairie Ridge, Woodstock and Woodstock North will compete in the Grayslake Central Sectional. Burlington Central is the one FVC team in the Kaneland Sectional.
In Class 2A, Johnsburg, Marengo, Marian Central and Richmond-Burton will compete in the Johnsburg Sectional.
In Class 1A, Alden-Hebron will compete in the Forreston Sectional.