It would have been hard to imagine Crystal Lake Central overcoming a 15-point deficit at this time last year, but that's exactly what the Tigers did last week in a comeback win over crosstown rival Prairie Ridge.
Not only did the Tigers end up winning by double digits (43-33), they held the Wolves scoreless for the entire fourth quarter.
Freshman point guard Katie Hamill led Central with 16 points, including 12 free throws, Paige Keller tossed in 11 points, and Nora Ryan had six points, six rebounds and two blocks in the victory, which kept the Tigers undefeated at the time. Central has since lost to Dundee-Crown, 45-43, and is 3-1 overall and 3-1 in the FVC.
The Tigers, who had two FVC wins last season and finished 5-25 overall, were the only area team to return two starters who averaged double digits in scoring (Keller and Ryan). But Central coach Derek Crabill said one of the biggest differences this season is a new team attitude and contributions from their role players.
"I think our bench has been fantastic," said Crabill, in his fifth year at Central. "Not only from a minutes' standpoint, but from having each other's backs and supporting one another. It's the best bench since I've gotten to Central and that plays a huge part in being able to make a comeback like that."
Tuesday's win was filled with many important plays from many different players.
Olivia Arndt made her only shot of the game count, giving the Tigers their first lead with 6:11 remaining. Emma Bolanowski grabbed five rebounds and made a bucket in the fourth quarter that brought Central within a field goal of Prairie Ridge. And Isabelle Szela came off the bench to toss in five points and grab three steals.
Keller said last year's losses were difficult. After the win against their crosstown rivals, she credited her teammates for never giving up.
"It definitely was the energy on the bench that got us going ... just having each other's backs," Keller said. "This [season] kind of came out of the blue. We didn't even think we'd have a season. So I think one main goal for us to have fun ... because we haven't had this in so long."
"And winning is fun, too."
Two-team race?: Nothing changed in the Kishwaukee River Conference standings last week, with last year's co-champions, Woodstock North and Marengo, each going 2-0 to stay unbeaten in conference play.
Marengo's Jennifer Heinberg has led the Indians (4-0, 4-0 KRC) in scoring in all four of her team's victories and is ahead of her junior scoring average of 18.8 points a game, while also making 12 3-pointers. Heinberg was fourth in area scoring (17.3 ppg) last season and led all players with 106 3s.
Woodstock North, meanwhile, has been dominant in its start – winning by an average score of 62-17. Junior point guard Lacey Schaffter has led the Thunder (4-0, 4-0) in scoring in three of four wins and is averaging 14.5 points a game, well ahead of her scoring average (8.2 ppg) as a sophomore.
Power duo: Dundee-Crown's Gianine Boado and Alyssa Crenshaw have recorded the area's two highest scoring games so far for the 3-3 Chargers. On Friday, Boado surpassed Crenshaw's 30-point, 20-rebound season-opening performance against South Elgin by scoring a career-high 32 points in a 47-45 Fox Valley Conference victory over Crystal Lake Central.
Boado, who is returning from ACL surgery, tossed in 11 of D-C's 14 field goals, including three 3-pointers. She had all of her team's points in the first and fourth quarters and hit 7 of 10 free throws. "She wore the team on her back," Chargers coach Sarah Teipel said.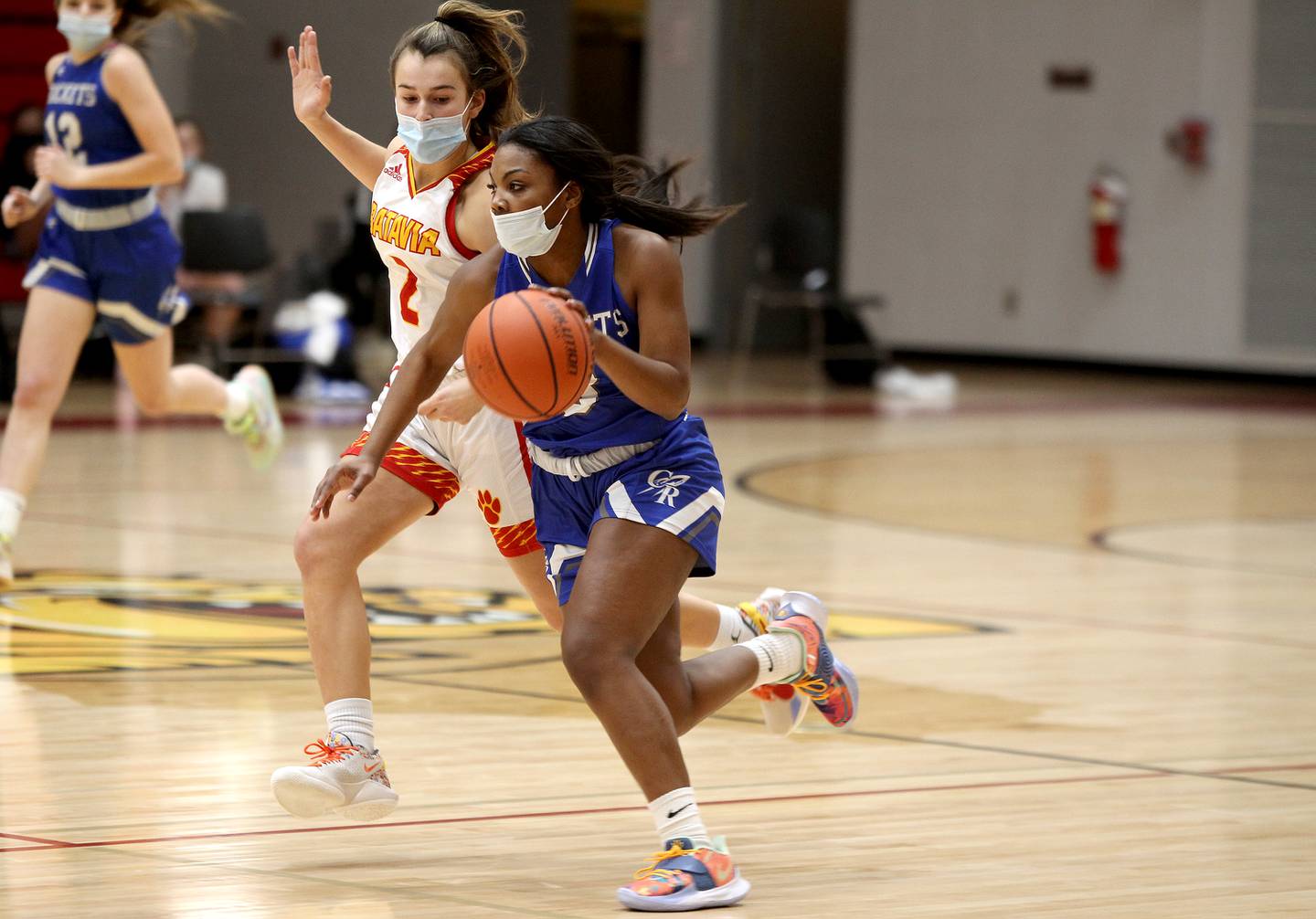 Rolling Rockets: Through two weeks, Burlington Central remains undefeated at 6-0. The Rockets' perfect record has them ranked No. 4 in the first Associated Press Class 3A poll of the season – Simeon, Kenwood and Peoria Central are the top three.
Burlington, which was 16-2 in the FVC last season and runner-up to D-C, is the only unbeaten team left in the 10-team conference with wins over Cary-Grove, Huntley, Jacobs and Hampshire. The Rockets held all four teams to less than 40 points and have won by an average score of 55-33 in those games.
Burlington travels to Prairie Ridge on Tuesday before hosting D-C on Friday. Through Monday's games, Huntley, Crystal Lake Central and Cary-Grove trail Burlington by a game in the standings. D-C, Crystal Lake South and Prairie Ridge are two games back.
Finding its footing: McHenry had an unexpected departure in January when 6-foot-1 forward Katie Beyer graduated a semester early to join the Valparaiso women's basketball team. Beyer, along with Benet early-graduate Molly Sheehan on Valparaiso, is one of the youngest players in NCAA Division I basketball.
Beyer, who was a finalist last spring for the Northwest Herald Girls Basketball Player of the Year, averaged 17.4 points and 10.8 rebounds a game as a junior and was poised for a big senior year. Her early exit, along with 2020 grad Ava Interrante (also at Valparaiso), left a big hole in McHenry's lineup.
Ashley Wachter, Marissa Hanley and Gracie Gasmann are the three Warriors with the most experience. Joining the starting five are junior Alyssa Franklin and freshman Ana Gerstung. Wachter leads McHenry (2-4, 1-3 FVC) in scoring at 12.7 points a game, while Franklin (9.5 ppg) is second and Gerstung (8.2 ppg) is third. Franklin also leads the team in rebounding (8.5 rpg).
McHenry – which has been one of the area's most successful teams in recent years, going 73-23 over the past three seasons – still is looking to find its footing in the early part of the schedule, Warriors coach Rob Niemic said.
"We've just got to stick together through the whole process," Niemic said. "Everyone is in the same position as we are, as far as it goes [with COVID-19 and starting late]. At times, you're probably seeing it, too. ... You see some sloppy basketball, and that's 10 months [of not playing] for you."
Energized return: Marian Central's Abby Todd missed most of her sophomore year with a knee injury but is excited to be back. On Wednesday, she provided big buckets and energy for Marian in a 48-46 win over McHenry – including a three-point play off a putback that helped swing momentum late in the first half.
Todd's return is a big addition for Marian, which graduated its top scorer and rebounder, Janelle Allen (Holy Cross). Todd is hoping to provide some of the same contributions and energy that Allen did throughout her three years at Marian. "Janelle was obviously big for us, and I'm just kind of picking up what she left and go from there," Todd said.
Marian (1-2), which won a Class 2A regional title last year, plays in the difficult East Suburban Catholic Conference, and this year is no exception. The Hurricanes opened their ESCC schedule with losses to Carmel and Marian Catholic, but coach Ephraim Lee sees plenty of positives to take away.
More than anything, Lee said, players are excited to be in competitive games after months of uncertainty. Wednesday's win at home gave them a chance to play in front of parents and family for the first time this season.
"They're resilient, they're hungry" Lee said. "Our first game was against a very good Carmel team, and we didn't necessarily play very well against them but they battled. They're just happy to play with each other again."