CARPENTERSVILLE – Dundee-Crown defender Diego Flores made good on his promise to forward Miguel Pena.
"At the beginning of the game, I promised I was going to give him a ball," Flores said. "As soon as I saw that free kick, he said he wanted it toward him. I wanted to place it as close as I could to him and see what happened."
What happened was Flores' ball, sent from about 5 yards past midfield on Huntley's side, was perfectly placed. Pena found enough room to skim the ball off of his head and over Red Raiders goalkeeper Ethan Robertson.
D-C made that one goal stand for a 1-0 Fox Valley Conference victory Thursday. The win means if D-C (11-7-3, 7-1 FVC) wins at Jacobs on Tuesday, it will have at least a share of the conference championship.
Huntley (11-6-2, 6-2) hosts Crystal Lake South (10-4-2, 6-1) Tuesday. South then finishes FVC play hosting Hampshire next Thursday.
"Diego always talks about how he's going to float one into the penalty box and I just have to create space to get open," Pena said. "And I did. I got around him and got to the ball before the goalie."
Pena's goal came in the 15th minute. The rest of the game was typical between D-C and Huntley, tight all the way.
"It was a great service and heads-up play by Miguel," Chargers coach Rey Vargas said. "He found the right point of the ball and was able to deviate it from the goalie. It was perfect timing and everything.
"We played well. We controlled the game for long periods of time. That's what we've been trying to do. For the most part we did a nice job for 80 minutes. Over the last few years, both teams have really just battled. You know it's a one-goal decision and you prepare yourself for that. They've become a big rival."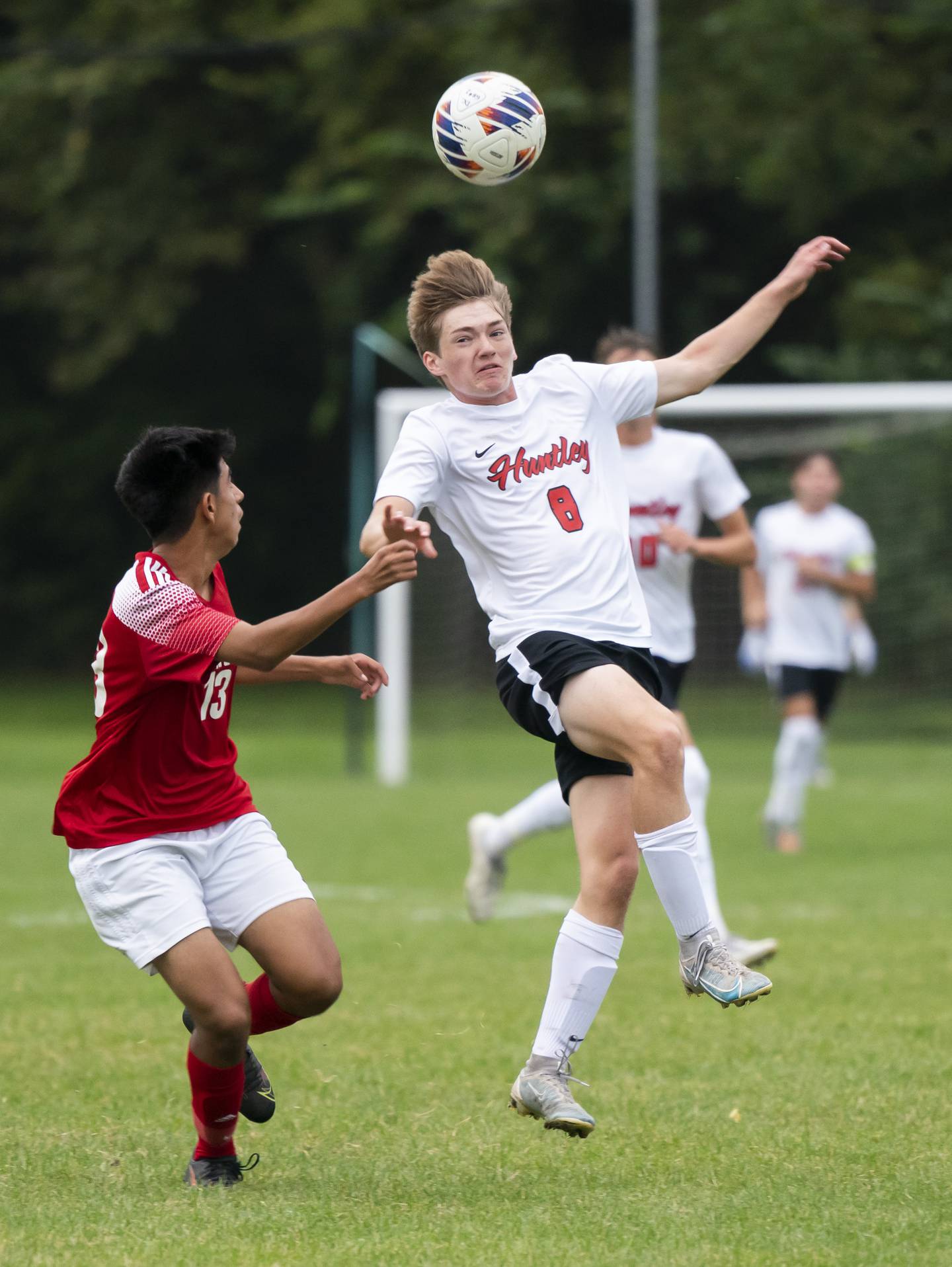 Huntley had its chances, the best of which came with 12:00 remaining when forward Hudson Nielsen made a run down the left side and into the goal box. Nielsen's shot toward the far (right) post eluded keeper Dave Smieca and caromed off the post to the right side.
"We all thought it was going in," Raiders coach Matt Lewandowski said. "It just caught the wrong side of the post. Sometimes that happens. Square post that's a goal, round post it's not.
"Ultimately, throughout the course of the game we played 79 minutes and 50 seconds better the way we needed to play. We let down for that one restart and a little bit of indecision bit us in the butt. But the rest of the game we had the opportunities to take care of business."
D-C had a couple other quality chances in the first half, but Alex Martinez's header glanced off the left post and Jonathon Tronsoco's shot toward the left post was knocked wide by the diving Robertson.
"We just grinded out the result," Pena said. "We were winning 1-0 and just held it. We were all working together and it all worked out.
"Honestly we haven't felt this before. We haven't won conference in a few years. It would be a great feeling."
Defending FVC champion Huntley could still grab a share of the title by beating South and having Jacobs defeat D-C.
"If we don't win conference, it happens," Raiders defender Zach Heitkemper said. "At the end of the day, postseason matters. I care more about that than conference."
Lewandowski looks at D-C as the Raiders' chief rival in the FVC because of their close contests in recent seasons. They tied in their FVC game last season, then Huntley beat D-C 4-3 in the Huntley Sectional semifinals, a game Huntley led 4-1.
"Everything with us and them are tight," Lewandowski said. "It's high-strung. These are the type of games you need to play to get ready for the postseason."
Dundee-Crown 1, Huntley 0
Huntley 0 0 – 0
Dundee-Crown 1 0 – 1
First half
DC–Pena (Flores), 26:49.
Goalkeeper saves: Robertson (H) 5, Smieca (DC) 5.