When Austin Killen's orthopedic surgeon told him the recovery time for his repaired right ACL would be six to eight months, Killen pretty much accepted that as a challenge.
Eight months was not in Killen's plans. But six months would mean the Huntley midfielder could finish his senior soccer season with at least a handful of games, which was better than nothing.
Killen is set to return Thursday for senior night, when the Red Raiders (14-2-2) host Rockford East at 6:30 p.m. How many games Killen will get to play depends on the Raiders' postseason run, but they are the No. 2 seed in the Huntley Sectional.
Killen suffered his injury only four games into the spring season that was abbreviated by the COVID-19 pandemic. Many of the area coaches still mentioned him regarding All-Area honors after the season because he is such a strong player.
"Ever since I tore my ACL I've been going to physical therapy five days out of the week, trying to do everything so I could get back on the field when I got cleared at six months," Killen said. "Right now, I'm very excited to finally be able to play in a competitive game against a different school. That's why I play soccer. I enjoy the competition against other schools and winning games."
Killen still is a team captain and has been at every game and practice, supporting his teammates. Raiders coach Matt Lewandowski often gives Killen a couple of minutes to speak about mental approach or tactics at halftime.
"Even from the sideline, he's been a huge contributor," Lewandowski said. "Having Austin on your team is almost like having a third coach, but one that plays, too. His freshman year, our record was something like 2-19, and every year since we have made tremendous strides forward on creating this new identity and legacy, with him at the forefront of it all."
Killen had Dr. Josh Alpert at Fox Valley Orthopedics in Geneva perform the surgery. His physical therapy and rehabilitation took place at Paradigm Physical Therapy and Wellness Center in Elgin. Killen went for therapy and sometimes played 3-on-3 or 4-on-4 soccer.
Killen has been playing soccer and training with the team for most of two months. Alpert released him to play beginning Thursday (the surgery was April 19), and Killen said his physical therapist said he does not have to wear a brace.
"Along the way I've had check-ups every six weeks with the surgeon, and every time he said my knee looks better and better," Killen said. "All the hard work I did with rehab and physical therapy has really paid off because now I'm able to play this last [regular-season] game and the playoffs.
"I've been training for two months. At the beginning mostly straight-line stuff, still no contact or hard cutting. In the last couple weeks I've been in full training sessions with my team, but still no contact."
Killen is not overly concerned about cutting or contact he will encounter in game situations.
"My surgeon told me after it was done and I had recovered, the chances I tore the same knee again are smaller than tearing the left ACL, the fine one," Killen said. "I'm 100% confident I'll be able to do everything that I did before surgery. In training sessions, it feels perfectly normal. I need to work on my game fitness. My knee feels completely normal."
Lewandowski applauds Killen's diligence to return for the end of his senior season. Killen plans on playing at Milwaukee School of Engineering next year and studying civil or mechanical engineering.
"He has been working incredibly hard to get back and is more than ready," Lewandowski said. "I've had three ACL surgeries myself and I was never this prepared for coming back in."
Nice assist: Marian Central's coaches, players and several parents recently helped out with Feed My Starving Children in Libertyville, an organization that packages and ships meals to people in countries where children often have little to eat.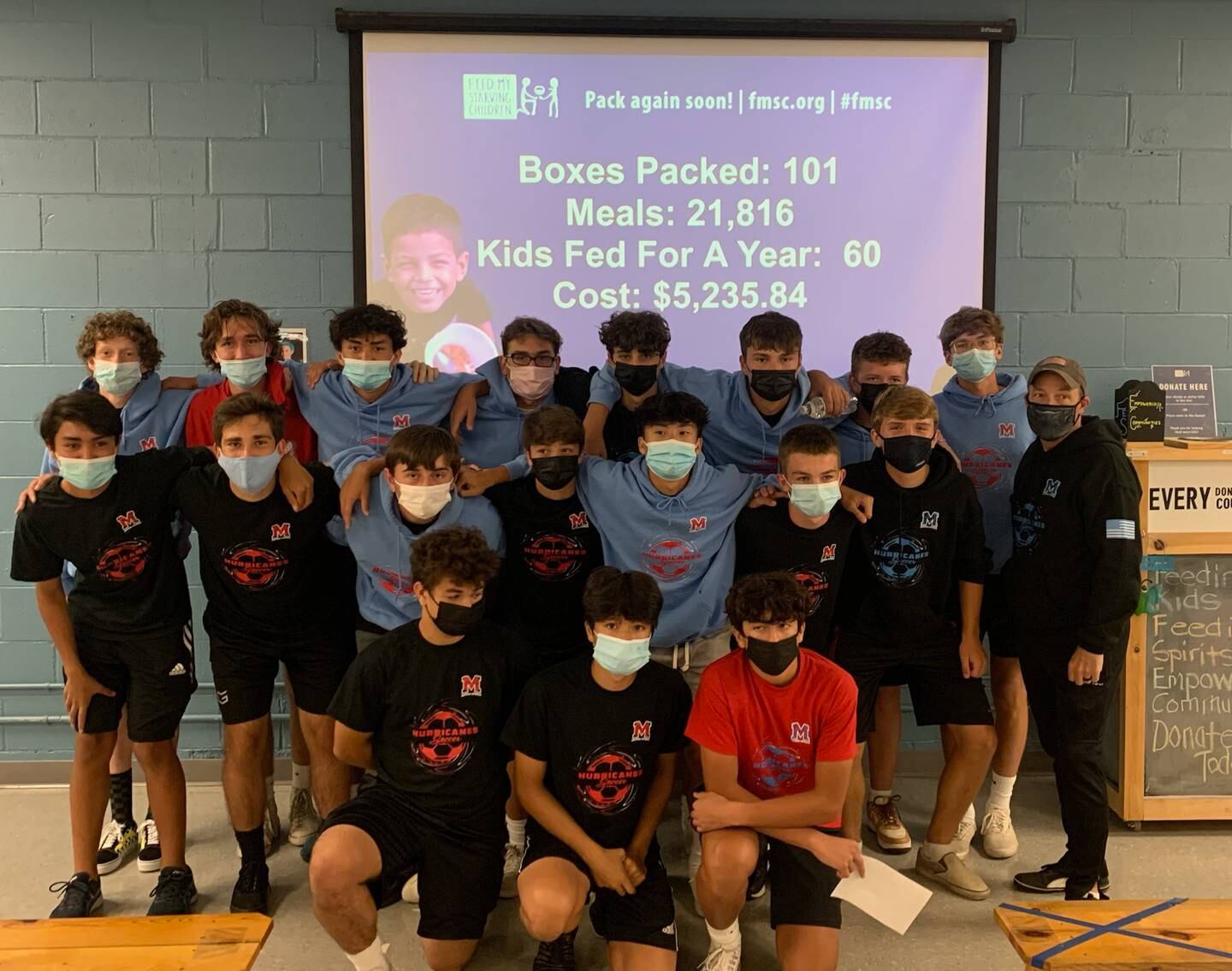 "We have volunteers in our soccer group," Hurricanes coach Art Dixon said. "We do a student project, and a couple of the parent volunteers decided this is what they wanted us to do."
Dixon said the Hurricanes had 100% attendance with players for the trip to Feed My Starving Children's facility. The organization blocks out two-hour windows for groups to come in and label bags, put food into bags, seal the bags, then box the bags and get them ready for shipping.
Marian's group prepared 101 boxes in its time allotment. Dixon said the food is a dry mix that recipients can boil and cook, and it lasts for years.
Postseason arrives: Class 1A teams started regional play this week with area teams Johnsburg, Marengo, Marian Central and Richmond-Burton in regionals that feed into the Hinckley-Big Rock Sectional.
Classes 2A and 3A start next week.
Crystal Lake South is the top seed in the Class 2A Vernon Hills Sectional and hosts a regional.
Harvard (5), Prairie Ridge (6), Woodstock North (10), Woodstock (11), Cary-Grove (13) and Crystal Lake Central (15) are the other local teams in that sectional.
Burlington Central is seeded No. 7 and hosting a regional in the Hinsdale South Sectional.
In Class 3A, five local teams are all in regionals that feed into the Huntley Sectional.
Huntley (2) and Dundee-Crown (3) are the highest-seeded local teams. Jacobs (5), Hampshire (9) and McHenry (15) are the other teams there.